Vintage Zenith Watches For Sale
Zenith holds a position among the top tier of Swiss watch manufacturers and its movements have always been the equal of those by any of the other venerated makers. Founded in 1846 in the town of Le Locle, famous as a centre of horological excellence, the company has an almost unparalleled record of technical achievement yet has always managed to fly just under the radar of public perception. If we stopped a hundred members of the British public in the high street and asked them to name the brand of luxury wristwatch that they considered to be the most desirable, eighty percent or more would suggest Rolex, with the remainder plumping for Omega and, in negligible quantities, a few of the more esoteric brands. Hardly anyone would be familiar, or have even heard of, Zenith, yet in fact, the standard to which its vintage watches were built is nothing less than superb in every aspect.
Zenith tends to be regarded as something of a vintage watch aficionado's choice and over the years we've noticed that while Rolex and Omega are bought from our business in roughly equal proportions both by serious collectors and the general public looking for gifts, the Zenith purchaser seems to more often than not be somebody who takes an interest in what goes on inside his watches and understands the various grades of movement finishing and refinement that define an outstanding mechanism rather than a merely good one.
Probably the key point to appreciate regarding Zenith is that the firm was, and still is, one of very few Swiss houses to actually manufacture all of the components used in its movements entirely in-house. During what we regard today as the golden age of Swiss watch making, the years between the Great War and the late 1960s, most of the major houses, including Rolex, built their movements around ebauches ( this is the Swiss term for a movement in its most basic, completely raw, form, without gears, pinions or other components) that were purchased from one of the large scale operations that specialised in this field. These were then re-worked as required and signed with the appropriate signature before being cased ready for sale. Zenith literally created its movements from the ground up, designing, prototyping, building and regulating from scratch, without reliance on any third party.
To the collector, this means that when he buys a vintage Zenith, he is acquiring a product that can be traced back to a single point of origin, rather than something that has a degree of homogenisation. A classic Zenith movement is a "pure" product that is unique to this particular manufacturer, which makes it very appealing to a lot of experienced watch enthusiasts. For more background information about the concept of self-contained movement manufacturing and the increasing significance of this in the minds of vintage watch collectors, do read the related article that follows the description of every Zenith listed for sale on this site.
In common with their equivalents by the other famous houses, really outstanding vintage Zenith watches of a grade suitable for investment are getting tough to find. We always attempt to offer a good comprehensive selection of period Zenith pieces for sale on this site, but increasingly, finding stock that is unmodified and in a condition acceptable for inclusion here is challenging.
Early vintage Zenith watches, those from World War I and pieces manufactured up until the 1930s, are very similar to those made by IWC during the same era. Both typically have frosted gilt movements that look quite different from the Rolex equivalents of the same period. Later, following the cessation of World War II, Zenith produced some really wonderful models that when scrutinised today are right up there in quality with those from Jaeger LeCoultre, Omega and Rolex. While when found in gold cases, these can be pretty pricey, in steel they remain very affordable. Even now, at the time of writing, all original 1940s and '50s vintage Zenith Sporto and Pilot models can be sourced in immaculate condition for under a thousand pounds, which is far less than their equals by the other major brands.
For someone wanting to come a little bit more up to date with their purchase, a vintage Zenith chronograph with the iconic El Primero movement could well fit the bill. Introduced in 1969, this was Zenith's challenger in the race to build the world's first self-winding chronograph mechanism. Despite its name, it wasn't actually the first, it being pipped at the post by the calibre 11 that was the fruit of a collaborative effort between Breitling and Heuer. But it certainly deserves its hallowed place in the horological history books and because of its undisputed importance, is an essential inclusion in any collection that aims to chart the development of the wristwatch over the 20th century. It is also worth remembering that a major purchaser of the El Primero movement from Zenith was Rolex, which used it very successfully for its much coveted Daytona Cosmograph models until 2005, when the latter took the bold step of launching its own in-house automatic chronograph.
In summary, Zenith remains something of a niche brand, given enormous amounts of respect by industry insiders and experienced vintage watch collectors but largely unrecognised outside horological circles. For many enthusiasts, its subtle, rather cultish status has a lot of appeal. A well preserved period Zenith will often be the choice of the buyer who wants something perhaps a little less obvious than a vintage Rolex, without sacrificing anything in movement build quality or finish standard. Twenty years ago, IWC occupied a very similar position to the one that Zenith holds today, as something of a well kept secret among collectors. As IWC has become much better known, the prices of its vintage output have climbed dramatically and now, it is very much a mainstream luxury watch brand that competes directly for market share with Rolex, Omega, Breitling and the rest. It seems likely, having seen the way such things have unfolded in the past, that Zenith will go in the same direction, which could well make the best early Zeniths one of the best prospects for potential investment gain in the vintage watch world in the current climate.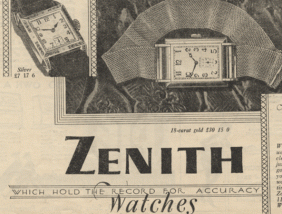 Zenith silver Land & Water for Birch & Gaydon 1918
Zenith hunter wristwatch gold 1918
Zenith 18k gold officers with hinged lugs. 1919
Zenith oval silver 1922
Zenith silver and gold officer's 1930
Zenith steel "Viceroy shape" 1937
Zenith ladies 18k pink gold, boxed 1949
Zenith 18k gold De Beers first rotor automatic 1958
Zenith steel bumper automatic 1959
Zenith gold manual wind 1966
Vintage Watch Brands
Vintage Watch Decades
Vintage Ladies Watches
Vintage Watch Bracelets
Swipwreek Straps
Travel Clock/ Pocket Watches
Home
About
Brand Overviews
By Decade
Reference
Contact Details
Telephone from the UK:
07453 734666
or 07428 051005
Telephone from overseas:
+44 7453 734666
or +44 7428 051005