Shipwreck Leather Straps For Early Wristwatches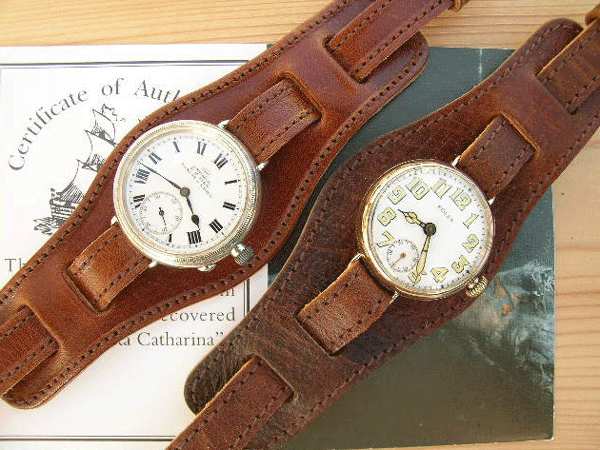 The wristwatches produced during World War I typically have a very recognisable appearance, with a large circular case onto which wire lugs have been soldered in order that a strap can be attached. These very early models are of enormous historical importance and we always make a point of having a carefully chosen selection by Rolex, IWC, Omega, Longines and Zenith from this period available for immediate purchase.
If you purchase a vintage watch of this kind from this site, it will arrive with the strap shown in the photographs that accompany its description. There is absolutely nothing wrong with this and your watch will be perfectly wearable, but if you want have it in the form in which it was worn when new, then technically, this style of strap is not correct.
Period photographs of officers in the trenches during the Great War show us that originally, early wristwatches were fitted with distinctive two piece straps, with a long continuous run of leather being threaded through both sets of lugs and passing behind the case back, before in turn being fitted through two slits cut in a much wider backing piece. The overall result is a wide strap, slightly wider than the whole watch ,that is extremely comfortable on the wrist.
We had been aware of this type of strap for almost two decades and a favourite complaint of ours for years was that it was no longer available in high quality form. Just occasionally, straps constructed in this two part manner are encountered in low grade shoe repair and key cutting type outlets, but these are of very coarse, utilitarian grade and at odds with the refined taste of most serious vintage watch collectors.
Finally, the decision was made to take the bull by the horns and have a batch of these straps manufactured to the quality standard that was appropriate for high value antique watches. We had been lucky in finding a couple of World War I watches on which the original, badly worn, straps were still present and these, together with a number of period photos in the archives of London's Imperial War Museum, enabled patterns to be made for new production.
The quality of these straps is second to none. We spent quite a while obtaining samples from various leather workers until we found one that was felt to be genuinely exceptional. This chap works from his home and is a free lance subcontractor to some of London's most celebrated and famous bespoke shoe and luggage makers. To give you an idea of his standard, it is worth mentioning that he once commented in passing that he avoids answering his telephone while stitching, because if he does so and then returns to his work, he can spot the point where he broke off and then continued by the minute change in stitch length, despite this being completely unnoticeable to the end user. If you've ever purchased leather goods by Hermes or Louis Vuitton, you'll already be familiar with the sort of attention to detail that goes into these straps.
Having tracked down a first class manufacturer, the next step was to source a suitable leather from which the straps could be made. The ultimate choice for sheer opulence was the so called "shipwreck leather" that had been brought up from the wreck of the Metta Catharina, a trading ship that had gone down in a storm off the coast of Plymouth in 1786 on its way from St. Petersburg to the Mediterranean. Remarkably, due to the rolls of hide being kept away from air by a covering of thick black mud, they were still supple and effectively as they were over two hundred years ago. As with the Nanking cargo of shipwreck recovered china sold by Christie's in the mid-1980s, there had been quite a bit of media exposure relating to this discovery, with HRH the Prince of Wales having several pairs of shoes made from this hide by both John Lobb and R.E Tricker. While phenomenally expensive, the leather itself is incredibly beautiful and ideal for the application here.
This shipwreck leather couldn't be more attractive. Its surface has a very unusual cross hatched grain caused by hand embossing. The same effect can often be seen on leather upholstery and book bindings from the Georgian era. At the time when it was new, this Russia hide, actually almost certainly reindeer, was famous for its ability to repel water and insects, this latter attribute no doubt coming from its extremely strong, and very pleasant, aroma.
Every shipwreck leather strap comes complete with its own certificate of authenticity, confirming that it has been made from hide brought up from the wreck of the Metta Catharina. The reverse side of this document gives all the chapter and verse regarding the wreck and the diving project to recover its cargo. This makes fascinating and very enjoyable reading.
Anyone reading this will have no doubt realised by now that these straps are going to be expensive and this is indeed so. The shipwreck leather straps are priced at £135 GB pounds each including insured postage to any worldwide location. This reflects both the superb quality of construction and the extremely high raw material cost of the shipwreck hide itself.
At the present time, we have a reasonable, but definitely not large, quantity of these straps in stock that can be ordered via this website. Obviously, the shipwreck hide is a finite commodity and when this has been used up, there won't ever be any more. At the moment, we can just about offer these straps to anyone who wants one, but as time goes on and our stock dwindles, we may decide to restrict sale to those individuals who have purchased watches from this site, or from us directly in previous years prior to its launch. It should be stressed that these straps were custom manufactured on a small scale for sale on this website only and are not available from any other source, either online or in the physical marketplace.
As well as in shipwreck leather, we had these straps produced in a very high quality English saddle hide. Though obviously not as exotic as the shipwreck version, the English hide straps are superb items in their own right and a world apart from the straps sold at jewellers in the High Street. The English hide straps are priced at £60 each, which, given that a very run of the mill mass produced watch strap could easily cost £40 or £50 at a good local jewellers, represents very good value for money. Both the English hide and shipwreck straps are manufactured by the same individual to the same pattern, and aside from the difference in leather itself, are otherwise identical. Both are offered with a choice of a gilt buckle for use with gold watches, and a chromium plated buckle for silver and platinum models.


Any buyer considering the purchase of particularly one of the shipwreck straps should ask himself whether this is rather over the top for the watch he owns. While there is absolutely nothing to stop anyone from putting one of these straps onto a watch with a value of £500 or £600, it does seem a little bit out of proportion and it might be more appropriate to opt for the English hide version in this situation. For anyone with a high value classic from this era, like the gorgeous early Borgel cased silver IWC from 1916 shown in the photos or an early Wilsdorf & Davis period Rolex piece, perhaps costing £2500 or more, then the purchase of one of the shipwreck leather straps would be the perfect icing on the cake touch and a reasonable expense in proportion to the total value of the package. Everyone to whom we have sold shipwreck leather straps so far has been thoroughly delighted with them. Certainly, they really do look superb when fitted to the best watches from the Great War era, while at the same time also being very interesting conversation pieces at the dinner party table. For those with a collection of fine early models and a penchant for historical accuracy and extreme luxury, they will prove very difficult to resist.
Price £60 and £135 GB Pounds
Vintage Watch Brands
Vintage Watch Decades
Vintage Ladies Watches
Vintage Watch Bracelets
Swipwreek Straps
Travel Clock/ Pocket Watches
Home
About
Brand Overviews
By Decade
Reference
Contact Details
Telephone from the UK:
07453 734666
or 07428 051005
Telephone from overseas:
+44 7453 734666
or +44 7428 051005