Vintage Tiffany & Co Watches For Sale
Tiffany & Co, founded in New York in 1837 as a supplier of stationerybefore it began to specialise in fine jewellery and diamonds, is one of the most important names in the history of the early wristwatch. Finding authentic, completely original vintage Tiffany & Co watches for sale today isn't easy, but we always attempt to offer a small selection of carefully vetted, totally authentic examples on our site.
As with Cartier, the famous French jewellery house, it is important to appreciate that Tiffany wasn't a watch manufacturer, but in fact was purely a retailer. Interestingly, there was a very brief exception to this between 1872 and 1876, when Tiffany set up an outpost to produce its own in-house pocket watch movements just outside Geneva. For whatever reason, most likely just the sheer inconvenience of trying to coordinate a factory located in a different continent to its administrative base in New York in an age before telephones, fax and email, Tiffany backed away from watch manufacture and concentrated on its retail business. Tiffany sold watches with its prestigious name stated on their dials, but these were purchased from a network of highly respected suppliers and were delivered to Tiffany with the company's signature on them. Patek-Philippe, Movado, Audemars-Piguet, Longines and Tavannes movements, among several others, are all to be found in vintage Tiffany watches from the inter-war period.
Tiffany was a stockist of almost all the major Swiss brands in its shops and inevitably a strong bond developed with these houses. It isn't uncommon to find the Tiffany & Co signature added to dials alongside that of Longines, Omega, LeCoultre and Rolex. In fact, Tiffany & Co was the last retailer for which Rolex produced double signed dials before finally ending the practice in the mid-1970s.
Always very much at the forefront of fashion, Tiffany & Co was an early adopter of the wristwatch for male use in the immediate post-World War I period. In our business, we only see tiny quantities of pre-1920 vintage Tiffany watches each year, but with increasing difficulty, we can usually offer a handful of art deco models dating from the years between 1920 and the outbreak of World War II. It should be remembered that while brands like Rolex, Omega and Jaeger LeCoultre sold their watches through a network of appointed stockists, Tiffany watches were only ever available at Tiffany & Co shops, of which there were very few, hence the relatively small numbers of these timepieces that circulate today.
It should also be clarified that at the time when the vintage watches we offer for sale were produced, Tiffany & Co was never a shopping destination for the man in the street and like Cartier, serviced a high spending social elite. The Astors, the Vanderbilts and the Morgans were all Tiffany & Co customers and the pieces sold by the company during its golden age were never intended for consumption by a wide audience. To try to quantify this in meaningful terms, it would be accurate to say that for every hundred vintage Rolex watches that our business buys, we purchase perhaps one by Tiffany & Co. Today, in common with those by Cartier, Louis Vuitton and Van Cleef & Arpels, the exclusivity of new Tiffany & Co goods has been diluted as the company chases the large and very lucrative middle class market. But in the pre-war era, Tiffany & Co items really were something special and were priced accordingly. It was with pieces like the superb early vintage watches for sale on this site that Tiffany forged the reputation for excellence and sharp design that it continues to trade on in the modern era.
Some of the most beautiful Tiffany & Co vintage watches were those designed for ladies, many of which featured the most wonderful diamond set platinum cases. Very much classics of the 1920s jazz age, they conjure up evocative mental images of the kind of high society parties described in F. Scott Fitzgerald's The Great Gatsby and still make spectacular show pieces for evening wear today. While these certainly aren't inexpensive, they have steadily appreciated in value over the last two decades and are established as very safe investments. At a more emotive level, they also make charming gifts and I can't imagine any sophisticated lady not being highly delighted when unpacking a vintage Tiffany diamond set watch on her birthday or at Christmas.
While we all tend to think of Tiffany & Co as being an American concern, which indeed it is, it is easy to forget that the company has always had very strong ties with Britain. As far back as the mid-1800s, Tiffany supplied most of the royal houses in Europe and opened its first London store in 1868. Sadly, pressures created by the great depression of the 1930s meant that this was closed in 1940, but while it traded, it supplied some really outstanding watches that are highly desirable to the collector today. Over the years, we've sold vintage Tiffany & Co watches that were originally retailed in the USA in the 1950s and 60s and earlier pieces from the company's London shop, with the latter being typically more valuable than their closest American equivalents.
The sheer glamour associated with the Tiffany & Co name carries a premium and completely authentic Tiffany vintage watches that can stand close expert scrutiny are typically fairly pricey, being loosely parallel cost-wise to their counterparts by Rolex. While they were never manufactured in house, the quality standards to which pre-war Tiffany watches were produced were second to none and they stand direct comparison to their equivalents signed by any of the major Swiss horological brands. As investments, they certainly qualify as a sound choice and as worthwhile examples dry up very noticeably from the marketplace, it seems inevitable that prices will continue to rise.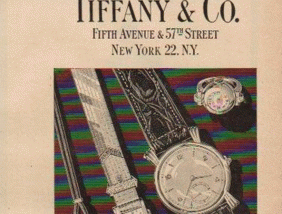 Tiffany & Co 18k sapphire diamond ladies London 1925
Bulova flip top retailed Tiffany & Co 1951
Vintage Watch Brands
Vintage Watch Decades
Vintage Ladies Watches
Vintage Watch Bracelets
Swipwreek Straps
Travel Clock/ Pocket Watches
Home
About
Brand Overviews
By Decade
Reference
Contact Details
Telephone from the UK:
07453 734666
or 07428 051005
Telephone from overseas:
+44 7453 734666
or +44 7428 051005