Zenith oval silver 1922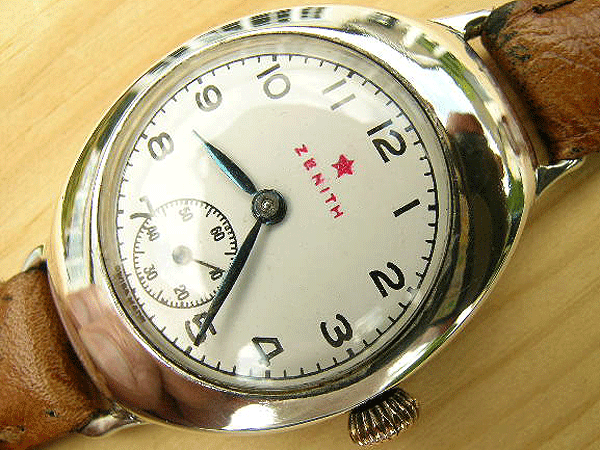 From 1922, this beautiful elongated oval shaped gentleman's silver vintage Zenith is the perfect example to illustrate the emergence of the second phase of the wristwatch, this following on from the officers' watches of World War I. Though there had been wrist worn timepieces in the years before the Great War, largely purchased by society ladies as items of novelty jewellery, it was convenience in the trenches that led to widespread adoption of the wristwatch among male wearers. Given that these first wristwatches were directly derived from their pocket watch ancestors, it is hardly surprising that they took the same circular form, with simple wire lugs soldered onto either side of their cases in order that a strap could be affixed. To summarize the situation in a nutshell, the first generation wristwatches were basically reduced size pocket watches, with the addition of lugs.
While, particularly if manufactured by one of the great Swiss houses, early officers' watches are undoubtedly very collectible and much sought after, from a personal perspective, we think that the era that followed on from World War I, in essence the 1920s, was responsible for the production of even more interesting items, these having a distinct character of their own. By the early 1920s, the wristwatch was breaking away from its pocket watch inspired roots and asserting its own identity, with rectangular and tonneau case shapes appearing in abundance that had not been seen previously.
This particular watch is delightful, not least because it has aspects of both the emerging 1920s style and the former officers' watches. The new direction of the roaring 1920s is apparent in the stretched oval case, this having never been used on pocket watches, but the watch still retains the same traditional enamel dial that would have looked perfectly in place on an example from five or six years earlier. In almost every respect, this item represents something of a transition from the first generation of the wristwatch to the second, and as such, is an important piece for the serious collector.
The elongated, flowing case is in virtually perfect condition, and couldn't have a more evocative and elegant appearance. This is in solid silver and of a substantial gauge. Its condition is almost perfect, with only the very lightest imperfections here and there that have been caused by legitimate use over the years. Notice how, by 1922, the lugs on this case are no longer made from wire, but are thick and integral to the overall aesthetic of the watch. Again, so typical of the early officers' watches, the case back is still hinged, this item carrying the serial number 2432994 on its exterior. On its inside, the case back is correctly signed as "Zenith, Swiss Made" and fully hallmarked as solid silver. In common with the rest of the watch, this case is entirely free of past repair work, its hinged back opening and closing smoothly and securely.
The completely original white enamel dial is one of the most appealing aspects of this watch, and is remarkable on account of its almost perfect condition. On any so equipped watch of this age, we would almost take for granted that the dial would have some hairline cracking to its baked surface, but there are no cracks whatsoever here. The dial is free from discolouration, and the red Zenith signature, black Arabic numerals and minute track are all crisp and well defined. The original blued steel hands are in almost perfect condition, and are free from corrosion or surface damage. On a watch of this age and relatively high value, it is vitally important that every aspect remains original in order for the piece to have its maximum theoretical worth. Hands and winding crowns have often been changed over the decades, and to find the correct replacements to put a watch from this period back to stock would be virtually impossible now. Consequently, there is a wide gulf in value between a watch like this one, that is totally unmolested in every last detail, and the same model with numerous component changes and signs of past repair work having been carried out.
Any serious collection of early wristwatches should contain at least one Zenith, on account of the company's unique movements being some of the finest produced by any maker at this time. Founded in the Swiss Jura town of Le Locle in 1865, Zenith is one of the tiny elite group of horological houses that have always been true "manufactures", this term meaning that they had the capability to produce their own movements entirely in-house, with no importing of components from external suppliers. This is an important point that must be fully appreciated. In almost every case, the major Swiss luxury watch brands were, and are still, not movement manufacturers. Instead, they sourced raw, unfinished mechanisms from a number of
corporate suppliers, typically ETA and A.Schild, and then processed these to their own specification, adding their signatures along the way. There are arguments for and against the manufacture concept, the strongest of those in the latter category generally being that to produce a movement in-house from scratch, rather than building it around an ebauche ( the Swiss term for an unfinished movement in its most basic state) that has been purchased externally, offers no technical advantage and ties up capital and skilled labour that could be better used in the refinement process. Conversely, those with a passion for manufacture movements argue that as every component in these is made in one factory rather than coming in from a host of external suppliers, there is a far greater degree of quality control than would otherwise be possible. From a personal viewpoint, we find this last suggestion a little weak. The top tier houses offered items that were built to an incredibly high quality standard, and would never have even dreamed of working with any supplier that was not highly regarded in its own specific area.
The key reason for venerating manufacture movements is that they reflect the combined expertise and ingenuity of a unique and defined group of individuals, rather than having a looser generic origin. The movement in the watch for sale here was designed, built and finished by Zenith, and therefore can be seen as a "pure" product of this famous marque. It can be very disillusioning to buy a highly priced vintage timepiece and then stumble across another watch from the same era, by an entirely different, often virtually unknown, maker, at a low price, with a movement built from the identical ebauche. This situation will never present itself to the Zenith owner, the beautifully crafted mechanisms in these watches being exclusively used in the company's own output. Vintage Zenith watches are regarded as having a great deal of integrity by collectors on account of their manufacture movements, and as more buyers become aware of this concept, and make their purchases accordingly, the prices of these pieces will rise accordingly. Fifteen years ago, the manufacture issue was a virtually unknown one, but is now taking on much more significance with increasingly informed buyers. Interestingly, we see a parallel situation regarding the sourcing of components from buyers of very high level luxury sports cars, and even connoisseurs of fine chocolate, who will actively seek out "single-origin" varieties, in which the cocao beans used all come from an identifiable region, rather than being a homogenised blend of several types. As it becomes ever easier to share information regarding any given commodity, buyers are far more discerning now that they ever have been in the past. Twenty years ago, the majority of luxury watches were bought on the basis of the name on their dials and little else. Today, just as it should be, the quality and origins of a watch's movement play an enormous role in defining value, and the increasingly widespread realisation that the mechanisms in high grade vintage pieces were built to such incredibly high standards has undoubtedly been a major factor in the boom in elderly wristwatch prices that we have witnessed over the last decade.
Quite remarkably when we consider that it was manufactured ninety years ago, the calibre 11 NVSI movement in this watch is in almost perfect condition, both cosmetically and mechanically. Built entirely in-house by Zenith in Le Locle, the 11 NVSI was launched in 1904 and remained in production until 1926. The frosted gilt surface of this unit gleams brightly and has not deteriorated in the least, with no sign of the incipient rust that is present on almost every early wristwatch from this era. The signature "Zenith, Swiss Made" is stated on the bridge plates, together with the individual serial number 3061336. A point always worth checking when buying any vintage watch, the slotted screw heads on this movement are not in the least bit chewed, such damage being a tell tale indication that amateur repairers have been at work. A conscientious watchmaker will always take his time and use the correct size screwdrivers as required, leaving no visible marks on the screw heads whatsoever. While commenting on the point may seem excessive, it is these finer details that separate the vast majority of the surviving examples of vintage watches from those that are genuinely worth buying for investment. A watch like this one, in an early stylised shape and by a top level manufacturer, will be relatively expensive today, and it is worth taking a little extra care to scrutinise some of these small points that define a piece as having been conscientiously looked after in the past.
This movement has several deluxe features that are not typically found on the majority of Zenith mechanisms from this period. Its regulator is especially interesting, this offering the facility for much finer adjustments than would normally be possible. Similarly, the jewels in this unit are not simply press fitted into place, but are each held in brass sleeves, correctly known as chatons, these being screwed into threaded holes in the bridge plates. Very few movements have these refinements, and the combination of micro-regulation and screwed chatons would normally be associated with mechanisms that were intended for chronometer certification, though there is no suggestion that the example here was ever tested in this manner. For those with access to a library of horological reference books, it is worth mentioning that this same movement, again with screwed chatons and this sophisticated regulation system, is shown on page 234 of "Wristwatches. History of a Century's Development" by Helmut Kahlert. The movement pictured is stated as being from 1920 and has the serial number 2532969, being slightly earlier than the 1922 example here with the serial number 3061366.
Many novice collectors are somewhat hesitant to buy a watch of this age, presuming that it will inevitably be unreliable and difficult to keep in working order. This is not actually so, on the strict proviso that only a superbly preserved example is purchased in the first instance, though of course, an antique model of this kind is very unlikely to ever achieve the degree of accuracy that can be obtained with a more modern watch. Ninety years of neglect and abuse will wreak havoc on any mechanical watch movement, regardless of its initial quality. But equally, a movement of this exceptionally high grade that has been properly lubricated and adjusted on a regular basis will be, quite literally, capable of providing good service almost indefinitely. In our current throw away age, when a typical luxury watch bought in the high street jeweller's will perhaps have a maximum intended lifespan of ten years, it is easy to forget that in the inter-war years, houses like Zenith were creating movements on the basis that these would outlive their owners. The concept of pre-planned obsolescence in consumer products, certainly at this high level, had not yet emerged, and it was assumed that the buyer of a luxury timepiece was acquiring a watch for life. The same mentality had always prevailed in the pocket watch era, with many prestigious timepieces being handed down from one generation to the next. The movement in the watch for sale here has been meticulously maintained, and serviced on a regular basis since new. It has no changed parts whatsoever, evidence of any past repair work having ever been performed and it works perfectly today, setting smoothly and running with excellent amplitude.
We have fitted a high quality ostrich skin type strap to the watch, and this remains in very good condition, having never been worn. This is a not a genuine Zenith strap, the original having disintegrated many years ago, but it is entirely appropriate to the piece and need not be changed in the near future.
Taking every aspect of this watch into consideration, it represents a good choice for the buyer looking for an investment timepiece. Stylised wristwatches from the early 1920s, those that were the first to depart from the traditional circular form, are very difficult to find now in this superb condition, and the rising position of Zenith in the collectible marketplace again commends this item as a potential strong appreciating asset. We cannot imagine any circumstance that would result in this watch falling in value, and, its investment trajectory having been proven over the last decade, during which the worth of early Zeniths has tripled, it would seen a safe bet to assume that its value will climb steadily over the foreseeable future.
It is very difficult to suggest a value for this piece, because we are not aware of any similarly styled Zenith from the early 1920s having been offered for sale in the last twelve months, either via any of the London vintage watch shops or in Christie's, Sotheby's and Bonhams fine wristwatch sales. As a standard circular Zenith officer's watch of the World War I era, I would have expected it to have a worth of somewhere between £900 and £1200 GB pounds. With this stretched case shape and its interesting historical significance as a stepping stone between the officers' watches and the form models of the mid to late 1920s, we would estimate that the watch here should command a slight price premium over its more commonly found ancestors, but have priced it in the same bracket at £925 GB pounds. Based in the north of England in rural Yorkshire, we deliberately try to undercut our competitors in central London by a significant percentage, which we can do because of our low trading overheads. In the capital, behind polished plate glass in Bond Street or Mayfair, this would be an expensive item and one that would quickly find a new owner.
Price £925 GB Pounds
Vintage Watch Brands
Vintage Watch Decades
Vintage Ladies Watches
Vintage Watch Bracelets
Swipwreek Straps
Travel Clock/ Pocket Watches
Home
About
Brand Overviews
By Decade
Reference
Contact Details
Telephone from the UK:
07453 734666
or 07428 051005
Telephone from overseas:
+44 7453 734666
or +44 7428 051005