Vintage Ladies Watches For Sale
Vintage ladies watches make up an important part of our business and are something in which we take a great deal of pride. In a historical sense, the models intended for female use could credibly be viewed as the purest form of vintage watches, not least because there were wrist worn timepieces for women considerably before the wristwatch became acceptable for gentlemen in World War I. Rolex, Omega and Longines all offered ladies' watches before they included men's models in their ranges.
pagebreakWithout a doubt, some of the most aesthetically pleasing vintage wristwatches of the last century have been ladies' models. Design powerhouses like Rolex and Omega created some remarkably beautiful ladies' watches, particularly during the inter-war period when art deco was a major influencing factor. Equally, the earlier, pre-1920 examples by all the major brands exude charm and that indefinable English country house shooting party aura.
Interestingly, just as many of the world's most knowledgeable collectors of high value antique jewellery are men, vintage ladies' watches are also very much objects of desire for males as well as females. Several very advanced Rolex collectors with whom we have worked closely for over a decade only have an interest in ladies' watches, yet are male themselves. This is actually quite understandable as in many instances, the ladies' ranges by the major houses were more aesthetically flamboyant than those intended for men, yet had exactly the same degree of technical sophistication in their movements.
As with their equivalents for male use, the key to buying a high value vintage ladies' watch is only to purchase at the very top of the condition and originality scale. Many of the early watches that we see for sale today are not as they should be and it isn't unusual to find items that have been built up from cases and movements that were never together when new. The watches sold on the physical auction circuit by Christie's, Sotheby's and Bonhams are typically pretty good, but in the unregulated online world, sadly, a lot fall widely short of the mark. All of the vintage ladies watches for sale on our site have been carefully vetted and are absolutely correct, right down to the last internal detail. Whether you buy a 1916 pink gold ladies Rolex, a 1935 Jaeger LeCoultre Duo-Plan or a 1977 Cartier Tank from us, you can be guaranteed categorically that it will be authentic throughout and represent the very best surviving example of its type.
For many owners and prospective owners, the appeal of vintage ladies watches stems from their exclusivity and their impressive track record as safe appreciating assets. The high street jewellers have windows full of mass produced designer watches by fashion brands, many of which carry quite substantial price tags. These are manufactured, quite literally, in batches of tens of thousands without any degree of hand craftsmanship and sold globally via a vast network of retailers. In contrast, if you buy an old Rolex from the pre-war years, this is a painstakingly crafted object with a genuine rarity value. Unlike a new watch which will suffer horrendous depreciation as soon as it leaves its place of purchase, the vintage piece is already established as a collector's item, holding its value in the short term and rising in worth over the longer duration. It is also very unlikely that you will ever come across the same model again. An antique Rolex ladies watch will always be a talking point at the dinner party table or in the theatre box and we've had quite a number of new customers who have been introduced to us as a result of conversations in similar social environments.
A lot of the vintage ladies watches we sell are bought as birthday, Christmas, graduation etc gifts for wives, family members etc. This makes sense as a well cared for classic wristwatch by a top tier Swiss manufacturer is something that will last a lifetime and give an awful lot of pleasure. Recently, we've noticed a significant trend towards a vintage Rolex watch with a suitably engraved case back being given to the bride on her wedding day, which seems like a very romantic idea, especially as its something that can be passed on to daughters and grand daughters in due course. Equally though, it's a mistake to assume that a vintage watch is an appropriate gift for everyone. The sort of person who likes everything to have a brand new, flashy appearance will dislike the faded elegance of a vintage Rolex or Omega and will be far more thrilled by a purchase made on the high street. The lady who will adore a vintage watch is someone with far more understated tastes, who sees the individuality and character in fine antique furniture and driving a classic Porsche Speedster or Mercedes SL from the 1950s or '60s rather than a current model BMW or large Japanese four wheel drive vehicle. These vintage watches ooze old world aristocratic appeal but are a universe away from the brash chrome creations of Dolce & Gabbana and Gucci. This point should be taken into consideration if buying as a present.
At any moment in time, we carry stock of several hundred investment grade vintage ladies watches for sale. The vast majority of these are by Rolex but we always attempt to have examples of the key landmark models by Omega, Longines, Jaeger LeCoultre, IWC and the other major houses available as well. Just as with our gentlemen's vintage watches, these can be shipped to any worldwide destination or collected in person from us in East Yorkshire, UK.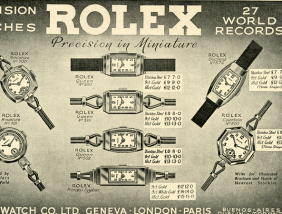 Rolex ladies large sized pink gold on heavy bracelet 1919
Rolex ladies 15k gold black starburst boxed 1921
Tiffany & Co 18k sapphire diamond ladies London 1925
Hermes gold ladies with exploding numerals 1928
Mechanical Digital Ladies Art Deco 1933
Rolex ladies gold with guilloche dial, boxed, 1935
Rolex Queen ladies gold art deco boxed 1935
Jaeger LeCoultre ladies steel art deco Harrods 1936
Jaeger LeCoultre ladies art deco steel, boxed 1936
Longines gold ladies cushion boxed 1937
Vintage Watch Brands
Vintage Watch Decades
Vintage Ladies Watches
Vintage Watch Bracelets
Swipwreek Straps
Travel Clock/ Pocket Watches
Home
About
Brand Overviews
By Decade
Reference
Contact Details
Telephone from the UK:
07453 734666
or 07428 051005
Telephone from overseas:
+44 7453 734666
or +44 7428 051005