Vintage Breitling Watches for Sale
Breitling occupies an interesting position in the experienced vintage watch collector's mind. Founded in 1846, it has a long history, initially as a maker of pocket watches and then, in common with the other brands that we recognise today as household names, after World War I, increasingly in association with fine wristwatches.
Despite it having been in existence for almost a century before this point, we don't tend to think today of Breitling in connection with anything produced before about 1940, which is rather ironic given that it was during this earlier period that it was actually still a manufacturer of its own in-house movements.
There are some very appealing time only Breitling wristwatches from the 1940s and '50s, some of which appear now and then for sale on this website. But these are not what collectors immediately think of as classic vintage Breitling material.
Unlike at Rolex, Omega, Jaeger LeCoultre, Longines and almost all the other major houses, at Breitling, chronograph models, those that included a stopwatch function, were not a small offshoot of the main range but in fact the primary area in which the brand specialised. Today, the vintage Breitling chronograph in its various 1940s, '50s and '60s incarnations is one of the most instantly recognisable classics of the wristwatch genre. If we were assembling a list of a dozen vintage watch models for a customer that could genuinely be classed as iconic in the strictest sense, then a Breitling chronograph, probably a second generation reference 806 Navitimer from the mid-1960s with silver registers on a contrasting black dial, would be among them.
Breitling will be the natural first choice of vintage watch for anyone interested in aviation. The company, still headed by Willy Breitling at this stage, realised in the 1940s that having an image linked to the glamorous world of flying would be beneficial and deliberately designed products, like the Chronomat and later the Navitimer, that would be useful to pilots when performing navigational calculations. In 1952, the Breitling Navitimer was officially recommended by the Aircraft Owners' and Pilots' Association ( AOPA) in the USA, which further cemented the link in the public's perception between Breitling and professional instruments for flying. On a wider level, the use of a Breitling TopTime by actor Sean Connery for his leading role as James Bond in the 1965 film Thunderball also brought Breitling to the attention of the population at large. The Breitling TopTime was very much the fashionable watch of its era, being worn very publicly by many celebrities at the time, including, in the second half of the 1960s, Beatle John Lennon.
Just occasionally, one sometimes hears the criticism levied at Breitling that the company was never a maker of its own movements, but instead reworked ebauches ( movements in their most basic form, unfinished and without components) purchased from Venus and, following the closure of the former in 1964, Valjoux. This is absolutely correct and certainly, the models that we regard as the vintage Breitling legends today were built around third party movements. But if we look at this matter in detail, we quickly realise that to condemn Breitling for this method is ridiculous and those that do are speaking from an ignorant position without really appreciating the facts of the situation. While during the 1950s and '60s, Jaeger LeCoultre, Omega and Rolex manufactured their own time only movements ( those with hour, minute and second hands), none of these houses produced the chronograph mechanisms that they offered at the time. The movements in Omega's Speedmaster and Seamaster chronographs were supplied by Lemania, while Jaeger LeCoultre and Rolex bought their chronograph ebauches from Valjoux. Because these other houses did produce most of their own movements, it is often assumed that they also manufactured the mechanisms in their chronograph models as well. In fact, the sheer complexity of a chronograph movement makes it phenomenally expensive to design and manufacture. The niche, relatively small market for watches with a stopwatch feature made it prohibitively expensive for these brands to have in-house chronograph mechanisms, so they took the logical route of buying them in raw form and then finishing them in their own facilities as required. So by all means criticise Breitling for using movements bought from external sources, but at the same time, don't forget to apply the same harsh judgement to Jaeger LeCoultre, Rolex, IWC and Omega. Just for the record, a final note should be added to this paragraph saying that if a buyer wants to take a purist approach and source a vintage chronograph with an in-house movement, he would be well advised to take a look at the offerings of Longines, Zenith and Universal.
The fact that vintage Breitling chronographs contain movements that were manufactured by third parties and sold to a lot of other concerns has sadly led to these watches becoming targets for the faking community. What makes the matter worse is that in 1969, Breitling changed hands, leaving the ownership of the founding Breitling family and passing into the control of the Sicura concern, headed by Ralph Schneider ( who, completely incidentally, now owns Ulysse Nardin). At a time when the survival of the Swiss mechanical luxury wristwatch industry seemed doubtful, nobody foresaw the importance of keeping the old production archives and these were destroyed. Consequently, Breitling today has no correlating list of case and serial numbers and the collector is left to his own devices as he tries to assess the originality of any vintage Breitling he is offered.
The unscrupulous will locate a watch of approximately the right age with the non-descript dial signature of one of the many Swiss brands that disappeared in the 1970s, but containing the correct Venus movement. The dial will be sent for refinishing with the Breitling name and the watch sold, usually via online auction, as a genuine period Breitling chronograph. The movement will often be of the appropriate calibre, but compared side to side with an authentic example, will be far more crudely finished than its vintage Breitling equivalent. The key to weeding out these bogus watches is to always decode the reference number that will be present on all genuine vintage Breitling chronographs and compare it to other similar Breitling models that are known to be authentic. This reference number identifies a specific combination of case and movement and will produce anomalous results when investigated if not correct. Every vintage Breitling for sale on this site has been carefully examined and is categorically guaranteed to have its original case, movement and dial combination.
Defying the bleak predictions from a number of naysayers in early 2008, the vintage watch market has performed superbly through the financial crisis of the last years, not abating even at the height of the recession. Conversely, rather than reducing in value, the worth of vintage wristwatches by the top tier makers increased dramatically throughout 2008 and 2009, this enthusiasm for alternative investments being driven by a lack of trust in the banking system and very low interest rates on savings. Curiously, probably more than any other brand, Breitling has benefited from the crisis and the values of its classic models from the 1950s and '60s have soared. All original early Breitling Navitimer, Cosmonaute and TopTime models were always strong, but the re-evaluation of the buying policy of many collectors and the realisation of just what good value these vintage Breitling watches still are has really brought them to the forefront recently. There was a superb article in the British classic sports car magazine "Octane" by Nick Foulkes recently (page 122, May 2009 issue) in which this point was specifically discussed. He talked about the almost ludicrous market valuation of double red Rolex Seadwellers and pre-Daytona Rolex chronographs before commenting that at perhaps £4500 or £5000 instead of the £20000+ often needed for a Rolex rarity, a first generation Breitling Navitimer offers the same level of quality, and an equally iconic design, at a far lower price. He's absolutely right, and at this level, good authentic Breitling chronographs represent something of a bargain at the time of writing.
A common theme running through this series of short brand overviews is that genuinely good, all original examples of all these watches are becoming much harder to source than they were even five years or so ago. Going back to 2005 and 2006, we were buying very tidy reference 806 vintage Breitling Navitimers on a reasonably regular basis, both within the trade and from the general public. Today, every time we sell one of our Navitimers or TopTimes, there is a noticeably delay before we can locate a replacement for stock of the same quality and we have to pay more than we did previously for the same models. Breitlings were a specialist product when they were new and even as vintage watches, they occupy a niche position in the market, with their own distinctive character that is quite different to that of the other major Swiss houses. While certainly not inexpensive items to be bought on a whim, there is no doubt that classic Breitling chronographs are significantly undervalued vis-à-vis their closest equivalents by Rolex, Omega and Patek-Philippe. For anyone looking for a classic wristwatch built to superb quality standards but with an overtly masculine, professional twist, an immaculate vintage Breitling might fit the bill perfectly.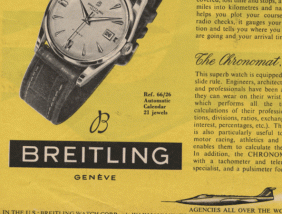 Breitling chronograph with Venus movement 1951
Breitling TopTime chronograph steel with papers 1967
Vintage Watch Brands
Vintage Watch Decades
Vintage Ladies Watches
Vintage Watch Bracelets
Swipwreek Straps
Travel Clock/ Pocket Watches
Home
About
Brand Overviews
By Decade
Reference
Contact Details
Telephone from the UK:
07453 734666
or 07428 051005
Telephone from overseas:
+44 7453 734666
or +44 7428 051005