Vintage Wristwatches For Sale From The 1980s
In the early 1980s, something exceedingly strange happened that nobody had predicted. As we've seen, in the previous decade, Switzerland's mechanical watch making industry was decimated, almost to the point of oblivion, by the widespread arrival of battery powered quartz watches from Japan and the Far East. Quartz watches were cheaper, more accurate and required less input from the user than their spring driven predecessors, with the consequence that the world consigned the mechanical watch movement to the history books, leaving the famous Swiss factories teetering on the brink of collapse.
Nobody really knows who first came up with the thought, but gradually, in Italy, a number of exceedingly refined individuals came to the realisation that in fact, the quality of wristwatches being manufactured new at the time, with their mass produced movements created by the million, was far lower than it had been in the pre-quartz days. It was undeniably true that wristwatches had become more accurate, but during the process they had been stripped of all craftsmanship and human input, becoming little more than bland timekeeping white goods.
Very slowly but still discernibly, green shoots started to appear that indicated an interest in mechanical watches, not as highly accurate timekeepers but as luxury products that exhibited an awful lot of skill in their creation. For the first time, the major physical auction houses Christies and Sotheby's started to include vintage wristwatches in their horological sales. The concept of the "collectible wristwatch" had been an oxymoron even five years before, with nobody having any interest in the history, design or movement variations in old wristwatches up until that time, but quickly, enthusiasm spread for this few uncharted area and sales results in London and New York, especially for good early Rolex material, were impressive. Today, at a time when the market for well preserved authentic vintage wristwatches is almost frantic, it is hard to imagine a time when buyers would walk into the major physical salerooms with their immaculate 1920s and 1930s Rolex, Omega, Jaeger LeCoultre and Patek-Philippe examples and be told, very politely, that these were of no commercial value and would not be the sort of thing that could be accepted for inclusion in horological sales. Yet this world really existed, less than thirty years ago.
The media quickly latched onto the boom in the values of vintage wristwatches and articles in several of the British Sunday colour supplements followed in the mid and late 1980s. The general public continued buying quartz watches and it is important to appreciate that enthusiasm for mechanical timepieces was at this stage still limited to a relatively small number of informed connoisseurs, but even so, it was inevitable that they would have an influence on at least the aesthetic design of newly released models. This could be seen in many of the new watches launched in the late 1980s, which had very vintage looking, 1930s styling, often with art deco rectangular cases, but were fitted with modern quartz movements. The enthusiasm among a wealthy elite for vintage wristwatches was becoming noticed and the look, albeit without mechanical movements, that was by then commanding high prices in prestigious salerooms, was filtering through to the mass market.
Looking back on the period from roughly 1984 to around 1990, it should be remembered as a time when the top tier Swiss houses gradually returned to form by offering some superb new models, equipped with mechanical movements, but this time marketed as expensive opulent luxuries that were deliberately a world apart from the infinitely cheaper quartz models that filled the windows of every high street. In the 1970s, the mechanical watch industry had fought a battle with the makers of quartz watches and lost, with the criteria used to measure both being convenience and accuracy. When this re-birth came, the yardsticks become hand craftsmanship, opulence and luxury, all of which enabled the makers of high end mechanical movements to have their products compartmentalised into an entirely different section of the buyer's consciousness, therefore avoiding the direct comparisons with quartz that had been so damaging in the past. Looking back at them now in retrospect, early copies of International Wristwatch magazine reinforce these memories, with adverts and reviews of IWC's beautiful DaVinci and Jaeger LeCoultre's Reverso, the latter a reworking of its 1930s art deco classic, among others, making an appearance. In short, the wristwatch industry had split into two very distinct areas, these being the mass market, in which quartz models were offered by the millions to the public as everyday timekeepers, and what had remained of the old mechanical movement houses, who had seized on the impetus provided by the emerging vintage wristwatch scene and taken on a new role as suppliers of very costly luxury products to a clientele who understood the craftsmanship and tradition that came with this type of watch making.
The majority of the watches sold on this site pre-date the 1980s but certainly, many of the prestigious houses produced some very fine work during this renaissance period and this must not be overlooked. While it was slightly sidetracked into the world of the Oyster Quartz, Rolex continued to manufacture some very good products. Omega went more heavily into the quartz field, but at the same time, if one is selective, it is still possible to acquire a well preserved classic Omega from this period with a traditional mechanical movement, for, literally, just a few hundred pounds. Ditto Cartier and Longines. In the 1980s, a lot of fairly second rate watches were offered by the major brands, mainly with battery powered movements, but most of these will have ended up in the dustbin years ago and what's left of the mechanical models from this period can often be very good, without costing an arm and a leg to obtain.
In the purist sense, the golden age of Swiss watching had gone by the 1980s, probably never to return again, but to turn one's back on this decade blindly would be foolish and if we have the chance to buy something from this era that is genuinely outstanding in terms of quality and its potential to rise in value in the future, then we will have no hesitation in including it for sale here. Nobody is going to pretend that Rolex Oysters from the 1980s will ever have the magnetic visual appeal of their spectacular ancestors from the 1940s and '50s, but for anyone wanting to own a good useable vintage watch that will be both highly practical and an appreciating asset, the best examples from this decade are worthy of serious consideration and should not be overlooked out of hand.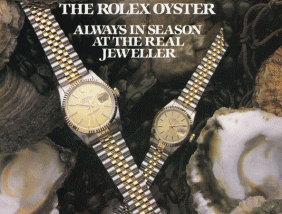 Heuer steel divers. Early 844-1. Patent documents 1980
Longines automatic. Important movement, calibre 990, 1984
Omega Constellation Manhattan steel on bracelet 1984
Rolex Tudor gold 1985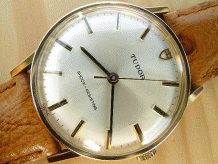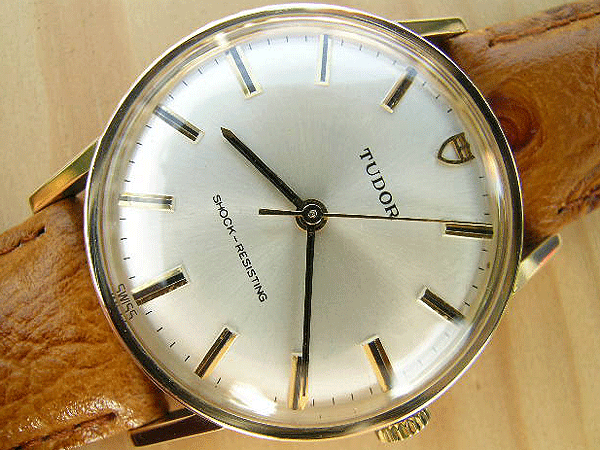 In almost pristine, nearly as-new condition, this superb vintage Rolex Tudor in gold is very much a modern classic. Not at all easy to find in this virtually perfect state, especially since the dramatic increase in collector interest in the Tudor models that has occurred over the last five years.
Price £935 GB Pounds
Omega Seamaster 200 steel "pre-Bond" 1989
Vintage Watch Brands
Vintage Watch Decades
Vintage Ladies Watches
Vintage Watch Bracelets
Swipwreek Straps
Travel Clock/ Pocket Watches
Home
About
Brand Overviews
By Decade
Reference
Contact Details
Telephone from the UK:
07453 734666
or 07428 051005
Telephone from overseas:
+44 7453 734666
or +44 7428 051005