Zenith gold manual wind 1966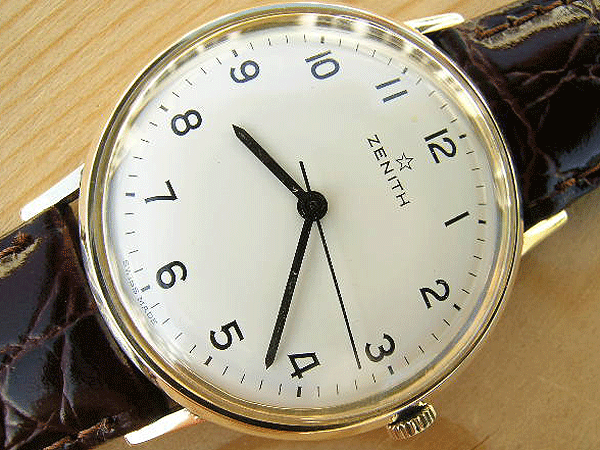 From 1966, this beautiful gentleman's gold Zenith is the epitomical luxury wristwatch from this period. Today, it has matured into a highly desirable collector's item and is a very suitable piece for acquisition as a serious investment. On a personal level, we are enormous fans of the classic products of the Zenith concern and have long held the belief that these are among the highest quality to have been offered by any of the top tier houses. Without any doubt at all, this watch stands very favourable comparison with anything of the same age by Rolex, IWC or Omega, yet it can be purchased for a substantially smaller amount of money.
We tend to think of Zenith as the horological equivalent of a small independent vineyard that produces the finest standard of wine but has not yet been discovered by the all powerful Robert Parker. Aficionados will have been aware of our fictional vineyard for decades, but the man in the street is unaware of its limited scale, in-house bottled production. And so it is with Zenith. Founded in 1865, the company is one of the oldest of its type and within the industry is venerated for its exquisite autonomous movement manufacturing, but to the public at large, its name is unknown. This is rather ironic given that for many years, its movements were purchased for use by Rolex, the most famous of all the Swiss houses.
The condition of this watch is almost perfect. The customers that bought Zenith watches, and still continue buying them today, tended to be genuine enthusiasts rather than merely brand name trophy hunters. Zeniths, especially in gold, were expensive and consequently, owners would typically treat them with care, knowing that if they did so, they would have no difficulty in being possessions for life. Looking closely at this watch now, it is difficult to imagine that it has been worn on more than just a few dozen special occasions in the past. Of course, if one looks closely enough there are the tiniest imperfections to the gold here and there, but these are so inconsequential as to be almost invisible to the naked eye.
The case is in the imperial style, which has the major advantage of being extremely classical. It would be almost impossible to date this watch by its aesthetics alone and we could be convinced, it we didn't know otherwise, that this piece originated from 1946, 1976 or 2006, or indeed any year in between. Non-dating styles are attractive from the point of view of the investor, largely because they are immune from changes in fashion. Some of the very distinctive 1970s models, with oversize cases and brightly coloured dials, are realising high prices at present but we worry that they are something of a collecting fad and, if the wheel of taste revolves away from them, they may tumble dramatically in value. No such fate will befall items like the one here and buyers can be confident that they will continue to appreciate in worth, regardless of any change in mass market trends.
The snap on case back is covered internally with an ornate engine turned pattern. Today, in an age of accountancy driven cost cutting, it is difficult to imagine an environment where it was quite usual to spend time laboriously decorating an aspect of a watch that its buyer would almost certainly never see.
Inside the case back are a clear, well defined set of British hallmarks, these telling us that this housing was assayed as solid 9 karat gold in London 1966. Notice how there is no import mark. We can therefore be sure that this case was manufactured in the UK, rather than overseas. While the casual reader might well assume that what we know today as luxury Swiss watches all had Swiss made cases, the reality was far from this. The major Swiss movement makers often sought to cut costs by having cases commissioned from manufacturers in the countries in which their output was intended to be sold, thereby neatly avoiding the punitive rates of duty that were often levied on imported gold or on complete wristwatches. We see this especially in the UK, where firms like Rolex, Jaeger LeCoultre and Omega almost always purchased locally made cases, typically from the noted suppliers Dennison, based in Birmingham, and Shackman & Sons, located in Chesham.
This case has the serial number 40700. Beneath this is the stamp "Z.W Co", these letters of course being the mark of the Zenith Watch Company ( Great Britain). Based at 119 High Holborn, the Zenith Watch Company ( Great Britain) was the independently owned official UK agent for Zenith in Switzerland from the 1910s right through to the 1970s.
Even the majority of experienced collectors would probably be of the opinion that this watch had an enamel dial at first glance. Its colour is a stark, bright white and it has a slightly glossy surface, suggesting a fired glaze finish similar to that which we find on pottery. In fact, defying its appearance, this is a painted dial, with a thin layer of paint applied over a sheet of copper. Its condition is literally almost perfect and it would be impossible to find better. Most importantly, this is an original dial that has not been restored at any point and is guaranteed to be completely virgin. Painted dials do not suffer from the hairline cracking that is so often encountered on enamel, but they do tend to deteriorate over the decades with prolonged exposure to dust and damp. There is no staining of any kind here and it can be said without exaggeration that this dial looks currently exactly as it did in 1966 on the day it left its supplying jeweller for the first time.
The dial format is very simple, with Arabic numerals at each of the hour positions and short straight lines as the minute markers. "Zenith" is signed above the dial centre point with "Swiss Made" around the bottom edge. Unusually for a watch from this period, this is no luminous material on either the hands or dial, clearly meaning that the time cannot be ascertained in pitch darkness.
All three hands are totally original and are in very dark, almost black, blued steel. Before buying a vintage wristwatch, especially at this relatively costly level of the market, a purchaser needs to be sure that every component in it is authentic and correct for the model. This piece, like the others for sale on this website, is exactly as it should be but unfortunately, many examples, especially those sold in the caveat emptor world of the online auction, are not. It is very easy for the novice buyer, without access to a stockpile of old catalogues and reference books, to innocently purchase a vintage watch online and find out at a later stage that its hands, winding crown and perhaps even its movement are not correct.
The key point to understand about Zenith watch movements is that they were, and still are, the product of a single factory. Zenith designed, built, finished and regulated its own movements completely in-house without using any component parts from external suppliers. Zenith sold its movements to other concerns; most significantly Rolex, but at no time did it ever source ebauches, this being the correct Swiss term for movements in their raw, unfinished state, from other makers. While we might imagine that this independent status was enjoyed by all the famous brands, in fact, most of them relied to some degree on third party component suppliers. The in-house nature of Zenith gives its products enormous credibility and goes some way to explaining why these vintage Zenith watches are so highly prized by the cognoscenti. A classic Zenith movement is a pure, single origin product, just like a single malt whisky that comes from a specific Scottish distillery or a puro Havana cigar, the leaves of which are known to have been grown on an identifiable plantation. As the vintage wristwatch market evolves and becomes more sophisticated, it seems inevitable that greater emphasis will be placed on which makers were or were not true "manufactures" ( this is the Swiss noun for those concerns that were capable of in-house movement production). Period Zeniths are very much "watch makers' watches" and as there is a greater move towards veneration of the manufacture, we strongly believe they will rise sharply in value.
The movement in this watch is Zenith calibre 2532. A hand wound unit that ran at an impressive 21600 half beats per hour, the 2532 was introduced in 1964 and only produced for three years before being discontinued in 1967, making it something of a rare beast for the serious collector. It is interesting to note that this movement was deemed to be so dependable and accurate that it was used as the basis for two automatic versions, the 2532 P and the 2532 PC, these having a self-winding rotor module screwed down in place on top of the standard manually wound movement.
In common with all vintage Zenith movements, the quality here is superb throughout. Zenith has a reputation among enthusiasts as being the maker of some of the finest mechanical movements of all time and without doubt, the unit here lives up to this standard. The edges of the plates are angled, the jewels are set in screwed chatons and the regulator is extremely sophisticated, allowing for a finer adjustment of running speed than was possible with the Hunter, Rolex's flagship hand wound movement of the same period.
"Zenith, Swiss Made, 19 Jewels" is signed on the bridge, with the calibre number 2532 stamped alongside the balance wheel. Also present is the individual serial number 6424779. Zenith movements are notoriously difficult to date by serial number and it is difficult to tie the age of this item down to a tighter time period than 1965 or 1966. We know that the hallmark letter inside the case back was used from May 1966 through to the same month the following year, so we have accepted this year as the production date of the watch. Looking at the similar examples of the 2532 movement pictured in close up in Manfred Rossler's book "Zenith, Swiss Watch Manufacture" and noting their serial numbers, it is technically possible that the movement here could date from the last months of 1965, but again, we have stuck to the more likely 1966 year.
This watch works perfectly. It winds, sets and runs very smoothly and with excellent amplitude. In common with other high level vintage wristwatches from the same period, if this piece is sent for servicing every three or four years, it will last almost forever. Zenith will perform servicing of its classic output back in its famous Le Locle factory but equally, there is no reason at all why routine cleaning and lubrication cannot be performed by any good local watchmaker at a fraction of the price.
Vintage Zenith advertising shows these gold models from the 1960s with elegant crocodile skin straps. We have fitted this piece with a strap that appears to be almost identical. This is not a genuine Zenith strap, but it is brand new and has not been worn.
The identical twin of this watch is given the honour of a large colour plate on page 186 of Manfred Rossler's book "Zenith Watches, Swiss Watch Manufacture".
This has exactly the same gold case, hands, winding crown and faux enamel dial as the item here. It is suggested as being from 1968, making it two years more modern than this piece.
At the end of 2011, Zenith's management announced a return to the classical styles that made the brand renowned all over the globe, eschewing the brightly coloured, rather tasteless giant chronographs that had been its staple during the previous decade. This decision was accompanied by the launch of the Elite Captain, an attractively styled model that is very similar in theme to the watch for sale here. Cased in gold, the brand new Zenith has a retail price of £8100 GB pounds, whereas this vintage example, which is in every way the equal of its young relative, can be purchased for £945 GB pounds, or, to put it more graphically, just over a tenth of the sum.
We cannot recommend watches like this one too strongly. For a modest outlay, they offer the opportunity to acquire a timepiece for life, built to standards that are only available now on new models with price tags running into many thousands of pounds. They also have more charm than their new equivalents and on a wearer's wrist they suggest confident old money rather than brash new success. This is a delightful item and one that will bring a great deal of satisfaction to its next owner and, if he looks after it carefully, perhaps to its next owner's grandson as well.
Price £945 GB Pounds
Vintage Watch Brands
Vintage Watch Decades
Vintage Ladies Watches
Vintage Watch Bracelets
Swipwreek Straps
Travel Clock/ Pocket Watches
Home
About
Brand Overviews
By Decade
Reference
Contact Details
Telephone from the UK:
07453 734666
or 07428 051005
Telephone from overseas:
+44 7453 734666
or +44 7428 051005