Zenith silver Land & Water for Birch & Gaydon 1918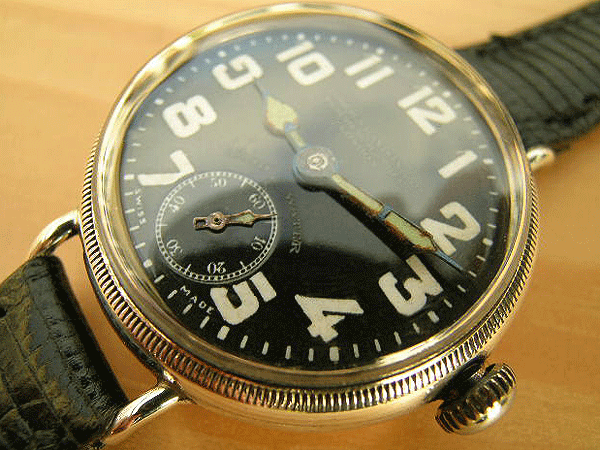 In lovely condition throughout, this 1918 silver gentleman's Zenith Land & Water is a serious collector's watch and something that would be very difficult to find in the same untouched state. We see very few World War I wristwatches that are dually original and immaculate, which really isn't too surprising if we stop to remember than these items are now approaching a hundred years old, qualifying them as antiques in the strict sense of the term.
By the outbreak of the Great War in 1914, Zenith was already well established and famous as one of Switzerland's most prestigious watch making houses. Like its venerable competitors Omega, Vacheron & Constantin and Longines, Zenith had been a producer of luxurious pocket watches aimed at a wealthy, high spending clientele who could afford to pay for the attention to detail associated with its movements. Whether by choice or due to market pressure we don't know, but certainly by the middle of the conflict period, Zenith had translated its efforts into the creation of some exceptionally fine wristwatches, including the Land & Water model here.
The Land & Water is rare, certainly noticeably more unusual than its conventionally signed Zenith branded equivalents from the same era, and there are at least two factors that explain its scarcity. Zenith never offered the Land & Water as a model for sale through its worldwide distribution network, but instead produced it uniquely for a single high society London jeweller, Birch & Gaydon. In every respect, this is a thoroughbred Zenith, signed as such on its case and movement, but its dial bore the name of its commissioning concern. Founded in 1861 and located at 153 Fenchurch Street in the City's opulent financial district, Birch & Gaydon had something of a niche among the top tier jewellers in the capital as being both a supplier of decorative objects to the highest level customer base, but also of luxury chronometers and other time keeping devices for practical use aboard ships and to those about to embark on expeditions into the Amazon or the polar regions. Even the name of this model itself, "Land & Water" is evocative of the Edwardian age of derring-do and triumph over the earth's most hostile environments. Without a shadow of doubt, Birch & Gaydon was one of the most prestigious jewellers in Britain when this watch was sold new, ranking alongside Mappin & Webb, Garrard and Asprey. Indeed, it is telling that the company was eventually bought out by competitor Asprey, which still owns the rights to the Birch & Gaydon name today. There is a very good article about Birch & Gaydon in Tony Mercer's landmark book "Chronometer Makers of the World" which includes the comment on page 108 that they were among "the most famous retailers in the City".
Given the gung-ho nature of this element of Birch & Gaydon's customer base, it is perhaps not surprising that the firm was an early stockist of wrist watches at a time when many of its competitors still viewed these items with suspicious disdain. We know from its period advertising that it was an official retail stockist of watches by Rolex, Omega, Longines, IWC, Heuer and Zenith, taking regular slots in the publication The London Chiavari, an organ which would have been read by many of the capital's beau monde at the time. We don't know of any other retailer for which Zenith custom created a unique new model at this time and it tells us a great deal about Birch & Gaydon's clout in the market, for want of a better phrase, that this elite Swiss brand would work hand in hand with its client in this way.
Interestingly, the Land & Water was offered in two distinct versions, both of which we have for sale at the time of writing. The first of these utilised a case manufactured to the Borgel patent, with no separate case back and the movement screwing into its housing from the front. This arrangement is historically important and the Borgel design was licensed to almost all the top tier makers at the time, including Rolex, Longines and IWC. For anyone wanting to become familiar with this term, we would suggest that our other vintage watches for sale on this site from the 1910s and '20s are browsed, where several Borgel cased examples are offered at the moment.
The second variant of the Land & Water is the one here, with a screw back case. The idea of having a watch case back that screws onto the case body is something that we regard as commonplace on waterproof watches today, but in 1918, this was still considered to be radical stuff. The pocket watches to which these very early wristwatches were closely related had traditional hinged snap backs and the need to seal wrist worn timekeeping devices against the bleak, muddy conditions of the trenches that led to the invention of cases like this one.
In terms of market value and desirability, there isn't any difference between the Borgel and screw back versions of the Land & Water. Both are very rare and consequently sought after. The screw back model is significant as it pre-dates the first Rolex Oyster by at least six years, yet has the same sealing system for the case back that we still find on Rolex watches today.
Condition of this watch is almost mint and a better World War I Zenith probably does not exist anywhere. Its heavy silver case is almost unmarked, with just a few very minor imperfections here and there that are not easy to spot with the naked eye. The milling around the bezel is sharp and not smoothed by wear, and the evocative curved arrow and wording on the case back outer "To Unscrew" is of full depth and very clear. It tells us a lot about how new the idea of a screw on watch case back was that Zenith felt the need to educate both owners and watchmakers as to how this component should be removed in this graphic manner.
Internally, the case back is decorated with an engine turned pearled pattern and stamped with the individual serial number 3077050. Beneath this are a full set of British hallmarks, these telling us that this case was assayed as solid sterling silver in Glasgow, 1918. Lower down still is the triangular "ZWCo" sponsor's mark of the Zenith Watch Company of 119 High Holborn, London WC1. Independently owned by James Favie and H F Roost, this company was the official importer of Zenith watches into Britain during the World War I and inter-war period.
All these case stamps are clear and sharp. This is always something to which we give attention when buying for our stock. So many times we see watches on which the case stamps have been smoothed to the degree that they are no longer discernible, usually by vendors who are trying to hide the fact that they reveal inconsistencies about a piece. If an unscrupulous owner has, say, an uncased movement from 1918 and a case that fits it from perhaps the late 1920s, he will mate the two together, gently polishing out the hallmark date letter to cover his tracks. We do not approve or participate in such antics and only offer watches with case marks that are original and fully legible.
This is an exceptional watch throughout, but for us, its dial really stands out. Black dials first appeared in significant numbers during World War I. The necessity of avoiding reflections at night that could lead to being picked off by a sniper led to the widespread adoption of dials like this one. Today, in retrospect, they are immensely attractive, particularly when encountered with these very typical oversize white Arabic numerals. It is worth noting that almost all the top level Swiss makers at this time used exactly the same distinctive font for the numerals on their dials. This continued into the early 1920s, but was regarded as passé by the middle of that decade when the growing influence of art deco began to be felt.
Dials from this era are usually in enamel, with a hard glazed thick surface bonded to a copper backing plate. Painted dials came later, in the 1920s and '30s, when it was seen as desirable to reduce the overall thickness of a watch in order to keep up with prevailing trends. Enamel dials have the major plus that they don't fade or suffer from moisture damage, but the drawback that if subjected to shock, they will crack. Almost every vintage watch from the World War I period has some minor hairline cracking to its dial and this is almost accepted as a given in collecting circles. Impact and even the effects of different expansion in hot temperature of the enamel and its copper base cause tiny degrees of cracking to occur and many enthusiasts regard this as an unavoidable evil on early wristwatches of this age.
We cannot always do it, but as far as possible we try to specialise in very high grade investor's watches on which the original dials are free from cracks and as near to mint as could ever be sourced. The dial on this watch is unblemished, has no cracking whatsoever and despite rapidly approaching its centenary, is almost indistinguishable from brand new. Equally importantly, it is guaranteed to be completely original and has not been restored at any time in the past. A very high percentage of the commercial worth of any vintage wristwatch lies in its dial, with the generally accepted view being that an example with a pristine original dial will command a price that is roughly double that of the exact same model with either an original dial in poor condition or a restored, non-original dial. The vintage watches for sale on our website are not cheap, but they have superb dials that justify their asking prices. Many online, especially in the fast paced world of the mass market internet auction websites, have dials that fall far short of this standard.
"Birch & Gaydon Ltd, Fenchurch Street, London" is stated above the dial centre point, with "Land & Water" in a concave arc in the lower half and "Swiss Made" around the very bottom edge. This signature is clear and not at all corrupted with age.
All three hands are original and in very good condition. There is the slightest amount of oxidisation to the blued steel frames of the hands which could easily be cleaned off with a few minutes work, but have taken the decision to leave it in place on the basis that it has occurred naturally over ten decades and a legitimate sign of gentle ageing. On the photographs, blown up on the screen to a large size, this is far more noticeable than it is when the watch is viewed in the flesh, when it is in fact virtually invisible with the naked eye. This style of hour and minute hand, with a distinctive heart shaped section to the former, was also found on some watches from the same period by IWC. These companies would not produce their own hands but instead purchase them from an external supplier, probably Fiedler SA in this instance. Hence the situation sometimes arose where the same pattern of hands would be used on models by two or more different brands. Remarkably, the luminous material in these hands is in very good condition and has hardly aged at all. It is no longer effective in darkness, but is original and has discoloured to a much lesser extent than we would expect on a piece of this age.
Zenith has always been regarded as one of the great Swiss movement makers and the mechanism in this piece lives up entirely to this enviable reputation. A winner of almost a hundred medals for accuracy in competitions held within the Swiss watch industry in the years up until World War II, Zenith occupied a position right up at the top strata of the Swiss brands. It is very important to understand that this credibility came not only from the exquisite quality of its work, but also from the fact that it was one of only a small number of houses that were capable of producing their own movements entirely within their own factory premises, without needing to purchase component parts from third party sources. In other words, a Zenith movement was not a homogenised product, but an item that could be traced back to a single origin point. This is an increasingly important issue in the minds of many modern collectors and for anyone wishing to explore it in more detail, we have written a short essay that explains the arguments for and against in-house movement making. This can be a read by clicking the "What does the term manufacture movement mean ?" in our list of related articles below this description.
The movement in this watch is Zenith calibre 10 NVSI, a hand wound unit that was launched in 1916 and remained in production for only six years, making it something of a collector's rarity today. This is confirmed when we look at the total volume of the 10 NVSI manufactured, 21900 units, which is only just over a fifth of the 102000 examples of its contemporary, the 11 NVSI, that were built between 1904 and 1926.
In common with all vintage Zenith movements, the standard to which this one has been crafted is exceptional throughout. There was nothing superior to Zenith's work in the World War I period and it would be possible to spend vastly more than the asking price of this watch and receive a model by one of Zenith's competitors at the time that was equivalent in quality, but certainly not better. We specialise in offering early antique Rolex watches for sale and have supplied these to some of Britain and the USA's most serious collectors for nearly three decades, but we are the first in line to point out that there is nothing about the Rolex Rebberg, the firm's movement from the Great War era, that is an improvement on what Zenith created at the same time. These are wonderful pieces of micromechanics that are a joy to study with an eyeglass.
A good illustrative example of how sophisticated and ahead of their time these early Zenith movements were is the regulator arrangement on the calibre here. All the other top tier Swiss houses at this point were more or less using a fairly crude simple pointer regulation system, but Zenith had already pioneered a very advanced micrometer regulator that enabled the oscillation rate of the balance to be set far more precisely than would otherwise have been possible. Vintage Omega fanatics often comment that the complex regulator on the chronometer rated versions of the company's 30mm movements of the 1950s was one of the most brilliant innovations of the golden age of Swiss watch making, but if they looked further back in time and examined these early pre-1925 Zenith units, they would be surprised that the exact same system for extremely fine incremental regulation is employed here.
With very early antique wristwatches, movement condition becomes critical and we would never purchase any example for our stock in which the movement was anything less than outstanding. These mechanisms were built from the outset to last several lifetimes and it would be almost impossible to wear one out, with the proviso that they must be maintained correctly and re-oiled every three or four years without fail. We see examples online with rusty, tired movements that were life expired twenty years ago, but have been propped up just enough to affect a sale to the unwary and optimistic. We would say to any of our customers that it is far more prudent to pay more in the first instance and buy something with a movement in the best possible state of preservation that will not require parts or remedial work in the foreseeable future.
The condition of this movement is superb. The distinctive frosted gilt finish, which many collectors will be familiar with as a result of studying early IWC movements from the same period, is bright and unbroken. A lot of World War I period movements are now very tarnished, with some incipient rust showing on their steel components, but this one is faultless and as good as could be located anywhere. Every part is original and unchanged, with no evidence of any repair work having ever been performed whatsoever. To find a wristwatch movement of this age in such a virgin state is very unusual. More normally, when we buy pre-1920 models, there are some past component substitutions that our watch maker reverses back to completely standard before we offer these for sale. Since we acquired this item, we have done nothing to it at all, except given it a full and thorough clean and service. It runs very smoothly and if treated with care will outlast its next owner with ease.
"Zenith, Swiss Made" is stamped into the plates, together with the individual serial number 2245216. Falling between the two extremes of production for that year of 2161820 and 2282484, this clearly dates this movement to 1918. Notice how, exactly as it should in an ideal world, the movement production year ties in perfectly with the hallmark date letter stamped inside the case back.
We have fitted this watch with a high quality lizard skin type strap. This is a brand new strap that fits in well with the antique appearance of the piece and certainly need not be changed. For the serious collector who wants to set this watch off to perfection, we offer replicas of the two part straps that were used by officers in the trenches of World War I, hand made in both English calf leather and reindeer hide recovered from a shipwreck off the coast of Devon. This is an exceptionally fine early watch and does justify the additional cost of one of these straps if its owner is determined to have the absolute best of the best. Our two piece straps can be seen by clicking the "Shipwreck Straps" link at the top of this page.
The price of this watch is £1375 GB pounds. For an early trench wristwatch in this immaculate condition, with a distinctive pioneering water resistant case type, by one of the most prestigious of all the Swiss houses, this is not an extortionate sum. Mainly due to our location in rural Yorkshire, where business overheads are much lower than they are in the capital, we can undercut the vintage watch shops in London by typically almost fifty percent and if this same item was offered in Bond Street or the Burlington Arcade, we would be lucky to find it for less than double the asking price here. While not cheap, first generation wristwatches by famous makers in unmolested fettle are well established as solid investments and will only ever appreciate in value over the long term.
We don't buy pre-1920 wristwatches in this condition on a regular basis anymore and when this item has sold, we have no idea as to when another immaculate Land & Water will cross our path. For the Zenith collector looking for a genuine rarity to add to his portfolio, or simply for the enthusiast of models from the wristwatch's formative period, this is a delightful item that would not look out of place in any important museum display. It represents very good value for money and will delight its purchaser when he unpacks it upon arrival.
Price £1375 GB Pounds
Related Articles
Vintage Watch Brands
Vintage Watch Decades
Vintage Ladies Watches
Vintage Watch Bracelets
Swipwreek Straps
Travel Clock/ Pocket Watches
Home
About
Brand Overviews
By Decade
Reference
Contact Details
Telephone from the UK:
07453 734666
or 07428 051005
Telephone from overseas:
+44 7453 734666
or +44 7428 051005