Vintage JW Benson Watches For Sale
Over the years, we've bought and sold quite a number of vintage JW watches by JW Benson and developed an appreciation for this interesting niche brand. At any one time, we don't have many of these in stock but those that we do have, typically perhaps four or five, are in exceptional order and of a standard that could be acquired as serious investments. Largely because the general public are not familiar with the JW Benson name, these items represent remarkably good value for money and are ideal for the collector who wants a first class vintage watch without paying the price premiums associated with models by Rolex, Omega, Jaeger LeCoultre and the other household name companies.
Despite not being well known today, JW Benson certainly wasn't a poor relation to the famous marques and ironically has a history that stretches back far further than those of its celebrated competitors. Founded in 1847 by James William Benson and Samuel Suckley Benson, the concern was dually one of Victorian London's most prestigious retail jewellers and also, quite remarkably, a manufacturer of its own watch movements. It had prestigious premises at 43 Cornhill and 33 Ludgate Hill, continuing to trade from the latter only after 1855 when the original partnership was dissolved and James William Benson took over the running of the business entirely.
The rest of the 19th century was a period of steady progress, with the acquisition of much respected competitors Hunt & Roskell and Sir John Bennett bringing with them an influx of high society customers. A further shop was added at glamorous 25 Old Bond Street and certainly by the turn of the century, JW Benson was catering for an elite client base made up of both British and European royalty and a selection of well heeled industrialists and business figures. In our archives here, we have various old JW Benson adverts and the most wonderfully ornate guarantee document from the 1930s. All of these feature endorsements by an array of notables of the day, including the King of Siam, the King of Portugal, the King of Denmark, the Emperor of Japan, the Tsar of Russia and the King of Greece. At a more local level, JW Benson supplied watches to Queen Victoria and the Prince of Wales.
Along with its competitors, during the World War I period, JW Benson embraced the newly introduced wristwatch. Up until this point, the company was still manufacturing its own movements in the UK but after its factory at Belle Sauvage Yard was hit during a bombing raid in 1914, it purchased mechanisms from a number of first rate producers in Switzerland, including, most notably, Longines. From a collector's point of view, both the British and Swiss made JW Benson movements are desirable and comparable in quality. The vast majority of vintage JW Benson wristwatches for sale today have Swiss made movements but just occasionally, we have seen examples of very early transitional JW Benson officers' watches that still had in-house, British made movements inside them. These are identifiable by the large size of their top plate and the wording "Best London Make".
In our business, we tend to focus on the JW Benson watches produced between the two world wars. This was a golden era for wristwatch production in general and Benson really did serve up some wonderful examples at that stage. We've had duo dialled doctor's watches, early patented waterproof models with ingenious screw together cases and even single button chronographs all carrying the JW Benson name and all built to exceptionally high standards.
Like so many once great names, JW Benson was eventually bought out by one of its competitors, in this instance Garrard, the crown jewellers. After absorption in 1972, the JW Benson name was mothballed and, it seems, forgotten. This is a terrible shame, as the company made a great contribution to the early luxury wristwatch market in London and deserves far more recognition that it has ever received. In 1994, the JW Benson name changed hands again and fell under the control of Mappin & Webb, another long established high society London jeweller that still exists today. JW Benson's last stand came immediately afterwards when its title was used as an importer of IWC and Jaeger LeCoultre watches for a few years in the mid-1990s. After this point, it disappeared without trace, though it seems likely that Mappin & Webb still owns the JW Benson trade name.
The fact that the once famous JW Benson name has now faded into obscurity with the man in the street doesn't override the reality that these were extremely well made and very stylish watches that, when new, were up there with the brands that collectors lust for today. While Sotheby's, Christie's and Bonhams often include classic Benson models in their fine wristwatch sales, these never attract attention commensurate with their high quality and always change hands for relatively modest amounts. On our site, good, all original JW Benson examples in very attractive gold rectangular art deco cases will typically be offered for between £500 and £850 GB pounds, which compares very favourably with the £2750+ needed to acquire comparable models by Rolex of the same age. For a buyer wanting something a little more discreet and less ostentatious, an immaculate pre-World War II JW Benson will be worthy of serious consideration.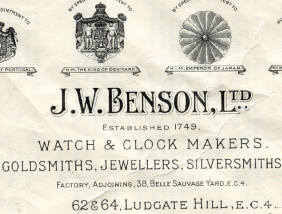 Longines silver officer's with hinged lugs and Benson dial 1918
Vintage Watch Brands
Vintage Watch Decades
Vintage Ladies Watches
Vintage Watch Bracelets
Swipwreek Straps
Travel Clock/ Pocket Watches
Home
About
Brand Overviews
By Decade
Reference
Contact Details
Telephone from the UK:
07453 734666
or 07428 051005
Telephone from overseas:
+44 7453 734666
or +44 7428 051005