Vintage IWC Watches For Sale
Here in England, we have a saying that a person knows when he's getting older when the policemen he encounters look like children. It should be added to this that as we get a little more advanced on life's journey, we tend to hark back nostalgically to the way things were in our earlier years.
When writing this overview of IWC, we are certainly guilty of this latter offence. At the time when our business first became involved in the emerging vintage wristwatch scene in the early 1980s, IWC or, to give the company its full title, the International Watch Company, was a niche brand that was known to a relatively small number of serious collectors, but entirely unrecognised by the general public.
Those who had the knowledge to assess such matters were aware that vintage IWC movements offered a quality of finishing that was arguably better than that of any other Swiss house and quietly took advantage of this fact, buying up some really beautiful watches for, at the time, probably approximately half what would have been needed to acquire their Rolex equivalents.
Years ago now, roughly around 1988 or maybe 1989, the Sunday Times published an article in its colour supplement about the huge interest in vintage wristwatches, superimposing the textual content against a backdrop of a colour photograph of perhaps a dozen or so pieces selected from George Somlo's eponymous shop in, as it was then, Piccadilly Arcade in central London. All the set pieces were there, including early cushion shaped Rolex Oysters, a Rolex Prince Brancard, from memory some form of 1930s Longines, and the most gorgeous IWC from the 1950s with large twisted lugs and what we now recognise ( we certainly didn't then) as a calibre 88 movement. The accompanying article discussed the superior quality of vintage watch movements over those in their new counterparts and commented that huge prices were being paid for pre-war Rolex Oysters and key models by Omega, Patek-Philippe, Longines, Jaeger LeCoultre and the other grand marques. What sticks in my head most even today, and what piqued my attention at the time, was the way the article ended. The author finished as if imparting some kind of insider information, commenting that if a shrewd buyer wanted a bargain, he should look for 1940s and 50s watches by IWC, which offered the finest quality possible, equal to the very best of Rolex or Patek-Philippe, at a relatively modest price, simply because the brand was very low key and not recognised by most collectors. Best of all, he ended with an implied rather cheeky wink at the reader and parted with the lovely line "And if you don't believe me, just ask the Prince of Wales".
The paragraph above is included as an illustration of just how far under the radar IWC was flying for a lot of the 1980s and even much of the 1990s. Sotheby's and Christies were offering IWC models in their specialist vintage wristwatch sales, but again, a lack of awareness meant that they didn't attract a great deal of attention, despite ironically being among the highest quality items present. Those who really understood vintage watches, and the odd British royal or two, in those very embryonic collecting days already realised that IWC pieces from the golden age of the company were very special indeed, but they didn't yet feature on the must-have list of the average buyer.
It's hard to say when IWC finally became a mainstream vintage watch brand and why this transition actually happened. There wasn't a any specific defining moment when its profile was suddenly and dramatically raised, like, for instance, the thematic Omegamania sale of April 2007 held by Antiquorum that had an enormous effect on the values of good vintage Omega pieces. Awareness of the vintage output of IWC was gradually raised over a period of several years, but certainly, by the dawn of the internet era in 1996 and 1997, it was firmly established as being the maker of some remarkably coveted models that collectors drooled over. Today, the idea of a bargain vintage IWC is just a fond memory. Just as with pieces by Rolex, worthwhile, all original IWC watches are difficult to source and pursued by an ever increasing number of well soled collectors worldwide. They are beautifully made, very attractive watches that make superb investments, but the initial price of their acquisition is high, simply because at any given time, there are far more collectors wanting to purchase than there are really good, authentic vintage IWC watches for sale.
While purely coincidental, it is interesting that IWC's progression in recent times in the vintage watch market, as initially something of an niche market outsider that succeeded with a wider audience due to the outstanding quality of its products, isn't that different to the way the company developed in its early years when these vintage watches were new. Uniquely, while it was, and still remains, a Swiss concern, it was founded not by a Swiss national as we might expect, but by an American, Florentine Ariosto Jones. In the years immediately preceding the formal establishment of IWC in 1868, Jones had realised that there was a commercial advantage to be gained by combining the high level of craftsmanship and technical expertise that the Swiss had in the field of watch making with the advances in larger scale industrial production that were revolutionising American manufacturing at the time.
Again unusually, IWC was located in German speaking Switzerland, whereas all the other major houses were, and continue to be, in French speaking Switzerland. While its work during the vintage period was among the very best to ever come out of the country, IWC, in the minds of many vintage watch connoisseurs, stands alone, at one step removed from Rolex, Omega, Jaeger LeCoultre etc. The company very much did its own thing and seemed to deliberately follow something of an isolationist policy, which makes its watches extremely attractive for the buyer looking for a diversity of character in his collection.
While in the years prior to World War I concerned with the production of some wonderful pocket watches, IWC was, like most of its competitors, drawn into the wristwatch market by the demand for wrist worn timepieces from officers serving in the trenches. These were regarded as being far more convenient for instantaneous consultation. IWC responded to this need by offering a selection of models based around its calibre 64 movement. While re-cased and worn out examples are reasonably often seen, really exceptional IWC watches from this period are very difficult to find and very much the Holy Grail for the collector interested in this genesis period of wristwatch history. While replacing stock is getting more difficult seemingly by the month, we always try to offer a selection of Great War era vintage IWC watches for sale in both silver and gold.
IWC built on its reputation as a maker of exceptionally high quality movements and was successful throughout the 1920s and 30s. A number of really beautiful looking art deco themed models were launched at this time, again, near mint examples of which we try to keep in stock.
While this site is primarily a vehicle for those intent on investing in high grade civilian vintage watches, we try to have some stock of a company's military models when we feel they represent an important chapter in that brand's development. The IWC Mark X and 11 pilots' watches produced for the British RAF in 1945 and 1948 onwards respectively, are some of the most iconic and coveted of all vintage timepieces and we make an effort to have near perfect examples of both for sale at all times.
In the immediate post-war years, IWC produced what most collectors today would regard as its finest work. The hand wound calibre 88 and 89 are nothing less than works of art and the automatic 8541 movement and its relatives are strong contenders for the title of best self-winding mechanism of all time. IWC at this point employed Albert Pellaton as its technical director, a man who in retrospect is regarded by enthusiasts today as something of an engineering genius. From the point of view of the collector wishing to build up a selection of the high points of Swiss classical wristwatch making over the last century, at least one vintage IWC from this golden period is an essential inclusion.
The vintage IWC watches for sale on this site, from World War I to the late 1970s, contain movements that were manufactured in-house by IWC in Schaffhausen. These were the models that enabled IWC to forge its reputation for mechanical excellence. Later in the 1980s, as happened at Omega, in order to reduce costs IWC dramatically cut down the number of calibres it actually manufactured ( a particular model of movement is termed a calibre) and increasingly relied on mass produced movements bought in raw, unfinished form from the corporate giant ETA. These were reprocessed at Schaffhausen, with the IWC signature being added to them along the way. At the time of writing, many of the new IWC models contain ETA derived movements, which is rather disillusioning to the purist collector who remembers the glory days when every IWC movement was designed, manufactured and regulated completely on site in Schaffhausen. These modern IWC units are unquestionably very competent, but they lack the emotive appeal of their "real" pedigree IWC predecessors and being more generic and less uniquely representative of the company, are unlikely to prove equal as investments in the future.
IWC today is very enthusiastic about its vintage watches and takes an active role in supporting the legion of collectors who are so passionate about its back catalogue. It cannot be praised enough for taking this stance, which contrasts sharply with the Rolex official policy of never answering any queries concerning its vintage production. IWC manufactured some of the finest wristwatches of all time during the last century and by acknowledging and emphasising this proud past, the company today can increase its own credibility to a new generation of buyers. Watches can be returned to the factory in Schaffhausen for servicing and any repairs that are needed, though, for reasons discussed in the section of this site devoted to maintenance, there are potential advantages to be gained from having any work needed performed locally.
It goes without saying that our vintage IWC watches for sale are all entirely original and of a grade that is ideal for investment purchase. In almost every instance, we have applied to IWC in Schaffhausen and obtained the relevant extract from the company's archives for each individual watch. This confirms the date of manufacture of both movement and case, the year of sale and the name of the first purchaser. Most significantly of all, it confirms to the modern day collector that movement and case are original to each other and have not been mated together at a later stage. We will absorb the cost of obtaining this documentation into the asking price for the pieces here and where we have it, this extract will be sent out with the watch to its new owner.
The comments made concerning Rolex in these brief brand analysis essays apply fairly equally to vintage watches by IWC. If in excellent, entirely original condition, any watch manufactured by IWC during its golden age, and by this we refer to the period from circa 1915 to circa 1980, will be exceptional. IWC movements deserve their reputation as being among the very best of those by the top tier houses, and this intrinsic quality will ensure that vintage IWC models continue to rise in value in the future. As with Rolex, the buyer intent upon acquiring a really good early IWC watch will have to pay a premium to achieve his objective. On the plus side of the equation, the image of IWC as being a top class brand in the vintage watch world is now so ingrained in the minds of serious collectors that it is impossible to imagine any scenario that would cause these watches to ever lose value at any time in the future. In summary, if you don't mind paying a little over the odds in the first instance to buy something genuinely rare and beautifully crafted, then a good, unmolested vintage IWC is probably one of the safest investments in the classic watch world at present.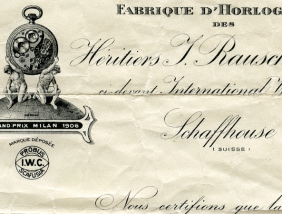 IWC pocket watch silver 1916 with patent documents
IWC gold calibre 83 1938
IWC steel with art nouveau dial 1938
IWC ladies steel boxed 1944
IWC steel calibre 62 1950
IWC 18k gold calibre 402 1966
IWC gold UK market bombee lugs 1970
Vintage Watch Brands
Vintage Watch Decades
Vintage Ladies Watches
Vintage Watch Bracelets
Swipwreek Straps
Travel Clock/ Pocket Watches
Home
About
Brand Overviews
By Decade
Reference
Contact Details
Telephone from the UK:
07453 734666
or 07428 051005
Telephone from overseas:
+44 7453 734666
or +44 7428 051005