Vintage Longines Watches For Sale
Without any doubt, vintage Longines watches offer by far the best value to be found in the collectible horology field. In any genre of antiques, it is usual for items to keep their respective levels of desirability at all points in their lives, or, to put it more graphically, a Ferrari car is far more desirable when new than a Ford Fiesta, and it will always be worth correspondingly more as the years pass and it makes the transition to becoming a classic collector's vehicle. The actual values of the two cars will vary as they become older, but the Ferrari will always keep its relative position as more sought after and more valuable than the Ford Fiesta.
Longines is the exception to this almost universal rule. In 1913, a study was commissioned by the New York Times that asked the public which brand of luxury watch, among various other things, they would prefer if price was not a consideration. An incredible 92% of the respondents replied that in this situation, they would own a Longines. In the years between the two World Wars, Longines was a more expensive and more prestigious brand than both Rolex and Omega, yet today, its vintage watches can be bought for substantially less than those of its two competitors. The relative position of Longines to Rolex and Omega in the vintage watch marketplace today has shifted from the place it occupied in the first instance. This is very, very unusual and it is difficult to think of any other product, in any area of antiques, where the same obvious undervaluation has occurred. To return to our comparison with classic motorcars, vintage Longines models, which once held Ferrari status, oddly now command prices that we'd associate with lesser luxury marques like Jaguar or Mercedes.
Every ingredient is there that should have made Longines the most desirable of all the vintage watch houses. The company has a remarkable history going back to 1846 when it was founded in the Swiss town of St. Imier, making it an older concern than either Omega or Rolex.
In common with almost all the other major brands, Longines first added gentleman's wristwatches to its range during World War I when officers serving in the trenches embraced the concept of an easily accessible timepiece carried on the wrist rather than one buried on the person under layers of uniform. Of all the first generation officers' watches from this era, those by Longines are some of the most exceptional in terms of quality, offering a grade of movement finishing that exceeds that found on similar pieces by the other major houses at the time.
Longines became a stylistic powerhouse in the 1920s and 30s, heavily influenced by the art deco movement that was very much in fashion during that period. At this stage, it offered a diverse range of both rectangular and circular cased models, all built to the highest possible standard.
If should be appreciated that during its vintage years, Longines was one of the few major watch houses that manufactured its own movements entirely in-house, without purchasing any component parts from external suppliers. If you buy a classic pre-war Longines wristwatch today, you're acquiring a completely pure product from a definable single origin point, rather like a single malt Scotch whisky from a specific distillery. This integrity of production is becoming an increasingly hot topic among experienced vintage watch collectors and Longines has great credibility in this respect.
It would be impressive even to say that the movements in vintage Longines watches were equal in quality to those by Rolex and Omega. Whisper it very quietly to avoid upsetting those who have paid vast sums from pre-war Rolex models, but the reality is that, judged impartially on a side by side basis, Longines movements from the company's golden age are actually better designed, more sophisticated and better finished than those by either of these two brands. This isn't biased personal opinion, but simply a matter of fact observation based on twenty five years of handling movements by all the major brands on a daily basis in our business.
The attention to detail present in pre-war vintage Longines watches is quite extraordinary. Whereas the jewels present in the movements of almost all Rolex and Omega watches are simply press fitted into holes machined into the plates, those on classic Longines mechanisms are typically held in threaded brass sleeves, correctly known as chatons, that wind down into the plates. Another nicety is the matching of case and movement numbers that is often found on antique Longines watches from the 1930s and 40s. No other top tier maker went to the trouble of duplicating numbers in this way. Rolex certainly didn't offer this refinement, nor did Jaeger LeCoultre, IWC or Omega, but to the modern day collector, it comes as a godsend, because it enables an instantaneous check that a case and movement are original to each other. This level of detailing took a lot of effort and inevitably raised production costs significantly. The best Longines pieces from this era ooze quality and are a delight to examine closely with an eyeglass.
In common with Omega, Longines manufactured some extremely fine military watches for the British government during World War II. These are beautifully made and very evocative of their era of production. After service with the RAF, many were returned for re-casing, but just occasionally we have untouched examples for sale of the Longines Mark VII pilot's watch with the original aluminium cases that were used to conserve precious reserves of steel at a time of grave national crisis. Surprisingly given the historical significance of these watches, they are not prohibitively expensive and a good, totally authentic vintage Longines Mark VII can still be purchased for between £1000 and £1200 GB pounds at the time of writing.
Some of the most exceptional vintage Longines watches were manufactured in the years immediately following the war, which were very much a golden age for the Swiss watch industry in general. The company exported heavily to the USA, with models sold there being identifiable today by their American made cases typically in 10 or 14 karat gold. We offer both British and American market vintage Longines watches for sale, with the former being a little rarer and regarded as slightly more desirable by collectors.
The Conquest and Flagship models appeared in 1951 and 1959 respectively and were strong competitors to Omega's Seamaster and Constellation, and the Rolex Oyster Perpetual. As a business, we are notoriously critical when buying stock, and really first rate examples of these watches are getting much harder to find than they were even a decade ago. However, we usually manage to maintain a stock of a dozen or so of these classic models in investment standard condition.
For reasons that are impossible to fathom, classic Longines items remain the most obvious genuine bargains to be found in the vintage watch world. They offer a quality that is unparalleled, at a price that is perhaps a third of that needed to buy their closest Rolex equivalents. As a long established specialist vintage watch dealer, we make most of our annual profit by selling immaculate pre-war Rolex watches to collectors who are so fixated with the brand that they won't consider anything else. But the truth of the matter is that they could collect on a much lower budget if they widened their horizons and took an interest in early Longines material, without sacrificing one iota of quality.
One of the strangest things about this odd state of affairs is that everybody who has been active in the vintage watch scene for any length of time is completely aware of this anomalous massive under-valuation. Nobody, from long standing dealers to hardened collectors can explain why vintage watches by Longines sell for only a fraction of their equals by the other major brands. And this situation isn't a new one, but actually something that has been in existence since the concept of the vintage wristwatch as a collectible emerged in the early 1980s. Looking back at old Sotheby's and Christie's auction catalogues from the mid-1980s, the disparity between Rolex and Longines results wasn't as extreme as it is today, but even then, the best 1920s and '30s Longines watches lagged typically 40% behind their Rolex counterparts in value.
We've discussed this point several times here and if we were advising a close friend or family member who was thinking of collecting vintage watches, we would strongly suggest that they purchase Longines items in preference to those by any other brand. In fact, our almost evangelical enthusiasm for pre-war Longines watches is so high that serious consideration was given to the idea of commissioning a separate website devoted entirely to offering vintage Longines watches for sale that would run as a free standing sub-division of our main business.
For how long vintage Longines watches will remain such good value is anybody's guess. They have risen steadily in worth over the last twenty years, but for no explainable reason have still retained their undervalued position in relation to the other major brands. A decade ago, the most informed London dealers were saying that pre-1960 Longines material just had to soar in price in the internet age, but it hasn't happened. At the moment, experienced early Longines collectors live in a sort of smug parallel universe, where the most astonishing levels of quality can be obtained for a few hundred, or, in the very best cases, just a few thousand pounds and we have a feeling that's exactly how they want things to stay. If the market ever wakes up to just how exceptional these vintage Longines watches are, we'll all see auction results that are triple, or more, what these pieces command today. For the moment, for the thinking man who wants the ultimate in sharp aesthetic design and technical refinement without paying the high premiums associated with antique Rolex items, Longines is the perfect choice and cannot be recommended more wholeheartedly.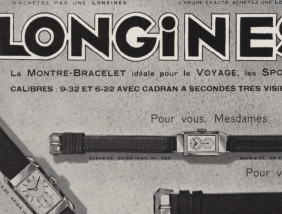 Longines silver officer's with hinged lugs and Benson dial 1918
Longines silver semi-hunter with Mappin & Webb dial 1925
Longines 18k gold Borgel case moisture proof 1926
Longines art deco steel, Leeds dial, 1936
Longines gold ladies cushion boxed 1937
Longines steel pilot's watch with Weems 1943
Longines steel with stepped art deco lugs 1943
Longines 14 karat gold black honeycomb 1952
Longines steel with Southampton dial 1952
Longines Flagship steel bombee lugs 1957
Vintage Watch Brands
Vintage Watch Decades
Vintage Ladies Watches
Vintage Watch Bracelets
Swipwreek Straps
Travel Clock/ Pocket Watches
Home
About
Brand Overviews
By Decade
Reference
Contact Details
Telephone from the UK:
07453 734666
or 07428 051005
Telephone from overseas:
+44 7453 734666
or +44 7428 051005