Vintage Omega Watches For Sale
Omega is very much one of the shining stars of the antique watch world. Its output was of the highest quality and we always offer a selection of immaculately presented vintage Omega watches for sale on this website. Along with Rolex, Omega is very much the mainstay of our business and certainly, these two companies have had a greater influence on the development of the luxury wristwatch over the last hundred years than any others.
The history of Omega goes back a lot further than that of Rolex. The firm was founded in 1848 by Louis Brandt in Bienne. All the major houses realised that commercial success would follow on from victories in the accuracy competitions held within the Swiss watch industry at the time and Omega achieved some spectacular results in this field, the most notable of these being the world precision record set for all categories at Kew Teddington in 1936.
Up until World War I, Omega had been exclusively a manufacturer of pocket watches, but found itself obliged to offer wristwatches as a result of their widespread adoption by officers serving in the trenches of France. Unlike Rolex, which had embraced the wristwatch on a large scale, the more traditional Omega still, even by the early 1920s, was first and foremost a pocket watch maker that also manufactured a limited range of wristwatches. Universally, these were built to a superb standard and were purchased by the wealthy and discerning of the day, including, among others, TE Lawrence, better known as Lawrence of Arabia. Exact volumes of production are hard to gauge, but over our years in business, we've had far more World War I era wristwatches by Rolex pass through our hands that those by Omega, which is rather food for thought given that both are of directly comparable quality and the Omega examples typically command prices that are 35% less than their Rolex counterparts.
After the Great War ended, Omega continued to strengthen its position in the wristwatch market, creating some really beautiful, and superbly made, art deco models in the 1920s and 30s. These are getting pricey now and worryingly, an increasing number of very accurate Chinese fakes seem to be filtering through to the online world. With an increasing amount of effort we always seem to just about manage to replace our stock of near mint, totally authentic vintage Omega watches for sale from the inter-war period but with every year that passes, this becomes more of a challenge.
World War II was actually of great benefit to Omega. The company continued to feed its civilian distribution network but at the same time, was awarded the contract to supply the bulk of the watches to be used by the British RAF ( Royal Air Force) during the conflict. This was actually a repeat on a larger scale of what had passed in World War I, when Omega had been chosen as the official watch of the Royal Flying Corps. The majority of these military watches saw active service and are now very much past their sell by dates, but when a good Omega Mark VII pilots' watch ( military designation 6B 159) can be found today, it will always be a delight to own. Even almost seventy years after the war ended, the cheaply produced aluminium cases on these models, used because steel was in such short supply at the time, stand as a grim reminder of just how tough things got for Britain during the depths of the crisis. For anyone looking for the ultimate charismatic vintage watch, either for themselves or as a gift, a well preserved Omega Mark VII from 1942 or 1943 should be a possibility on their shopping list.
The period running from the end of World War II through to the early 1970s is generally regarded by collectors as being the company's finest hour. 1948 saw the introduction of the Omega Seamaster, a rugged and reliable civilian reinterpretation of the watches it was supplying to the British military at the same time and, in 1952, the Omega Constellation, a chronometer rated luxury model that laid justifiable claim to being the finest high precision wristwatch of its era. Both of these model names continue as mainstays in the firm's range today, but it is these original, vintage Omega Seamaster and Omega Constellation versions that are regarded as being so important by collectors. Something of an established speciality of ours, we always have a good selection of immaculate vintage Omega Seamasters for sale.
Another vintage Omega watch classic that we always offer on this site is the Speedmaster. Introduced in 1957, this distinctive chronograph made the transition from highly respected but not widely known to iconic in July 1969 when it became the first watch to be worn on the moon. Books have been written on the gradual evolution of the vintage Omega Speedmaster and the number of variations and permutations, each with its own specific market value to the collector, is almost endless. Many of the rarer versions, in the best possible condition, are represented here and available for purchase.
It is important to appreciate that back in the immediate post-war years, Omega was regarded as being a superior, and more prestigious, maker than Rolex. Today, largely because of the meteoric success of Rolex over the last two decades, the majority of the general public, who have no specialist knowledge but pass judgement on the basis of perceived image, would consider the latter to be the more desirable watches, but this was not always the case. If we could travel back in time to the 1940s and '50s and stand in front of a main agent jeweller's window, asking members of the public whether they would prefer to own a Rolex or an Omega watch, most of them would express a preference for Omega. Everything about these vintage Omega watches is exceptional, and they should be regarded as in every way equal to their closest Rolex equivalents.
A significant change occurred at Omega when, in the early 1980s, the company ceased production of its own movements, choosing to instead re-work ebauches ( this is the Swiss term for a movement in its raw, unfinished state, devoid of components) purchased from the corporate giant ETA. While the move enabled Omega to remain viable at a time when the future for mechanical movement makers was still very uncertain, there is no doubt that the company's output from this point forward is regarded in retrospect as being less credible than its classic pre-1980 production. This site focuses on offering "real" vintage Omega watches for sale in the sense that, unless otherwise clearly indicated, they contain movements that were manufactured in-house by Omega in Bienne. As the significance to collectors of an in-house movement continues to rise, it seems reasonable to predict that there will be a greater divide in terms of commercial value between classic Omega watches that contain thoroughbred Omega movements in the strictest sense, and those later Omegas with more generic mechanisms. Bearing this in mind, we would always advise our customers that older, pre-1980s and preferably 1950s, '60s or earlier vintage Omega watches be acquired for serious investment purposes.
A major landmark in vintage Omega history was the themed Omegamania sale held at the Mandarin Oriental Hotel in Geneva in April 2007 by Antiquorum, the world's largest specialist watch auctioneers. Financed partly by Omega itself, this was a heavily publicised sale of 300 lots of vintage Omega watches from the World War I period through to almost current models. Without doubt, this brought classic Omega models to the attention of a lot of heavy weight, largely Rolex fixated, collectors who had previously been aware of Omega in general terms, but probably hadn't really taken cognisance of just how remarkable its vintage watches were, both in terms of quality and aesthetic charm. There was a very noticeable before and after Omegamania knock-on effect on online auctions held around this period, with final sale prices rising sharply in the summer of that year and remaining high since. The event was a great success and kick started the market for vintage Omegas dramatically. Similarly, the opening of a dedicated vintage Omega shop in Burlington Arcade, London, launched in conjunction with the factory in February 2008, has had a publicity benefit. As we'd expect from a retail business based in central London, the prices there are very high, typically almost treble those charged for the same models in the same condition on this site, but this has all helped to draw attention to the brand and raise values of good, authentic period Omega stock across the board.
At the time of writing, vintage Omega watches still offer some of the best value to be found in the world. The quality of the workmanship present in their cases and movements is in every way the equal of that found in vintage Rolex production of the same time, yet prices at retail level, even for the very best vintage Omega rarities, like those for sale on this website, still lag roughly 40% behind their Rolex equivalents.
The current management at Omega realises the commercial capital that can be made from the firm's long and proud history. Unlike Rolex, which, almost uniquely, shuns its past and refuses to answer any queries regarding its past production, Omega still remains very much in touch with its vintage watches and those who now own them. Our guess, largely based on what we've witnessed happening over the last decade, is that the disparity between the values of vintage Omega watches and their Rolex equivalents will narrow further over the next five years. Fashion and a brilliant marketing strategy has kept Rolex in the top position in the vintage watch world over the last thirty years and it would be ridiculous to suggest that this established pecking order is about to be subverted by Omega or any other brand. But we see even from some of the experienced collectors with whom we deal with on a regular basis that many people are gradually becoming aware that the other major houses offered some very covetable models and that Rolex is not the be all and end all of the vintage wristwatch universe. As this happens more and more, there is no logical reason whatsoever why Omega vintage watches should have a lower commercial value than those by Rolex. We firmly believe that those carefully purchasing the cream of early Omega pieces now will see a superb return on their investment within a relatively short period of time.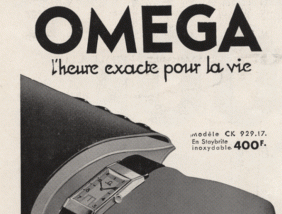 Omega silver semi-hermetic moistureproof 1921
Omega pink gold officer's watch with guilloche dial 1924
Omega tonneau 18k white gold 1927
Omega gold cushion Redhill dial 1935
Omega gold cushion with deco dial 1937
Omega Medicus doctor's watch steel 1938
Omega gold with double signed Welsh dial 1938
Omega Patented Waterproof steel 1938
Omega 14k gold with chocolate dial 1943
Important Omega Mark VII/1956 MOD upgrade steel 1944
Vintage Watch Brands
Vintage Watch Decades
Vintage Ladies Watches
Vintage Watch Bracelets
Swipwreek Straps
Travel Clock/ Pocket Watches
Home
About
Brand Overviews
By Decade
Reference
Contact Details
Telephone from the UK:
07453 734666
or 07428 051005
Telephone from overseas:
+44 7453 734666
or +44 7428 051005