Zenith ladies 18k pink gold, boxed 1949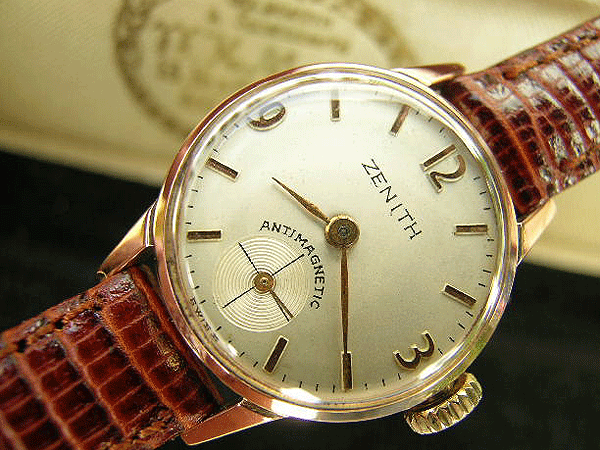 Dating from 1949, this solid 18 karat gold ladies' Zenith is another example of a near perfect vintage wristwatch that is infinitely more charming than its new equivalent yet is less expensive than many throwaway fashion watches sold on the high street.
In common with its competitor Jaeger LeCoultre, Zenith has enormous credibility with serious collectors because of its unusual status as a true manufacture. This term is the one used in the Swiss watch industry to denote a concern that produces its own movements entirely in-house without importing component parts from third party sources. Almost all the major brands have movements based around ebauches, or raw, unfinished movements in their unprocessed state, largely from the corporate giant ETA, and consequently, there is inevitably some similarity between many of their finished products. Zenith movements were, and are, unique. If a vintage Zenith watch is purchased, the movement inside will have been designed and manufactured, from start to finish, in Zenith's factory in Le Locle. Throughout its history, Zenith supplied its movements to other Swiss houses, most notably Rolex, but it did not use any mechanisms in its own watches that were not created in-house.
This watch is a lovely looking model from the immediate post-war period. Its condition is nothing less than immaculate throughout and one couldn't hope to find better. With a width of over 20mm, it is considerably larger than the majority of ladies' watches from this period. This substantial look is further enhanced by very wide, long lugs that stretch a full 5mm away from the case body.
The colour of the gold used in this case is instantly eye catching. Today, almost all new gold jewellery has a yellow brassy colour, but many vintage pieces utilised, as this one does, a much warmer pink gold. Pink gold is making something of a come back and last year at the annual Basle fair, several of the leading houses made great play of their new pink models.
The entire inner surface of the case back has been covered with an engine turned pearled pattern. "Zenith, Swiss Made" is signed here and there is a full set of Swiss hallmarks ( Helvetia), these informing us that this housing is in solid 18 karat gold. Incidentally, it is interesting to note that it would have been impossible for this Swiss made case to have 1949 British hallmarks. During World War II, the British government placed a ban on the import of gold for non-essential uses into the UK, and this remained in place until the early 1950s. There were gold watches sold here during the war years, but these had domestically manufactured, not imported, cases, typically by the Dennison company of Birmingham. Having a Swiss made case in 18 karat gold, we know for sure that this 1949 watch was sold outside the UK when new.
More interesting still to the collector is the tiny coded case maker's mark of Gabus Freres of Combe Saudez 1, 2400 Le Locle. In common with all the other major houses, despite manufacturing its own movements, Zenith was never a case maker. Instead, it relied on a small number of independent firms that specialised in this area and were capable of working to an approved quality standard. Notice that Gabus Freres would have been a natural choice for Zenith on account of both businesses being located in the same town.
Externally, the case back is stamped with the serial number 574863. This number is of full depth and has not been smoothed in the slightest from wear or polishing.
We seem to spend a substantial percentage of our waking hours stressing to novice collectors the importance of dial originality and condition. These two interlinked factors, more than any others, define the value of a vintage wristwatch, yet all too often, especially online, they are overlooked. The majority of elderly wristwatches in circulation today now have either original dials in poor condition or dials that have been restored. Though innocent sounding, the so-called restoration process actually involves the complete stripping of the dial surface and its replacement by a newly printed substitute. The result is a dial that looks as-new, but in fact is totally non-original. The presence of a restored dial will reduce the worth of a watch typically by around 40% and only those pieces on which the dials are untouched and effectively flawless should be considered as serious investments.
This dial is almost perfect. Its French white surface is free from any deterioration or spotting yet it is also completely original. It has never been restored and is exactly as it was when if left Zenith in Le Locle for the first time in 1949. The signature "Zenith" is stated above the centre point, with "Antimagnetic, Swiss" below it. Very unusually for a ladies' model, this watch has a subsidiary seconds register. In general, vintage ladies' watches are too small to have second hands, but this being a much larger item, there was space between the movement plates to accommodate this facility. Though the styling of this model tells us that it was clearly intended for female use, in fact, the 8 ligne movement ( the ligne is the unit of movement width measurement traditionally used in the Swiss watch industry) diameter would have been equally suited for use in a smaller gentleman's watch.
All three hands are completely original. A nice touch that caught our eyes was that these are in the same shade of pink gold used for the case. It would have been so easy for Zenith to have simply used standard yellow gold hands, but it didn't and this attention to detail is much to the company's credit. The same comment can be applied equally to the rosy markers used for the hours and the large Arabic numerals present at the 3, 9 and 12 positions.
There is no such thing as a poor quality Zenith movement from any era and it can be automatically assumed that any vintage mechanism by the company was manufactured to the finest standards. This hand wound movement is beautifully built and in almost mint condition. This latter point is a vital one, as no matter how high its initial quality, a movement that has been allowed to fall into a state of disrepair will always be troublesome. With a frosted gilt finish and screwed chatons holding each jewel, the resemblance between this unit and IWC's calibre 64 of the World War I period is quite remarkable. When we see gilt movements of this kind, we automatically tend to think of IWC and Zenith, and in terms of quality, it would be impossible to choose between the two.
Nothing whatsoever about this movement has been altered or replaced. "Zenith" is stated on its bridge with the individual serial number 3979096 stamped next to the winding wheels. The calibre number 88.8 appears next to the regulator. Everything about this unit sparkles and there isn't the slightest hint of corrosion or even dulling anywhere. Having been serviced regularly throughout its life, this watch works perfectly and runs exceedingly smoothly. In common with all vintage movements of this quality, provided it is cleaned and lubricated every three or four years without fail it will last almost forever. One of the most appealing aspects of elderly luxury watch purchase is that buyers obtain something that will potentially out-last them with ease.
The watch is boxed, though we know from the lack of a British import hallmark inside the case that it was sold new outside the UK. Interestingly, May of Clumber Street, Nottingham crops up reasonably frequently as a Zenith and Omega agent in the inter-war and immediate post-war period. We bought this watch in the box that contains it now and it seems a great shame to split the two up after so many decades together.
We have fitted this watch with a high quality lizard skin type strap. Not is not a genuine Zenith strap, but it is perfectly suited to the piece and in mint condition, having never been worn.
The price of this watch is £575 GB pounds. Looking long and hard enough online, it would probably be possible to locate a 9 karat gold ladies' Zenith from this period, but finding another in 18 karat gold would be virtually impossible. When new, this was an expensive luxury watch that would have been far out of the reach of the man in the street, especially at a time when Europe was still coping with the economic aftermath of six years of war. In over twenty five years of daily involvement with vintage wristwatches, we haven't seen another 18 karat 1940s ladies' Zenith that was as original or as near perfect as the one here and would suspect that it may well be the best surviving example of this model. As increasingly, more weight is given to the concept of the manufacture, it seems inevitable that values for immaculate classic Zeniths will rise. Assessing this as a potential purchase logically, all the evidence points to it being a good choice as an investment, while at the same time being a beautiful looking watch that its next owner will enjoy wearing enormously.
Price £575 GB Pounds
Vintage Watch Brands
Vintage Watch Decades
Vintage Ladies Watches
Vintage Watch Bracelets
Swipwreek Straps
Travel Clock/ Pocket Watches
Home
About
Brand Overviews
By Decade
Reference
Contact Details
Telephone from the UK:
07453 734666
or 07428 051005
Telephone from overseas:
+44 7453 734666
or +44 7428 051005