Zenith 18k gold De Beers first rotor automatic 1958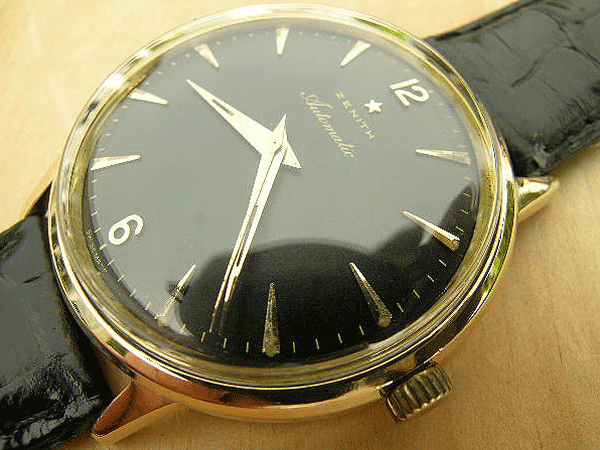 This beautiful black dialled 1958 vintage Zenith large sized gentleman's automatic in solid 18 karat gold produced for the South African De Beers concern is a very important watch to collectors on account of it representing a significant milestone in the technical development of this famous house. Zenith is well documented as being a true "manufacture" in the purest sense, producing its own movements entirely in house from design stage to finished product, without any outsourcing of components from external suppliers. This self contained production had the practical advantage that every stage in the manufacturing process could be quality control checked by Zenith itself, but also gave the brand a sense of integrity that is present in, quite literally, only a handful of other Swiss houses, both past and present, that are considered to have attained manufacture status. Anyone with an interest in knowing more about this subject would be well advised to have a look at Zenith's own website at http://www.zenithwatches.ch where a history of its manufacture is given.
Viewed in the context of the vintage watch boom of the last twenty years, Zenith's position has been an interesting one. Unquestionably, the quality of Zenith movements is quite literally second to none, but oddly, these watches kept a relatively low profile during the late 1980s and early 1990s, becoming a favoured choice of knowledgeable connoisseurs but often overlooked by the less experienced buyer in favour of those houses that engaged in vast amounts of large budget glossy advertising and celebrity sponsorship.
This position has now changed entirely, coinciding with, or actually caused by, the advent of the Internet in the late 1990s. The interchange of information on dedicated bulletin boards, forums and specialist sites that this medium facilitated rapidly led to this elite Le Locle based brand being suddenly far more exposed to the public gaze. It had been common knowledge among experienced collectors that Zenith had supplied raw unfinished movements to several of the world's most respected houses for decades, and when the details of these older Zenith movements were broken down and dissected in written form, the many new vintage watch enthusiasts that had arrived with the Internet quickly realised the importance of this venerable marque.
The only negative consequence of this more widespread appreciation of the Zenith brand is the phenomenal rise in the market values of its vintage offerings. Even a decade ago, when Zenith was regarded as something of a connoisseur's choice, and purchased primarily by the highly informed discerning minority who were aware of the engineering and finish quality of its manufacture built calibres, watches like this one, with movements that are arguably the equal of any others that have been produced by the luxury Swiss watch industry since World War II, could be sourced for five or six hundred pounds, at which level they represented almost unbelievably good value for money. Sadly, those days are now gone, with every vintage watch collector, whether a long-term devotee or recent convert, now automatically listing Zenith among his favourite houses. Prices have risen accordingly and availability has reduced dramatically, to the degree that older, entirely original Zeniths with important calibres inside them, like the watch offered here, are now very difficult to source and when they do appear for sale, are realising very high prices. In a way, we really mustn't grumble too much, because Zenith has finally obtained the recognition that it has always deserved and this can only be a good thing, but there is always some slight resentment caused by the mass discovery of a house, the products of which could previously be bought at bargain price levels that were far lower than they really should have been.
This is a classically styled, solid 18 karat yellow gold item, with a very large case. The width of the watch is 37mm, considerably larger than most of its contemporaries from the late 1950s, this extra case bulk being required to house the wide, and very deep, Zenith calibre 2522P movement, a unit that that is vastly over-engineered. So many manufacturers used almost paper-thin gauges of 18 karat gold in their cases in the 1950s due to the bullion price being at an all time record high at this time. Catering for a well heeled clientele that were ever going to be unduly concerned with the retail price of their watches, Zenith could afford to continue with the use of the very heavy gold cases that it had offered throughout the 1930s and 40s. The case on this watch is the thickest walled that we have encountered for some time, the screw on case back itself having been machined from a solid block of thick 18 karat gold rather than being pressed out of a thin sheet as was the norm for in effect all Swiss manufacturers at this time.
This is a fully signed case, with "Zenith, Swiss Made" present as well as assay marks indicating its 18 karat gold standard. Less obvious inside the case back, but of considerable interest, is the case maker's mark of Pierre-A Nardin & Cie, also based in Zenith's home town of Le Locle, at Beau-Site 13. Nardin is universally acknowledged to be one of the most respected case making concerns of the vintage years and created some of the most beautiful precious metal cases ever used by Zenith in the 1940s and '50s. To find a large 18 karat case of this quality, and by such a famous case maker, will delight the most critical collector and add value to this item when compared to the same model with a case commissioned by one of the admittedly excellent, but less well known, Swiss factories that also supplied Zenith with cases at the same time. This particular case is in almost mint condition throughout, with just the faintest imperfections that are to be expected on any carefully looked after watch of this age.
This case has a very attractive and ornate decoration to its rear stating "The De Beers Group of Companies, For Long Service" around a traditional De Beers monogram. For the collector, it is very important to be aware that this decoration was already on the case back when it first left the Zenith factory in 1958 and was not added independently at a later date, making De Beers one of only a tiny handful of non-retailer customers for whom this factory have ever specially produced double signed watches and perhaps the only brand for which Zenith has ever double signed cases rather than dials. The South African diamond mining giant has a long and well documented history of giving Zenith watches as retiring gifts to its senior executives and even today, there is a strong link between these two famous concerns. It goes without saying that these double signed cases are very sought after now, not least because of their rarity as a tiny percentage of overall Zenith production, but also because of something of the glamour that has always surrounded the diamond industry. A double-signed Zenith with this De Beers decoration will typically sell for 25% more than a plain cased example of the same model.
We have often said that it is very important that anyone who really wishes to understand vintage watches looks at these items in the finest detail, searching for additional information about the piece in front of them. Arthur Conan-Doyle often delights us in the Sherlock Holmes stories by describing the great detective's ability to read so much more into any given object than is apparent to the casual observer from its face value, interpreting every slight nuance as a chapter in its past and in a perhaps less theatrical sense, as horological aficionados, we must endeavour do the same. Particularly online, we always feel that too many watches are offered with no explanation of their features, and far too little detail included in their descriptions, all of which certainly does not compound to help the novice collector. We deliberately try to metaphorically take the hand of the potential buyer and guide them through every aspect of the vintage watches for sale on our website in order that they can then take a fully informed decision as to whether a watch is suitable for their needs, either as a wearer or as an investor.
In the context of the last paragraph, comment should be passed on the interesting engraving on the case back, this reading "A.D Duncan. 1941 to 1966", obviously a reference to the employee to whom this watch was awarded. This wording has been carefully hand engraved, presumably in 1966, and is in contrast to the clinically perfect monogram and De Beers wording that has been mentioned earlier as being machined into the case back as part of its initial manufacturing process. What makes this personalisation so interesting is that it informs us that this particular watch was given away by De Beers no less than eight years after it was produced, this manufacturing date being made clear by both the model and the serial number of the movement. We have encountered this situation before, where a corporation like De Beers would order a considerable number of identical double signed watches, occasionally as many as two or three hundred, and then, having taken delivery of these would proceed to stock pile them, gradually issuing them over the following years as senior employees retired from the company. This obviously does make sense for all involved, as a house like Zenith would require a reasonable volume of units to be ordered before agreeing to have these specially signed cases produced. In itself, this small point is not of great importance, but it does explain what would have otherwise have been rather strange, the giving of a watch in 1966 that had clearly been manufactured in 1958.
Regular visitors to this website will be very familiar with our re-occurring sermon on the importance of dial condition and originality, but we remain firmly convinced that it is vital to constantly reinforce this point, particularly in the minds of those new to the hobby. On any high value vintage wristwatch, it is fundamental to understand that at least, as a bare minimum, 40% of its market value will be directly related to its dial, and specifically these two aspects. In order for any piece to be taken seriously as a collector's item, it must have its original dial in almost perfect condition.
The reasons for this weighting on the state of a dial are not hard to see. Every aspect of a neglected watch, including the case and even the movement if there is no alternative, can be painstakingly restored without damaging whatever original material is still present. A case can be carefully re-polished and a mechanism rebuilt, albeit at extremely high cost, but when this work has been carried out, the watch will again have a value that is effectively the same as its well looked after counterpart. The same cannot be said regarding a discoloured or dirtied dial. There is a very convenient myth, perpetuated by numerous sellers both online and in the physical marketplace, that watches with unsightly dials can be cleaned in order to restore their former glory. This is complete and utter nonsense, designed to encourage the inexperienced buyer to purchase an inferior grade watch that would otherwise not be considered. When a dial is in poor condition, and its matt surface is dirtied or worse still corroded, there is nothing that can be done to remedy the situation but to completely strip the old dial surface off, and start again from scratch, reprinting the dial as required. It therefore follows that a major integral part of the watch, many would argue THE most important visual aspect of any timepiece, is lost for good, never to return. Among those collectors with many years of experience there is an enormous amount of stigma attached to watches with non original dials and an almost universal condemnation of any dial which is original but in poor condition, this being a hallmark sign of a piece that has been neglected, often worn in a dirty environment or left unworn and unserviced in the back of a damp drawer for decades on end.
The main objection to our dial buying criteria that we regularly hear from collectors today is that those elusive pieces with near mint, original dials are almost impossible to locate. There is a lot of truth in this. Back in the early 1980's when vintage watch collecting was very much in its infancy as a hobby, better grade examples of rare watches were far more available than they are today. The rare original black dial on this example, fully signed "Zenith Automatic, Swiss Made" and decorated with solid gold arrowhead batons, is in almost perfect condition, with not even the slightest fading or deterioration whatsoever. The beautiful solid gold, pitched dauphin hands are extremely wide and in proportion to the impressively large dial. These are in superb condition and completely original, though their luminosity is poor, as must be expected on any watch of this age.
Black dials always add value to any vintage watch, both on account of their stunning good looks and rarity, with very few older watches having been produced with black dials relative to the number that were finishing in the more typical silver white. In an article in the April 2004 issue of the popular American specialist publication "WatchTime" devoted to the current boom in the vintage wristwatch market, it is said "a black dial is always the rarest, and very popular today, maybe even three times the value of a white dial. Why ? The dial is the face of the watch, the sexy part, the allure". While this is not specific enough to be taken too seriously, and the woolly nature of the value boast suggests artificial hype, the general view expressed in this extract is unquestionably correct. Realistically, in comparable watches by a high grade maker like Zenith, we would suggest that black dials carry with them a 25% price premium, certainly enough to make any example, like this one, that surfaces with an original black dial in nearly mint condition a very interesting proposition for the serious collector.
It has already been mentioned at the start of this description that this watch is historically important to the Zenith collector. The double signed De Beers case and the rare black dial add interest and value, but it is the fact that this item utilises Zenith's calibre 2522P movement, the first ever Zenith rotor driven automatic, that makes it so significant. Zenith had included an automatic watch in its range from 1948, but this utilised a hammer or "bumper" winding system in which an oscillating mass bounced forward and backward, tensioning the mainspring. Bumper automatics are wonderful things with an awful lot of nostalgic charm, but they are not as inherently efficient as movements equipped with a rotor system in which a centrally pivoted weight is allowed to turn through a full 360 degrees, winding the watch by the slightest wrist movement in both directions. Today, almost every new automatic watch is driven by a rotor and is was this approach that had become universally adopted as the industry standard by the mid 1950s.
Unfortunately for the enthusiast, the remarkable 2522P is one of the hardest vintage Zenith calibres to locate, it having been only produced in relatively small quantities between its introduction in 1958 and its discontinuation in 1964, after which it was replaced by the fast beat equipped calibre 2542PC. There is no argument today that the 2522P is one of the most beautifully built Zenith movements of the 1950s and as a consequence of this reverence, prices are tremendously high when well preserved examples do surface for sale. The movement in this watch is in almost as new condition, and has no discolouration or oxidisation to its surfaces, which is always a good sign that a mechanism has been well cared for in the past. It works perfectly, and has been regularly maintained since new with no regard whatsoever to expense. When a watch is regularly serviced, the presence of the light machine oils used during the course of routine lubrication tends to act as a corrosion inhibitor and we would always be suspicious of any supposedly looked after piece on which there is a dullness of internal finish. This is a fully signed movement, with "Zenith, 28 jewels, Swiss Made" stamped into the top of the rotor, this wording then having been carefully filled in with 18 karat gold to make it more legible against its polished steel background. The serial number 5268357 is present alongside the regulator, this clearly indicating a production date of 1958, the year that the 2522P was introduced.
For the technically inclined, we should mention that the 2522P is essentially a movement of two halves, these being a traditional timekeeping unit obviously on the bottom, or dial side, with a rotor module sitting neatly over it. So distinct and independent are these two movement sections that the self winding unit can be cleanly unbolted whole from the bottom half of the movement, still leaving a manually wound mechanism which works perfectly. In order to assist service personnel, it is again a typically Zenith touch that all the screw heads on this movement have been hand polished to a mirror finish, except the three that hold the rotor module in place which are instantly identifiable by their blued heads. It is very easy for us to overlook the sheer craftsmanship and fine detail that went into movements of this grade and we would advise any owner of a vintage Zenith to take an hour or so with an inexpensive jeweller's eyeglass and book on movement finishing techniques in order that he understands why these models are so sought after today.
The timekeeping assembly is a perfect example of Zenith's finest workmanship and features a Glucydur temperature compensated screw balance, Incabloc shock resistance and a running speed of 18000 half beats per hour. The movement is correctly signed as having 28 jewels, but these are obviously distributed between these two movement sections, 11 rubies being taken up in the self-winding unit. Very usefully, the 2522P has a running reserve of 40 hours, considerably longer than that of most automatic watches of this period. For those not familiar yet with the terminology used in the elderly wristwatch world, we should clarify this point by saying that this is the length of time that a movement will continue to operate from fully wound to stopped if left untouched.
Most importantly, this beautiful movement is entirely correct. It has no changed or non-standard parts whatsoever, and is entirely as it was when new. We would always advise any potential purchaser of a high-grade vintage watch to only buy an item that is completely authentic and has not been modified in the past. In the dark days of the late 1970s, when even the finest mechanical watch movements were seen as anachronistic, there was an unfortunate temptation for owners, perceiving their timepieces as being of little value, to have their watches serviced cheaply by back street repairers who used incorrect parts in order to reduce the price of their work. Sadly, this same situation has reared its ugly head once again in the last decade, but for entirely different reasons. Rare vintage watches like this one have now become valuable to an extent that was unimaginable twenty years ago, with the result that almost nothing is considered as being beyond repair to the unscrupulous dealer, even those pieces that are badly worn and incomplete. These are resurrected from the dead using entirely inappropriate parts and in too many cases, sold on the Internet to obtain a quick profit from the uninformed buyer. A watch like this one, that is the very best of its type, will always be expensive when purchased, but will almost certainly prove to be far less costly, and require far less expensive repair work, in the long term future.
We have fitted this piece with a very high quality crocodile skin type strap that is perfectly suited to its upmarket appearance. This is not a genuine Zenith strap, but is in mint condition having never been worn, and is almost identical to the strap that would have originally been supplied with the watch when new.
Overall then, this is a rare and extremely beautiful solid 18 karat gold large Zenith automatic that is important to the serious collector on account of it housing the first rotor winding movement ever built by this grand house. Additionally, its desirability is further enhanced by its very unusual black dial and factory produced, double signed De Beers case. Ideally, anyone building up a collection of rare vintage watches should try to source pieces that have a different angle to them that immediately differentiates them from more mainstream production, and this watch is the perfect example of this situation. Valuing the piece is difficult, as so few of these 2522P equipped Zeniths surface now, and even fewer in De Beers cases. A good condition, all original 1950s Zenith in a large 18 karat gold case will typically sell for around £1200 GB pounds today, at which level it still represents extremely good value for money in terms of the quality of its movement. We have priced this watch at £1375 on account of its unusual features, at which level it offers remarkable value for money. An automatic Rolex Oyster from the same period, perhaps a semi-bubbleback or early butterfly model, in the same 18 karat gold case, would find a new owner very quickly at more than double this sum, yet not be in any way superior in either build quality or design. Vintage Zenith watches are, quite literally, as good as it gets and the buyer of this piece can take great pleasure in knowing that his watch is the equal of anything by any of the other top level Swiss houses.
Price £1375 GB Pounds
Vintage Watch Brands
Vintage Watch Decades
Vintage Ladies Watches
Vintage Watch Bracelets
Swipwreek Straps
Travel Clock/ Pocket Watches
Home
About
Brand Overviews
By Decade
Reference
Contact Details
Telephone from the UK:
07453 734666
or 07428 051005
Telephone from overseas:
+44 7453 734666
or +44 7428 051005