Zenith hunter wristwatch gold 1918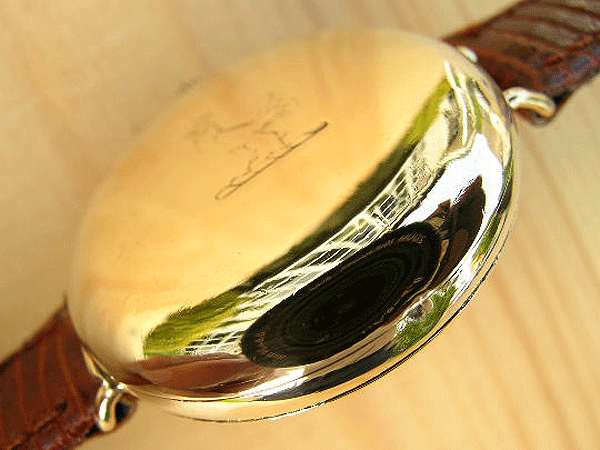 Some of the vintage watches for sale here on our website are so unusual that we have never seen similar examples during nearly thirty years in the antique wristwatch business. We seem to have acquired something of a reputation as the internet's foremost supplier of almost unobtainable early wristwatches and are often asked where we can possibly find so many vintage watches of this condition and rarity. The simply answer is that we can't and couldn't if we wanted to. A lot of the pieces for sale here were bought typically two decades ago when the concept of the antique wristwatch was emerging. As a result of the mania that we see today for these early watches not having yet started in earnest at that point, it was still possible, albeit with a considerable expenditure of effort, to source very rare items, like this beautiful and completely original 1918 Zenith full hunter cased wristwatch in solid gold. In the current market, locating any form of authentic, well preserved hunter wristwatch for sale is not easy and in truth, we would have no idea where to find another one of these watches at any price level.
Quite literally, if we were given five thousand pounds today and asked to locate another, we would prove to be unequal to the task. Not on the basis of price, but simply because we would guess that there are probably no more than half a dozen of these watches left in existence anywhere in the world, and all of them are in the hands of private collectors with no intention of relinquishing them in the near future. One of the difficulties associated with starting to collect vintage wristwatches today is that the rarest pieces, the real treasures that every collector is looking for, have a painfully slow cycle of changing ownership. Anyone who owns a watch at this desirability level will be very reluctant to sell it, both because he will be aware that its replacement will be effectively impossible, and also due to the piece's performance as an investment. Vintage watch collecting is going through an unprecedented boom at present, with a new influx of enthusiasts having come into the field via the internet over the fifteen years. This has put enormous pressure on the tiny pool of genuinely desirable pieces for sale and as a consequence, prices have risen astronomically. An article in the April 2004 edition of the American "WatchTime" magazine discusses this explosion of interest in elderly wristwatches and states that the values of the more unusual, higher grade items are rising by between 25 and 50% per annum, a figure that we would have no hesitation in agreeing with. In this climate then, it really is not difficult to see why anyone lucky enough to own a rarity like this item would not be in the least bit interested in liquidating it at this time.
One advantage of our website is that as a result of having a large number of vintage watches for sale simultaneously, we can include a number of cross referenced links between similar items that will be of great help to the reader. An important skill that must be acquired in any area of antique collecting is the ability to make informed comparisons between items that are ostensibly very similar in appearance. We would advise anyone interested in purchasing this watch to carefully read through the other descriptions that I currently have here for two other early full hunter wristwatches and at least three half-hunter models. There is an awful lot of information given in these that will provide the historical background for the creation of the hunter lid and explain its significance to the serious collector today.
Once again, we reiterate that the potential buyer of this piece should browse through our other similar hunter cased watches, but for those with little time to spare we can summarise this information by stating that the hunter cased wristwatch, this term being the one used to describe the spring loaded lid that hinges over the dial, was first used in the context of the wristwatch form in timepieces built for army officers serving in the trenches of World War I. The wristwatch itself, though worn by ladies as a novelty item during the Edwardian era, was adopted for male use during this conflict due to the ease with which it could be consulted in comparison to a traditional pocket watch. The Winters of 1916 and '17 were horrendously bleak, and searching for a pocket watch worn under layers of uniform was obviously impractical and released vital body heat, hence the rapid take up rate of the wristwatch. The drawback of the wrist worn timepiece however, was that it was exposed to all potential damage, being worn uncovered on the wrist rather than being tucked inside a waistcoat pocket. In the nightmare world of the trenches, with shrapnel flying and constant scrambling for cover during enemy artillery bombardments, one of the first casualties was the glass covering the dial of any wristwatch. Hence the introduction of these charismatic hunter cases, when the dial is completely protected under a cover, this item being released with a small pusher, in this instance located in the 7 o'clock position. This type of case had been used in pocket watches since the early Victorian era, and derived its name from the popularity it enjoyed among those engaged in country field sports who, due to the rough and tumble nature of their activities, required a watch with a protected glass. It is unclear which of the major Swiss houses first applied this construction to its early wristwatches, but nearly all of them offered a hunter as their most expensive model during the 1915 to 1918 period.
Any genuine hunter wristwatch will always be one of the most valuable of all vintage timepieces on account of the extreme rarity, historical importance and sheer beauty of these pieces. But this Zenith example goes even further than this on account of several features that will be explained over the next paragraphs. We always recommend that collectors strategically choose their purchases on the basis of these being significant within the context of the development of the firm that produced them. In the case of this watch, which is an important piece to the serious Zenith collector, this criterion is transcended, because of its relevance not only as a rare Zenith, but also within the development of the wristwatch as a genre.
When looking at this watch from every perspective, every imaginable angle, it is difficult to fault, or find an area in which it is not important. The first comment to justify our opinions here would be to point out that this is a solid gold cased item, not a silver example as was standard at this time. Officers heading to the trenches bought wristwatches not as fashion items, but because of the increased practicality that they offered in everyday use over the pocket watch. In the field of combat, they were treated roughly and most would become battered and scuffed within a relatively short space of time. Knowing this, silver would be chosen on the basis that it was cheaper in the first instance, and because gold was unsuitably soft for such a hostile environment. A gold watch was, and is, a luxury object and simply wasn't ideal for life at the front.
To find any solid gold cased wristwatch from the World War I period is unusual, and in nearly thirty years, we have only encountered perhaps two dozen of these items, and only two or three with hunter cases. The totally original case on this watch is in almost mint condition, with no damage whatsoever and only the very slightest of imperfections that are to be expected on any carefully looked after piece of this age. When hunter cased wristwatches do surface today, due to the nature of the environment in which they were designed to be first used, they tend to be very battered and in cosmetically poor condition. This case is just the opposite, and could certainly be categorised as nearly mint throughout. The circular section pusher located between the bottom two lugs operates smoothly, releasing the spring loaded lid over the dial with a precise click. Very importantly on a gold case, the hinge that connects the hunter lid to the main case body is in perfect condition, pivoting smoothly and with no measurable sideways wear. We mention this point due to the difficulties in having a case repaired if this is required. If push comes to shove, a gold case with a damaged hinge can be restored, but such work is expensive and will inevitably adversely affect the value of any piece. Though not related to the watch here, just out of academic interest it is worth mentioning that with a steel case, the situation is worsened considerably by the almost impossible task of brazing this metal and we would advise any potential purchaser to think very long and hard before ever buying a steel cased watch with any significant damage.
A word of warning must be included here for the benefit of the less experienced collector. As mentioned earlier, genuine hunter cased wristwatches like this one are almost impossible to find now, and are one of the treasures of the vintage watch scene. As these watches have become effectively unobtainable, there has been a very unfortunate trend for unscrupulous dealers to convert hunter cased pocket watches into wristwatch specification, often offering these as "oversize" models due to the large dimensions of the original donor pocket watch. These are absolute nonsense, and should never be considered as a serious purchase for investment. In our business, we cringe every time we see one of these "giant" wristwatches sold either on the Internet or in physical sales, often advertised as having a diameter of over 50mm, ludicrous on anything purporting to be a wristwatch from the World War I era. As well as the size of these watches, also be very suspicious of any watch with its subsidiary seconds dial in the 9, rather than 6 o'clock position. There are exceptions, but almost every genuine wristwatch made post-1914 had its seconds counter at the bottom of the dial. The presence of a refinished dial, necessary to alter the position of the numerals through 90 degrees when a wristwatch conversion is made in order that the winding crown be rotated to the side, rather than top, of the watch, would leave us very doubtful as to the originality of a piece and is another strong pointer that all is not as it should be. This watch is a large sized, impressive wristwatch, but is still, with a width of 35mm, considerably smaller than a pocket watch. It started life when new in its present wristwatch form and is absolutely unmolested and authentic in every way.
Ever since we first acquired it, the hallmark inside both the hunter lid and case back of the watch has intrigued us, and we still don't have any conclusive way of explaining it. This style of watch was created to fulfil the requirements of officers in the trenches of World War I. Even by 1922, developments in celluloid had meant that watch glasses were no longer the fragile components that they had previously been, and, the war long since over, the concept of the hunter case was no longer of any real relevance. Inside this case, we find the maker's mark "ATO" and, bizarrely, a set of full British hallmarks that indicate it was assayed as solid 9 karat gold in London, 1959. However, we must remember that the hallmark letter tells us the year that the item was submitted for assay, NOT the year that it was necessarily manufactured. Anyone with the slightest experience of collecting vintage wristwatches could see that the idea of this case having been created in the 1950s is sheer nonsense, and we should draw the conclusion that, for whatever reason, this item lingered forgotten in stock and was not sent for assay until at least forty years after it had been manufactured. The ATO initials don't offer us much assistance in decoding this enigma either. The company that they represent, Albert Thomas Oliver of 31 Wynyatt Street, Clerkenwell, London traded as a case maker from the Edwardian era right through until the early 1980s, supplying its products to most of the high grade Swiss movement makers for use on their precious metal watches to be sold in the British market. Consistent with this exquisitely finished housing, Oliver's quality was of the very finest possible standard and, as an aside, it is worth mentioning that this firm was the only one to ever make the waterproof Oyster cases for Rolex here in the UK in the 1930s, these normally being manufactured in Switzerland.
At this level of the market: rare watches with correspondingly high values, originality is everything. This watch will almost certainly be sold to an experienced collector who understands vintage timepieces, rather than a casual buyer who is whimsically attracted to its unusual looks. Because of the value of items like this one, and the fact that if sold in a physical auction environment in the future they will be very heavily scrutinised during viewing, it is absolutely vital to buy only at the very top of the condition scale. The high worth of this watch stems from both its rarity and its complete originality. It is universally agreed by collectors that at least 40% of the value of any high grade vintage watch can be directly attributed to the originality and condition of its dial and we would strongly advise the purchase of only pieces on which the dials are virtually "as new" and entirely original. The extremely attractive white enamel dial on this watch is almost perfect, with not even the slightest hairline cracks that are usually to be expected and excused on a watch of this age, and is completely original, with no restoration having ever been carried out in the past. There is no damage or discolouration to this item, and the signature "Zenith, Swiss Made", is crisp and well defined. Finding a better condition World War I era enamel dial would be almost impossible, and the investor could not wish for a more perfectly preserved item than this one.
The calibre 13 NVSI movement in this watch is one of the most exceptional early wristwatch mechanisms that we have ever seen, and is almost worthy of a book in its own right. Zenith movements are some of the finest to have ever have been built by any of the top tier Swiss luxury houses, and are particularly sought after now by knowledgeable enthusiasts on account of their being true "manufacture" calibres. This term is the correct one used within the Swiss watch industry to describe one of the handful of companies that were, or are, capable of producing their own movements in-house from start to finish without the need to outsource any components from external suppliers. Zenith has, from its very outset, been a key manufacture, and this achievement gives the firm a very high status within the watch making community and among vintage watch collectors. When buying a vintage Zenith, one is acquiring a movement with total integrity, the component parts of which were never used by any other brand. In essence, a movement like this one is a "pure" product that can be traced back to a clearly identifiable group of engineers and craftsmen working under one roof, rather than a homogenised product created from out sourced "ebauches" or movement blanks that have been purchased from one of Switzerland's corporate suppliers. Anyone with an interest in Zenith's position as a manufacture should visit the firm's official website at www.zenithwatches.ch where a brief, but nonetheless informative, section dedicated to this subject can be found.
The quality of this mechanism is second to none. This is a fully signed unit, with "Zenith, Swiss Made" being stated on the bridge together with the serial number 3110488, this clearly indicating a production date of late 1918 and tying in with the production span of calibre 13 NVSI between 1905 and 1935. It is vital that the sheer amount of hand work that went into the sumptuous finishing of these early frosted gilt Zenith movements is appreciated and we always think of it as being such a tragedy that the majority of owners of watches like this one never take the time to look inside them. Every edge of the plates and gears is perfectly bevelled, every tiny screw head hand polished to perfection, these being just two obvious examples of a myriad of features that would be almost impossible to find any new watch today. Part of the reason for the explosion of interest in vintage watches over the past decade is the realisation that the level of attention to detail present in these older movements by the grand houses like Zenith simply cannot be found today in current production, at any price.
Most importantly, this movement is in almost mint condition and is totally original with no changed parts. Having been serviced regularly throughout its life, this watch works perfectly today, and is in the very best of mechanical health. Everything about it is exactly as it left Zenith in 1918 and completely standard. One of the important points to understand about this first generation of wristwatches used in the trenches is that they were never supplied as official equipment by a very traditionally minded military machine but were instead purchased privately by wealthy officers, usually from Central London "society" jewellers, more conservative provincial establishments still not carrying wristwatches as part of their ranges. Every aspect of this movement has been polished and refined to extract the last drop of accuracy from it and very unusually, it has a large distinctive regulator similar to those fitted on movements designed for entry in accuracy competitions. This regulator has a complex mechanism allowing the running speed of movement to be set to a far finer degree than is possible with a conventional system. We have only ever encountered this on a small number of other Zeniths from the same period, the first being a silver chronometer from 1918 and the second, a remarkable moisture proof "Land & Water" model from 1919 that we currently have listed for sale here on this website. In print, another identical example of this Zenith movement, in a gold cased watch from the World War I era and with the same complicated micro regulator, can be seen in a close up photograph on page 234 of Helmut Kahlert's book "Wristwatches, History of a Century's Development".
We have fitted the watch with a very high quality crocodile skin type strap that, though not a Zenith item, is in perfect condition. In an ideal world, this watch should be fitted with a wide two piece military style strap as it would have been when new. Such items can be found for sale by clicking the "Shipwreck Straps" link at the top of every page on this website, though it should be stressed that they represent a charming finishing touch for the purist and are far from essential.
In summary, this exceptionally rare solid gold hunter cased 1918 officer's watch by Zenith is one of the most desirable and charismatic pieces by this highly regarded Le Locle house that we have for sale at present. In all our years in the vintage watch business, we have only encountered perhaps four of five original Zenith full hunters ( the semi-hunter being the name given to those covered watches with a glass hole in the centre of their lids), and never another one in gold with this beautifully finished exotic movement. Valuing the watch is difficult, because at this level of scarcity, there have been no similar examples recently sold in Sotheby's, Christie's or Bonhams from which even a clue to current worth can be obtained. In truth, this item should be in the company's own museum in Le Locle and within reason, the price of this watch is almost irrelevant when taken in the context of its rarity. As we mentioned at the beginning of this description, we would have no idea where to obtain another one of these watches and it seems reasonable to say that in real terms, our offer of this watch is a one off opportunity for a serious collector to purchase this particular Zenith model.
We have priced this watch at £1375 GB pounds, which while not inexpensive, is certainly not an excessive sum. Many collectors and investors are well aware now that in the present rapidly rising market, it is worth being prepared to pay slightly over the odds, beating off competition to obtain something that really is an exceptional piece. Any small price premium paid today will be cancelled out by increasing values within a few months and this principle, which we have always followed in the past when buying stock, is one that is being increasingly adopted by knowledgeable buyers in a market place in which very few really genuine rarities in totally original condition are ever offered.
Price £1375 GB Pounds
Vintage Watch Brands
Vintage Watch Decades
Vintage Ladies Watches
Vintage Watch Bracelets
Swipwreek Straps
Travel Clock/ Pocket Watches
Home
About
Brand Overviews
By Decade
Reference
Contact Details
Telephone from the UK:
07453 734666
or 07428 051005
Telephone from overseas:
+44 7453 734666
or +44 7428 051005