Vintage Wristwatches For Sale From The 1970s
Almost total meltdown. Dramatic words certainly, but ones that accurately record the changes that the established Swiss watch making industry went through in the 1970s. It was apparent to even external commentators in the late 1960s that the newly introduced battery powered quartz movement technology was going to have major ramifications for the traditional mechanical movement houses, but nobody had predicted the scale of impact that would be caused when it finally arrived on a serious commercial scale.
Very quickly, the whole concept of the traditional mechanical watch, that the wearer either had to wind himself or was driven by an automatic rotor, was seen as outdated and obsolete. For a much lower price, the consumer could buy a far more accurate timepiece from Japan, with a battery that only needed to be changed typically once every two years. Trying to sell mechanical watches in the 1970s was rather like being in business with a stock of video cassettes now and then attempting to compete with them against an outlet next door stacked to the brim with the latest high definition DVDs. The only buyers who would purchase mechanical watches at this time, with the exception of one group that will be discussed below, were very conservative individuals would didn't trust new technology and wanted to continue with what they'd used for years.
The irony to all this is that there were some really superb mechanical models produced in the 1970s as the industry fought for its life. Rolex, Omega and Longines all produced quartz movements, as did IWC and Jaeger LeCoultre, but to their credit, they continued with the manufacture of in-house mechanical movements as well, still building these to the same high quality standards that had been achieved before the quartz revolution.
While the famous brands had enough economic clout to weather the storm, just, the hardest hit were the plethora of small Swiss mechanical movement makers who had, up until this point, found a strong and stable market for their output, but who now saw their order books disappear into thin air overnight. While this site concerns itself with offering prestigious vintage watches for sale for those wishing to invest seriously in this field, there are a whole world of other, often very well made, models from the 1950s and 60s that were produced by makers that hardly anyone has ever heard of. To suggest that these were built to the same standard as Rolex, Omega and the rest would be an exaggeration, but it has to be acknowledged that many were very good, solidly made watches. By the mid-1970s, these dozens, if not hundreds, of independent Swiss makers were conspicuous by their total absence, unable to sustain themselves in the face of competition from mass produced quartz movements produced in the Far East, which we always feel was a terrible shame.
The one hope for the mechanical movement makers lay in the area of automatic chronographs ( for those new to the field, it should be added that the chronograph was a stopwatch function, running independently alongside the regular timekeeping aspect). Quartz technology hadn't yet developed to the extent that a chronograph could be created electronically, and the major houses realised that this was still a field in which they could compete, and win, against their high tech opposition. In 1969, after having pooled their financial resources together, Breitling, Heuer, Hamilton and Buren released the first ever self-winding chronograph to the world, to which they allocated the calibre designation 12. It tells us just how near to the economic brink these companies were, and how costly the project was, that at the time of launch, so much had been spent on development that there was nothing left in the kitty to even pay for advertising.
The eagle eyed will have noticed that technically, this launch of the automatic chronograph should have been included in the overview of the 1960s rather than in the section in which it actually appears. This isn't a mistake, but a deliberate shift on the basis that though this movement type was developed and made its debut in the late 1960s, its significance in a commercial sense was far more relevant to the early 1970s. A well preserved original automatic chronograph from this period, perhaps a Breitling Navitimer reference 1806 or a Heuer Carrera with the same movement, is a very important inclusion in a serious collection and represents an attempt by the traditional Swiss mechanical watch making industry to hold on against mounting odds and ever more depleted coffers.
Styling in the 1970s was distinctive, with chunky oversized cases for sports watches, sometimes oval and square in form, combined with often bright coloured dials on which a lot of detail was printed. Subtle it most certainly wasn't, but ironically, after having been derided for over a decade after it fell from grace, this so-called retro look has become very fashionable in the last five years, so much so that several of the famous Swiss houses today include several 1970s inspired models in their current collections. Another, completely different, side to the 1970s aesthetic was the wafer thin dress watches that were in vogue at this time. These were technically remarkable and stand as one of the most impressive achievements of the Swiss luxury watch industry to date, being incredibly difficult to design and assemble. Prices for these by top tier makers have risen noticeably over the last three or four years but even so, they are still woefully unrecognised by collectors at the time of writing and we've held the view for some time now that they fulfil all the criteria to become very desirable, and expensive, in the future. Fashion has a great influence on the vintage watch market. At the moment, the prevailing taste is for chunkier, more substantial watches, but over the last few months there have been strong signs that a return to more elegant classicism is likely to come soon. When it does, as it surely will, some of these currently overlooked models in gold will be well placed to climb sharply in value.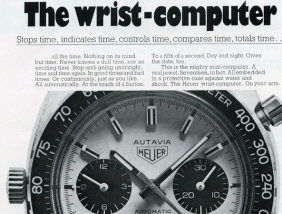 IWC gold UK market bombee lugs 1970
Jaeger LeCoultre steel bracelet for Memovox etc 1970
Rolex Tudor Prince Oysterdate steel blue dial 1971
Jaeger LeCoultre gold with Fulham, London dial 1971
Rolex Precision gold 1971
Omega De Ville ladies white gold on steel, boxed 1973
Rolex Oysterdate steel on Oyster bracelet, boxed, 1973
Omega gold with box and papers 1974
Jaeger LeCoultre ladies 18k gold 1974
Heuer Jacky Ickx Easy Rider with Sears dial 1974
Vintage Watch Brands
Vintage Watch Decades
Vintage Ladies Watches
Vintage Watch Bracelets
Swipwreek Straps
Travel Clock/ Pocket Watches
Home
About
Brand Overviews
By Decade
Reference
Contact Details
Telephone from the UK:
07453 734666
or 07428 051005
Telephone from overseas:
+44 7453 734666
or +44 7428 051005