Vintage Heuer Watches For Sale
Heuer is one of those niche brands that attracts a certain type of devotee, typically with a passion for its products that verges on the manic. Like those by Breitling, vintage watches by Heuer tend to have a very masculine, robust feel to them and the Heuer name is intertwined with the history of motor racing, both in real life and as depicted in Hollywood. So strong is this link that it is difficult to imagine anyone collecting vintage Heuer watches who wasn't also either a motor sport or classic car enthusiast, or a Steve McQueen fan. Equally, for someone with a taste for exotic period motorcars and the historic racing scene, a well preserved classic Heuer is the obvious choice that springs to mind.
Heuer was established in 1860 in the Swiss town of Saint Imier, four years later moving to Bienne, better known as the home of Omega. Within twenty years, the company specialised in chronographs, those watches that included a stop watch feature alongside their conventional timekeeping functions.
Heuer was very much an innovative rather than reactionary concern, and was responsible for a number of technical breakthroughs that we take for granted today, the most significant of which was its development of keyless winding in 1869. A pivotal moment in Heuer's history came in 1911 when the company created its first dashboard mounted clock, designed to be fitted into the early motor cars of the day. An early pioneer in this field, Heuer has stayed loyal to this area for over a century and carved out a specialist reputation as a high quality supplier of time keeping devices for the motor sport world.
Again in common with Breitling, Heuer began as a manufacturer of its own movements but later abandoned this approach and found it more profitable to purchase its movements in raw, unfinished form from third party suppliers, most notably Valjoux, and then completely re-work them to its own specification as required. This actually made good logical sense, if we remember that Heuer was always one of the smaller Swiss houses. The costs involved in designing and building new chronograph calibres ( a particular model of movement is known as a calibre and identified by a specific calibre number) were enormous and by purchasing movement blanks elsewhere, Heuer could spend its limited resources on achieving a superb standard of movement finishing and regulation. Certainly by the early 1930s, the days of Heuer making in-house movements were over and all the vintage Heuer watches for sale on this site contain mechanisms that were bought by Heuer from external sources.
While Heuer chronographs from the 1940s and '50s are exceptionally beautiful vintage watches that are very collectible today, the golden period in Heuer's history occurred in the two decades after the company merged with movement maker Leonidas in 1964. This union bore fruit in the form of some of the most appealing sports chronographs of the era and almost all the Heuer models that we venerate so much as collector's items now were products of the Heuer-Leonidas concern.
In 1968, Heuer joined forces with Breitling, Dubois-Depraz and Buren in an attempt to produce the first ever automatic chronograph movement. This was a challenge that was occupying the Swiss luxury watch industry at the time and there was considerable pressure to win the race to bring the first of this movement type to market. The quartet of which Heuer formed part was the victor, launching its calibre 11 in March 1969 and offering it to the public as a production movement four months later. It wasn't perfect by any means, but it still stands today as a historically important technical achievement and a watch with this movement is a very worthwhile addition to a serious collection. At the moment, the early Heuer models that used calibre 11, including the Autavia, Carrera and, my own favourite, the Calculator, are slightly cheaper in the vintage watch marketplace than the automatic Breitling Navitimer ( reference 1806 ) that was fitted with exactly the same movement. There isn't any justifiable reason for this discrepancy, which, in my mind, makes the Heuer models clearly undervalued.
Heuer-Leonidas merged with Techniques d'Avant-Garde, a company that specialised in the manufacture of high tech equipment for use in Formula 1 motor racing, in 1985 to form TAG-Heuer. There is absolutely nothing wrong with the products created by TAG-Heuer and unquestionably, this concern has been more successful commercially than Heuer alone had ever been before the merger, but purist collectors haven't yet shown an interest in the majority of these watches. The main significance of TAG-Heuer in terms of the market for vintage Heuers has been in terms of the effect on the values of the old 1960s classics that TAG Heuer's modern reissues have had. TAG-Heuer has spent vast sums on advertising its Carrera, Monaco, Silverstone and Autavia reissues and this has brought these models to the attention to a new generation of collectors who had previous not been exposed to Heuer to any great extent. A percentage of those reading the background to the new reissues in TAG-Heuer's promotional material will inevitably be inspired to acquire the "real" vintage versions. Consequently, in the last five years, we've seen the values for good, all original 1960s examples on which the reissues are based jump up dramatically in worth.
From an investment perspective, in our business we think vintage Heuer watches are worthy of serious consideration at the time of writing. There are a number of factors that aggregate to bring us to this opinion. The current management at TAG Heuer is well aware of the value of Heuer's impressive past and understands that by focussing on this golden age, a lot of credibility is vicariously given to its present day range. The side effect of this constant referencing of vintage Heuer in the latest TAG Heuer promotional material is that it attracts attention to these older classics. Further evidence of this comes when we visit TAG Heuer's official website where, almost immediately, we are given the opportunity to take a virtual tour of the company's factory museum and read at length about the history of the Heuer brand in the years before its merger with TAG.
If we track the values of vintage Heuer chronographs, we can see a clear pattern emerging. While values across the board have risen steadily over the last decade, it is clear that when the modern day TAG Heuer decides to reissue a classic Heuer model, the ensuing publicity and the surrounding interest it generates causes vintage examples of this model to climb sharply in worth. We've seen it with the Carrera, the Monaco, Monza, Autavia and, most recently, the Silverstone. Given the success of TAG Heuer's reissues, it seems a safe bet that the company will continue to release more reissue models in the future. Trying to second guess the management at any watch house isn't easy, but it would appear that so far un-mined territory such as the Calculator and Kentucky models, all very much classics of the Heuer 1960s and '70s golden period, must be potential candidates for reissue. All of them have a fairly low profile at present and can be bought for relatively modest sums, certainly under £2000 even for the best preserved examples, which is food for thought.
A final point concerning vintage Heuer watches relates to the period in which these were manufactured. While, as we've seen above, the Heuer company has a history going right back to the Victorian era, as collectors we tend to associate Heuer with the 1960s and '70s. There are a large number of individuals out there who clearly remember seeing these watches as youngsters in their teens and early twenties, but who couldn't afford to purchase them new at the time. A lot of these same people, now typically in their fifties and sixties, hold very senior positions in their professional fields or have been successful in business. They can afford to collect high grade vintage watches and are pulled towards Heuer for nostalgic reasons. Twenty five years ago, what we now regard as vintage Heuers were simply too recent to attract collector interest but today, they have enough age to deserve their status as modern classics. Even fifteen years ago, it wouldn't have been commercially viable to hold a single brand thematic auction centred around vintage Heuer watches. Yet in November 2009, Patrizzi Auctions, one of the most respected specialist horological auction houses in the world, ran a vintage Heuer thematic sale in Milan of nearly 130 lots which, despite the prevailing climate of economic uncertainty, proved very successful. Bonhams followed suit with its sale of the Arno Haslinger collection of vintage Heuer watches in London on the 15th December 2010. While it would be misleading to suggest that the value of vintage Heuers from the post-war era will ever rival those of Rolex, Omega, Jaeger LeCoultre, IWC and the rest from the 1930s and '40s, there seems to be clear evidence that as a collector's brand, Heuer is very much on an upward roll.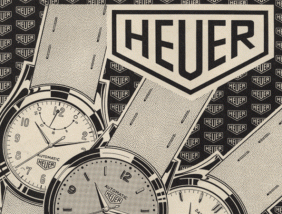 Heuer Jacky Ickx Easy Rider with Sears dial 1974
Heuer steel divers. Early 844-1. Patent documents 1980
Vintage Watch Brands
Vintage Watch Decades
Vintage Ladies Watches
Vintage Watch Bracelets
Swipwreek Straps
Travel Clock/ Pocket Watches
Home
About
Brand Overviews
By Decade
Reference
Contact Details
Telephone from the UK:
07453 734666
or 07428 051005
Telephone from overseas:
+44 7453 734666
or +44 7428 051005