Vintage Movado Watches For Sale
Movado is one of the most fascinating and undervalued of all the major vintage wristwatch brands. Founded in 1881 in the Swiss town of La Chaux de Fonds, this was a brilliantly innovative company, working to the highest possible quality standard. Its name, meaning "always in motion" in Esperanto, couldn't have been more appropriate for a concern that contributed so much to the wristwatch genre in the early 20th century and today doesn't get a fraction of the recognition that it deserves.
Despite its remarkable history, largely because the current incarnation of the house is very low key and the fact that the Movado name is, unlike Rolex, Omega, Jaeger LeCoultre and the rest, not recognised by the general public in the street, its vintage output can be purchased for very modest sums of money.
Movado is a true vintage watch brand in the traditional sense, rather than falling into the modern classics category. By this, we mean that its golden age occurred between World War I and the very early 1960s, rather than it being revered, like Breitling and Heuer, predominantly for models introduced significantly after World War II. Demand for vintage watches by these latter two brands has largely developed in the last fifteen years whereas even back in the early 1980s when the antique wristwatch scene was still very much in its embryonic stages, Movado was already established in the minds of pioneer collectors as being of comparable importance to Rolex and Omega.
In the 1920s, Movado registered a huge number of patents in relation to its wristwatch movements. The firm was at the vanguard, constantly breaking new ground and supplying new and ever quirkier products to a wealthy clientele in search of something they hadn't seen before. It was this innovative streak, combined with top notch build and finish quality, that undoubtedly led to Movado movements being used, along with those by Jaeger LeCoultre, by the famous Parisian jewellery house Cartier. The working relationship between Cartier and Movado proved so effective for both parties that it continued even until the 1950s, and over the years, we have bought and sold several Kingmatic models with their original dials carrying the Cartier signature.
One of the most charming vintage Movado products isn't actually a wristwatch at all. Introduced in 1927 with a flourish of publicity, the Movado Ermeto was a small clock that was carried on the person, with an ingenious case that when opened, served to automatically wind the movement. Almost uniquely, Movado advertised the Ermeto as being a unisex watch, showing male golfers and sportsmen alongside elegant ladies dressed in the art deco fashions of the day. Movado promoted the Ermeto as a new genre of portable timepiece that would usurp the wristwatch. This rather ambitious objective didn't come to fruition, but certainly, the Movado Ermeto is one of the all time greats that must be represented in any serious collection. Going off at a slight tangent, it is interesting to see how the Movado Ermeto seems to exert a pull over people, with many buyers initially only intending to acquire a single representative sample and then going on to accumulate many of the different variants. The celebrated artist Andy Warhol was a noted Movado Ermeto collector, with six of these included in the April 1998 auction of his personal art and antiques held in by Sotheby's in New York following his death. Closer to home, HRH Prince Charles had one of his vintage Movado Ermetos stolen, along with some rather intimately themed cufflinks, in 1994 by a cat burglar who raided St James's Palace. Fortunately, the missing items were discovered in northern Italy and later return to him by the police.
In the immediate post-war period, Movado launched its so-called "museum watch". Offered from 1947, this was the product of Bauhaus inspired designer Nathan George Horwitt, its distinctive feature being a jet black dial on which the only form of decoration was a circular marker at the twelve o'clock position. Its name came about because of Movado's reputation as being the brand of watches that was favoured by major museums in their collections. We have to come clean and say that the Museum Watch has never aesthetically appealed to us, though we accept that it is a design classic and have sold several of them to delighted buyers in the past. If we were in the market for a representative sample of Movado's best work, we would look further back in time than the Museum Watch and try to acquire a tidy pre-war piece.
Having advised the purchase of a Movado manufactured before World War II in the previous paragraph, there is now going to be a contradiction and a recommendation that the 1950s Movado Kingmatic is something of an essential inclusion in any collection that charts the development of the self-winding timepiece. This was one of the really great automatic watches offered in the immediate post-war period and contains a movement that is in every way the equal of its rivals from the same era by Rolex, Jaeger LeCoultre and Omega.
Movado was always a maker of its own in-house movements. Only a handful of elite brands were capable of autonomous movement manufacture, with the rest purchasing their movements in raw, unfinished form and then reworking these as required, adding their signatures in the process. Very much to its credit, Movado was a genuine movement maker in the strictest sense. It designed, tested, built and regulated all its own movements entirely under its own roof. If you buy a vintage Movado, in it will be a mechanism that is unique to Movado and not something based around a mass produced ebauche ( an ebauche is a movement in its most basic state, without gears, pinions or any finishing) that may well have been supplied to a wide variety of other, lesser, houses. Increasingly, whether a brand was a genuine movement manufacturer is being regarded as a significant criteria in the vintage watch collecting world, which places Movado very high up the pecking order of the classic Swiss houses.
Nobody in the antique wristwatch business seems to understand why really well preserved vintage Movado watches manufactured before World War II are offered for sale at lower price levels than those by Rolex and Omega. Movado was a top quality maker that was always pushing forward the frontiers of what was possible in movement technology. Sotheby's, Christies and Bonham's have included some lovely Movados in their specialist horological sales over the last twenty five years, but when the results lists are published, while they always sell for substantial sums, these pieces invariably fail to achieve parity with their closest equivalents by the houses that are better known to the public at large.
Movado offers some of the very best value to be found in the vintage wristwatch world at the time of writing. Here on this site, we always have a number of superb authentic vintage Movado watches for sale and they sell steadily, but more slowly than they should when we really stop to consider their ratio of price to quality. Serious collectors have understood for years that these watches are first rate, but so far, they haven't been discovered by a wider audience, which keeps prices at a modest level. One of the reasons Movado is so low key today is that its current management seems to be very lacking in dynamism when it comes to promoting its products. We can't think of any jeweller here in the UK that even stocks the current Movado range, and we suspect that it is probably similarly lacking in representation in other European countries. If Movado took a leaf out of Omega and Heuer's books and used its past glories to sell its current models, resurrecting the Polyplan, the Novoplan, the Acvatic and some of its other early delights, then the credibility of its brand new watches would rise dramatically, and as an inevitable side effect, its vintage output would command much higher prices at auction. Movado today is a golden business opportunity just waiting to happen when the right leadership comes along.
The thematic Omegamania sale held by Antiquorum in April 2007 did wonders to bring vintage Omega watches to the attention of many collectors who had previously probably never looked beyond Rolex. Movado certainly has enough history behind it, enough high profile past owners ( including Winston Churchill, deep sea research scientist Professor Auguste Piccard and King Boris III of Bulgaria) and sufficient diversity of previous models, to merit a single brand themed sale, but, seemingly because the board at the company is oblivious to the huge marketing benefit of sponsoring such an event, there is no suggestion that this will ever take place. If it does, the realisation on the part of a much broader spectrum of buyers that Movado built some really fabulous watches will push prices up very sharply. In the meantime, those of us that do understand these matters can enjoy purchasing some of the finest vintage watches ever made at a very accessible price level. For literally just £800 or £900 GB pounds, it is possible to buy a near mint, steel cased, very attractive, manually wound vintage Movado in superb order with a movement that is capable of holding its own with anything by Rolex or Omega from the same period. If Movado is ever "discovered" in the same way that IWC was in the mid-1990s, prices for these watches will treble within the space of a year. At the moment, along with their equivalents from the same era by Longines, good, all original pre-war Movados are one of the few genuine bargains left in the vintage watch market and they cannot be recommended enough.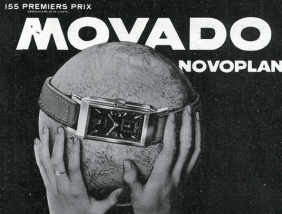 Movado Ermeto chronometer in Asprey, London case 1929
Movado Calendograph complicated day/date steel 1939
Movado Tempomatic steel. First Movado automatic 1945
Vintage Watch Brands
Vintage Watch Decades
Vintage Ladies Watches
Vintage Watch Bracelets
Swipwreek Straps
Travel Clock/ Pocket Watches
Home
About
Brand Overviews
By Decade
Reference
Contact Details
Telephone from the UK:
07453 734666
or 07428 051005
Telephone from overseas:
+44 7453 734666
or +44 7428 051005