Vintage Eterna Watches for Sale
Eterna is another one of those vintage watch brands, like Movado and Zenith, that is still significantly undervalued in the market. The intrinsic level of quality found on the best period Eterna movements from the golden age of Swiss watches is very high; certainly on a parallel with Rolex and Omega, yet these watches can still be purchased for relatively modest sums of money. While largely overlooked by the general public in favour of products by the better known concerns, Eterna has a lot of credibility with vintage watch connoisseurs who understand what goes on inside their timepieces and are capable of evaluating movements on the basis of finish and engineering standard.
Eterna's position as a "watchmaker's watchmaker" began right from its foundation in 1856. Originally, the firm was a manufacturer of movement blanks; movements in their raw, unfinished state, that were supplied to other watch brands to be refined as required. Even among the top tier brands, the ability to produce in-house movement blanks was unusual and the fact that Eterna movements, both then and now, were a "pure" product of a single factory is very impressive. The success of these units was such that diversification into complete watches was inevitable.
Another factor for Eterna's high status with experienced collectors is its impressive track record as an innovator. The technical breakthroughs made by Eterna are legion and include the first ever alarm wristwatch in 1914. Another wide reaching landmark came in 1948 with the launch of the Eternamatic movement. For the first time, the self-winding rotor spun on a series of five ball bearings, dramatically reducing the force required to automatically wind the mechanism. This arrangement has been adopted as a standard throughout the Swiss luxury watch industry and to this day, Eterna's company logo of five balls arranged in a circle celebrates this feat.
Anyone building up a collection of high grade classic wristwatches with the intention of graphically charting the efforts of the key Swiss players over the last century should certainly include a good, all original vintage Eterna on their must-have list. While Eterna produced a lot of first rate pieces during the inter-war period, we would advise our customers that the key models most suitable for investment are:
• A 1940s example equipped with the Eternamatic movement, on the basis that this will always be regarded as a historically significant piece for reasons given above.
• A Mark X pilot's watch from the second half of the 1940s. During the closing stages of World War II, Eterna was one of a dozen Swiss manufacturers chosen by the British government to supply the RAF with military wristwatches. These Mark X models were built to a pre-approved MOD specification and their quality is outstanding. Good examples are not easy to find and not cheap, but they are likely to continue as excellent appreciating assets while also being rugged enough for regular use.
• The Eterna Centenaire from either 1956, 1961 or possibly 1971. Eterna released the Centenaire to mark a hundred years of continued technical progress in 1956. It was a tour de force that was used as a showcase for the brand and compares very favourably with its equivalents by both Rolex and Omega from the same period. The original Centenaire was such a commercial success that Eterna subsequently brought out further versions five and fifteen years later. While reasonable numbers of these watches circulate, finding the very best survivors isn't easy and we reject most of those offered to us on the basis that they have been neglected and are mechanically worn.
• The Eterna Kon Tiki, preferably in its first state, but also in its later versions. This model was released on a commercial scale in 1958 to commemorate adventurer Thor Hayerdahl's epic 1947 sea voyage from South America to the Polynesian islands, completed on a primitive craft made from balsa logs. It remains one of the all time classic vintage sports watches from this era and ranks alongside the Rolex Explorer in every respect, yet again, it is ludicrously undervalued. The best early vintage Eterna Kon Tiki in superb condition won't change hands for much more than £1200 GB pounds at the time of writing, which is fraction of what would be required to buy an IWC Ingenieur or Blancpain Fifty Fathoms from the same period.
In recent years, Eterna has been taken over by Porsche Design. This is likely to be good news for those considering vintage Eterna watches as investment vehicles. Porsche Design has a wealth of experience in creating upmarket products and is unlikely to do anything foolish which might degrade the Eterna brand in the future. Our view is that the market for Eterna's back catalogue will continue to rise steadily across the board, but key models, which are detailed above, have the potential to dramatically increase in worth if they are "discovered" by a wider collecting audience as a result of a themed auction or article in the specialist media. At the moment, there is certainly a very noticeable imbalance between the high quality of vintage Eterna watches and the relatively low prices at which they currently change hands, making them something of a bargain.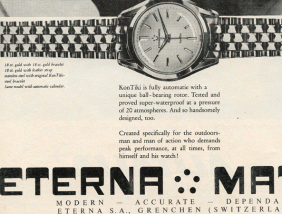 Eterna-Matic important ball bearing rotor 1952
Eterna 18 karat gold large rectangular 1960
Eterna Centenaire 18 karat gold automatic 1961
Eterna Kon-Tiki 10 steel with Heyerdahl book 1968
Vintage Watch Brands
Vintage Watch Decades
Vintage Ladies Watches
Vintage Watch Bracelets
Swipwreek Straps
Travel Clock/ Pocket Watches
Home
About
Brand Overviews
By Decade
Reference
Contact Details
Telephone from the UK:
07453 734666
or 07428 051005
Telephone from overseas:
+44 7453 734666
or +44 7428 051005