Zenith silver and gold officer's 1930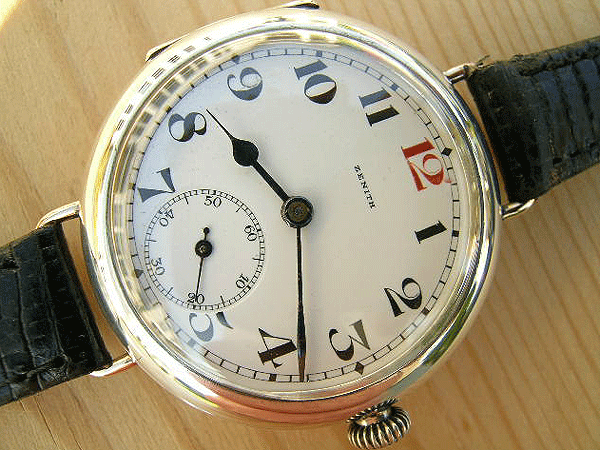 Dating from 1930, this gentleman's vintage Zenith is a lovely watch that is interesting in many ways. It is very much a collector's piece yet at the same time, despite its age, it remains in remarkable, literally almost perfect, condition. Finding early pre-War wristwatches by the major Swiss makers in this completely original state isn't easy and the general grade of items that goes through most physical salerooms now is actually pretty poor. The buyer is always going to have to pay a price premium for the best watches, but equally, these are the pieces that will appreciate in value at the fastest rate in the future.
When this watch first appeared in stock, on first casual glance we presumed that it had a gunmetal case that had been partially nickel plated, leaving the lugs and hinges on the case side in the natural gunmetal bronze colour. This would have been perfectly fine and is an attractive combination, but upon careful examination, we were pleasantly surprised to find that in fact, the case body is solid silver, with the lugs and hinges in pink gold. This is not a format often found and in fact, other than on the Zenith watch here, we have only ever seen it before on very early, pre-Rolex trade name registration, models sold by Wilsdorf & Davis, the London based partnership that would go on to become Rolex.
The large case is almost unmarked and isn't in the least bit worn. Its styling is very much reminiscent of the watches sold in the World War I era and by 1930, it would have looked dated alongside many other models in the jeweller's window. If we had been asked to date this watch simply by examining it externally, we would have suggested its period of manufacture as being somewhere between 1916 and 1922. This watch represents almost the very last of its type and as such, is important.
Inside the hinged case back is the signature "A.W.C Co, Sterling" and the individual serial number 1046352. Ironically, despite its name, the American Watch Case Company was based in Toronto, Canada. In common with the majority of the key Swiss horological houses, Zenith found it economically advantageous to ship uncased movements to its agents in the USA and then have these housed in domestically manufactured cases. By adopting this approach, heavy taxes levied on complete watches entering America from Europe could be avoided, resulting in Swiss watches being available to the buying public at still reasonably affordable rates.
Something we like about this type of case is that it often came with a separate inner dust cover over the movement, as we see here. In common with a lot of cases manufactured in the era immediately post-Great Depression, costs were cut by using a base metal for this inner cover rather than a precious one. So while the outer case is a combination of sterling silver and solid gold, the overall cost of the watch at retail level was reduced by compromising on a component that the world at large would never see: the inner dust cover.
While made of an inferior metal to the silver case body, the inner dust cover has been completely covered with an engine turned pearled pattern. The stamp "Nickel Silver Cap" is there, together with a repeat of the same case number already encountered inside the case back outer, 1046352. This is also found again on the inner edge of the case body. We are very impressed that the American Watch Case Company took the trouble to triple serial number its cases in this way. Sadly, most of the European case makers did not. For the modern day collector, this is of great help as it enables us to ascertain at a stroke that all three component parts of the case are original to each other and haven't been married together at some later stage.
Again anachronistically, the dial here is of hard glazed enamel. By the mid-1920s, painted dials had all but taken over from their enamel predecessors. Longines offered some enamel dials right up until World War II as did Zenith, but almost all the other Swiss brands had long since moved away from these by the time the watch here was manufactured in 1930.
Enamel dials have the great advantage that they don't suffer from staining by dust or damp, but the considerable drawback that they are very vulnerable to hairline cracking if subjected to shock. A lot of collectors take the view that some minor cracking is inevitable on a vintage watch with an enamel dial, but the stance on this site is that unless there is genuinely no possibility of ever finding a model with a near perfect dial, for instance because only a handful of its type are known to exist, then it is better to hold out until a watch with a first rate dial comes along.
This dial is faultless in every respect. Not only is it guaranteed to be totally original, but it is entirely free of any cracking or other imperfections. Its shiny glazed white surface is unblemished and looks today exactly as it did in 1930. This represents the archetypal enamel dial in an absolutely mint state and is something that one doesn't frequently see.
The layout of the dial is attractive, with large Arabic numerals inside a double minute track. "Zenith" is stated above the dial centre point. The red 12 o'clock numerals are so typical of those often found on enamel dials.
All three hands are original to this watch and have never been replaced. These are in blued steel and perfectly match the black printed numerals. Similarly the winding crown is also original, in the ribbed pattern that we always refer to as "mushroom".
Zenith has always been famous for the exceptionally high quality of its movements and the mechanism here is a superb example of its vintage output. In order to appreciate why Zenith is regarded with such reverence by collectors, we need to be aware that the firm is one of only a very small number of Swiss watch houses that have always manufactured their own movements entirely in-house. Rolex purchased movements from Aegler, in which it had a financial interest, Omega relied heavily on Tissot as a movement supplier in its early years and Breitling almost exclusively bought in the mechanisms it used, but Zenith, much to its credit, designed, assembled and regulated every movement that bore its name in its Le Locle factory. Zenith sold movements to other concerns, most notably Rolex, but it didn't import these from any other party. When you buy a classic Zenith, like the one here, you're acquiring a very "pure" product, with a movement that won't be found in anything else. This credibility appeals greatly to many experienced vintage watch aficionados and, combined with the remarkable standard to which Zenith movements were built, goes a long way to explaining why interest in this brand has soared over the last ten years in particular.
The movement in this particular watch is Zenith's calibre 13 NVSI. Introduced in 1905, it gained a reputation as one of the most reliable and accurate movements of its day, so much so that it remained in production until 1935, long after most of its contemporaries from the Edwardian era had been demoted into obsolescence. Hand wound and running at 18000 half beats per hour, this was a 13 ligne movement ( the ligne is the unit of movement diameter used as standard within the Swiss watch industry), the largest size offered by Zenith in a wristwatch in the inter-war period. Given that Rolex offered a 13 ligne manually wound movement at the same time, the Rebberg, it is perhaps inevitable that comparisons would be made between the two units. The finish on both is outstanding but the deep Geneva stripes on the Zenith bridges so beautifully executed that we would be inclined to the view that the Zenith is better decorated than the Rolex. Both are rhodium plated. The Rolex scores more highly in our eyes on account of it, in standard form, having seven jewels, whereas the Zenith utilised hardened steel bushings. There isn't actually anything wrong with this approach and it was one that was used on a lot of excellent pocket watch movements in the Victorian era, but in an ideal world, we like to see ruby bearings and do see this as being a slight negative. Otherwise, we can regard these two very closely related movements as being equals and certainly, they would have competed directly for market share at the top echelon when new.
"Zenith" is stated on the bridge in large upper case letters. The serial number 2049774 is located next to the winding wheel. So far, nobody has published an accurate list of vintage Zenith serial numbers cross referenced by year of manufacture, but we do know that the 2000000 point was passed in 1930 and that the 3000000 figure was reached a decade later. If Zenith production was linear throughout the 1930s, which it probably loosely was, then this movement left Le Locle sometime roughly halfway through 1930.
Having been serviced regularly, this movement works perfectly and is in a superb condition throughout. It isn't in the slightest bit dulled or corroded and has a shining surface to the plates like that we'd expect to find on its brand new equivalent. Unlike a lot of the early wristwatch mechanisms from this period, this one is entirely original and has no replaced components. While beautifully finished and built with meticulous care, it is also, like other movements by Omega, Rolex and Longines designed in the same era, actually very simple. If treated with care and sent for routine cleaning and re-oiling every three or four years, it will last almost forever. To its credit, Zenith today still takes an active interest in its vintage watches and if this piece is returned to Le Locle, the company will undertake servicing work as required. However, this is expensive and in fact, these early movements are so straightforward in their construction that any experienced local watch maker will be more than capable of keeping it in first class shape for a fraction of the price.
We have fitted this watch with a high quality crocodile skin strap that is perfectly in keeping with its upmarket, old world appearance. This is not a genuine Zenith strap, but it fits the piece perfectly and does not need to be changed. If the buyer wishes to be technically correct and wear his watch in the way it would have been worn in 1930, he might consider purchasing one of the two piece straps that we recently had manufactured specifically for early wire lugged models of this type. Details of these straps can be found on our website by following the link to "Shipwreck Straps" at the top of this page.
The price of this charming watch is £875 GB pounds. A Rolex officer's watch from World War I, in the same large 13 ligne size and in a silver case, would change hands for between £1900 and £2800 GB pounds and unquestionably, at this price level, this Zenith equivalent represents superb value for money. Zenith is one of the most respected manufacturers of the golden era of Swiss luxury wristwatches and any collection that attempts to accurately record the development of the genre through its formative years would be incomplete without at least one vintage Zenith watch in it. Having been sold new in the USA and having this very attractive two tone gold and silver case, this example is just that little bit different from others that are ostensibly the same and as such, it is ideal for anyone wanting to add a period pre-War vintage Zenith to their investment portfolio.
Price £875 GB Pounds
Vintage Watch Brands
Vintage Watch Decades
Vintage Ladies Watches
Vintage Watch Bracelets
Swipwreek Straps
Travel Clock/ Pocket Watches
Home
About
Brand Overviews
By Decade
Reference
Contact Details
Telephone from the UK:
07453 734666
or 07428 051005
Telephone from overseas:
+44 7453 734666
or +44 7428 051005