Zenith steel bumper automatic 1959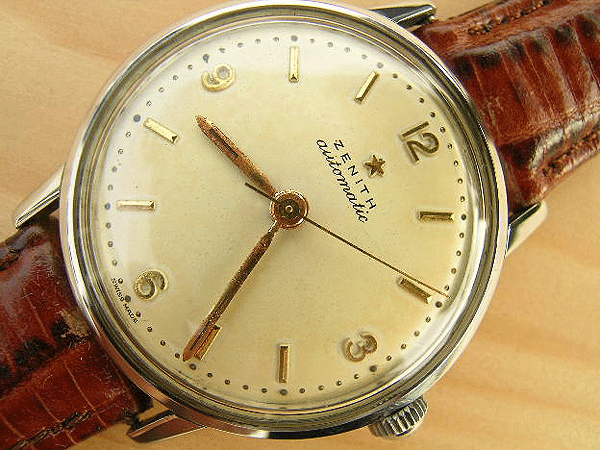 Dating from 1959, this beautiful gentleman's steel Zenith bumper automatic is a vintage watch for the connoisseur. While very attractive and obviously of the highest quality, its appeal lies in its rarity and in its historical importance within the context of the famous Zenith company. For the casual buyer looking perhaps for a birthday or anniversary gift for someone who is not a fanatical collector, there may be advantages in purchasing a more obvious, mainstream choice by Rolex or Omega rather than paying a price premium for a piece of exotica by a much smaller niche concern that may not be appreciated. Having said this, it remains one of our favourite watches for sale on this site and for the collector at an advanced stage who understands what he's buying, it will be difficult to resist.
Founded in 1865 in Le Locle, Zenith is among the most venerated of all the Swiss luxury watch brands. Significantly, it has always been one of only a tiny handful of elite watch companies that had the technical ability to manufacture their own movements entirely in-house, controlling every step of the production process along the way. Increasingly, as the vintage watch market matures and becomes ever more sophisticated, this issue is coming to the forefront, with collectors seeking the credibility and sense of purity that comes with autonomous movement making. We have written an article discussing the "manufacture movement" argument which can be found by clicking the link above to the Reference section of this site. It is well worth reading and will go a long way to explaining why the values of the best classic Zenith watches have escalated so sharply over the last five years.
This watch is so fascinating because it contains a close variant of the first automatic movement calibre ever produced by Zenith. With a track record of perfecting its movements rather than rushing in to embrace new fads, Zenith came relatively late to the field of self-winding, launching its first automatic mechanism in 1948, fourteen years after Rolex brought out its Oyster Perpetual and five years after Omega unveiled its inaugural automatic, calibre 330.
What makes it such an unusual piece is that this movement is a bumper, rather than rotor, automatic. Rotor automatics, which are now the universal standard in the luxury watch industry, have centrally pivoted weights that spin when moved by gravity. These turn in a full 360 degrees, winding in either one, or in some instances, both directions as they travel. The bumper was built along entirely different lines. There is still a pivoted weight, but this only moves through a limited arc of travel and cannot rotate freely. Once it swings out to its fullest extent, it is bounced back off buffer springs in the direction from which it came. It is this rocking, bouncing motion, which can be felt on the wearer's wrist, that led to movements of this type being known within the collecting community as bumpers.
In thirty years in the vintage wristwatch business, this is the first Zenith bumper movement that we have owned. Every other classic self-winding Zenith on our site and indeed in our safe is with a rotor movement. To imply that this is some unheard of ultra-rarity or pre-production prototype would be completely untrue and very misleading, but it is appropriate to comment that this is a very rare Zenith movement type that is not often encountered outside of high end private collections and reference books devoted to this hallowed marque. When this watch has sold, which it will do quickly, we can honestly say that we will have no idea when its replacement will be sourced. In short, for the completist Zenith aficionado wanting to own an example of the firm's elusive first automatic, and the only one to be built as a bumper, this watch represents a golden opportunity to acquire something very out of the ordinary.
The condition of this watch is almost mint and it has clearly led a very sheltered life. Its large steel case is virtually unmarked and not in the least bit worn. When it was new, this would have been an expensive purchase and unlikely to have been regarded as a timepiece for everyday use. Its state is so outstanding that we would have to question whether it has been worn on more than a few dozen special occasions.
The case back is of the snap on type and very similar to that used on Omega bumper automatics from the same era. Internally, it has been covered by an engine turned pearled pattern and is signed "Acier Inoxydable ( the French term for stainless steel), Zenith, Swiss Made". Zenith case signatures have evolved over the last century and it is worth having a basic familiarity with which format was used during which period. The style here, with a line running under the Zenith word as an extension of the letter Z, is the appropriate one for a watch manufactured in the 1950s and '60s. In the vintage watch market, especially online where watches are rarely physically inspected before a sale is agreed, the building up of scrap cases and movements that were not together when new is epidemic and it is key to perform at least some basic checks to establish that cases, dials and movements are all from the same era. This watch is guaranteed to be completely original throughout, but unfortunately, in this respect it is in the minority. It is all too easy to purchase what appears to be an authentic vintage watch by a top tier maker and find out at some later stage that it is little short of a horological equivalent of Frankenstein's monster.
Externally, the case back is stamped with the serial number 9361386. This stamp is of full depth, which is an excellent indication that a case has not been polished. There are some very shiny cased watches on the market with serial numbers that have become little more than a shadow after over-zealous use of the polishing mop. This case is superb and exactly what the experienced collector or investor looks for in an ideal world.
The winding crown is worthy of comment. This is signed on its domed outer surface with a large star, this being the symbol of the company's famous Le Locle factory, inside which is an upper case letter Z. Again, to repeat the view expressed above in connection with case back signatures, it is important to know that a winding crown, even if signed, is of the appropriate age for the rest of the watch. Zenith has used a whole variety of signed crowns, ranging from the classic 1950s variant here, through to those from the 1970s and '80s with the stylised block emblem and the solid star types of the last twenty years. Just because a winding crown has a Zenith logo of some sort does not guarantee that it is the component that should be there. Nearly all these crowns have the same tap size and can be interchanged at will without any modification to the winding stem being needed. Manfred Roessler's excellent book "Zenith, Swiss Watch Manufacture Since 1865" discusses the different crown types on page 42 and includes a close up colour photograph of the exact style here, commenting that it was used throughout the 1950s.
The French white dial is original and near mint, making it ideal for investment purposes. When buying at a serious level, dial condition and originality assume enormous importance, to the extent that they will make or break a watch in the eyes of the purist enthusiast. Vintage watches with original dials in poor condition are not rare and equally, mint looking restored dials can be created at any time for anyone wishing to pay for the re-dialer's time. The elusive combination of nearly perfect condition and a virgin state is one that collectors will pay a high premium to secure, with watches with untouched, immaculate dials typically having values that are almost double those of their merely average siblings. In order to have survived in the condition of the example here, a dial must have been kept away from the bleaching effects of bright sunlight and in a clean, dry environment, far apart from dust and any damp that might creep around the edges of the crystal. In reality, very few vintage watches have led uninterrupted cosseted existences of this kind and consequently, almost all have dials that fall short of the ideal.
We have something of a reputation for being perfectionists and study the dials on watches offered to us through a stereo microscope before agreeing to add them to our stock. This dial is as close to pristine as any we have owned from the 1950s and is not far short of being in new-old-stock condition. Even when examined from a distance of a few millimetres, its surface is almost unblemished , with just the very faintest ageing uniformly across the whole dial. The overall dial colour is just slightly creamier than it would have been in 1959, in much the same way that the pages of a collectible old book are often slightly sunned, but in real terms, this component is as good an even the most exacting collector could ever hope to find.
"Zenith, Automatic" is signed above the dial centre point with "Swiss Made" around the bottom edge. The Le Locle star is applied and in gilt to match the hour batons and Arabic numerals at the compass points. This dial format is one of the most attractive of its era and is commonly referred to as a "3, 6, 9" or "Explorer dial" by collectors, the latter name being derived from the use of this layout by Rolex for its Oyster Explorer model from the mid-1950s.
All three hands are original and in gilt. Their plated surfaces are in very good condition, with just the slightest touch of patina that is consistent with that to the dial furniture. When buying a vintage wristwatch, it is paramount to confirm that hands are correct for the model in question. Locating old stock hands for classic early models by firms like Zenith, which were manufactured in relatively small quantities in the first instance, is little short of a nightmare and will invariably be a time confusing and frustrating journey. Anyone lucky enough to have a hoard of vintage parts by any of the desirable makers will be well aware of how useful they can potentially be to owners wanting to return their valuable timepieces back to factory standard specification and will price them accordingly. From our own experiences over three decades, we would always advise that it is less financially damaging in the long run to pay a little more in the first instance to buy a watch, like this one, that is complete and authentic in every respect. Buying something with known incorrect aspects and then trying to gradually put it back to its original state rarely turns out to be cheaper than acquiring a watch that is a first rate specimen from the outset.
As discussed earlier in this description, the remarkable bumper movement in this watch is what makes it something of a must-have for the Zenith enthusiast. Calibre 133.8 was launched in 1951 as the first revision of calibre 133, this having made its debut in 1948, remaining in production for three years. Both movements were in a very large 13 ligne size , with a depth of almost 5mm, which is considerably less than the self-winding movements of the same era by Zenith's competitors. The design of the 133 and 133.8 is unique to Zenith and therefore interesting to the collector, with reduced depth being possible by locating an oversize barrel in the dead angle of the bumper arc. Similarly, these were the first Zenith calibres to ever feature direct centre seconds. We have a number of original technical bulletins by the Zenith factory from the 1950s in our archive, and studying these now as this is written, the only difference between the 133 and its up-rated relative the 133.8 is the faster running speed of the more modern unit. Appreciating that all also being equal, a faster beat rate would result in a more accurate movement, Zenith's engineers modified the balance of the 133.8 to run at 21600 half beats per hour instead of the 18000 pace of its predecessor.
For the enthusiastic collector looking for a bumper Zenith, we would recommend that the 133.8 is chosen over the earlier 133. The 133 has the advantage of being technically the first ever automatic movement by Zenith, which is clearly very attractive from a historical perspective, but the two units are so similar as to be almost indistinguishable from each other, so we tend to devalue this view somewhat. Where the 133.8 scores over the 133 is that, because of its faster running speed, it was capable of being sold as an officially certified chronometer. The 133, though exceptional in its own right, could not be regulated to chronometer standard, which, in our eyes, makes the more refined 133.8 the unit to go for. In reality, both types are extremely rare and the choice is rather an academic one anyway, as it is highly unlikely that any dealer or physical auction house would ever have examples of both for sale at the same time.
Vintage Zenith movements are universally regarded as among the highest quality that have ever been made and it was no accident that the company was a significant supplier of mechanisms to Rolex. The engineering and finish standard in this unit is second to none and we would be quite happy to go on record as stating that this mechanism is a superior product to its closest equivalents by Rolex, Omega or Jaeger LeCoultre from the same era. Every aspect of these classic Zenith movements was built up to a quality standard and there seems to have been no consideration given to the expense of manufacture.
While early Rolex movements are a delight to examine, their finishing is cruder than that here. Both Rolex and Omega used plain plates in the 1950s, even for their chronometer rated mechanisms. Zenith, like IWC, took the trouble to decorate its plates with the most wonderful Geneva waves, these being applied by hand by a highly skilled craftsman with a rotating boxwood or ivory disk. This was a laborious process that added several hours to the production time for each movement. More remarkable still, detail of this kind was something that would never been seen by the average owner. Zenith went out of its way, as a matter of company pride, to create movements that were arguably the best in the world, but refreshingly in a current environment of celebrity endorsement and fashion related advertising, seemed content to reach a level of such high sophistication that many of the more exotic aspects of its mechanisms would only be appreciated by watchmakers and went completely over the heads of the people who actually bought them at a retail level.
Any advantage that is gained from owning a very rare movement will immediately be negated if this is in poor condition. Just as the most exotic motor car engine will have little worth if run for a million miles without an oil change, so the finest watch movements will deteriorate dramatically if run for more than four or five years without the maintenance they were designed to receive. Movement condition has to be high on the priority list of anyone considering a vintage wristwatch as a potential addition to their portfolio. We always advise, with no exceptions, walking away from any watch with a badly worn movement, however inexpensive its price may be. Tired, shabby movements are unreliable, inaccurate and a world away from how they were when first built and in pristine order.
This movement is in superb condition throughout and even to the most untrained eye, has obviously been looked after extremely well. In common with Rolex movements of the same age, it is finished in rhodium, giving it an entirely different look to the copper plated Omega movements of the period. The plates and gears gleam brightly and nothing is tarnished or dulled in the slightest. Zenith itself will not have a better preserved example of the 133.8 movement than the one here in its own museum and while it isn't cheap, a cleaner, more immaculate specimen will not be offered anywhere, at any price.
Everything about this movement is original and not even a single minor component has been replaced. Just as old timer cars and motorcycles gradually become modified with non-standard components as their owners struggle to keep them on the road, so it was, especially in the 1970s when mechanical wristwatches were regarded as obsolete and of little value, that so many once exotic timepieces were bodged with parts that were not intended for them in the first place. This movement is a rare example of a unit that has survived the dark ages of the 1970s and early '80s unscathed. It works perfectly, runs very smoothly and provided it is sent for little more than routine cleaning and lubrication every three or four years, will literally last almost forever.
"Zenith, 20 Jewels, Swiss Made" is signed on the oscillating weight, with the calibre number 133.8 stamped next to the balance wheel. On the automatic bridge there is the individual serial number 4832756. This is interesting, as it would suggest that this unit was manufactured in 1959, falling between the two extremes of Zenith movement production for that year of 4743106 and 4872096. Theoretically, production of the 133.8 ceased in 1958, but it would appear from the existence of this item that in fact, some units were manufactured early the next year. Whatever, we can say for sure that this is one of the very last bumper automatics to ever have been built by Zenith.
We have fitted this watch with a high quality ostrich skin type strap that is ideally suited to its upmarket, obviously vintage appearance. This isn't an original Zenith strap, but it is very similar to those shown in period Zenith advertising from the 1950s and certainly will not need replacement in the near future. This strap is brand new and has not been worn.
It really isn't too easy to price this watch, not least because so few bumper Zeniths ever crop up for sale. Christie's, Bonhams and Sotheby's regularly include Zenith automatics from the 1960s in their specialist fine wristwatch sales, but it has been over a decade since any of these three offered an early bumper example. In our business, we purchase watches for our stock on a daily basis and classic Zenith pieces are among our areas of speciality, but the pre-rotor self-winding models are conspicuous by their absence. We just don't see bumper Zeniths and were delighted to acquire this example, not least because of its superb condition and total authenticity.
After some discussion, we have set a price of £1375 GB pounds on this watch. Our business is successful primarily because we can offer the highest grade of investment standard vintage wristwatches at substantial savings over our competitors in central London. We have a long established network of suppliers, many of whom have fed us with stock for almost thirty years, and can typically undercut the London vintage watch shops by approximately 50% for no other reason than, based in rural East Yorkshire, our trading overheads are very low. This is a delightful piece of exotica by one of the most respected watch brands in the world and at this level, it represents remarkably good value for money. The next owner of this piece will get enormous pleasure from wearing it, knowing that he has acquired a model that he is very unlikely to find for sale again in a hurry. It is a charming and very interesting watch that appeals on a wide variety of levels, from the aesthetic right through to the technical.
Price £1375 GB Pounds
Vintage Watch Brands
Vintage Watch Decades
Vintage Ladies Watches
Vintage Watch Bracelets
Swipwreek Straps
Travel Clock/ Pocket Watches
Home
About
Brand Overviews
By Decade
Reference
Contact Details
Telephone from the UK:
07453 734666
or 07428 051005
Telephone from overseas:
+44 7453 734666
or +44 7428 051005