Zenith 18k gold officers with hinged lugs. 1919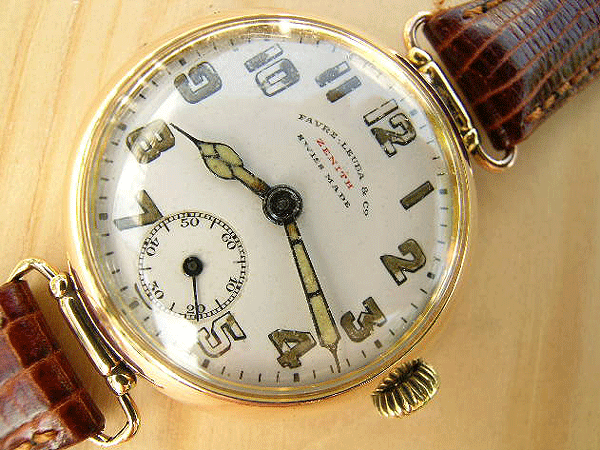 While not inexpensive, this 1919 gentleman's vintage Zenith watch in solid 18 karat gold, with the most beautiful hinged lugs and a fascinating provenance, is a delightful item of a grade that rarely surfaces today. The vast majority of vintage Zenith watches for sale, and indeed those by the other top level Swiss houses, have some elements of unoriginality and, to some extent, this has to be expected on models that are now approaching a hundred years old. This one is totally original and in a condition that is not seen on a regular basis.
The case style here is typical of these early officers' watches, taking the large circular form that had been inherited from the pocket watches of the Victorian and Edwardian eras. However, it is important to appreciate from the outset that this is a genuine wristwatch rather than a pocket watch to which lugs have been added. As vintage wristwatch prices have soared over the last decade, there has been a strong tendency for the unscrupulous to add wire lugs to pocket watches, at the same time shortening the winding stem and removing the bow through which a chain was formerly passed. The result is a monstrosity that will always be regarded with derision by knowledgeable collectors and should be avoided at all costs. Spotting well-executed conversions can be difficult for the newcomer, but a very basic guideline is to note the position of the subsidiary seconds register. If this is at 9 o'clock, rather than at the bottom of the dial at 6, eyebrows should be raised and further investigation made, as one would associate this layout with a pocket watch movement that has been rotated through 90 degrees in order that its winding crown no longer appears at the top, but instead on the side as found on a wristwatch. Just to reiterate the point made at the beginning of this paragraph, this is an original vintage Zenith wristwatch that looked exactly as it does today when first sold in 1919.
A very appealing touch is the hinged lugs, these being a refinement on the fixed wire lugs that we normally associate with World War I era wristwatches. Both Rolex and Omega offered very similar lugs during this era, yet the vast majority of early examples by these makers have the simpler alternative.
Some explanation for the presence of these attractive lugs can be found in the fact that the case is in 18 karat gold, a material that has always been regarded as a luxury one. This was clearly an exotic item when new and consequently merited these fancy lugs. In silver, the same watch would probably have had fixed soldered lugs on the basis that it was more of a utilitarian object.
The weight of this large case ( the watch has a width of a hair under 33mm) is considerable, and its walls are among the thickest we have encountered on an 18 karat housing from this era. Particularly in the austere period around World War I, many lesser manufacturers attempted to reduce the eventual retail price of their watches by creating ever flimsier gold cases and cutting down raw material cost. Zenith shunned this approach on the basis that customers at this level were unlikely to be excessively cost conscious and would still pay the premium needed to acquire a heavy solid gold case. Another trick that was played for similar reasons was to stamp the hinged movement dust cover on cases of this type out of base metal rather than gold. This way, the watch could still legally be sold as having a gold case, but the amount of gold actually present dramatically reduced. Here, the thick dust cover is in the same solid 18 karat gold as the rest of the housing.
Case back, inner dust cover and bezel are all hinged to the case body. These hinges are all in excellent order and have never been subjected to any repairs in the past. Internally, the case back outer is signed "Zenith Watch Co, Swiss" and carries the serial number 240301. There is also a full set of Swiss hallmarks ( Helvetia), these confirming that the case is in solid 18 karat gold. Both the same hallmarks and the identical serial number are repeated inside the movement dust cover, the latter confirming that case back and dust cover started life together.
Notice that the hallmarks on this watch are Swiss rather than British, indicating that it was sold outside the UK when new. This is consistent with the wording "Presented to Wor (shipful). Bro (ther) E. A Rodgers from Lodge Hely Hutchinson, No. 465. I.C." engraved into the case back outer in the most attractive decorative typeface. Known for its aristocratic connections, Hely Hutchinson was a Masonic Lodge in British colonial India, named after John Hely Hutchinson, the 2nd Earl of Donoughmore, Ireland. Having been given as a gift from the Lodge members out in India to one of their number, there was no reason for this watch to have been to the UK, and hence it has no British hallmarks. Today, Hely Hutchinson Lodge still holds meetings in the Indian city of Poona and it would be fascinating to contact its secretary there with the details inscribed on this watch. Masonic records are usually well kept, and it seems likely that further information regarding Mr. E.A Rodgers could be obtained via this route.
The enamel dial is totally original and in almost perfect condition. It has none of the hairline cracks that are so typically found on early enamel dialled wristwatches and is free from chipping or crazing. Even when studied under high magnification, no fault whatsoever can be seen, and the only reason for not describing it as being literally mint is that common sense tells us that no item of almost a hundred years old can even possibly be as new.
The signature "Favre Leuba & Co, Switzerland" is stated in black above the dial centre point around "Zenith" in red. Favre Leuba acted as Zenith's official agent in India from 1901 until the late 1950s and again, the presence of this wording ties in perfectly with the case hallmarks and engraved dedication. The importance of cross referencing details of this kind cannot be over stressed, and it is remarkable how many fake and incorrect watches can be weeded out quite quickly with a few minutes methodical detective work of this kind.
The blued steel skeleton hands are in superb condition and completely original, as is the large diameter ribbed winding crown. The luminous infill to the hands and large Arabic dial numerals has deteriorated to some extent, but this is as a consequence of the chemical decay of its radium ingredient and not because of any neglect by past owners. If one so wished, this material could be carefully replaced by a restoration specialist, but we would strongly recommend against this course of action.
Zenith movements are universally regarded as being some of the very finest to come out of the Swiss luxury watch industry, and this one is no exception. There is no doubt whatsoever that the hand wound mechanism in this piece is in every way the equivalent of Rolex's Rebberg or IWC's calibre 64 of the same period, and if studied carefully, it actually can be seen to be technically superior to either of these two famous types. Unlike the Rolex and the IWC, this Zenith has a jewelled centre wheel and, usefully, the facility for micro regulation, this enabling the oscillation speed of the balance, and therefore the accuracy of the watch, to be fine tuned to a greater extent than would otherwise be possible. Not every example of this Zenith movement has the micro regulator and again, this seems to have been something of a deluxe feature that, like the hinged lugs, only appeared on watches destined to be sold at a higher price level.
Another refinement is the chatons that hold the jewels. On almost every movement, the jewels are pressed directly into holes in the plates and held there by friction. In this instance, each jewel has been fitted into its own threaded brass sleeve which is then wound down into a correspondingly threaded hole in the plate. Very few wristwatch movements have chatons, and when they are found, as here, they are always indicative of extremely high quality production.
This movement is in superb condition and contains no non-original parts whatsoever. Its frosted gilt surface is slightly tarnished, as many of these examples from hot colonial backgrounds are, but this is a very trivial cosmetic issue and does not affect the working of the unit in any way. It should be stressed that this is simply slight tarnishing and, of course, there is no significant corrosion or deterioration of any kind. Unfortunately, the camera angle in the movement photo has made this dulling look far more dramatic than it actually is in the flesh and when viewed with the naked it, it is hardly noticeable. This mechanism remains entirely original and, as a consequence of regular servicing, in full working order. The signature "Zenith, Swiss Made" is stated on the bridge, together with the serial number 2506666, this dating the watch to 1919.
In Gisbert Brunner's book "Wristwatches", a very similar vintage Zenith watch is pictured in full colour on page 408. This has the same hinged lugs, movement with micro regulator and skeleton hands.
Helmut Kahlert's book "wristwatches, A History of a Century's Development" shows a close up photograph of a vintage Zenith officer's watch, stated as being from 1920. This has a very similar gold case to the example here, but with less flamboyant soldered wire lugs. We are not told if the case is 9 or 18 karat gold. The movement is the identical twin to this one, with the slightly later serial number 2532969 as opposed to the 2506666 stamping here. In 1991, when this book was published, the value of the watch shown was stated as being $1100 US dollars ( approximately £600 GB pounds), though obviously more than twenty years later this is no longer realistic.
Setting an asking price for this item isn't an easy task, primarily because we see so few early vintage Zenith watches for sale in this superb condition in 18 karat gold cases. A good, all original, World War I period vintage Zenith wristwatch in a silver case would realistically change hands for perhaps £1850 in Sotheby's or Christies, on top of which buyer's premium would be charged at somewhere between 15 and 20% depending on the saleroom used. The policy on this site is to deliberately offer investment standard watches at significantly less than their auction value, and with these beautiful hinged lugs and a perfect original dial, this item is well worth the £1375 price here. At this level, for a watch this is so exceptional in both its specification and state of preservation, this is not an excessive sum and, if looked after in the future, this piece will only ever appreciate in value while being a constant source of pleasure to its owner.
Price £1375 GB Pounds
Vintage Watch Brands
Vintage Watch Decades
Vintage Ladies Watches
Vintage Watch Bracelets
Swipwreek Straps
Travel Clock/ Pocket Watches
Home
About
Brand Overviews
By Decade
Reference
Contact Details
Telephone from the UK:
07453 734666
or 07428 051005
Telephone from overseas:
+44 7453 734666
or +44 7428 051005