Vintage H Moser & Cie Schaffhausen Watches
H. Moser watches are often overlooked by newcomer collectors who are not familiar with this obscure brand, but in fact, for the advanced enthusiast looking for exceptionally high quality early vintage wristwatches, they are well worth considering. Good, investment grade H. Moser watches from the pre-war years are not easy to find and at any one time, we literally might have only two or three in stock, but for a connoisseur wanting to add something just that bit different to their collection, they might be just what the doctor ordered.
It is noticeable that some of the collectors who have heard of H. Moser watches are aware that there is a link between Moser and the IWC company, but in many instances, they aren't quite sure what this actually constitutes. Heinrich Moser grew up in the Swiss town of Schaffhausen and learned his skills as a watchmaker there. Following a disagreement with the town's council, he set up business in St. Petersburg in 1828 and catered for the lucrative upper class Russian market. It should be remembered that this was the era of the Tsars, long before communism, and firms like Moser and Faberge carved out a niche serving the ultra-wealthy aristocracy for whom price simply wasn't an issue. Indeed, it is worth commenting that H.Moser supplied Faberge with almost all the clock and watch movements used in its spectacular creations, including all of the four eggs equipped with clock mechanisms that were produced for Tsar Nicholas II in the early 1900s.
While sales of H. Moser watches were predominantly to Russian buyers, manufacturing was at the company's facility in Le Locle, back in Switzerland. Moser's reputation for extreme quality grew and it became a significant player in the export markets of China, Japan and Persia.
Heinrich Moser died in 1877, but the business continued to flourish under the aegis of Paul Girard, to whom Moser's wife sold it after her husband's demise. The standard of the H. Moser watches produced at this time was exquisite and certainly the equal of that of any of the top tier Swiss houses serving the European and British market.
H. Moser's cosy situation was upset dramatically in 1917 with the October revolution in Russia. The Tsar was violently deposed and the capitalist system ceased to exist, suddenly depriving H. Moser of the fabulously wealthy, high society customers that it specifically catered for.
Remarkably, the company didn't fail in 1917 and continued to operate until the 1970s, but it was never a major force in the European market, which is a shame. The quality of its watches remained second to none, but having concentrated on building up a very successful business in Russia and then losing this at a stroke, one gets the feeling that commercially, it was always playing catch up with other houses like Rolex and Omega, which already had strong European distribution networks in place by the time that Moser appeared as a competitor.
The link between IWC and Moser comes about due to a meeting in 1866 between F.A Jones, the founder of IWC, and Heinrich Moser. The latter had returned from Russia extremely wealthy and sunk his money into the building of a hydro-electric power plant in his home town of Schaffhausen. Jones was very impressed with Moser's ideas and the two collaborated on the project of using hydro-electricity as the power source for the IWC factory. Indeed, IWC became the first watch factory in the world to have its power provided in this way. Later, Jones would purchase land for an enlarged IWC manufacturing facility from Moser's company.
The vintage H.Moser watches for sale on this site are typically from the World War I era, or sometimes from the early 1920s. We do have a source of supply for these via an excellent jeweller in Russia, but increasingly, finding really first class examples of early H.Moser watches in an all original state is quite a challenge and our contact there doesn't unearth these as often as he would like to.
Due to recent events, H.Moser watches seem strong candidates for investment. After having laid dormant for some time, the H. Moser name has reappeared, with a range of superb new watches manufactured in Schaffhausen, birthplace of Heinrich Moser and, of course, home of IWC. These items are getting a great deal of publicity in the specialist media and it seems inevitable that the profile, and therefore values, of antique H.Moser wristwatches will be raised sharply as a result. At the moment, it is still possible to acquire a really beautiful, all original Great War period H.Moser wristwatch for perhaps £1000 or £1200 GB pounds which compares very favourably with the £2500+ needed to buy an all authentic Rolex officer's watch from the same era. They are certainly recommended for the purchaser wanting extremely high build quality, but in a discreet package that is a little less obvious than a vintage Rolex or Omega.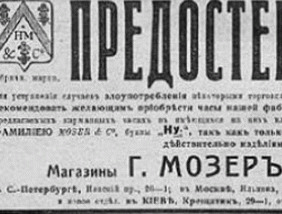 Vintage Watch Brands
Vintage Watch Decades
Vintage Ladies Watches
Vintage Watch Bracelets
Swipwreek Straps
Travel Clock/ Pocket Watches
Home
About
Brand Overviews
By Decade
Reference
Contact Details
Telephone from the UK:
07453 734666
or 07428 051005
Telephone from overseas:
+44 7453 734666
or +44 7428 051005