Vintage Watches For Sale by Asprey & Co.
Asprey & Co was founded in London in 1781 and from its premises at New Bond Street, supplied a clientele made up of aristocrats, foreign heads of state and wealthy industrialists. The firm received a Royal Warrant from Queen Victoria in 1862 and later from the Prince of Wales before he went on to become King Edward VII.
For the vintage watch buyer today, it is important to appreciate that like Cartier and Tiffany & Co, against both of which it competed fiercely, Asprey was never a manufacturer of watches and those vintage watches that surface with the Asprey name on their dials were produced by a small number of trusted third party suppliers to an exact specification set down by the company rather than made by Asprey itself.
In the early 20th century, Asprey enjoyed arguably the most prestigious reputation of any jeweller in the British Empire, and wouldn't have even considered tarnishing this by having its name associated with anything that wasn't of the very highest available quality. Over the years, we've sold quite a variety of vintage Asprey signed wristwatches and uniformly, without exception, their construction and finish standard has been first rate.
Asprey was an official stockist of watches by almost all the top tier Swiss houses, including Rolex, Omega, Jaeger LeCoultre, Longines and IWC. Early Rolex advertising from the mid-1930s often prominently lists Asprey as one of the company's central London outlets and even today, eighty years on, some of the world's most exclusive brand new watches can still be bought in the same Asprey showroom at 165 New Bond Street.
The way in which brands are currently managed has enormous bearing on the value of their vintage watches and the manner in which these are perceived. Dunhill, for instance, goes out of its way to mine the rich seam of history to be found in its archives, even going so far as to open its own self contained museum within its new flagship premises at Bourdon House in London. Shrewd brand managers have woken up to the fact that by bringing their histories to the attention of the public, a lot of credibility is gained. The buying public love these associations with highly decadent frivolous objects from the 1920s sold to moguls and maharajas and emphasising these links differentiates a long established house like Asprey from more recent upstarts. All this aggregates to create the impression of a concern that is both historically significant and aimed at the social elite, even if in reality, its products will almost certainly have been dramatically democratised over the last quarter century to bring them within the reach of a wider, mass market audience. A knock-on side effect of this strategy is that the values of vintage watches by brands that openly embrace their histories are typically high, primarily because inevitably, while their vast advertising budgets exist to promote new products, these raise interest in the classics that have been offered in the past.
From a purely personal viewpoint, Asprey today seems to be poorly managed and heading entirely in the wrong direction with its advertising and overall image. Its owners seem literally to have no idea how to run a business of this kind, which is a tragedy. The quality of its products remains superb, just as it always has been, but for whatever reason, the decision has obviously been deliberately taken to totally ignore the company's history, to the degree that Asprey now seems to be in total denial of its very glamorous and fascinating past. We see this graphically illustrated on the official Asprey website where, unbelievably, the history of the firm is given as a few very short paragraphs, with no real detail or pictures of its remarkable early work included.
Asprey was one of the world's most influential jewellers of last three centuries and grand stately houses up and down Britain have examples of its antique pieces on display. A major part of Asprey's appeal lies in its heritage and without this being brought to the forefront, Asprey today could be easily mistaken for just another identikit upmarket central London jeweller, with nothing to commend it over the competition. Clearly the general public at large take the same view, and Asprey's fortunes over the last decade have been disastrous. In its attempt to modernise and catch young fashion conscious buyers, with the objective of becoming a mass market "lifestyle" company along the lines of Gucci and Hugo Boss instead of a revered elite jewellery retailer for a small number of high spending, very tasteful clients, Asprey has succeeded in alienating the traditional old money set who made up its customer base in the past, while, ironically, being almost completely ignored by those whose spending power it set out to win.
If Asprey bizarrely refuses to acknowledge the past that made it so remarkable in the first place, then the major auction houses certainly don't follow suit. Sotheby's and Christie's regularly auction vintage watches by Asprey and on the 16th January 2008, Bonhams in London held a thematic sale "Distinguished Designs. The Work of Asprey, Dunhill and Garrard" in which numerous Asprey timepieces were included. This event was a great success and it seems almost certain that further similar sales will be held.
From an investment perspective, commenting on Asprey vintage watches isn't easy, but we are inclined to suggest that they may well prove to be extremely shrewd choices. Their quality is absolutely first rate and they are unquestionably very under valued at the moment. Literally this morning as this is written, we have just sold the most beautiful 1916 Asprey silver officer's watch in silver, in almost mint condition, for £900 GB pounds to a chap in America. If this had been a watch with exactly the same specification by Rolex, from the same year, then certainly, the asking price for it would have been in excess of £2500 GB pounds, yet the case, movement and dial would have been comparable in quality.
If the decision makers at Asprey have a change of direction and realise before it's too late that the company today can capitalise on its past glories, then we'll see the values of vintage Asprey watches jump very sharply upwards. Asprey is a remarkable British institution that has been responsible for some beautiful vintage watches, and the only thing keeping values at a modest level is the current low profile of the Asprey brand in the marketplace. For the moment, this means that the buyer wanting something genuinely exceptional on a modest budget can find what he's looking for. It isn't easy to predict how long classic Asprey watches will remain largely forgotten, because the kick start they need has to come from either the Asprey company today via a change in its marketing stance, or a good article in the specialist vintage watch press. All the essential ingredients of history, quality, exclusivity and styling are there to give Asprey pieces credibility in the vintage watch market, but at the moment, they are for the most part overlooked by buyers, simply because of a lack of exposure. Our own view is that this kind of quality can't remain hidden under a bushel for much longer, and it seems likely that even five years from now, as good early Rolex, Omega etc pieces dry up from the market at an alarming rate and buyers inevitably look for alternatives, we'll see the prices of particularly pre-war vintage Asprey watches at a much higher level than they are at present.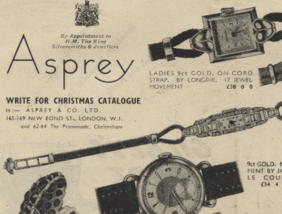 Asprey London early form wristwatch silver 1918
Movado Ermeto chronometer in Asprey, London case 1929
Vintage Watch Brands
Vintage Watch Decades
Vintage Ladies Watches
Vintage Watch Bracelets
Swipwreek Straps
Travel Clock/ Pocket Watches
Home
About
Brand Overviews
By Decade
Reference
Contact Details
Telephone from the UK:
07453 734666
or 07428 051005
Telephone from overseas:
+44 7453 734666
or +44 7428 051005