Zenith steel "Viceroy shape" 1937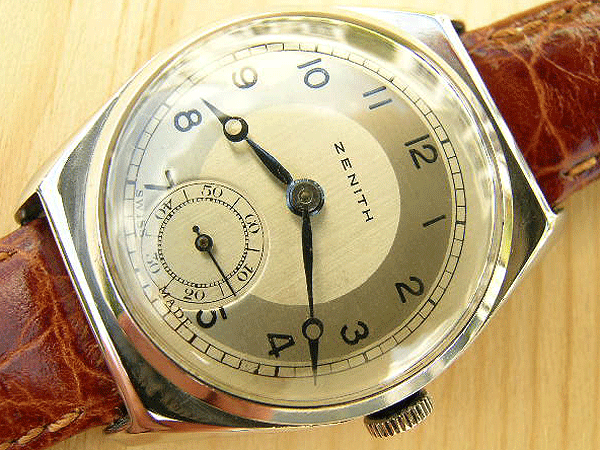 In remarkable condition, this beautiful stainless steel gentleman's Zenith from 1937 is a delightful example of this famous company's work from the inter-war period. Among those who genuinely understand vintage watches, or, perhaps to be more specific, the movements inside them, the exquisite products of the Zenith concern are among the most respected to have ever come out of Switzerland. While Zenith's profile has become higher over the last decade, it still remains largely unknown to the general public, meaning that at the time of writing, some exceptionally fine and very rare classic models can be purchased for much less than they would cost if by Rolex, IWC or any of the other brands that can be classed as household names. This watch can be acquired for less than £1000 GB pounds and is every bit the equal in quality of a vintage Rolex Oyster from the same period. This is food for thought and we have been advising our customers over the last two or three years that good early Zeniths are likely to be very profitable investments in the future as awareness of these items becomes more widespread.
We could not hope to find a better preserved pre-World War II vintage watch than the one here. The stainless steel case is almost unmarked and is not at all worn. It is very interesting to note how the top tier makers often offered models that were very similar in appearance to each other and clearly were designed to compete for market share. For instance, the shape of this case instantly brings to mind the Rolex Oyster Viceroy which had made its debut in 1933. We have seen the same distinctive case style also by Omega, again in the mid to late-1930s.
Internally, the snap on case back is decorated with an engine turned pearled pattern. There is the stamp "Modele Protégé ( this informs us that this case type was protected by copyright) , Staybrite ( this is a specific form of early stainless steel. If the Reference section of this website is consulted, an article on Staybrite will be found there), Zenith, and the case number 8169039.
The two tone dial here is very eye catching and perfectly captures the art deco spirit of the 1930s. The overall dial colour is a metallic silver, but a striking contrast is achieved by having an outer and central section that is much lighter in shade that the area behind the hour numerals.
To an investor buying at a serious level with a view to capital appreciation, dial condition and originality are everything. Dials typically deteriorate with age quite dramatically and most from this era are now showing the deleterious effects of exposure to dirt and damp. The difference in commercial worth between two vintage watches of the same model, but one with a near perfect dial and the other with a dial in poor shape, is very large. The generally accepted view among the cognoscenti is that a first rate original dial will add an additional 40% onto the worth of a watch as it would have been with a shabby or re-finished dial. Good, untouched dials, like this one, are very difficult to locate on pre-war watches and the vast majority of pieces from this era that we are offered in our business fall very far short of the example here.
It should be stressed emphatically that this is an original dial that has never been restored at any point. Even when viewed with an eyeglass, its condition is almost perfect. The most critical pedant could argue that there is possibly the slightest degree of ageing to the subsidiary seconds register, but in the real world, this is not noticeable to the naked eye.
"Zenith, Swiss Made" is printed in black above and below the dial centre point respectively. This wording is very clear and not at all faded.
The Breguet hour and minute hands are original, as is the subsidiary second hand. These are all in blued steel and in mint condition, without any corrosion to their surfaces. All these small aspects aggregate to make a vintage watch that is a first rate example. It can be tempting to buy a watch for a low price on which the hands or winding crown are incorrect with the intention of trying to acquire the parts needed to return it back to correct specification at a later date. From our own experience over nearly thirty years, we would advise against this course. Finding specific components for obscure pre-war watch models can be tremendously frustrating and in many instances, very expensive. Anyone sitting on a stock of well preserved early parts by Zenith, Rolex, Omega or any of the other major houses will realise the value of what they have and set their prices accordingly. While more costly in the first instance, a completely original, totally correct vintage watch that requires no more money to be spent on it, like the one here, will ironically almost certainly be less expensive in the long run.
Vintage Zenith movements should be viewed as among the Rolls-Royces of classic wristwatch mechanisms. Their quality is second to none and very unusually, they are the products of a house that had, and still has, true "manufacture" status. For a more in-depth explanation of this curious term and a discussion of its value to the collector, the relevant article in the reference section of this website should be consulted. Suffice it to say here that manufacture is the term used in the Swiss watch making industry to describe a company that has the ability to produce its own movements entirely in-house without the need to buy component parts from external suppliers. Very few of the major brands, even in the heyday of the 1940s and '50s, could claim to be true manufactures in the strictest sense, with Zenith among this elite. Literally everything present in a vintage Zenith movement was created by Zenith in Le Locle, which gives these units immense credibility with enthusiasts today.
This mechanism is the Zenith calibre 10 ½ N.S.I. Launched in 1926, this hand wound unit was extremely successful, with production continuing until 1937, the year that the example here was manufactured. In technical terms, this was a 10.5 ligne ( the ligne is the unit of movement diameter used in the Swiss watch industry. 10.5 was the standard size of movement used in men's watches by Omega, Rolex, Jaeger LeCoultre and Zenith in the inter-war years) mechanism with a running speed of 18000 half beats per hour. In common with the movements from the same period by Zenith's competitors, the N.S.I was not equipped with either shock protection or anti-magnetic shielding, these not appearing until after World War II when advances developed for use in military watches began to filter through to mainstream civilian production.
Everything about this movement oozes quality. As we might expect from Zenith, the jewels are all held in screwed chatons. On cheaper movements, including those by Rolex and Omega, the jewels are almost always press fitted straight into the plates. Here, each jewel has been placed in a threaded brass sleeve that screws into a similarly threaded hole in the plates. This is a lovely refinement and one that makes these units a joy to work on from a watchmaker's perspective. Screwed chatons are always a sign that a watch movement, either vintage or modern, is of outstanding quality and they were never, simply because of cost, used on any mechanism of inferior grade.
The finish on the plates is frosted gilt. Here, we always think that this gives pre-war Zenith movements a very similar appearance to those by IWC from the same period, but equally, this comment could be applied just as well in reverse. This look is very different to that of Rolex movements of this age, these having a silver coloured rhodium finish. Many experienced collectors maintain that frosted gilt is the ultimate in luxury finishes for high level watch movements and while we probably wouldn't be so opinionated, certainly we would agree that it is among the most eye catching and pleasing to study under high magnification.
"Zenith" is signed on the plates, together with the individual serial number 3137167. Dating vintage Zenith watches by serial number is notoriously difficult, but as a very rough guide, we know that the three million point was reached towards the end of the 1930s. Factory records do tell us that production of the 10 ½ NSI ceased in late 1937 and cross referencing this fact with the movement serial number, we can be confident that this unit was created during that year.
Movement condition is superb throughout. There is no tarnishing to the plates or gears and everything is in first class order. Very importantly, this unit is completely original throughout and has no changed components or evidence of past repairs having ever been performed. It runs very smoothly and provided it is sent for routine cleaning and re-oiling every three or four years will, quite literally, last almost forever. Zenith built its movements for a lifetime of use and if treated with respect and maintained correctly, they can be heirloom possessions to be handed through several successive generations.
Manfred Rossler's book "Zenith, Swiss Watch Manufacture" shows two 1930s models with the same 10 ½ NSI movement as the one here in full colour on page 165. The first of these has the same Breguet hands and winding crown, but both have dials that are plainer and less attractive than the one here. Equally relevant is the 1940 pilot's watch shown on the next page, supplied by Zenith to the British RAF during the war, again, with the same 10 ½ NSI movement. The British Government purchased pilots' watches for combat use from a number of top tier Swiss makers including Jaeger LeCoultre, Omega and IWC, and it would have been quite natural that Zenith would have been chosen as a supplier of these units. Page 167 is devoted to a further 10 ½ NSI equipped model, this time in a gold case. The photographs of this piece were supplied by the London auction house Christie's and this is clearly a watch that has passed through their hands.
We have fitted this piece with a crocodile skin type strap that is perfectly suited to its old world, upmarket appearance. This is not a genuine vintage Zenith strap, but it is very similar to those pictured in the company's advertising from the late 1930s. Having never been worn, this strap is in mint condition.
We have priced this watch at £685 GB pounds. For a pre-war model, in an attractive form case, by one of the most revered makers in the world, this is far from excessive. To buy a Rolex Viceroy of approximately the same age, with the same distinctive case style, a collector would have to pay in excess of triple this figure, yet both watches are comparable in every respect, with the Zenith arguably having a significantly higher grade of movement. At the time of writing, we cannot recommend vintage Zenith watches too highly and we go to great lengths to always have a selection of these very appealing pieces for sale on our website.
Price £685 GB Pounds
Vintage Watch Brands
Vintage Watch Decades
Vintage Ladies Watches
Vintage Watch Bracelets
Swipwreek Straps
Travel Clock/ Pocket Watches
Home
About
Brand Overviews
By Decade
Reference
Contact Details
Telephone from the UK:
07453 734666
or 07428 051005
Telephone from overseas:
+44 7453 734666
or +44 7428 051005