Vintage Cartier Watches For Sale
Cartier has played a very significant role in the development of the wristwatch throughout the 20th century and is a brand that must be represented in any serious vintage watch collection. For a new collector starting out now, we would suggest that a classic Rolex would be his most obvious first purchase, followed by a good pre-1960 Omega. After these two fundamental bases had been covered, serious consideration should be given to the addition of a well preserved vintage Cartier.
Cartier started life in 1846 in Paris and was predominantly a fine jewellery house, catering for society's elite. In 1899, following the move to larger and more prestigious premises at 13 rue de la Paix, the decision was taken to expand Cartier's product range to include a selection of clocks, watches and accessories built to the highest possible quality standard. Most of the items Cartier produced at this time are quite astonishing, ranging from the most wonderfully enamelled cigarette boxes through to diamond set umbrella handles for the client who, quite literally, couldn't think up enough ways to spend his enormous wealth.
Cartier likes to imply that it created the first ever wristwatch for male use when it attached a strap to a pocket watch at the bequest of flamboyant Brazilian aviator Alberto Santos-Dumont in 1904. Certainly, this makes a charming story, but to suggest that it was the first of its type is simple not true, particularly when clear evidence exists that Kaiser Wilhelm placed an order with Girard-Perregaux for two thousand wristwatches for use by officers in his German navy twenty five years earlier in 1879.
Today, like almost every luxury brand from Hermes through to Rolex through to Louis Vuitton, Cartier has been democratised at the expense of much of its exclusivity. Brand owners realise that vast profit can be made by taking a legendary company that was once the preserve of aristocrats and maharajas and watering its products down to the extent that they can be sold on a huge scale to a moderately wealthy middle class market in the modern world. It is important to appreciate that in the inter-war years, when the vintage Cartier watches for sale on this site were brand new, they were produced in tiny quantities for sale at extremely high prices in a handful of Cartier shops worldwide. The middle class customer then wouldn't have dreamed of shopping at Cartier alongside Wallace Simpson, Rudolph Valentino or The King of Siam. Even as well established vintage watch dealers with a strong network of suppliers within the jewellery trade, we are offered very few pre-war Cartier watches, simply because the numbers produced in the first instance were very small. If you wanted to buy a Rolex or Omega watch in the 1920s or '30s, you could have done so at any one of several hundred stockists around the UK, located everywhere from Eastbourne to Blackburn. If you had decided that a Cartier watch was for you, your choice of British supplier would have been limited to a single outlet, this being the Cartier shop at 175 New Bond Street in central London. Looking at them for sale today on websites like this alongside vintage watches by the other top tier brands, it is easy to forget just how exotic Cartier products were in the inter-war period.
In common with its competitors Tiffany & Co and Van Cleef & Arpels, Cartier was not a manufacturer of watches, instead commissioning these from a variety of third party producers with which it worked very closely. There is an important distinction between Cartier and these other elite jewellers in that the former clearly didn't simply buy products that were already in existence and have them delivered with its name in place, but instead designed them itself and had these external suppliers manufacture a bespoke product to exact Cartier blueprints.
Vintage Cartier watches were never in the slightest bit utilitarian and the company eschewed the market of officers serving in the frontline trenches of World War I that was to prove so lucrative to Rolex and Omega. When we have early Cartier watches offered to us, these are typically from the 1920s and it is very unusual for us to have any Cartier watch in stock that pre-dates 1918.
In 1919, Cartier launched the Tank. This has become its most iconic model, its name coming from the fact that its distinctive rectangular shape was inspired by the aerial view of the World War I military vehicles used at Cambrai and the Somme. Even now, over ninety years later, Cartier still produces variations of the Tank that are superficially almost identical cosmetically to the watch in its original form. A well preserved vintage Cartier Tank from the 1920s certainly won't be cheap at the time of purchase, but it undoubtedly qualifies as one of the blue chip classics of the vintage wristwatch world and will always be a rock solid investment. We usually have a small carefully vetted selection of vintage Cartier Tank watches for sale from the early 1920s through to the 1990s, though with every one we sell, replacing it with another becomes noticeably harder and more expensive.
Collaborative projects between Cartier and the movement makers with which it worked hand in hand proved to be enormously successful for all parties involved. The classic example to illustrate this would have to be Jaeger LeCoultre's Duoplan. In March 1907, Edmond Jaeger had signed an agreement stating that for fourteen years, the entire watch movement production of his company would be sold exclusively to Cartier, but in fact, the relationship between these two brands worked so well that it continued long after the original contract had expired. Introduced in 1929, the Duoplan came about after Cartier asked Jaeger LeCoultre to design a movement with its winding crown hidden out of sight on the reverse in order that it didn't spoil the symmetrical lines of the company's art deco cases. The result was brilliantly ingenious and was sold both by Cartier and by Jaeger LeCoultre under its own signature. Cartier was essentially concerned with looks, but by allying itself with some of the most celebrated Swiss movement makers of its era, it became capable of offering watches that were extremely sophisticated technically.
Interestingly, collectors today will prioritise vintage Cartier watches, all else being equal, on the basis of where they were sold in the first instance. London Cartier, with clear British hallmarks, will always be worth more than Paris Cartier, which, in turn, will command a higher price than the same Cartier model sold new in the Cartier shop on 5th Avenue, New York.
Post-World War II, Cartier continued to offer some exceptional watches, with movements created by a variety of manufacturers. It also retailed the products of various other makers in its shops in London, Paris and New York, including those by Rolex, Zenith, Movado and Patek-Philippe. Watches sold by Cartier from this period will often carry the Cartier name prominently on their dials as well as that of the manufacturing house.
Cartier weathered the storm caused by the arrival of cheap battery powered movements from the Far East in the mid-1970s much better than many other watch brands. It should be understood that watches have made up a significant percentage of Cartier's turnover for over a century, but the company also has a formidable reputation as arguably the most prestigious jeweller in the world. Even without watch sales, Cartier would have continued to be an immensely profitable business and having this other very significant arm to its operations gave it a great deal of financial cushioning during the quartz crisis years.
Cartier came back very strongly with the resurgence of interest in high quality mechanical wristwatches in the mid-1980s, to the extent that in the late 1980s, it was vying with Rolex for pole position in the UK luxury watch market. We typically have a small selection of vintage Cartier watches for sale from the 1980s and '90s. As a business, our policy has always been to be painstakingly critical when buying and while there are relatively large numbers of Cartier watches in circulation from this period, most are not of a standard that we would be comfortable offering to our customers. If watches are not absolutely correct in every detail and therefore suitable for inclusion in serious collections, we simply don't even consider buying them.
As investments, it's difficult not to recommend vintage Cartier watches, but if we were advising one of our customers, we'd try to steer them in the direction of an earlier, pre-1970s model if finances permitted, and if it was necessary to go for something more modern, we would at least suggest that it had a mechanical rather than battery powered movement. Cartier today supplies superb watches, just as it always has done, but they don't have the rarity or appeal of those pieces that were made when the firm was a much smaller scale supplier to the genuinely super-rich, rather than the mass market luxury lifestyle brand that it has become over the last twenty five years. A good vintage Cartier watch, and by this we mean one that is absolutely correct and in excellent condition, will always be a delight to own and a strong appreciating asset, but there are a lot of rogue items in circulation. This is an area in which one must be absolutely confident of total authenticity before making a purchase. It goes without saying that while the vintage Cartier watches for sale on our site are certainly not the least expensive that can be found, they are all exactly as they should be and more than capable of withstanding expert scrutiny from even the most critical eye.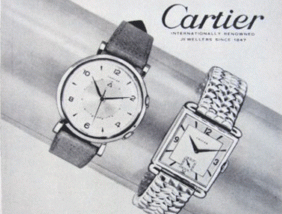 Vintage Watch Brands
Vintage Watch Decades
Vintage Ladies Watches
Vintage Watch Bracelets
Swipwreek Straps
Travel Clock/ Pocket Watches
Home
About
Brand Overviews
By Decade
Reference
Contact Details
Telephone from the UK:
07453 734666
or 07428 051005
Telephone from overseas:
+44 7453 734666
or +44 7428 051005