Vintage Wristwatches For Sale From The 1920s.
If the 1910s was the decade that saw the wristwatch brought from obscurity to a mass market, then the 1920s was the one in which the genre took on an identity of its own, breaking free from the stylistic inheritance of its pocket watch derived beginnings.
It is fascinating to assemble a selection of vintage wristwatches from the 1920s and lay these out, side by side, in chronological order. Amazing as it might sound to the casual browser, the pace of change within the industry was so rapid at this time, that it is possible to actually identify evolution in both case and movements on an almost yearly basis.
For instance, if we look at a model from say, 1921 or 1922, it may well be in a cushion or tonneau shaped case, but it will almost certainly still have the same soldered wire lugs that typified the circular officers' watches of the Great War era. Fast forward three or four years to 1925 and 1926, and the same shaped watches now have noticeably more substantial lugs, still soldered, but no longer in wire but cast and in a heavier, flat section.
Art deco was the overriding aesthetic influence of the 1920s, with an increase in rectangular and square case shapes as the decade drew on. There were still plenty of circular watches, but these were rather anachronistic and would have appealed to a more conservative audience at the time.
The enamel dials of the previous decade were seen less and less, these being usurped by metal dials to which a layer of paint had been applied, or guilloche dials that were created by hand turning a pattern a spiral grooves into a sheet of German silver. It is often assumed that the phasing out of enamel dials came about as part of a drive to cut production costs but in fact, accounts published in industry reports at the time suggest that in fact, the thickness of enamel dials made them unsuited to narrow rectangular and tonneau cases. Being much thinner, metal dials were an ideal solution to this problem and fitted far more easily into slender art deco cases.
The exuberance of the jazz age was even expressed on cases themselves. While the case sides of the previous decade had been plain, in the 1920s we regularly saw cases that were decorated around the edges with a deco ancient Greek key pattern, acanthus leaves or stylised flowers. All these aspects became more and more exaggerated as the 1920s wore on. Similarly, there was a trend towards taking advantage of the different colours of gold available. Over the years, in our business we have seen pink, yellow, white and, most exotic of all, green gold used in watches from this era.
It is rather easy to be so captivated by the flamboyant look of many models offered at this time that one overlooks the technical advances that were also being made. From 1924 onwards, fragile glass for watch crystals was progressively replaced by the newly developed celluloid, which was far more resistant to impact and not prone to shattering. Movements were no longer nickel plated, but were instead largely finished in rhodium. Plates were not often plain, particularly not when by the famous makers, but were covered in elegant Geneva stripes, these being buffed into them by hand with a rotating boxwood or ivory disk. Movements with 15, 17 and 18 jewels were offered by the top tier makers and the smaller wristwatch movement had reached a stage of development that brought it to a level of reliability that was comparable to that of the pocket watches from the same era. Initially, at its dawn, due to its reduced size, the wristwatch had been less accurate and less reliable than the pocket watch, but as advancements in both movement design and manufacturing filtered down to general production, it was inevitable that the wristwatch would eventually overtake the pocket watch in popularity with the general public, which it would finally do in the following decade.
Automatic winding was applied to wristwatches for the first time in 1924 at the hands of the Englishman John Harwood. Sadly, his eponymous company didn't survive the Great Depression of 1929 but it forever changed the face of luxury watch making. For anyone intent upon building up a collection of historically important vintage wristwatches, a Harwood is something of a must. The other pioneering self-winding watches are also fascinating things, among them the Autorist, which wound by means of pivoting lugs, the Rolls, inside which the movement literally rolled up and down the case, winding as it went and the wonderfully named Wig Wag. Good, working examples of any of these are very difficult to find and far from cheap, but there can't be many other vintage wristwatch that are as quirky and as interesting. In many ways, they always seem reminiscent of the bizarre looking very early flying machines that were stepping stones on the way to the Wright brother's first successful aircraft of 1906.
It would be unthinkable that anyone could thoroughly write an overview of wristwatch development in the 1920s without mentioning the Rolex Oyster. Launched in 1926 as the world's first reliably waterproof wristwatch, the Rolex Oyster has become the gold standard in vintage wristwatch collecting and remains a design classic to this day. Again, sadly, the mania surrounding old watches in the 1980s led to some superb fakes being produced, many of which have now been accepted into both private collections and dealers' stock as genuine examples. Really good early Rolex Oysters, and by that we mean those that can be guaranteed as categorically authentic and unmodified, are costly now but are so firmly established as desirable icons that it seems almost inconceivable that they might ever fall in value. Despite the high cost of entry, they should prove to be very good long term investments. Here on this site, we always offer a good selection of pre-1930 vintage Rolex watches for sale, all of which are of the highest possible condition and originality standard and capable of withstanding the closest expert scrutiny at any level.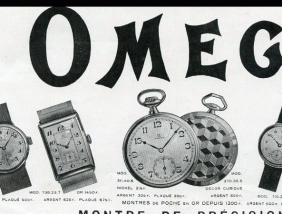 Rolex ladies 15k gold black starburst boxed 1921
Omega silver semi-hermetic moistureproof 1921
Zenith oval silver 1922
Rolex officer's with hinged lugs. Late Rebberg 1923
Dunhill London silver tank 1924
Dunhill London golf ball hunter 1924
Omega pink gold officer's watch with guilloche dial 1924
Tiffany & Co 18k sapphire diamond ladies London 1925
Longines silver semi-hunter with Mappin & Webb dial 1925
Longines 18k gold Borgel case moisture proof 1926
Vintage Watch Brands
Vintage Watch Decades
Vintage Ladies Watches
Vintage Watch Bracelets
Swipwreek Straps
Travel Clock/ Pocket Watches
Home
About
Brand Overviews
By Decade
Reference
Contact Details
Telephone from the UK:
07453 734666
or 07428 051005
Telephone from overseas:
+44 7453 734666
or +44 7428 051005