Vintage Dunhill Watches for Sale
Dunhill is something of an oddity in these brand overviews simply because it was never actually a watch manufacturer itself, but in fact a London based retailer that commissioned watches from a variety of Swiss houses. Its inclusion here comes because of its highly respected position in the vintage watch marketplace. We always try to have a selection of superbly preserved vintage Dunhill watches for sale from the inter-war years and it seemed worthwhile to take a few minutes to give the background of this charismatic British company.
The history of Dunhill runs parallel to that of the motor car. After inheriting his father's leather goods business in 1893, Alfred Dunhill opened his eponymous shop at 2 Conduit Street in 1915 ( it must have been a very happy coincidence for Dunhill that central London's Rolls-Royce car showroom was just a few doors down at 14-15 Conduit Street, but that's by the way.). He saw a niche in supplying useful accessories to the new motorists, who were inevitably both very wealthy and had a natural predisposition towards anything that was innovative and state of the art. Alfred Dunhill spotted a market opportunity in offering beautifully produced, highly priced frivolities for the early motoring social elite and took advantage of this to perfection. Dunhill catalogues from this era make the most entertaining reading, showing a wide range of wildly opulent products ranging from "white sealskin motoring coats with racoon fur collars" through to everyone's favourite, the "Bobby finder" goggles, these being a cross between conventional motoring goggles and high powered binoculars and guaranteed to enable the illegally speeding driver to "spot a policeman at half a mile, even if he is disguised as a respectable man".
Dunhill's Conduit Street shop became quite the place to be seen in the years following World War I. Among those that were regular visitors were Douglas Fairbanks, PG Wodehouse, Ivor Novello, Somerset Maugham, Rudolph Valentino and Noel Coward. Even Royalty were not immune to the allure of these decadent products, with Don Alfonso of Spain, King Olaf of Norway, George VI and his brother the Duke of Kent, the King of Siam, King Farouk of Egypt ( a man who is well documented as having an enormous enthusiasm for luxury wristwatches) and the Maharajah of Cooch Behar all being proud to count themselves as enthusiastic Dunhill customers. The young Prince of Wales, later the Duke of Windsor, throughout his life a trend setter, granted Dunhill his Royal Warrant and in 1933, Pablo Picasso bought a Dunhill lighter from the firm's shop on the Rue de la Paix in Paris and had it engraved with a portrait of Dora Maar, his mistress at the time. In short, when the vintage Dunhill watches for sale on this site were built, the company was riding on the crest of a celebrity whirl.
Wristwatches were first officially introduced at Dunhill in 1929, though before this time, it had offered timepieces in the form of pocket watches and dashboard clocks. The wristwatch quickly caught on with the motoring set not least because it was far easier to consult while on the move than a pocket watch, the latter being buried under a heavy driving coat and potentially several layers of warm clothing.
Coinciding with the golden age of the brand in the inter-war years, the aesthetics of vintage Dunhill watches tended to be very influenced by art deco. They often had very ingenious and slightly quirky aspects, among which were subsidiary seconds registers at the top of the dial rather than the bottom and flip-top hunter cases that were designed to appeal to golfing enthusiasts and shaped like golf balls. The company was predominantly catering for a client base that was oblivious to cost, with the result that Dunhill quality was uniformly top notch. The design of these period pieces is almost always fascinating and it seems clear than from the outset, Dunhill combined very high production values with a desire to amuse and entertain.
Genuinely good, and by this we mean all original and in superb condition, Dunhill watches are in very short supply and in our business, we seem to see less of these in the market with every year that passes. The same can equally be said about the delightful accessories that Dunhill produced at the same time, and prices for all of this material have climbed dramatically in the last decade.
Vintage Dunhill watches have something indefinable that is quintessentially English about them. They typically combine very high grade Swiss movements with a certain British upper class eccentricity and to many collectors, this combination is very appealing. Dunhill was a far smaller business than Rolex, Omega or any of the other major watch houses, with the consequence that because of limited production in the first instance, its best vintage models are rare.
As investments, early Dunhill watches are a sound choice, especially when we stop to consider the attitude of the present Dunhill management team and the modern day fortunes of the company in China. Very wisely, Dunhill today realises that it can capitalise on its exceedingly interesting past and is keen to bring its vintage "Englishness" to the forefront in its advertising. Similarly, a Dunhill museum has recently been set up in Bourdon House, London, formerly the home of the Duke of Westminster, as a showcase for examples of the curiosities that the firm offered to the discerning motorist in its formative years. While this approach is obviously designed to result in increased sales of brand new Dunhill products, it also has the side effect of creating increased awareness, and therefore demand and higher sale prices, for vintage Dunhill items.
At the time of writing, Dunhill is one of the most successful luxury brands in China, with over seventy five of its boutiques there. As the Chinese market becomes more sophisticated in its tastes and starts to appreciate the rarity and high intrinsic quality of vintage wristwatches as well as of brand new ones, as it inevitably will, it seems logical that we can expect early Dunhill models to be highly desired. If this happens, which appears likely, and a large pool of wealthy and enthusiastic new Chinese collectors are competing for the limited numbers of well preserved vintage Dunhill watches available, then we'll see the market value of these soar within a short space of time. I think that every experienced collector, both in Europe and the USA, is aware that when China embraces the concept of the vintage watch, this will potentially change the market worldwide dramatically, and there is a credible argument that Dunhill will emerge as one of the highest performing brands if vintage horological auctions begin to be held there.
Vintage Dunhill watches make lovely alternatives to those by the more mainstream brands and always seem to spark conversations when worn at dinner parties. We tend to view vintage Dunhill watches in much the much the same way that we regard Bristol motorcars. If Rolex and, say, Jaeger LeCoultre are the vintage watch world's equivalents to Rolls-Royce and Bentley, then Dunhill is its Bristol; a quirky and fiercely British institution that often flies under the radar of the less informed buyer.
There is a certain type of customer for whom vintage Dunhill watches are the perfect choice. If you're a tweed wearing old Harrovian with a penchant for cricket on the village green, very high quality gentleman's accessories from the 1920s and '30s and a misty eyed fondness for the world epitomised by PG Wodehouse's Jeeves and Wooster novels, then a well preserved classic Dunhill could well be your cup of tea. These vintage Dunhill watches occupy a charming niche in the overall scheme of things and unquestionably very appealing as collector's items.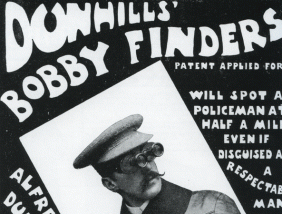 Dunhill London silver tank 1924
Dunhill London golf ball hunter 1924
Dunhill London art deco duo-dial doctor's 1931
Vintage Watch Brands
Vintage Watch Decades
Vintage Ladies Watches
Vintage Watch Bracelets
Swipwreek Straps
Travel Clock/ Pocket Watches
Home
About
Brand Overviews
By Decade
Reference
Contact Details
Telephone from the UK:
07453 734666
or 07428 051005
Telephone from overseas:
+44 7453 734666
or +44 7428 051005