Antique Pocket Watches For Sale And Vintage Travelling Clocks
We are predominantly vintage wristwatch dealers and the vast majority of our stock is comprised of classic wrist worn timepieces by the famous Swiss horological houses. However, we do keep a small selection of a few dozen very high grade vintage travelling clocks and antique pocket watches for sale that we regard as being genuinely outstanding examples of their type.
Today, the pocket watch is an object of sheer luxury, largely due to its impractical design. A wristwatch can be worn in most everyday situations as a convenient way of telling the time, whereas the pocket watch, resting deep in a pocket on the end of a chain, requires effort before it can be consulted. The pocket watch simply isn't suited to modern routine life, but comes into its own as an indulgent object in certain situations. We have several long term customers who, despite owning large numbers of rare vintage wristwatches, choose to wear antique pocket watches when enjoying fine dining in good restaurants or an evening at the theatre. They associate the pocket watch with relaxation and opulence rather than utility, which adds to their pleasure on these special occasions. We see this theme again in the pocket watches currently manufactured at very high cost by Patek-Philippe and the current darling of the new watch scene, Richard Mille. Nobody today is going to use an antique pocket watch as their day to day timepiece, but they can give a lot of enjoyment when taken out of the safe and enjoyed every now and again in an appropriate environment.
It is important to remember that in evolutionary terms, the pocket watch is the father of the wristwatch. Particularly when we look at the very first vintage wristwatches, those produced for use by officers serving in the trenches of World War I, the similarity in styling and construction between the two is instantly obvious. In real terms, the first generation of wristwatches, whether by Rolex, Omega, IWC or one of the other key brands, were in essence pocket watches that were reduced in size and to which wire lugs had been soldered in order to affix a strap. A lot of our customers have enjoyed building up collections that chart the technical and aesthetic development of the wristwatch over the last century and we would recommend that a worthwhile starting point when taking this route is actually a very late, post-1900, pocket watch by one of the important brands. Everything in the vintage wristwatch world is descended directly from the antique pocket watches from this era. It is extremely interesting to compare the early wristwatches from the 1910s and '20s side by side with their pocket watch ancestors from literally just a few years before.
If we look at period advertising from the inter-war years by almost any of the major Swiss brands, it is very noticeable that they offered a selection of exotic travel clocks alongside the wristwatches for which they are best known today. This made sense, particularly if we look at the social demographic of the people who were likely to be their target market. The British Empire was still in existence at this time and the wealthy upper class were already travelling to ski resorts in Europe. Those heading for India or Switzerland needed timepieces to take with them and were happy to pay for the same quality in a travel clock that they had come to expect in a wristwatch.
In everything from pig skin to crocodile, these clocks are often gorgeous items that were produced to remarkably high standards. They also represent something of a bargain, though we've noticed that prices have risen sharply over the last five or six years. As an example, to buy a genuine, all original Jaeger LeCoultre wristwatch in near mint condition from the late 1920s or early 30s would necessitate an outlay of at least £2000 and potentially a great deal more, but exactly the same quality of movement can be found in a vintage Jaeger LeCoultre travel clock from the same era for perhaps £500 or £600 pounds. These items were purchased new by individuals for whom price was of little consideration and, often heavily influenced in their design by art deco, they are evocative of the golden age of aeroplane and railway travel.
While vintage travel clocks by Jaeger LeCoultre, Rolex and Longines make wonderful gifts that will last a lifetime, they are also likely to be excellent investments for the future. Really fine examples, and by this we mean those that are both all original and in very good condition, are getting hard to source. As the market for vintage wristwatches continues to rise sharply, taking many of the classic models out of the reach of many buyers, it seems inevitable that these exquisite travel clocks will increasingly become the focus of a wider spectrum of collectors. They make fantastic statement pieces on the desks of lawyers, doctors and other members of the professional community and it is difficult to think how anyone with a passion for fine vintage wristwatches couldn't be highly delighted to receive one of these items as a present.
Just as with the vintage wristwatches for sale on our site, we are very critical when buying both antique pocket watches and classic travel clocks. If a piece offered to us isn't in an exceptional condition that would be acceptable for display in the Swiss factories' own museums, we simply don't purchase it. Anything bought from us will be outstandingly well preserved and suitable as an investment vehicle. Again, as with our vintage wristwatches, we are always happy to securely pack our travel clocks and pocket watches before shipping them anywhere in the world. Alternatively, buyers are always very welcome to collect their purchases from us in person in East Yorkshire.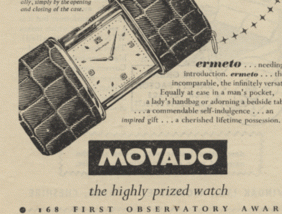 IWC pocket watch silver 1916 with patent documents
Movado Ermeto chronometer in Asprey, London case 1929
Jaeger LeCoultre travelling clock, pigskin 1935
Jaeger LeCoultre travelling clock and barometer 1935
Jaeger LeCoultre alarm/desk clock red leather 1936
Jaeger LeCoultre pocket watch wartime British RAF 1943
Vintage Watch Brands
Vintage Watch Decades
Vintage Ladies Watches
Vintage Watch Bracelets
Swipwreek Straps
Travel Clock/ Pocket Watches
Home
About
Brand Overviews
By Decade
Reference
Contact Details
Telephone from the UK:
07453 734666
or 07428 051005
Telephone from overseas:
+44 7453 734666
or +44 7428 051005