Vintage Mappin & Webb Watches For Sale
Mappin & Webb is still regarded today as being one of Britain's most prestigious jewellers and the company played an important role in the widespread popularisation of the wristwatch in the years immediately following World War I.
The history of Mappin & Webb goes back a long way. Founded in 1786 in Sheffield by Jonathon Mappin, trading at first as Mappin Bros before family member George Webb was invited to the board, the firm built up its famous reputation initially as a silversmith, before branching into retail. It supplied extremely high quality luxury goods in various categories, from diamonds and watches through to crocodile skin luggage with solid gold fittings and opulent picnic sets for the Victorian social elite.
Many of the items sold by the company at this time were nothing short of fabulous and stand as excellent examples of just how far skilled craftsmen could take their art when set free of the usual restrictions of budget. While a host of European royalty and Indian maharajas patronised Mappin & Webb throughout the 19th century, the ultimate seal of approval came in 1896 when the company was awarded the Royal Warrants of Queen Victoria and her son Edward, the then Prince of Wales.
With an outlet at 220 Regent Street in central London, Mappin & Webb catered for the whims of the very wealthy and never attempted to supply goods for mass market consumption. Silver ware was created for shipment to the bedroom of an Indian mogul and the firm supplied the celebration plate awarded to pioneer aviatrix Amy Johnson upon her completion of the first solo female flight from London to Australia in 1930. Particularly in an age long before the internet and specialist magazines, it seems a reasonable assumption that Mappin & Webb's well connected cosmopolitan customers would have been more in tune with new fashions and of a more progressive taste than those of a provincial or less upmarket jeweller of the same era. It probably shouldn't surprise us too much then that Mappin & Webb was one of the first outlets in the UK to offer wristwatches for male use.
We have a large archive of original vintage wristwatch advertising material going back to around 1910. In this is a very attractive 1914 newspaper advert for the "Mappin Campaign" which we've scanned in and reproduced on our site. Mappin & Webb clearly realised that there was a lucrative market in creating a rugged wristwatch that was suitable for use by officers heading out to the trenches of France. It is easy to forget that brands like Rolex, which are household names worldwide today, were still unknown at this stage and the well heeled buyer would have been greatly reassured by the much venerated Mappin & Webb signature on a watch he was considering buying. The fact that firms like Mappin & Webb and Asprey stocked wristwatches gave a lot of reassurance to potential buyers that these items were credible in the early years when the use of pocket watches was still almost universal and the wristwatch perceived as something to be approached with some degree of suspicion.
We see this point graphically illustrated on the early Rolex watches that were sold by Mappin & Webb through its Regent Street shop. Mappin & Webb has been an official Rolex agent since 1914, but in the pre-1920 era was far more famous than its supplier. Hence when we've found early Rolex watches that were sold new by Mappin & Webb, these are usually with the abbreviated "Mappin" word printed on their dials in much larger letters than the "Rolex" name beneath them. Just occasionally, we'll come across beautiful Rolex Oysters from the art deco era with "Mappin Rolex" on their dials almost as if this was the brand that manufactured them. These are some of the most charming vintage Rolex variants from the inter-war period and are much prized by collectors.
In common with its close competitors Asprey and Dunhill, Mappin & Webb was never a manufacturer of watches, but a retailer that would order stock from Swiss makers that had been produced to its specification, having this delivered with its name signed on dials. The firm had a superb reputation for quality and only worked with suppliers known for manufacturing to the highest possible standard. A lot of the movements found in the pre-1930 vintage Mappin & Webb watches are not signed, but with a little detective work, their origin can usually be uncovered. Schild of Grenchen, known as a supplier of movements to Rolex during the same era, was responsible for a significant number of the mechanisms in these pieces, as were several other competing houses. It is fair to say that any pre-war watch sold by Mappin & Webb under its own label will be the equal in both engineering and finish quality to its equivalent by Rolex, Omega or the other top tier Swiss makers.
Values of well preserved vintage Mappin & Webb watches are typically significantly less than those of their counterparts by the brands mentioned above, for no other reason other than the general public not being so aware of the Mappin & Webb name. Where a good, all original World War I officer's watch in silver by Rolex might be available on our site for perhaps around £2500 GB pounds, a comparable model by Mappin & Webb would typically be offered for slightly less than £1000. Certainly, for a buyer wanting first rate production values without the expense associated with the major houses, a good, near mint vintage Mappin & Webb is something that should be considered. We've had some really outstanding pre-1930 Mappin & Webb watches pass through our hands over the last decade and without exception, these have passed into the hands of collectors who were absolutely delighted with them.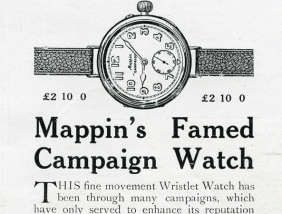 Mappin & Webb duo dial doctor's watch 18k gold 1932
Vintage Watch Brands
Vintage Watch Decades
Vintage Ladies Watches
Vintage Watch Bracelets
Swipwreek Straps
Travel Clock/ Pocket Watches
Home
About
Brand Overviews
By Decade
Reference
Contact Details
Telephone from the UK:
07453 734666
or 07428 051005
Telephone from overseas:
+44 7453 734666
or +44 7428 051005