Vintage Universal Watches For Sale
Universal is a very interesting vintage watch brand to write about, not least because while every experienced collector is aware of it and appreciates that its movements were some of the finest quality ever made, and were technically very innovative, most of us don't really know a great deal about the company that was behind these achievements.
It is hard to discuss Universal without drawing parallels with Movado. Both of these long established Swiss houses produced watches that were of a remarkably high standard, certainly the equal of anything by Rolex, Omega and the rest.
In both cases, for no other reason than a simple lack of public awareness, their vintage output is obviously undervalued in the current vintage watch market.
If we look back at old Sotheby's, Christie's and Bonhams fine wristwatch sale catalogues from any time over the last twenty five years, Universal is invariably represented, usually in the form of either the Polerouter or one of its Aerocompax or Tricompax chronographs, but it rarely achieves top billing on the cover or ends as one of the highest post-sale results, which is a great shame.
Again like Movado, Universal was a true movement manufacturer, capable of producing its own mechanisms entirely in-house without the need to resort to purchasing components from any third party source. Everything inside a vintage Universal watch originated in the Universal factory in Geneva. While this sounds elementary, the fact of the matter is that so many of the top tier houses didn't manufacture their own movements, instead building these around ebauches ( an ebauche is a movement in its most basic, completely unfinished state) that were supplied by external manufacturers. In recent years, the concept of in-house movement manufacturing has become an important one in the vintage watch collecting fraternity, with those few makers who were autonomous being regarded as having a purity that is lacking in those that were not. In-house movements can be traced back to a single origin point in much the same way that a single malt scotch is the product of an individual distillery. Increasingly, there seems to be the feeling that in-house movements have a sense of integrity and the firms that made them, like Zenith, Jaeger LeCoultre, Movado and Universal, are exceedingly credible with the cognoscenti as a consequence.
Universal has a long and proud history, though its past doesn't go back quite as far as many of the houses that we regard as household names today. Founded in 1894, the firm was initially based in Le Locle, which collectors will recognise as being also the home of Zenith and Ulysse Nardin. In common with its competitors, the period up until World War I was taken up with the production of pocket watches, after which the demand for the newly introduced wristwatches from officers serving in the trenches was embraced by Universal. It's fair to say that the company, like Rolex, gained a commercial head start over its longer established competition by being an enthusiastic early adopter in the area of wristwatch production at a time when the more traditional brands clung to their pocket watch roots and hoped that the wristwatch was just a passing fad that would be quickly forgotten.
Undercapitalised, the still relatively young company struggled during the lean period following the Wall Street crash of 1929. It is easy to forget that the watches by all these top tier Swiss brands were very costly when new; in relative terms far more so than their equivalents today. In a time of economic crisis, then as now, the first thing that anybody cuts back on is luxuries that they don't really need and consequently, all the major horological houses saw their sales figures slump dramatically in the two or three years after the crash. Eventually, after securing investment from external parties, Universal was able to trade reasonably normally and weather the storm until more favourable economic conditions prevailed in the 1930s.
Universal wasn't a concern that sat back on its laurels and throughout its history, the company pushed forward into new technical territory. Today we are familiar with twelve hour registers on chronograph dials, but in fact, these were a Universal invention and not seen before 1935. At this point, Universal was very much riding on the crest of a wave, with new premises located next to those of competitor Patek-Philippe on the Rue de Rhone in Geneva. The Universal Compur, Compax and Aero-Compax are some of the finest vintage chronographs ever made and we always make an effort to offer a small selection of the best surviving examples of these for sale on this site. Investment grade vintage Universal watches certainly aren't cheap and every time we sell one, we find it harder and harder to replace it with another for stock. Unquestionably though, they are exceptional items that the more advanced collector will find very difficult to resist. In an article titled "The most beautiful vintage chronograph movements of all time" published in the June 2004 edition of the American magazine WatchTime, a 1940s Universal Compax mechanism was given the honour of a full page colour close up photograph. For the chronograph aficionado looking for something genuinely outstanding in terms of finish and build quality, a Universal from the 1940s or '50s would merit serious consideration.
Another model that we always try to have for sale is the Universal Polerouter. Launched in 1954 and designed to cope with the extreme magnetic fields experienced by pilots when flying over the north pole on the SAS airlines direct route from Copenhagen to Los Angeles, hence its name, this beautiful piece of engineering is one of the all time classic watches of the immediate post-war years, competing directly for market share with the Rolex Oyster Perpetual and the Omega Constellation. The fascinating aspect of the vintage Universal Polerouter from a technical perspective is its micro rotor movement, which was ground breaking at the time, incorporating a miniaturised winding rotor into the movement rather than having a full diameter rotor sit on top as had been previously the norm. The sheer quality of these mechanisms is breath taking and they're decorated to a far greater degree than anything by Rolex from the same era. Universal Polerouters were also exceedingly expensive when new and it sticks in my head that in a magazine from the late 1950s that we have in our archives here somewhere, both the Polerouter in an 18 karat gold case and brand new Volkswagen Beetle motorcars are advertised with almost exactly the same suggested retail price.
Today, vintage Universal watches are still woefully undervalued when their intrinsic quality is taken into account, and this is very much a reflection on the current management at the company. Like it or not, the fact is that the way in which a brand behaves in modern times has a direct influence on the value of its vintage output. Omega, IWC and Breitling in particular have realised the benefits to new watch sales of publicising their glorious past achievements. Pick up any catalogue by these brands and you'll be bombarded with images of their vintage models and, often, some very interesting potted histories. Omega went further and had the genius idea of actually sponsoring a thematic Antiquorum auction, "Omegamania", in April 2007, this being a sale of three hundred vintage Omega watches, all carefully vetted for authenticity by the Omega factory in Bienne. This was a master stroke in PR terms and had the dual effect of giving a lot of credibility to new Omega watches while also raising the values enormously of the firm's classics in the vintage marketplace. Universal seems to be run by a management team that are in a state approaching hibernation. The Universal brand is, quite rightly, regarded reverentially by experienced vintage watch collectors, but has almost no visible profile today in the new watch market, so isn't known outside to the general public at large. If Universal makes an effective come back with a re-worked range based around its legendary vintage models and backs this up with some high profile publicity that emphasises its proud history, we'll see the prices achieved by its classic watches from the 1940s, '50s and '60s shoot up to the level that they actually deserve to be at currently.
It is difficult to imagine anyone unpacking a vintage Universal Polerouter or a Compax chronograph and not being absolutely delighted with their purchase. A good, completely original steel example of the former at the present time can be acquired for perhaps £950, with the best examples of the latter still not quite reaching £3000 GB pounds. When we compare these amounts with those needed to secure the closest Rolex equivalents of these models, the Universal watches stand out as offering amazingly good value for money. It seems a very likely bet that the market values of well preserved vintage Universal watches will rise in the foreseeable future, particularly if the current decision makers there follow the lead of some of their more commercially astute competitors and start the mine the rich territory of the brand's past in Universal's advertising material. These are outstanding pieces that offer everything that is remarkable about vintage Rolex, Omega, IWC and Jaeger LeCoultre watches, but at a significantly lower price. For anyone wanting to begin collecting vintage wristwatches today at a high level, without compromising on the quality that made the well known brands famous, Universal should be high ranking on their shopping list.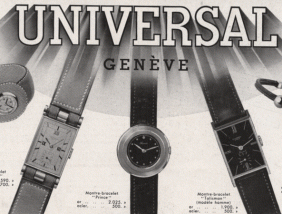 Universal Geneve steel art deco rectangular 1937
Universal Unicompax steel boxed 1939
Universal capped bumper with honeycomb 1951
Universal Polerouter Jet 18k gold microtor automatic 1960
Vintage Watch Brands
Vintage Watch Decades
Vintage Ladies Watches
Vintage Watch Bracelets
Swipwreek Straps
Travel Clock/ Pocket Watches
Home
About
Brand Overviews
By Decade
Reference
Contact Details
Telephone from the UK:
07453 734666
or 07428 051005
Telephone from overseas:
+44 7453 734666
or +44 7428 051005