Vintage Hermes Watches For Sale
As the desirability of vintage Hermes Birkin and Kelly bags reaches fever pitch with legions of devoted female followers worldwide, there has been the knock on effect of a dramatic rise in the value of vintage watches that carry the Hermes signature. As we saw last year at Christie's spectacularly successful themed vintage Hermes auction held in South Kensington on the 19th November 2009, vintage Kelly and Birkin bags aren't inexpensive, but at the same time, they represent the highest possible quality available and will almost certainly continue to appreciate in value in the future. The same can be said about vintage Hermes watches and if one buys a good, carefully vetted all original example from the 1920s or '30s and has it maintained correctly, it will be a very sound investment.
The Kelly bag, named after Grace Kelly, appeared in the limelight for the first time in 1956, with the Birkin bag launched considerably later in 1981, but in fact, the history of the Hermes company began over a century before the first of these icons made its debut.
In the early 20th century, Hermes became one of the most luxurious brands in the world, catering for a social elite for whom retail price was of little consideration. Its beginnings were rather more humble, with its founder, Thierry Hermes, opening up a tiny workshop in 1837 in a backyard to make saddles and bridles. Very interestingly, the dramatic change in the company's fortunes came with the invention of the motor car. Hermes realised that it could be at the forefront of an embryonic industry supplying very high quality accessories to the new, and very wealthy, motoring enthusiasts. While this happened in France, we can draw parallels with what was taking place across the English Channel at Dunhill. Both Hermes and Dunhill had existed before the arrival of the motor car, but it was filling a gap in the market for high class motoring accessories that, in both cases, catapulted them to the forefront and laid the foundations for what they would become in the inter-war period.
As Hermes expanded, its product range became more diverse. In 1927, two years before the Wall Street Crash at a time when the roaring twenties were at their height, Hermes first introduced watches to widespread acclaim. As we would expect from items created during this era, the appearance of these early Hermes models was very much influenced by art deco and today, they are extremely evocative of the jazz age era.
Again in common with Dunhill, Hermes wasn't actually a watch manufacturer, but instead commissioned its watches from a network of highly respected suppliers. Movements by Audemars Piguet, LeCoultre, Mido, Tavannes and Movado were all used in the years before World War II. Curiously on the face of it, when Hermes advertised its watches, it prominently mentioned the origin of their movements, giving their makers' names equal billing to that of its own brand name. This approach is a marked contrast to that of Tiffany & Co in New York, which used third party movements, largely from the same makers, but always omitted details as to their source of origin in its publicity material of the day.
As with both Tiffany & Co and Cartier, the flagship Hermes shop at Rue du Faubourg, St Honore, Paris also retailed a selection of very high quality watches from a variety of the most prestigious Swiss houses that were identical to those sold in other official stockists with the exception of the Hermes name being added to their dials. In our archives, we have a lovely Hermes advert from the 1940s that prominently features the Universal Compax and Aero-Compax chronographs, which were some of the most luxurious models of their era and would have been most suitable for Hermes's wealthy high society customers.
Finding genuinely excellent examples of pre-war Hermes watches isn't easy today. A lot of this is down to the fact that when new, they would have only been produced in relatively small quantities. While Omega, Rolex and Jaeger LeCoultre sold nationally through a network of authorised stockists, Hermes watches would have only been available in Great Britain through a single Hermes shop at in central London.
What we now regard as vintage Hermes watches were purchased brand new by the moneyed and fashion conscious in the 1920s and '30s. Their respective position still remains the same in the collectible market today. While companies like Hermes and its rival Louis Vuitton are more successful now than ever before, the scale of this success has transformed them from small, highly skilled workshops catering for a tiny aristocratic elite into huge corporate entities that supply vast quantities of their products via a global network of boutiques. The footballers' wives and other newly rich individuals will flock to these outlets to purchase brand new pieces from the latest ranges, but the real connoisseurs, the ones who buy on the basis of genuine craftsmanship and are not interested merely in labels, will look for those items that were made in much smaller volumes at a time when these famous companies were in their early stages and still far more exclusive than they are today.
If a customer walks into a Hermes store and purchases a brand new Hermes watch, he's buying something that was produced in large numbers for sale all over the world. It will be of high quality, but it certainly won't be in the least bit rare. If he instead holds out until a well preserved vintage Hermes watch appears, ideally from the art deco era before World War II, he will acquire a watch that was only sold in very limited quantities when new, perhaps a few hundred units at most, and will now be one of just a few dozen that survive. Vintage Hermes watches, just like vintage Hermes Birkin and Kelly bags, are glamorous and enormously charming and while not cheap by any means, they will almost certainly prove to be superb investments in the future. It is hard to imagine any sophisticated lady who wouldn't be highly delighted to receive a vintage Hermes watch as a birthday or Christmas gift and if you happen to be a gentleman looking for an antique timepiece to give as a present, an immaculate pre-war Hermes would be a difficult choice to improve upon.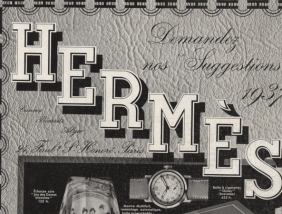 Vintage Watch Brands
Vintage Watch Decades
Vintage Ladies Watches
Vintage Watch Bracelets
Swipwreek Straps
Travel Clock/ Pocket Watches
Home
About
Brand Overviews
By Decade
Reference
Contact Details
Telephone from the UK:
07453 734666
or 07428 051005
Telephone from overseas:
+44 7453 734666
or +44 7428 051005