Reference
In our business, we take a great deal of pleasure in de-mystifying the world of the high level vintage wristwatch. Strangely, this the opposite approach to the one adopted by the jewellery and watch industry as a whole, but we find that it has several advantages. The typical buyer wanting a diamond engagement ring or a classic Rolex watch as a one-off purchase doesn't usually have a great deal of specialist knowledge and in many instances, this shortcoming enables vendors to, if not actively pull the wool over their eyes, then at least to baffle them a little with obscure terminology that they may be embarrassed to admit that they do not quite understand.
Put simply, we love informed customers who have the background knowledge to appreciate why the vintage watches for sale on our website stand out as such good examples of their type. We are the first to admit that our watches are expensive, but also keen to point out why they command a price premium and are not at all over-priced. By educating our buyers as to how to meaningfully assess dials, cases and movements, we benefit on the basis that highly informed individuals will then have the knowledge to appreciate just how hard we work to locate the grade of stock that is our speciality and how chalk-and-cheese different our items are from the vast majority offered in the mass market online auction environment, where originality and investment considerations tend to take a backseat to cosmetics. In short, while the uneducated buyer is manna from heaven for many internet vendors, we find it much easier to form long term business relationships with collectors who know the subject inside out.
With this objective in mind, we will be adding new reference articles to this section on a regular basis, giving background information on a wide variety of subjects ranging from the various blends of stainless steel alloy used for early wristwatch cases right through to specific movement types ( calibres) that have been landmarks for the major Swiss brands.
While we have been in the vintage watch business continuously for almost thirty years, we certainly don't know it all. Far from it in fact, and part of the daily enjoyment for us is discovering new information that we have never encountered before. Many of the experienced collectors out there know much more than we do about their specific area of interest and if you fall into this bracket and would potentially like to write an in-depth reference article of your own for our site, we would be delighted to hear from you. It goes without saying that any article we publish in this way will be credited to its author.
Finally, if you come across any term on our website that you don't understand, please don't hesitate for a second to telephone or email and we'll do our very best to explain in to you in a non-patronising, down to earth fashion. Similarly, if you visit us in East Yorkshire, UK to collect a watch, we are more than happy to take plenty of time with you going through the various models that may be of interest and pointing out their respective merits. Since the very start, we have always said that if we ever lose interest in vintage watches and dealing in them becomes nothing more than a routine job, we'll stop trading immediately. After three decades, our enthusiasm is burning brighter than ever and given half a chance if you come to meet us, we'll stroll with you to one of the excellent Georgian taverns in the market town where we are located and chat away until closing time about the development of the early automatic wristwatch, the change over from Rolex bubbleback to semi-bubbleback and any other related subject you might care to bring up. Our business has been successful not least because of our passion for what we do and the items we offer. We live and breath these watches and get as excited today when we secure a rare model for our stock as we did back in the mid-1980s. If we can impart the same enthusiasm to our customers and speed them up the learning curve at the same time, we will always do so.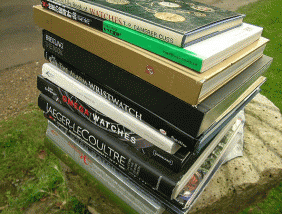 Vintage Gold Watch. What does this actually mean ?
What does the term "manufacture movement" mean ?
Stainless steel in vintage watch cases explained.
Rolex Case Back Stamps Used Inside Vintage Rolex Watches
Vintage Watch Brands
Vintage Watch Decades
Vintage Ladies Watches
Vintage Watch Bracelets
Swipwreek Straps
Travel Clock/ Pocket Watches
Home
About
Brand Overviews
By Decade
Reference
Contact Details
Telephone from the UK:
07453 734666
or 07428 051005
Telephone from overseas:
+44 7453 734666
or +44 7428 051005