Omega gold with double signed Welsh dial 1938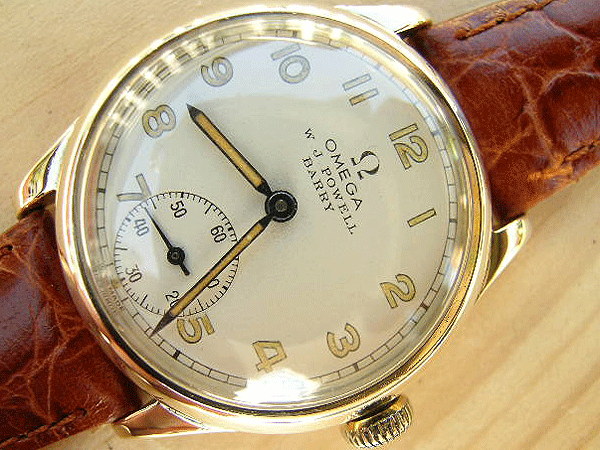 From 1938, this gentleman's gold Omega is a beautiful vintage watch that is also quite unusual in its specification, making it especially interesting to the collector. It's a superb example of the work of this famous house from the final years before the outbreak of World War II and a better specimen of its type would be almost impossible to source.
The case style is utterly classical, which has the obvious advantage that it won't ever look dated. This is an important point when buying with a view to long term investment. It is quite easy to buy watches that are in vogue now, for instance some of the sports chronographs with very brightly coloured dials from the 1970s, and then find that they decline sharply in value if general taste moves on to another style. Like a pair of Levi 501 jeans or good traditional tweed field jacket, this watch will look just as relevant in thirty years time as it does today.
The condition of this watch is almost perfect throughout and we can safely assume that it has seen very little use in the past. Its case is virtually unblemished and not in the least bit worn.
Internally, the case back is signed "Dennison, Made in England, ALD", together with the serial number 12322 and the model reference 57563. The Dennison company was the most respected British manufacturer of watch cases during the golden era of vintage watches and its output is highly regarded by collectors. Based at Villa Road, Handsworth, Birmingham and founded in 1896 by an American émigré Aaron Lufkin Dennison, hence the ALD initials here, Dennison routinely manufactured cases for use on Rolex, Omega, IWC and Longines watches that were to be sold in the UK. Originally, the partnership between Dennison and these famous Swiss movement makers began due to a ban being placed in December 1916 on the import of gold into Britain at a time of national emergency. Unable to import their gold watches into the lucrative British market, the major houses responded by shipping uncased movements to their British agents who then housed these in domestically manufactured cases, these, of course, not being subject to any restriction. Rather ironically, what began as a temporary measure to circumvent legislation worked so well for all concerned that all these brands continued to use Dennison cases for their British market watches until the eventual closure of the company in 1967. Dennison cases were among the very highest quality ever manufactured and their weight and standard of finish compares very favourably with their Swiss equivalents.
A full set of British hallmarks are present inside the case, these informing us that this was assayed as solid 9 karat gold in Birmingham 1938. Very appealing is the repetition of the last three digits of the serial number that appears in the case back on the inside of the top right hand lug. This matching of numbers on the two different parts of the case shows real attention to detail on Dennison's part, and isn't something that is often seen. For the modern day collector, it is also extremely helpful, confirming categorically that case front and back were together as the same watch when new.
The winding crown is completely original. This is quite an unusual item, being hollowed internally to allow it to slide snugly over a tube protruding from the side of the case. The actually concept is not dissimilar to that of the screw down patented Rolex Oyster crown, but of course, the crown here, unlike that of the Rolex, is not threaded. We are inclined to the view that Omega specified this arrangement with a view to trying to provide this model with some sort of protection to moisture.
Both dial format and condition have enormous bearing on the value of any vintage watch. An attractive dial layout will ensure that a watch is worth substantially more than the same model with a plainer, less memorable dial. This dial is very appealing, with large Arabic numerals inside a double minute track. Key to everything, this is a completely original dial that has never been restored at any time. It is near perfect, our only minor criticism of it being that its overall colour is just very slightly creamier than it was when new in 1938. We see the same effect with the slight yellowing of the paper of antique books and if this hadn't occurred, we would have been suspicious that the dial had been restored at some point. Virgin dials in immaculate condition, like this one, are very much the holy grail for investors and they command a price premium at the time of purchase, but equally, their rarity means that they will appreciate in value at a faster rate than their more commonly found, merely average equivalents.
"Omega" is stated above the dial centre point, together with the name of W.J Powell of Barry, the Welsh retailer that supplied the watch when new. This is a nice touch that, when found, adds both commercial value and a lot of character to a vintage timepiece. It was always an inconvenience for manufacturers to double-sign in this way, with dials having to be lettered specifically for a certain customer. Consequently, even in the 1920s and '30s, as a percentage of the total number of dials sold, only a small percentage were double-signed. Dials of this kind have always been something of a soft spot for us and consequently, we have actively sought out good examples for sale here. This one is really lovely and it is hard to imagine how a dial could be better looking.
All three hands are original. These are worthy of comment on account of their distinctive pencil shape actually being something that we associate not with Omega, but with Rolex models of the 1930s and '40s. None of even the most well known Swiss houses manufactured their own hands and it is perfectly likely that, though correct for this Omega watch, the hands here were produced in the same factory (Fiedler SA) that also supplied Rolex at the same time. The blued steel frames here are in almost mint condition, without any corrosion or damage. Their luminous infill has gently aged from a once bright lime green to a now more subdued khaki colour, but this can be attributed to the unavoidable chemical decay of its radium ingredient and is in no way a reflection on the manner in which the watch has been treated in the past.
When most collectors come across a gold Omega in this style, they generally assume it to be of 1940s or 50s original and make the educated guess that it contains one of Omega's famed 30mm series of movements. These were an enormous commercial success and most of the Omegas with this appearance came in that form. The watch here is unusual and especially interesting because it predates the launch of the 30mm series mechanisms and actually has an earlier, calibre 26.5 movement that isn't often seen. To put this into some kind of context, We have probably sold around a hundred vintage Omegas from approximately this era with 30mm movements over the last ten years, but this is only maybe the fifth or sixth that we have owned with the 26.5 movement during the same time period.
While used here in a watch sold new just before the War, the origins of the 26.5 actually went back much further. Omega launched this movement in 1926, revising it six times before it was eventually discontinued in 1950. From the outset, this was an extremely reliable and accurate unit and the alterations to its specification came about due to a desire on Omega's part to keep its products in line with the latest industry advancements, for instance anti-magnetic and shock protection, rather than any design flaw in the original version.
The 26.5 is a traditional hand wound movement, finished to a superb standard and built along classical lines. If acquired today in excellent condition and routinely cleaned and lubricated every three or four years, it will be capable of lasting almost forever and is unlikely to be problematic. Omega, Rolex, Jaeger LeCoultre and the other major houses that operated at this level all produced movements that were intended to survive as possessions for life and the existence of watches like this one, in the early 21st century running just as strongly today as it did in 1938, is clear evidence that their objective was achieved.
"Omega, Swiss, 15 Jewels" is stated on the bridge, together with the individual serial number for this movement, 9065120. The thing that is so fascinating about this watch, or one of the things, is that, though the two have been together since new, the movement was manufactured in 1927, over a decade before it was shipped to England and cased here. We have encountered this before, and in almost every instance on watches dating from either just before, or during, World War II. One of the knowledgeable central London watch dealers, Anthony Green, recently put forward the view that this situation arose because of the difficulties that the Swiss makers were having in obtaining reliable shipments of raw materials at that time. Finding it relatively difficult to supply newly built movements in the quantities required, they took the situation as an opportunity to clear out their stockrooms of the older movements that they'd had for years. It is difficult to come up with a more plausible explanation. Certainly, it can be guaranteed that this is the original movement for this case, a fact that will be confirmed should an extract from Omega's company archives be obtained.
As a result of regular servicing by conscientious past owners, this movement works perfectly. It sets and winds extremely smoothly and is in the best possible mechanical health.
It isn't easy to price some of these pre-war vintage watches, mainly because one doesn't see the same models appearing for sale with any regularity and a precedent is hard to establish, especially for those watches that are both all original and in museum standard order. We tend to buy more gold Omega examples from the immediate post-war years and the early 1950s, which in the sort of exceptional condition then need to be in to be sold on this site, typically change hands for around £800 to £1000 pounds. This is a rarer and older watch that is more interesting to a collector, but it would be unrealistic to imply that it is worth a vast premium over its equivalent of a decade or so later. After some deliberation, We have put a price on this piece of £875, which is not excessive for such a tidy, untouched survivor from the 1930s, particularly if we stop to think that a manually wound Rolex in gold from the same period, in no way superior in quality, would sell quickly here for somewhere between £2000 and £3000 depending on its exact specification.
Price £875 GB Pounds
Vintage Watch Brands
Vintage Watch Decades
Vintage Ladies Watches
Vintage Watch Bracelets
Swipwreek Straps
Travel Clock/ Pocket Watches
Home
About
Brand Overviews
By Decade
Reference
Contact Details
Telephone from the UK:
07453 734666
or 07428 051005
Telephone from overseas:
+44 7453 734666
or +44 7428 051005