Omega tonneau 18k white gold 1927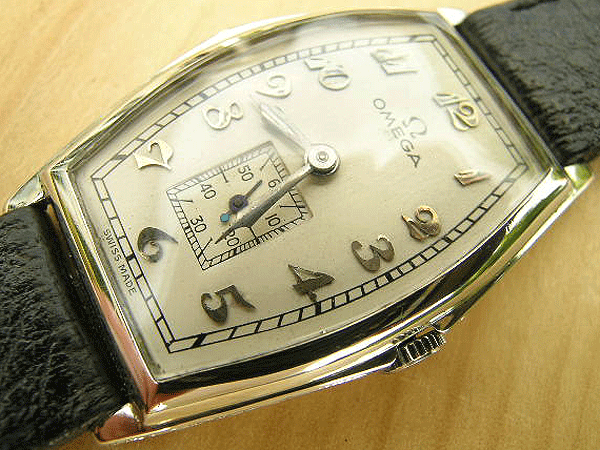 This is another example of the type of vintage watch for which our business has become known over the last thirty years: an early piece in rare form and exotic case material in totally original, near mint condition, by one of Switzerland's most celebrated manufacturers. Simply because we list so many exceptional vintage watches for sale at one time on our website, there is a tendency for novice collectors to become blasé about these, presuming that similar pieces can be located at any time at the drop of a hat, when the reality is quite the opposite. To find a totally genuine 1920s 18 karat white gold gentleman's Omega that was even remotely comparable to this one would be an exceedingly difficult task, as all established vintage wristwatch aficionados reading this will be well aware.
Manufactured in 1927, this is one of those pieces that represent the second stage in the development of the wristwatch. The genre had emerged during World War I, its success linked to the need that officers in the trenches had for portable timepieces that could be consulted at an instant, this obviously being far easier with a watch worn on the wrist than one buried under layers of thick uniform worn on the person. The earliest wristwatches offered on a serious commercial basis were in essence scaled down pocket watches, circular in shape, with enamel dials and soldered wire lugs. Today, such models are unusual and collectible, not least because they are of extreme historical importance as the very first items that would lead to the modern wristwatch as we know it now.
Slowly but surely, after the end of the Great War, the wristwatch started to assume a distinct identity of its own, quite away from its pocket watch ancestors. The traditional vertical numerals that characterised the dials of the first wave began to appear less often now, and the influence of art nouveau, and later, art deco as the 1920s progressed was seen increasingly, with italic and highly stylised numerals becoming the norm. Most significantly of all, so called "form" watches were created, these being named on account of their cases departing from the circular standard and taking on a distinct shape, or form, of their own. The 1920s was the decade that saw the rectangular, the octagonal, the cushion and, as here, the tonneau shape emerge, and few would argue that the pieces produced at this time were not among the most eye catching and dramatic that the Swiss watch industry has ever offered.
For anyone looking for a genuinely exceptional 1920s watch to represent this highly experimental decade, this would be an ideal choice. Its elongated, stretched tonneau case is utterly gorgeous, and with a length of 37mm, is in a size that would be considered perfectly acceptable for use today, even in a period when very large watches are in vogue. Despite being almost ninety years old, its condition is virtually perfect, with none of the signs of wear to its edges or detailing that we would almost take for granted on a piece of this age. The case sides here are decorated with the most wonderful art nouveau pattern of intertwined acanthus leaves, and this remains crisp and perfectly defined. On an 18 karat gold case like this one, simply because the metal is so soft, there is almost always some smoothing to decoration of this sort, but here, it is absolutely without fault. Looking at this case under high magnification, we would go so far as to say that the only way it could have survived in this condition was if it had spent almost its entire life unused in a drawer.
In the vintage wristwatch world, yellow gold is the norm, with a premium being paid for examples found in pink ( correctly termed red gold within the jewellery industry) gold, both because of its relative rarity and its very attractive appearance. However, at a higher price level still comes the material used here, white gold. Absolutely colourless, from a distance this metal could almost be silver, the difference only being apparent instantly when the much heavier gold watch is handled. White gold cases are exceptionally rare, we would suggest, largely because of their not looking greatly different from cheaper silver equivalents. When new, a watch in a highly decorated 18 karat gold case of this type would have cost perhaps three times that of its silver equivalent, yet the visual difference between the two was negligible. Hence it was that most buyers preferred to see some obvious result in status boosting for their additional expense, and ordered yellow or pink gold cases.
Internally, the hinged case back is beautifully decorated with a very elaborate engine turned pattern and is fully signed as "Omega, Swiss Made, Fabrication Suisse" in the very early circular emblem that first appeared on the company's pocket watches of the Edwardian era. Also present is the individual serial number for this case, 7657537, and a full set of Swiss hallmarks ( Helvatia), these informing us that this housing was assayed as solid 18 karat gold.
Perhaps even more interestingly, below the serial number is the tiny coded maker's mark of J. Bonnet & Cie, a small scale atelier that manufactured some remarkably high quality cases in the inter-war years for a number of top tier Swiss horological houses. Very few collectors are aware that, almost without exception, the grand marques that we venerate so much today were first and foremost movement makers, and while some had the facility to create in-house stainless steel cases, they purchased their precious metal housings from a network of trusted third-party suppliers. If we can decipher case stamps of this kind, we always include mention of them in our descriptions, primarily because we find them so fascinating. There was a whole army of, quite literally, several hundred workshops carefully manufacturing some incredibly high quality watch cases, but as a result of their involvement deliberately being played down by the clients for whom they worked, virtually nothing is known about any of them. The Bonnet & Cie stamp turns up reasonably regularly on gold Omega cases from this period, but even so, we know almost nothing about the background of this company except its address, Numa-Droz 141, 2300 La Chaux-de-Fonds, which is a great shame.
One of the key aspects in assessing a vintage watch must always be consistency, and it is vitally important that there is a uniformity of condition across case, dial and movement. So many of the older timepieces that appear for sale today have been built up from components that were never together when new, and for the faker, one of the most difficult challenges is to blend parts that have been subjected to entirely different environmental conditions for decades so that they look completely related to each other. As previously discussed, the case on this watch is incredibly well preserved, but this same comment can be equally applied to its movement and dial, both of which are virtually as-new. More than any other aspect, especially at this level where relatively large sums of money change hands, dial condition and originality define the worth of a piece, and a watch with a dial that falls short in these two interlinked categories will be dramatically devalued.
For a 1927 watch, this completely original white dial is in the best condition that one could ever hope to find. It isn't perfect, and has just the slightest hint of almost imperceptible yellowing to its surface, but is so near to being mint that any deterioration of this kind hardly merits comment. There is no spotting or dust staining of any kind, and, in real terms, this dial looks exactly as it did when new. Notice how, just as it should be on a 1920s watch, the Omega symbol and word are signed in a distinctive italicised typeface that is quite different from that used by the house in the firm's later years.
The wonderfully stylised white gold art nouveau numerals are in superb condition, as are the original matching hands. Again, at this level, minor details have a huge bearing on investment values. Finding the correct hands or winding crown for a specific model of 1920s watch by any maker to return a piece back to original specification would almost certainly be impossible today, and it is so easy for the casual buyer to enthusiastically bid on items with component changes, simply because he isn't familiar with the correct example for comparison, only to find that he has paid a high price for a sub-standard watch.
It is not an exaggeration to suggest that in the inter-war years, Omega movements were of a standard that was not exceeded by any of the firm's competitors, and the calibre 19.4 mechanism here is a really beautiful example of the early work by this highly regarded house. As the 20th century progressed, the major Swiss horological concerns grew in size, reaching their epoch in terms of volume in the mid-1960s before the traditional mechanical watch industry was decimated by the arrival of battery powered quartz technology a decade later. To imply that in the late 1920s, brands like Omega were small cottage industry concerns would be absolute nonsense, and the truth is that by 1927, this house was already well established with a worldwide distribution network. But it is a matter of recorded fact that its production totals were far lower than they would become in later decades, and consequently, the serious enthusiast will find it much more difficult to locate good examples of early movements for his collection than those manufactured on a wider scale in the post-war years.
The 19.4 was introduced in 1924 and is a 8.75 ligne ( the ligne being the unit of width measurement used within the Swiss watch industry), manually wound mechanism with 15 jewels, a Breguet hairspring and the most beautiful hand finishing to its bridge plates. Each individual movement was adjusted and checked for accuracy in multiple angles of elevation before being used and Omega made great play of this calibre when it was released, calling it in their publicity at the time " a true wonder of precision" ( source: "Omega Designs" by Anton Kreuzer, page 139). To launch what would have been a very expensive movement at a time of worldwide economic depression might seem like something of an odd move, but in retrospect it was a successful one, with the first incarnation of the 19.4, the one found here, remaining in production until 1930, when a T1 version was launched, followed by a second revision, the T2, appearing in 1935. For those not familiar with Omega's numbering system, the first version of any of its movements was identified purely by its calibre number. Modifications to the same movement were thereafter given "T" reference numbers, starting with "T1" etc. So calibre "xyz T4" would be the fourth revision of movement type xyz etc. In practice, the changes made to calibres were usually very small, but being able to identify these enables us to tie specific movements down to defined periods of production. Even if we couldn't date it exactly from its serial number, by examining this unit and being aware that it was a first generation 19.4, before its first revision, we could be sure that it left Omega when new between 1924 and 1930.
This movement has no changed parts whatsoever, and is correct and original in every detail. Over the decades, often as a result of past periods in the hands of careless owners, in so many instances, elderly watches become adulterated with non-standard components. Omega are actually one of the better Swiss houses from which to obtain early spare parts and are extremely helpful in this respect, but for many repairers, the trouble needed in sourcing authentic appropriate parts has not seemed worthwhile, and they have instead adapted substitutes from other calibres. Screws are interchanged, jewels replaced and probably the most common, balances are swapped, but just occasionally, as here, one finds an early movement that has slumbered since new and remains faultless.
From a personal point of view, we love the distinctive look of pre-1940 Omega movements, which, aesthetically, are quite different from the company's mechanisms from the post-war years. The distinctive pink gold Omega plated surface, introduced as an attempt to create a movement finish that would be resistant to oxidation and corrosion, had not yet been introduced across the firm's range, and here, the plates are rhodium plated. The Omega signature here is our own favourite, being in a very evocative, almost oriental, typeface that conjures up images of 1920s Chinatown and high society parties in Shanghai during the early inter-war years. This remains clearly visible in gilt alongside the individual serial number for this movement, 6886559, this, falling between the two extremes of production for that year of 6660000 and 7200000, clearly identifying it as being of 1927 origin. Quite correctly, there is no calibre number stated anywhere on this movement, identification of this kind only being introduced in August 1949.
Having been serviced on a regular basis since new, this watch works perfectly, its movement setting, winding and running extremely smoothly and without any of the tell tale backlash to its gears that is so often found on excessively worn examples of this age. Movements like this one are of remarkably high quality and were the products with which the top tier brands like Omega would establish their famous reputations, but if neglected and starved of periodic lubrication, they will, as with any piece of precision machinery, quickly fall into disrepair. A really top notch survivor from the inter-war years will last almost indefinitely if carefully looked after, and it is worth bearing in mind that Omega will still undertake the servicing of their watches of this age, at surprisingly reasonable cost. While this is very much an expensive collector's timepiece, it is one that is perfectly capable of being a watch for life that can eventually be passed onto future generations if treated with a little care and common sense.
We have fitted this watch with a high quality crocodile skin type strap that is perfectly in keeping with its obviously vintage, upmarket appearance. This is not a genuine Omega strap, but is almost identical in both construction and style to that which would have been supplied new with it in 1927, and is in excellent condition, having never been worn.
There are a number of published references to this model and its close derivatives, and these are worth investigation:
"Omega Designs" by Anton Kreuzer shows a very similar early tonneau on page 138. This is in an 18 karat gold case, has an almost identical dial format and the same italicised Omega signature and emblem. Looking at the various models shown from this period and their original retail prices, this appears to have been the most expensive Omega of its day with the exception of the company's single button chronographs.
Marco Richon's book "Omega Saga" has a colour reproduction of a most wonderful art deco Omega advert from 1931 on page 240, in which the model here, in 18 karat white gold, is the main one featured. This is especially interesting, as this is piece of American advertising, and we would therefore expect the models shown to be in 10 or 14 karat gold, these being the purity standards used as standard in the USA. The price shown for the model here, in 1931, was $225 US dollars, an enormous sum at the time. It is worth mentioning here, to give an idea of context, that a Ford Model-T motorcar, brand new, could have been bought in 1928 for only $75 dollars more.
Looking at this item as this description is written, we would go as far as saying that it is actually one of our own favourite pieces on this website at present. It is exceptionally eye-catching, remarkably well preserved, and of the very highest possible intrinsic quality. It is also very much a rarity, not least because of its case material. I have nearly four thousand vintage wristwatches for sale at present, of which only a tiny number are shown on this website, in silver, stainless steel, yellow and pink gold, but this is one of perhaps no more than a dozen, at most, of these to have a white gold housing. As an approximate working ratio, We would say that for every one thousand vintage watches in gold, only one of these will be white, and this is certainly food for thought for the investment buyer looking to purchase something genuinely of note for his money. The online world is full of old wristwatches, the majority of which are of absolutely no genuine significance or historical interest whatsoever, but we don't think anyone would argue that this item is a gem that would be a worthy edition to the most knowledgeable vintage Omega enthusiast's collection.
When it was new, this would have been extremely near the top of the luxury wristwatch ladder, and it still holds the same relative position today. In silver, a comparable stretched tonneau cased Omega in similar superb condition would perhaps sell for around £1500 GB pounds. We could buy a poorer one, with an unsigned case of doubtful origin and a badly discoloured, or freshly refinished, dial, for perhaps as little as £800, but the higher figure would have to be paid to acquire an investment grade example that would withstand expert scrutiny. In 9 karat gold, we'd see a selling price of maybe £1800, with £2000 or more being required to secure an 18 karat version.
We genuinely have no idea how much of a premium will be needed to obtain this 18 karat white gold model, not least because we haven't seen a similar one offered in the last five years, either in the central London vintage watch shops or through Christie's, Sotheby's and Bonhams. This watch is completely original throughout, yet despite its age, remains as crisp and bright as it did less than a decade after World War I when it was manufactured. A point that is sometimes difficult to communicate to the novice collector who may not yet be appreciative of these things, watches like this one just don't appear for sale with any regularity anymore. Even twenty years ago, because of its case material, this item would have been a rare find, but today its like is almost completely extinct. And on this basis, obviously within sensible reason, this is one of those pieces that it is worth paying a little bit extra to purchase, just as we did when we acquired it. Deliberately selling at a rate that undercuts our competition in the capital and reflects our very low trading overheads in rural Yorkshire, we have priced this watch at £2350 GB pounds, which is little more than half of what it would be offered for in Bond Street or Burlington Arcade.
Price £2350 GB Pounds
Vintage Watch Brands
Vintage Watch Decades
Vintage Ladies Watches
Vintage Watch Bracelets
Swipwreek Straps
Travel Clock/ Pocket Watches
Home
About
Brand Overviews
By Decade
Reference
Contact Details
Telephone from the UK:
07453 734666
or 07428 051005
Telephone from overseas:
+44 7453 734666
or +44 7428 051005