Omega pink gold officer's watch with guilloche dial 1924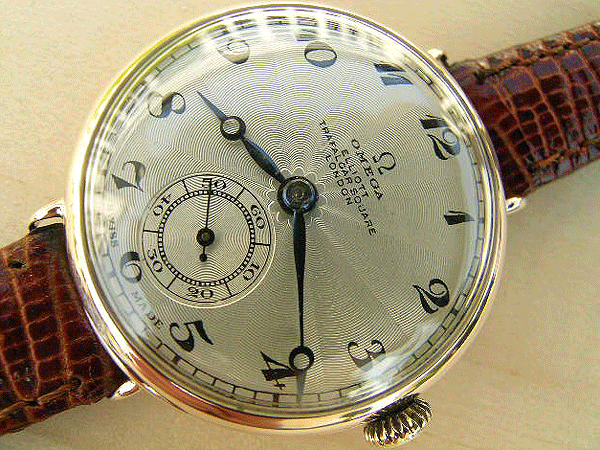 There is a strong temptation to describe this exceptionally beautiful 1924 gentleman's gold vintage Omega as an officer's watch, simply because it exhibits so many characteristics of this type, but we will refrain from doing so. The officers' watches are so-called on account of their being used by soldiers serving in the trenches during World War I, and were, in real terms, smaller versions of the pocket watches that had come before them, but with the addition of wire lugs in order that they could be worn on the wrist. This piece is something of a transitional item, as its case style is that of a classic officer's watch, while its movement and glorious guilloche dial are so evocative of the roaring 1920s. For the serious collector, genuinely all original, well preserved very early examples by the major Swiss houses are extremely difficult to source now, and for anyone building up a selection of vintage Omega watches to represent this highly regarded house over the last hundred years, this piece would be absolutely ideal as a sample of the company's best work in the immediate period following the Great War.
The solid pink gold case here is in superb condition, with just the very slightest imperfections that must be expected on any vintage watch for sale from this period. Notice how even by the early 1920s, changes had begun to be made from the pocket watch based architecture found on the first generation of wristwatches. On a typical trench watch from 1915 or '16, we would expect both the case front and back to be hinged to the case body, but on this piece, a hinged case back is combined with a press fit bezel, the latter component becoming an industry standard by 1930. Hinged cases charming, and something was definitely lost when hinges eventually disappeared from use. When buying a case manufactured in this way, always check that the hinge is in excellent condition and has never been repaired in the past. In this instance, the hinge is untouched since new, and opens and shuts securely and smoothly, without opening excessively wide: always a sign that a case has been roughly handled at some stage.
Inside this case back is a fascinating selection of stampings, all of which require explanation. A point that we occasionally make as part of our website descriptions, purchasing vintage watches for serious investment is a process that requires considerable research and investigative analysis. When bought well, in all original form, rare early inter-war period pieces like this one make superb, proven investments, but because of their age, so many watches like this have been modified and adulterated with non-original components. Probably the biggest single change of this type is the placing of a movement into a case that is entirely incorrect for it, hence a good working knowledge of case markings and movement calibres is really essential for anyone spending significant amounts of money with a view to increasing his capital over the long term. Our watches do tend to be relatively expensive, probably more so that those offered by any other on-line seller in the UK outside of central London, but in every case they are exactly as they should be, and will not produce any unwanted surprises in the future, however long they are retained.
There are a variety of markings here, all of which to some extent inter-relate. The most obvious is a large circular emblem, inside and around which is stated the wording "Omega, Swiss Made, Fabrication Suisse". This statement that the case is a Swiss, rather than British, made housing is supported by the presence of a full British hallmark telling us that this component was assayed as imported solid 9 karat gold in Edinburgh, 1924. In December 1916, the import of all gold and silver into the UK for non-war related uses was banned by Government, and the Swiss made case here must have been one of the first to be allowed into Britain following the lifting of this ban in 1923.
There is a very interesting additional stamp "OWC" that we have only encountered on a few occasions in over twenty years of enthusiastic involvement with vintage wristwatches. Looking at these various marks with a jeweller's eyeglass, it is fascinating to note that they have all been struck to different depths, this clearly representing the various stages that the watch went through from initial manufacture to eventual retail sale. The OWC stamp here appeared in 1921, with the registration on the 26th October of the "Omega Watch Company of England Ltd", this being a wholly owned subsidiary of the Swiss parent company, set up as a sales outlet to cover the UK. Based at Morley House, Holborn Viaduct 26/30, this operation employed two salesmen who travelled throughout Britain servicing approximately 150 retailers, and was overseen by Gilbert Dennison.
It is very curious that Gilbert Dennison was appointed in this capacity, primarily because he was a key member of the famous Dennison watch case making family, based in Birmingham and already a key supplier to Omega by the end of World War I. While Omega was to enjoy a very close relationship with Dennison well into the 1960s, it seems odd that a Dennison family member would be in charge of a division that imported Swiss watches, with Swiss made cases, given that this was directly against the interests of his own concern. We were so intrigued by this apparent anomaly that we actually checked various items of reference material that we have regarding Dennison in the 1920s, and Gilbert Dennison was already on the board of directors by 1924, remaining there until the mid-1930s.
Also present here is the individual serial number for this case, 6517176, and the sponsor's mark DS.
If the case on this piece follows the traditional officer's watch theme, it is the wonderfully opulent guilloche dial that clearly defines this item as one purchased by a wealthy civilian rather than one intended for use in combat by a soldier. The early officers' watches featured enamel dials, but this very decorative component has been created by taking a sheet of German silver, and turning it by hand in a rose engine to produce the intricate textured surface that is so eye catching here. Arguably the most sought after of all vintage wristwatch dial types, guilloche became fashionable towards the end of the World War I period, and survived as the most expensive dial option until the late 1920s, after which it was no longer seen an economically viable to laboriously manufacture dials in this way.
The basic process used to produce these very fine radiating lines is similar to engraving, the main difference being that with engraving, the cutting tool is moved across the work, whereas with guilloche, the work is fixed onto the machine and then rotated against the cutting head, this latter item remaining static at all times. While the term machine is used, it is something of a misnomer, the rose engine actually being a hand cranked tool that has no external power source whatsoever. Using this device is an art form in itself, and requires a vast amount of expertise to produce anything remotely near to acceptable results. The depth of cut is governed by the pressure applied to the work by the operator's thumb as he pushes this into the cutting head. A relaxation of pressure and the cut will be too shallow to achieve the desired effect, but if too much force is used, the cutting head will pierce the work, ruining it completely. It is a matter of recorded fact that a large sized guilloche dial would take an experienced guillocheur almost a full working day to produce, and obviously this labour cost had to be passed on to the eventual retail purchaser of the watch.
One of the best aspects of guilloche dials, is that, being in bare polished metal rather than with a conventional painted surface, these items don't suffer from the same damage from moisture or dirt that often plays havoc with watches of this age. With the passage of time, guilloche dials often looks rather grubby, simply because the fine grooves in the dial surface tend to harbour dust, but such superficial discolouration can be easily cleaned to return the dial to near perfect condition.
This dial is completely original and in, literally, almost mint condition. Its surface gleams brightly and is free from any signs of damage. The double minute track and very evocative art nouveau numerals are perfectly defined, as is the Omega emblem and brand name. Very desirably, also present is the name of the retailer that supplied the watch when new, "Elliot, Trafalgar Square, London". Double-signed dials of this type are unusual and much sought after, and the presence of such an evocative jeweller's name will add considerably to the value of this piece as it otherwise would have been in singly signed form. The starburst effect achieved by the patterning here is dramatic in the extreme, with light being thrown out from the dial centre point in what appear to be shafts that widen as they come closer to the outer edge. Because the guilloche dial is a hand made product, and every dial is therefore by definition unique, there is some variation in the overall visual appeal among watches of this type, with this one being among the most attractive that we have encountered in recent years.
One of the fundamental aspects to appreciate about these very early wristwatches is that they were the products that forged the reputations that the major houses still continue to enjoy today. While these companies had been established for several decades by the 1920s, watches like this were very much sold on genuine merit rather than glossy advertising hype as many luxury products are today. The movement in this piece, fully signed as "Omega Watch Co. Swiss, Adjusted 2 Positions" is superbly finished and entirely hand built, and is the perfect example of the craftsmanship that made these early examples so desirable when new. The bridge plates have been covered with the most elaborate engine turned pearled pattern, with their edges beautifully bevelled and all screw heads individually polished to a mirror finish.
One of the most difficult tasks when writing descriptions of Omega watches from this era is the conclusive identification of their movement calibres. In comparison with its size in the 1950s and 60s, the Swiss luxury watch industry was a relatively small affair in the post-World War I period, and calibres were often manufactured in fairly modest batches before their appearance would be subtly changed to tie in with further technical advancements. This unit carries the individual serial number 6082726, this clearly identifying it as being of 1924 manufacture, this year perfectly tying in with the date of the hallmark inside the case back. Given its 10 ligne size, positional accuracy tested status and 15 jewels, it seems that this must be calibre 23.7S, in production since 1916 and the only Omega movement at this time to have this combination of size and features. In later years, Omega would clearly stamp each movement with a calibre number, this being a valuable asset to watchmakers when trying to identify a mechanism before ordering parts, but at this stage, the company used only its own internal reference system that was never designed to be revealed outside the Bienne factory's walls.
When buying a watch of this age, it is absolutely vital that only a piece with its movement in almost mint condition is acquired. High grade timepieces from this era were exceptionally well made and as a result are inherently very reliable, but must be free from wear in order to perform effectively today. While all original 1920s Omegas are difficult to source in any condition now, we would advise the potential purchaser of a watch like this one to be very critical, and only part with funds for an example on which the movement can be clearly seen to be virtually "as new". This unit is totally original and correct in every respect, right down to its last internal detail, and has been serviced regularly throughout its life with no regard to expense. There is no corrosion whatsoever to its surface, and even when studied under high magnification with a jeweller's eyeglass, no discernible wear is to be seen on the gear teeth. It goes without saying that this mechanism is in excellent working order, setting, winding and running very smoothly and with none of the back-lash in the gear train that is almost expected when assessing a watch of this age.
We have fitted this watch with a high quality crocodile skin strap that is perfectly suited to the clearly vintage theme of the piece. Technically however, this strap isn't actually correct for a wire lugged watch of this age. Originally, officers in the trenches fitted this style of timepiece with very distinctive two part straps, on which a continuous run of leather was threaded behind the case back, through both sets of lugs, and then in turn passed through a much wider backing piece. Though the watch here was manufactured in 1924, its case construction informs us that this type of strap would still have been used. After many years of bemoaning the total unavailability of these straps, earlier this year we had a small batch handmade to the highest possible quality standard. These are expensive, but for the owners of watches with wire lugs, they do represent an opportunity to restore their timepieces back to total authenticity. A link to the section of this site selling these items can be found at the top of each page under the "Shipwreck Straps" heading.
In summary, this is a gorgeous 1924 Omega in solid gold, with the most beautiful original starburst guilloche dial. Watches like this one, early pieces from the immediate post-World War I period, couldn't be more suitable for investment, though genuinely good examples of this age are now very difficult to source. While the wristwatch as a genre was to advance technically to a dramatic extent over the following decades, it could be argued that aesthetically, the very clean appearance of the traditional officer's watch, combined with the eye catching 1920s elegance of the engine turned dial, has never been bettered.
This is the type of watch that will appeal to the buyer with an appreciation of antiques and early luxury goods in general. While pieces from this era are not waterproof and were built before the introduction of shock protection systems, they are significantly over-engineered and perhaps surprisingly rugged. The majority of owners of early watches of this grade view their items as collectibles or serious investments, but equally, it is perfectly reasonable to think that a timepiece of this quality and condition, despite its age, could be carefully worn on a frequent basis without any resultant harm. We advise our customers that pre-1930 watches are better suited to more sedate use, and examples from this period are a pleasure to wear when going out for an evening at the theatre or for a quite meal at a favoured restaurant.
A good, and by this we mean an all original item in near perfect cosmetic condition, Omega officer's watch in silver from the 1914-18 period will typically sell for somewhere between £1000 and £1200 today, which is actually very reasonable when compared to similar watches by the firm's competitors from the same era. This piece is interesting, because it combines the traditional officer's watch case style, but in solid gold rather than silver, with a very evocative guilloche dial and a more sophisticated movement than would have been used in the Great War years. If we had to make a stab at suggesting a value for this watch if included in a suitable specialist thematic sale by one of the major physical auction houses, we would be inclined to say that its worth will be somewhere between £2000 and £2250 GB pounds on top of which buyer's premium would be due. We deliberately try to undercut the auction circuit and have set a price for this item of £1450 GB pounds. Bought at this level, there is no doubt whatsoever that, if properly maintained and correct serviced, the watch will steadily increase in value for the foreseeable future. Given the relatively small numbers of Omegas that were made with guilloche dials and that have survived in the immaculate condition of the watch here, the future worth of this piece is assured. This is the perfect choice for the buyer who wants to know that he can always liquidate his asset for its purchase price if he wishes to do so, and better still, will turn a profit if he retains the watch for any significant length of time.
Price £1450 GB Pounds
Vintage Watch Brands
Vintage Watch Decades
Vintage Ladies Watches
Vintage Watch Bracelets
Swipwreek Straps
Travel Clock/ Pocket Watches
Home
About
Brand Overviews
By Decade
Reference
Contact Details
Telephone from the UK:
07453 734666
or 07428 051005
Telephone from overseas:
+44 7453 734666
or +44 7428 051005