Omega gold cushion Redhill dial 1935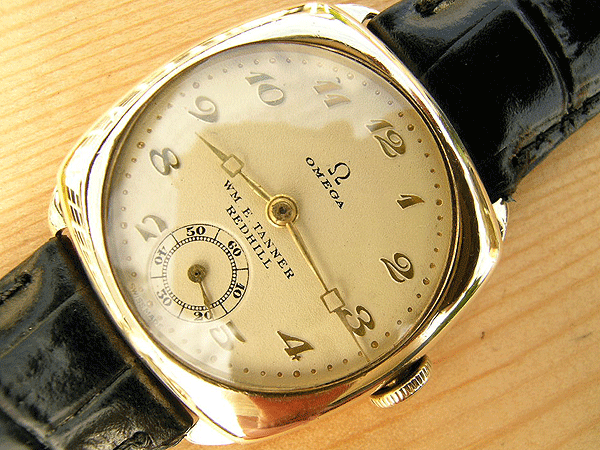 This immaculate gentleman's vintage Omega gold watch from 1935, in large cushion form and with a rare double-signed dial, is exactly the grade of item that should be purchased for investment purposes. As a percentage of the total number of surviving examples from the 1930s, very few are in anything remotely approaching this condition, the vast majority now being pretty tired mechanically and having been fitted with a variety of non-standard parts in order to remain functional. In any area of antique collecting, there is always a significant gulf between the value of merely average pieces and those few at the very top of the condition scale, and we would always recommend that it is worth paying the additional price premium required to obtain an item in this latter category. Vintage wristwatch collecting is a relatively new phenomenon and interest in this area is increasing dramatically at the present time. As more collectors enter the field it is clear that the best pieces will become even harder to locate than they are today and prices will sharply rise. Even over the last decade, largely fuelled by an influx of internet based enthusiasts, we have seen the values of the best early vintage Omega watches rise by at least 20% per annum and there is no suggestion that this situation is about to abate in the near future.
It is actually quite difficult to fault the watch for sale here, simply because it genuinely is a virtually unused item. We deliberately take a very critical view when describing the watches for sale on our site, often looking for faults when in truth none are present, but in this instance we can honestly say that this piece is one of the best inter-war vintage Omega watches that we have offered for sale in some time. Its large cushion shaped case is in first class order, and is free from dents. As one would expect on any carefully looked after watch of this age, there are a few tiny imperfections here and there, but these are of so little consequence that they are almost invisible to the naked eye.
This case shape can be seen as very much the second generation of the wristwatch, taking over from the circular pocket watch inspired pieces of the World War I era and coming to prominence in the mid-1920s. The cushion shape is regarded by horological historians now as one of the classic wristwatch forms and this status commends it as an investment vehicle. While the vintage wristwatch emerged as a collectible on account of an appreciation of the remarkable quality level achieved by the top Swiss houses in the past, it is certainly the case that prevailing fashion trends do have an effect on market values. When advising buyers on the building up a portfolio of vintage wristwatches for investment, we always suggest a strategy that involves the purchase of a mixture of classics, those items that are so well established that they will never fall in value in the future whatever happens in the marketplace as a whole, and, to a considerably lesser extent, a number of less traditional pieces that are undervalued at present but are likely to rise steeply in worth in time to come. A cushion cased 1930s watch, preferably in gold, by any of the important houses like Omega should be thought of as a safe, blue chip investment. The shape of these items is utterly timeless and will always look extremely charismatic regardless of any changes in fashion. However, this solid, predictable long-term desirability comes at a price and the universal appeal of a watch like this one will make it always appear expensive at the time of purchase.
Having made the point that watches of this type are solid, staid investments, we will now offer the comment that, with a little careful though, one can actually have one's cake and eat it at the same time. The subject of investment return via vintage wristwatches is one that we find utterly fascinating in our business and we have always enjoyed the process of picking watches for customers in order to achieve maximum monetary return for them in a consistently rising market. Based on our explanation of the previous paragraph, it would seem that the buyer is faced with a choice between the safe purchase of a highly regarded classic watch, an item that will steadily rise in value but, because of the fact that every collector is looking for these pieces, is likely to be expensive to acquire initially, and a more speculative purchase, perhaps of a watch type that has only recently been discovered by the collector scene and is tipped to rise in price quickly. Our strategy has always been to try to initially identify the solid and safe watch choices, but then to look for unusual variations of these items that are likely to be of more interest to collectors than others that are ostensibly of the same type. By taking this route it should be possible to enjoy all the safety that comes with a sought after classic watch while at the same time owning a piece that, because of its unusual features, continues to financially outperform those without these aspects.
This particular watch is the textbook example of a watch that, though on the face of it similar to others of the same era, has several quirks that make it considerably more valuable. When the case back is removed, we can see a full set of British domestic hallmarks, these telling us that the piece was assayed as 9 karat gold in Birmingham 1935, and the signature "Dennison, British Made, ALD", together with the serial number 550737. The Dennison company, based in Soho Hill, Handsworth, Birmingham, was the most highly regarded of all the case making companies of the vintage period and certainly, the standard of its work was second to none.
Founded in 1874 by the American emigree Arron Lufkin Dennison ( hence the A.L.D stamping inside the case back here), the firm enjoyed a close relationship with nearly all the top tier Swiss manufacturers, initially as a consequence of the prohibition of the import of precious metal into the UK during World War I. Realising that the inability to offer gold and silver cased watches in an important export market would be devastating to their fortunes, these major horological houses circumvented the legislation by shipping uncased movement to their British distributors and having these housed in domestically manufactured cases after arrival. Due to its recognised ability to create cases of the very highest quality, Dennison was the obvious candidate for this purpose, but ironically, its standard of workmanship was so high that in retrospect, collectors today will pay a premium for any watch fitted in its original Dennison case.
The weight of the case on this watch is quite extraordinary and we would be inclined to the opinion that the wall thickness here is almost twice as substantial as that found on Swiss made Omega gold cases from the same era. It is telling to note that in his excellent 1996 reference book "Best of Time", the UK based collector James Dowling, in the context of early pieces from the post-World War era, states on page 315 that the "English made Dennison cases were the highest quality ever made for Rolex" ( the famous Geneva house were a major Dennison customer from 1915 right through to the firm's eventual closure in 1967 ), and certainly this comment would be disputed by very few enthusiasts. We would recommend that where possible, a watch with a Dennison made UK market gold case be purchased for investment over the more commonly found equivalent that was supplied to distributors in the rest of the world.
While the case of this piece is wonderfully attractive, having a glorious pale gold colour that one rarely encounters today, it is set off to perfection by the completely original French white dial, very desirably double signed with both the signature of Omega and of William E Tanner of Redhill, the retailer in Surrey, England that supplied the watch when new. Double signed watches by the top level makers like Omega are very rarely found and always attract considerable interest from serious collectors. In order to appreciate why these dials are so collectible, it must be understood that these second signatures were not added by the retailers themselves, but were already in place when their watches were delivered to them by Omega's agents here in the UK. Very few jewellers were considered to have sufficient status to merit their name being officially signed alongside that of the important Swiss houses themselves and today, we would have no hesitation in suggesting that double signed dials are present on less than 1% of surviving vintage wristwatches from this period. We have specialised in the sale of double signed watches for over twenty-five years now, and our stock represents one of the only opportunities today to see a selection of these items gathered together in one place.
It is of the utmost importance that any vintage watch purchased for investment has its dial in almost mint condition, with no significant discolouration or deterioration of any kind. Despite being completely original and unrestored, this dial is probably as near to being perfect as any of us are ever likely to find on a piece of this age. The very attractive sold gold art nouveau styled Arabic numerals are bright and untarnished, these matching perfectly the completely original squared Breguet hands. A poor condition or re-finished dial will devalue a collectible watch by at least 40%, yet this acknowledged fact is hardly ever pointed out to novice buyers, simply because it is rarely in a seller's own financial interests to do so. Over the last eight or ten years, we have seen a glut of second rate or restored elderly watches come onto the market that in the pre-internet era would never have been taken seriously by established enthusiasts.
The pre-internet old school of watch dealers, among which we count ourselves, have always been almost paranoid about dial originality and condition, and we consider it vital that the importance of grading this component be communicated to a new wave of enthusiasts. Too many new buyers are enthusiastically acquiring watches today, often at high prices, that when scrutinised by an expert later, will be pronounced as woefully poor examples. Our watches are always expensive, almost certainly more so than those offered by most other online vendors, but they are exactly as they purport to be, and are the best possible examples of their type. These are genuinely rare and collectible items that, even when judged in the most minute detail by the most experienced critic, will not be found wanting.
While many buyers are blissfully unaware of the importance of dial condition and originality to value, once this has been discussed with them, they are then armed to deal with this matter in the future. In the physical marketplace, typically when viewing watches in a traditional auction sale, it is relatively straightforward to spot those items on which the dials have been freshly restored, particularly if even an inexpensive eyeglass is employed. What is much more difficult for the novice is the identification of any non-original components that may be present within a movement, yet again, the presence of such parts can have a disastrous effect on the worth of any vintage wristwatch, not to mention serious negative ramifications in terms of timekeeping and general reliability. It would be ludicrous to attempt to reduce a complicated subject to a few lines here, but at the most basic common sense level, we always advise buyers to inspect any potential purchase internally under high magnification for inconsistencies of finish. If one looks at a movement like this one, that is known to be entirely original and correct in every respect, it can be seen that its finish, though still bright and free from corrosion, has just dulled slightly uniformly across all its surfaces, exactly as one would expect on an eighty-plus year old watch. Always be on the lookout for glaringly new parts that sit alongside obviously much older counterparts and components that look as if they have been filed or altered to fit in a particular space, to make do when the correct part was not to be sourced. If possible, obtain a good reference book that deals specifically with the brand being considered, and compare any exploded diagrams of the particular movement type ( known in watch circles as the "calibre" ) to the movement in the watch offered for sale.
This movement, Omega's sumptuous calibre 26.5, is completely original, right down to its last internal detail. Nothing whatsoever has been changed since it left the company's factory in Bienne in 1934. To be technically correct, the mechanism here is actually the 26.6 T1, this being the first revision ( 1932) to be made to the famous 26.5 after it was introduced in 1926 to much critical acclaim within the high level Swiss watch industry. So robust and reliable was this unit that it remained in production until 1950, one of its claims to fame being that it was the first Omega movement to be offered with shock protection in 1940. This is a hand wound unit, entirely hand built and laboriously craftsman finished to perfection with a mouth watering set of broad Geneva stripes covering the full upper surface of the movement. The signature "Omega, 15 Jewels, Swiss" is present, together with the serial number 8076637. When buying a vintage watch, always take a few moments to look up the movement serial number and case hallmark and cross reference these to make sure that they relate to the same year, or at the very least to the same general time period. So much swapping of cases and movements has gone on over the last decade that to not perform this safety check would be extremely cavalier. We have already seen that the case hallmark letter indicates Birmingham 1935, and this same year is again revealed when we look up the movement serial number in the reference book "Omega Designs, Feast for the Eyes" by Anton Kreuzer ( page 124).
Having been serviced on a regular basis throughout its life, this movement works perfectly and is in the very best of mechanical health. It is worth noting that the present Omega company take an enormous amount of pride in its vintage watches and has even opened a specialist department to cater for the servicing of fine early examples like this one. The cost of routine maintenance back at the firm's factory is surprisingly reasonable and we wouldn't hesitate to suggest that when this work is required, typically every three to four years, its services could sensibly be used. One of the lovely aspects of high grade pieces of this type is that, properly cared for, they have the potential to run indefinitely in the future. Unlike today's luxury watches, these early models by the important houses were literally designed to be watches for life and items that the purchaser could hand down as heirlooms to younger members of his family when he felt inclined to do so. There is no reason at all why this watch, or any other well cared for vintage piece by Omega, Rolex or any of the other key houses, should not be in full working order a hundred years or more from now, just as many 18th century mechanical pocket watches are today, both in private collections and in museums around the world.
We have fitted the watch with a high quality crocodile skin type strap that is in mint condition, having never been worn. This is not a genuine Omega strap but is almost identical to those shown with the gold cushioned cased watches featured in the firm's British brochure of 1935.
In summary, this is an extremely attractive 1935 gentleman's Omega, in a very heavy solid gold cushion case by the famous British Dennison company. It houses one of Omega's most significant and highly respected movement types from the inter-war years, calibre 26.5 T1, and perhaps best of all, has a much sought after double signed dial that raises its desirability level significantly above others of the same type. Any immaculately preserved vintage Omega watch from the 1930s will automatically be very collectible and we would be of the view that even without its double signed dial, this piece would command a price of over £1000. With this dial variant, we have priced it at £1375, a figure that still represents extremely good value for money when the remarkable condition of its case and hand built movement are taken into account. Early watches by all the important Swiss makers are becoming so thin on the ground now and even five years from now, prizing the best examples like this one from the collectors that own them will be virtually impossible at anything even vaguely approaching a realistic market value.
Price £1375 GB Pounds
Vintage Watch Brands
Vintage Watch Decades
Vintage Ladies Watches
Vintage Watch Bracelets
Swipwreek Straps
Travel Clock/ Pocket Watches
Home
About
Brand Overviews
By Decade
Reference
Contact Details
Telephone from the UK:
07453 734666
or 07428 051005
Telephone from overseas:
+44 7453 734666
or +44 7428 051005