Important Omega Mark VII/1956 MOD upgrade steel 1944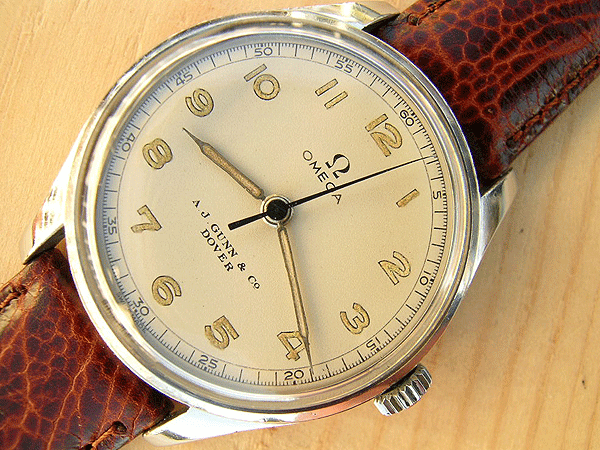 This watch is extremely interesting, not least because, while in every respect it is completely correct and authentic, quite a saga lies behind how it comes to be in its current form. While its movement is clearly that of a 1944 Omega Mark VII pilot's watch, its case is a 1956 Omega screw back military item, and the dial is in a civilian format, even indicating that it was sold when new by a particular British Omega agent.
We have owned this item for some time now, and it always appealed as a brilliant illustrative example of the changes that military Omega watches went through in the years immediately following World War II. For its buyer today, this watch may well be something of a bargain, as its price is significantly less that that of a fully marked RAF equivalent, yet it has a vastly superior case and the much sought after calibre 30 T2 movement.
We have a selection of Mark VII pilots' watches for sale on this site, typically from the mid-War years. These are very evocative and command high prices because of their glamorous association with the world of Spitfire dogfights and night time raids over Germany, but in fact, viewed with less nostalgic eyes, they were built on a tight budget. In order to reduce cost to the British Government, a superb movement, arguably the best of its era, was fitted to a very low grade economy case made of flimsy aluminium, rather than stainless steel. Realising that this housing was less than ideal, in 1956, when financial stability had returned, the RAF returned the Mark VIIs that were still in service to Southern's, Omega's appointed repair shop in the UK, who duly re-cased them in very substantial screw back steel cases. This watch is the text book specimen of a Mark VII that was upgraded with a steel case over a decade after its movement was built. Much more detail on this subject is given in Konran Knirim's superb book "British Military Timepieces" and we would recommend this work to anyone who wants to dig into this matter on a more in depth level.
Again, without wishing to get sidetracked into a discussion that will bore the casual browser, it could be suggested that these 1956 rebuilt Mark VIIs can be regarded by collectors as the Mark IX. Mark VII and Mark VIII used the cheap aluminium cases with snap backs. Mark X, which appeared in 1945, had what was essentially the same heavy steel case, with a screw on back, as here, but had subsidiary, rather than centre seconds. Though not an official designation, it is quite logical to regard these up-rated Mark VIIs as the missing link Mark IX. Or to put it another way, this watch is in essence a Mark X with a centre sweep second hand, as opposed to the "true" Mark X, which always has subsidiary seconds.
We may be wrong, but we suspect that the unusual combination of military and civilian specification in this particular watch came about as a result of it having never been issued. Following on from the cessation of hostilities in 1945 and the ensuing demob of many thousands of our armed forces, a vast amount of redundant military surplus was sold in Government auctions in the late 1950s, and the fact that this watch was so obviously a military item when new, and went through the official re-case procedure in 1956, but has no service engravings or broad arrow symbol, suggests that it was liquidated into civilian hands before ever seeing active duty. In the decades after the War, military equipment was perceived as having very unfashionable overtones, and converting a Government surplus watch with a civilian dial made it far more saleable to the public than it would have been in its original wartime guise. We can't be sure, because the records simply don't exist to give us chapter and verse about every individual piece, but it appears that this watch went from a 1944 aluminium cased Mark VII, through the 1956 MOD ( Ministry of Defence) steel case upgrade process, and was then sold off to a civilian buyer, probably as part of an auctioned batch of several hundred identical units, who then had these fitted with civilian dials to give them a more acceptable look with the general public.
As an aside, it wasn't only in the area of watches that conversions of this kind were made. Military motorcycles were sold at auction in bulk and were repainted in civilian colours by trade buyers before being offered to the general public, and there are numerous other examples of similar disposal of a whole host of commodities. The various motorcycle magazines of the day often contain adverts offering ex-War department machines by BSA, Harley-Davidson and Indian that had been altered to civilian specification and were sold at significantly cheaper levels than their brand new non-military equivalents.
The very large ( the watch has a width of 37mm and a depth of 10mm) screw back stainless steel case here is in superb condition, and is fully signed internally as "Acier Inoxydable ( the French term for stainless steel), Omega Watch Co, Fab. Suisse, Swiss Made", together with the model reference 2384-2. This is the classic 1956 steel pilot's watch case by Omega used on the Mark VII rebuild, but, as mentioned earlier, carries no military markings to its case back.
The dial here is an extremely attractive French white item, fully signed with the famous Omega emblem and with the name of the South coast Omega agent "A.J Gunn & Co, Dover" stated beneath its centre point. It fits the movement perfectly, which is perhaps not remarkable when we consider that this Calibre, the 30 T2, was offered to both the civilian market and to the British Government, and is completely original.
Dial condition is almost perfect, with our only minor criticism being that its overall colour has mellowed slightly from a once bright white to a gentler creamy shade. The radium filled Arabic numerals match the authentic Omega hands perfectly, though these are no longer effectively luminous. The combination of this oversized rugged steel case with a typically 1940s dial layout is an extremely attractive one, and it is tempting to suggest that the overall look of the watch is even more appealing and eye catching than that of its pre-conversion military equivalent.
The winding crown is signed with a large Omega emblem, and again, is a civilian item. While correct for both this movement and this period, this crown type was never used on the company's military watches, these having a plain, unsigned winder. Once again, it is curious to note that every care was taken when converting this piece for civilian sale to ensure that only genuine Omega components were used. One cannot help but wonder if this came about as a result of Gunn & Co, who are documented as an official Omega agent and therefore would have had access to the firm's genuine parts, buying a batch of government surplus pilots' watches and then converting these to civilian format, perhaps offering them as cut-price Omega models alongside their regular stock. We can speculate forever regarding this issue, and we'll almost certainly never uncover the full truth, but it is intriguing that so much care was taken to alter this piece into its current format, retaining its basic components and retaining total Omega authenticity throughout, but skilfully disguising its military past.
The main reason that we would highly recommend this item to a buyer looking for the very finest quality for a relatively low price is the watch's calibre 30 T2 movement. Introduced in 1939 and in production until 1963, Omega's 30mm series of mechanisms are universally regarded as being among the finest hand wound calibres ever made, by any manufacturer. The T2 was the second revision of the 30mm, offered from 1941, and had the added benefit of anti-magnetic protection and shock resistance.
The amount of published material relating to the 30mm series is enormous, with almost every reference book on the subject of vintage wristwatches having some analysis of this famous group of movements. While it is tempting to recount the fascinating history of the 30mm series' development by Henri Kneuss, a brilliantly gifted engineer with no formal training as a watch maker whatsoever, we will refrain from doing so, simply because this detail is given in full as part of the descriptions for several of the other 1940s and '50s vintage Omega watches for sale on this site at the moment and need not be repeated again here. This 1944 watch has the T2 version of the 30mm mechanism, whereas the later 1950s watches have the T3, but in almost every respect, these two movements are identical, and the comments made in relation to the 1950s mechanisms can equally be applied to the wartime unit here.
A well preserved 30 T2 movement is an absolute gem, and has the potential to run almost infinitely if correctly serviced every three or four years. One of the most remarkable aspects of this famous mechanism is that, despite being incredibly accurate, it is also immensely simple and therefore very reliable. While all the 30mm Omega movements in this series have attained something approaching cult status with collectors and are now becoming difficult to find in an unmodified state, it is still worth being critical and waiting for a unit in nearly mint condition. This example gleams brightly like that in a brand new watch, and works perfectly, having been thoroughly serviced on a regular basis since new. The signature "Omega, 16 Jewels, Swiss" is stamped into the bridge plate, with the calibre number 30 T2 stated beside the regulator. Also present is the individual serial number for this movement 10116573, this falling between the two extremes of production for that year of 10000000 and 10330000, and confirming that this item left Omega for the first time in 1944.
A point of note is that even if the serial number had not been present, we could still have identified this movement as being of wartime origin. Since the 1920s, Omega movements have been finished in pink gold plate, which was originally adopted as an effective method of preventing the formation of corrosion. After buying and selling several dozen RAF issue Omegas from the early 1940s over the last three decades, we had always presumed that their very distinctive finish, this being silver coloured rhodium plate, was a special commission from the British Government in order to cut costs at a time of national crisis. However, we recently came across a civilian market Omega from 1944, housed in gold, with the same rhodium finished 30mm movement, which leads us to now believe that this was substituted for gold plating, not due to economic necessity, but on account of there being a shortage of gold bullion for plating in Switzerland at this time. In every other respect, the 30mm Omega movements manufactured in the war years were exactly the same as those made before and after them in peacetime, but it is telling as to just how strained European industry was during this crisis that even the tiny amount of gold required to finish watch movements was significant and deemed to be an unnecessary luxury.
In summary, this is an extremely interesting piece that began life as a classic 1944 Omega pilot's watch before being updated on the orders of the British Government with a new screw back steel case in 1956 and, after disposal, a white, non-military dial, almost certainly by Omega itself in the UK, to make it saleable in a civilian market in the immediate post-war years. No change that has taken place to this watch is in the slightest way non-authentic and the watch remains correct throughout.
Today, in an age when genuine World War II military timepieces are immensely collectible and widely faked, it is unthinkable that anyone would ever convert a watch in this way and arguably, despite its ironically greater rarity, the value of this item will be slightly less than the same model with its original military dial and hands. Conversely though, we shouldn't forget that the heavy steel case and calibre 30 T2 movement remain totally unchanged from military issue, and for this reason, this watch represents remarkably good value for money. A well-preserved Omega Mark VII pilot's watch from 1944 with this 1956 MOD upgrade case would typically have a value of around £900 to £1200 GB pounds. Converted with a civilian dial, this piece is available here for £680 GB pounds, which, given that its only component changes from military, post-1956 upgrade, standard are its dial, winding crown and hands, is food for thought. Either, given that these changed parts are all genuine Omega products, the watch could be left as is as a very interesting illustrative sample of the evolutionary path that many aluminium cased Omega Mark VIIs went through, or alternatively, the correct components could be sourced over a period of time to enable an easy return to 1956 military specification. Whatever its new owner decides to do, this is a superb looking vintage Omega timepiece, in remarkably good condition, with undoubtedly one of the most highly regarded movement models that the Swiss luxury watch industry has ever created. Personally, we think that it is a legitimate and historically important item and that it would be nothing short of a tragedy to reverse the changes made to it and put it back to a military format. We would strongly recommend that its buyer leaves and enjoys the watch exactly as it is today.
Price £680 GB Pounds
Vintage Watch Brands
Vintage Watch Decades
Vintage Ladies Watches
Vintage Watch Bracelets
Swipwreek Straps
Travel Clock/ Pocket Watches
Home
About
Brand Overviews
By Decade
Reference
Contact Details
Telephone from the UK:
07453 734666
or 07428 051005
Telephone from overseas:
+44 7453 734666
or +44 7428 051005