Omega Patented Waterproof steel 1938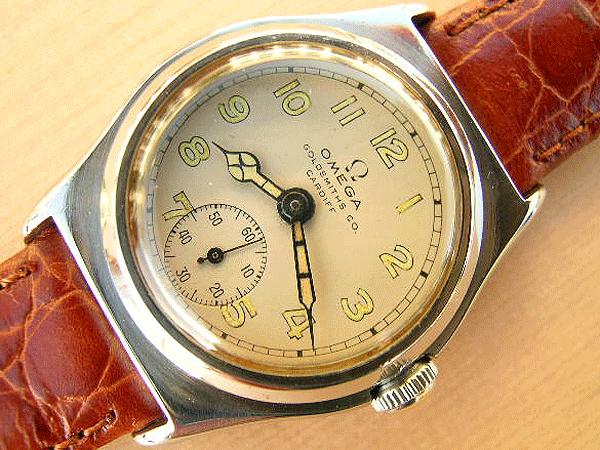 This beautiful gentleman's Omega in a patented waterproof case, manufactured a year before the outbreak of World War II, is a historically significant model that will prove difficult for vintage Omega aficionados to resist.
Omega had always liked the idea of having a strong presence in the waterproof watch market, but was greatly limited in its ambitions by the patents taken out by Rolex in 1925 on the latter's Oyster model, this being the world's first genuinely sealed wristwatch. Without departing too far from the subject of this particular piece, it should be appreciated that the Rolex Oyster design worked on account of two significant features, these being a screw in, rather than press fit, case back and a threaded winding crown that was locked down into place on a correspondingly threaded tube that protruded from the case side. For Rolex's competitors, Omega being the most important of these, the screw down case back wasn't too much of a problem, this having been in existence before Rolex patented the Oyster, but the fact that a threaded winding crown couldn't legally be used created enormous difficulties. In the inter-war years, a whole host of innovative waterproof watches was launched, but with the exception of the Rolex Oyster, these were all largely ineffective simply because none included a successful solution to the problem of sealing a winding crown without the use of screw threads. Today, these watches are extremely collectible, and as heroic failures that are so representative of their era, are utterly charming things to own.
The condition of this particular watch is almost mint. Its tonneau shaped stainless steel case is virtually unmarked, with only the very slightest imperfections that must be expected on even the most carefully worn piece of this age. It should be remembered that when new, these early waterproof watches were bought by individuals who needed this feature, and most of them were exposed to fairly tough conditions. To find a patented waterproof model that has clearly led a very cosseted life is unusual, making those few that do fit into this category immediately sought after by collectors.
Notice how this case shape is virtually identical to that of the Rolex Oyster Viceroy of the same era. The Viceroy was introduced in 1933 and its influence on this design is obvious. One of the most interesting aspects of the serious study of vintage wristwatches is to observe how none of the major Swiss houses acted in isolation, and how, in fact, they used each other's work for inspiration. Without doubt, Omega was among the most innovative of all the important brands in the inter-war years, but here clearly decided that it would try to ride on the back of the success that Rolex was having with the Viceroy.
While cosmetically this model and the Viceroy are very similar, in construction they are entirely different. Both share a threaded screw back, but the Viceroy employs a three part case with a bezel and back that wind onto a tubular collar that passes through the centre of the case. The Omega dispensed of the collar and instead, the bezel and back are attached directly to the case body. It is rather ironic that this arrangement was the one eventually adopted by Rolex, and all current model Oysters are manufactured to this design concept.
Internally, the case back is signed "Acier Staybrite ( a patented stainless steel blend developed in the 1920s by British steel mill Brown Firth), Omega, Fab Suisse, Swiss Made" and covered with an engine turned pearled pattern. Externally, there is the wording "Waterproof, Modele Depose ( the French for "Patented Design") and a large Omega emblem. Very interestingly, there is the serial number 9753988, which is worthy of comment on account of standard Omega cases from this period not being individually numbered. Curiously, and it is not quite obvious why, the other patented waterproof Omega case types from the 1930s were also assigned serial numbers, and both the famous rectangular Marine Standard and Marine Deluxe models are stamped in this way.
The case back on this watch is machined out of a solid block of stainless steel, rather than pressed from a thin sheet. I think that it is probably the thickest case back we have ever encountered, by any maker, and would suggest that it was deliberately made this way in order to better withstand water pressure. We are so impressed and intrigued by this that it was impossible to resist taking a set of Vernier callipers to the back to confirm the exact details. This has a thickness if 1.34mm, nearly twice that of the 0.73mm case backs on standard, non-waterproof Omega production of the same time.
While the cases on vintage watches intended for sub-aqua use are often pretty battered, as a consequence of being effectively sealed from the ingress of damp and dirt, their dials are usually in fairly good order. This one is the perfect example to point, and remains in very tidy condition, despite it now being over seventy years old. Most importantly, it has never been restored and is totally original and untouched since it was new. The overall dial colour has mellowed very slightly from a once bright white into a now rather creamier shade, but this ageing is uniform and exceedingly attractive, giving the watch an elegant old world appearance, rather like that of a patinated leather travelling trunk or faded collectible book.
The signature "Omega" is stated in black above the dial centre point. The original skeleton hands are still in place and their blued steel surfaces are not in the least bit corroded. The luminous infill to both the hands and large Arabic dial numerals has deteriorated and is no longer effective, but this is due to the unavoidable deterioration of its radium ingredient rather than any past ill treatment. The fact that, at this age, the hands and dial still have their original luminous paint is remarkable in itself, and no experienced collector would ever criticise a watch on the basis of this being somewhat decayed.
Wisely, Omega chose one of its most dependable movements, calibre 23.4, for this model. Introduced in 1936, two years before this particular watch was built, the 23.4 was the successor to the 23.7 of the World War I era. It was a manually wound mechanism, offered initially in fifteen jewel format as here, before later acquiring an extra two jewels for its second revision in 1941. Serious vintage Omega collectors will be aware of another variation of this movement designated calibre 23.4 SC, the suffix standing for "seconde au centre", and referring to the presence of a centrally pivoted sweep second hand rather than the subsidiary seconds dial here. This was the first ever Omega movement to be offered with centre seconds and was marketed as "calibre medicus" on account of it being ideal for a doctor timing a patient's heartbeat over a sixty second period. If we actually consider the real difference between the 23.4 and its SC sister, the subsidiary second version represents astonishingly good value. In technical terms, the two movements are almost identical and are built to the same superb standard, with the high prices charged for examples of the 23.4 SC coming from its associated glamour as an early doctor's watch mechanism rather than because of any definable mechanical or design superiority. This watch is priced at less than a thousand pounds, but if it was from the same year and had the centre seconds version of the 23.4, it would have a value of at least £1800 GB pounds and potentially quite a bit more. While the medical background of the SC is undeniably appealing, given a straight choice between two otherwise identical watches with the two 23.4 movement types, we would opt for the subsidiary seconds version and put the difference towards another purchase. A premium of over £500 for the luxury of a centre seconds hand on the same movement calibre doesn't represent good value, or, if viewed another way, it could be suggested that if the sum charged for the 23.4 SC is a reasonable one, the 23.4 with subsidiary seconds is something of an grossly undervalued bargain.
In every respect, this movement is almost as new. It has no changed parts whatsoever and is totally original. There is no corrosion or even dulling to the plates or gears and everything here looks as it did in 1938. The signature "Omega, Swiss, 15 Jewels" is stated on the bridge plate, together with the serial number 8967058. Falling between the two extremes of production for that year of 8800000 and 9000000, this clearly identifies the unit as being of 1938 origin. Quite correctly, there is no calibre number stated anywhere on this movement, these not being present on Omega mechanisms manufactured before August 1949 when the company completely restructured its system of calibre identification.
Having been serviced regularly since new, this movement works perfectly. It sets, winds and runs faultlessly and with excellent amplitude. Properly looked after and sent for routine cleaning and lubrication every three or four years, there is no reason whatsoever why this mechanism will not be in full working order long after its next owner has left this mortal coil. Unlike today's mass produced watches, these items were manufactured when new on the basis that they were a possession for life, and were intended to function almost indefinitely in the future.
The price for this watch is £980 GB pounds, which is not at all unreasonable. The other two early patented waterproof Omega models from the same era, the Marine Standard and Deluxe, change hands for over £2000 and £5000 respectively, and there is no obvious reason why this quirky variant should lag behind. A steel Omega Seamaster from the 1950s in genuinely all original, near mint condition will sell for between £600 and £800 GB pounds, but is a far more common watch that this earlier pre-War model. A steel Rolex Viceroy, probably the closest direct competitor to this watch by another manufacturer, will certainly be worth, at the very least, over £2300 with an original dial and wear-free case, but it doesn't offer any discernable advantage over the Omega and is probably slightly easier to find. This is a good example of a watch that is genuinely rare, of a unique design that makes it appealing to the collector, yet is still very affordable and almost guaranteed to rise steadily in value in the future. Well preserved examples from the inter-war period by any of the major Swiss houses are drying up very rapidly now, and in ten years time, the buyer of this piece will be amazed at just how inexpensive, in retrospect, it was.
Price £900 GB Pounds
Vintage Watch Brands
Vintage Watch Decades
Vintage Ladies Watches
Vintage Watch Bracelets
Swipwreek Straps
Travel Clock/ Pocket Watches
Home
About
Brand Overviews
By Decade
Reference
Contact Details
Telephone from the UK:
07453 734666
or 07428 051005
Telephone from overseas:
+44 7453 734666
or +44 7428 051005