Omega gold cushion with deco dial 1937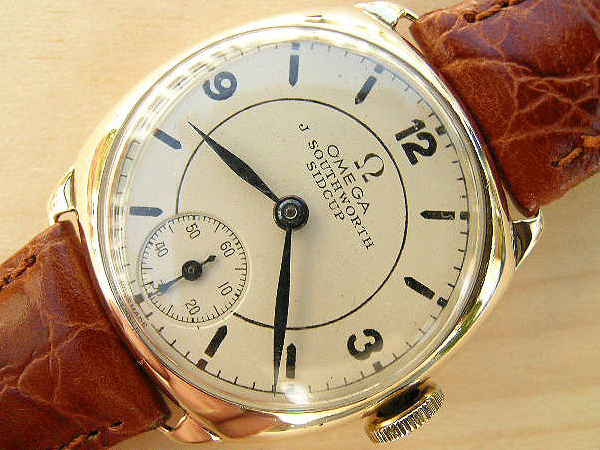 Of all the vintage Omega watches for sale on this site, certainly this gentleman's 1937 gold example in a cushion case must be among the most attractive. Genuinely immaculate, all original pre-war vintage Omega pieces are getting much harder to find now than they were even a decade ago. We were delighted to purchase this one and certainly believe that anyone looking for a completely authentic classic Omega from the late 1930s would find this a difficult watch to improve upon.
Condition of this item is almost perfect throughout and we would guess that it has seen very little wear. When we look carefully at a lot of the gold cases from this period that are now in circulation, we can see evidence of past repair work, the tell tale sign of this being areas of inconsistent colour where new gold has been soldered in to patch up those places in which the original case had worn thin. This case is totally untouched and has never been anywhere near the repairer's soldering iron.
The construction of this case is interesting and actually something of a throw back to an earlier era. While it contains a full set of 9 karat Birmingham hallmarks for 1937, if we hadn't seen these, we would have guessed that this item was manufactured in the late 1920s. This case still has fixed lugs that are integral to the body of the watch, rather than the removable spring bars that would appear in the early 1930s. Notice how these have a recognisable style to them and are no longer simply circular section wire as they were on the officers' watches of World War I, but even so, they are more unusual on a watch produced after 1935. The case back is also hinged to the case front, which is another feature that was fading at this point. It was simply easier and cheaper to produce cases that snapped together without the need to solder a delicate hinge and certainly by World War II, hinged cases were a thing of the past. From a purely aesthetic perspective, we love to see hinged cases and find examples like this one where the hinge is clearly visible even when the watch is being worn very appealing.
The colour of the gold used here is extremely attractive. It would be going too far to describe it as being pink gold, but certainly it has a rosy glow that is much warmer than the harsh brassy yellow gold used in today's high street jewellery.
Internally, the case back is signed "Dennison, Made In England" together with a full set of British 9 karat gold hallmarks for 1937 and the letters "A.L.D". Dennison, founded by the American Aaron Lufkin Dennison in Birmingham in 1901, was unquestionably the greatest of the British case making companies. The quality of its cases was outstanding and these were used by Rolex, IWC, Longines and, of course, Omega for their UK market gold watches. Originally, this relationship between Dennison and the famous Swiss brands began in 1916 after the British government imposed a ban on the import of gold into the UK at a time of national crisis. Deprived of their most lucrative market, the major Swiss houses rather craftily dealt with the matter by shipping uncased movements to their British agents who then fitted these with domestically manufactured gold cases, these, of course, not being effected by the legislation. As the finest of the British case makers, Dennison was the natural first choice as the suitable manufacturer of these housings. Rather ironically, what began as a crisis measure worked so well that all these makers continued to use Dennison cases right up until the closure of the latter business in 1969. The case here is a superb example of Dennison's work from the golden inter-war period.
Also inside the case back is the model reference 12701 and the individual serial number of this case 624556. Notice how the last three digits of this serial number, 556, are repeated on the inside of the case front. This confirms to us that case front and back started life together when new. While this item is guaranteed to be totally original and correct, many of the vintage watches now in circulation are not and it is always worth checking these small details before making a purchase.
In the vintage watch world, dials are of paramount importance. When you buy an expensive vintage watch, what you're paying for, or at least what you should be paying for, is largely the condition and originality of its dial. A case can be polished and a movement that is not working can often be made to run again with enough time and care, but a badly deteriorated dial can never be restored without extreme detriment to the value of the watch to which it is fitted. In order to have survived in a near mint state, a dial must have been kept well away from damp, dust and all other hostile environmental factors, which is no small feat on a watch now approaching eighty years old. As a percentage of the total number of the vintage watches for sale from this era, very few have genuinely first rate dials that can withstand close scrutiny under an eyeglass. Hence a premium is paid for those dials that fall into this bracket.
This dial is totally original and almost perfectly preserved. Rather like the pages of an antiquarian book, its overall colour has mellowed very slightly into a touch creamier shade than it was in 1937, but other than for this very minor point, the dial is flawless. The layout here is very attractive, being heavily influenced by art deco and evocative of its era of production. For those with a little imagination, it isn't hard to imagine some dapper gentleman wearing a suit and trilby wearing this watch in the 1930s as he strolled down the Strand pondering whether there really would be war in Europe after all. Flights of fancy aside, this is one of those dials that is clearly representative of a certain period and not in the least bit generic or non-descript. Dial layout plays an important role in defining the value of a vintage wristwatch and certainly, this particular format is one of the nicest 1930s Omega variants that we have encountered.
"Omega" is stated above the dial centre point. Beneath this is the name of J. Southworth, Sidcup, the British retailer that supplied this watch when new. Dials of this kind, with dual signatures, are both rare and very attractive. The retailers' names were not added by the outlets themselves but were already in place when the arrived at their places of sale. This practice of bespoke printing dials for specific customers was clearly inconvenient for the Swiss houses and understandably, was gradually phased out until it disappeared altogether in the 1970s. Knowing where a watch was sold new gives a piece a sense of provenance and many of us can relate to why collectors pay a premium to acquire watches with double signed dials. The presence of a retailer's name from some exotic British Imperial outpost will boost the value of a watch dramatically, but even a good solid traditional UK jeweller's name, like the one here, will add considerably to the market worth of a watch as it would have been with a singly signed dial.
All three hands are entirely original. These are in blued steel and are in excellent condition. If we look at a lot of the hands from this era under high magnification, many are slightly corroded, but these are perfect and not even in the least bit dulled.
The movements in these early vintage Omega watches are almost works of art, and this one is an absolute gem. This is an Omega calibre 26.5 unit and is a really typical example of the company's mechanisms from the inter-war years. The 26.5 was introduced in 1926 and proved to be so exceptional, both in terms of accuracy and reliability, that it remained in continuous production until 1950. While the basic 12.5 ligne ( the ligne is the unit used as standard in the Swiss watch industry to measure movement diameter), manually wound format of the 26.5 remained unchanged throughout this duration, it was updated on six occasions to bring it inline with developments made within the industry as a whole. This example is the 26.5 T2 revision, this being the second update, launched in 1934 and identifiable because it doesn't have the shock absorption system that would be the hallmark of the T3 version that appeared six years later in 1940.
The condition of this movement is almost mint and it would be impossible to ever find better. The rhodium finish to the plates is free from any corrosion and the whole unit gleams brightly. "Omega" is stated on the bridge, together with "15 jewels, Swiss". Also present is the serial number 8512794. Vintage Omega serial numbers from the late 1930s are notoriously difficult to pinpoint exactly, but we do know for sure that that 8000000 mark was reached in 1934 and that a decade later in 1944, the 10000000 had been crossed. Presuming that production remained loosely linear during this time, this would suggest that this movement was manufactured in late 1936, which ties in perfectly with the 1937 hallmark letter inside the English made case. There is no question whatsoever that this movement is the original one that was fitted inside this case when the watch was new.
Having been serviced regularly, this watch works perfectly. It sets, winds and runs very smoothly and is in superb mechanical order. It isn't in the slightest bit worn and if future owners continue to have it cleaned and lubricated every three or four years, it will last almost forever. One of the reasons for these watches still being in running order now is that they were so incredibly well made in the first instance. High grade vintage watches by Omega, Rolex, Jaeger LeCoultre and the rest will still be giving sterling service decades after today's luxury watches have been consigned to the dustbin and if a good example like this one is acquired and looked after, it can easily fulfil the role of an heirloom item to be passed from one generation to the next.
The price of this watch is £1275 GB pounds. For a pre-war vintage Omega in a solid gold cushion shaped case with a double signed dial, in an immaculate state, this certainly isn't expensive. While the quality of this watch is in every way equivalent to that of Rolex models from the same era, the price of these vintage Omega examples lags behind, which makes them extremely good value at the time of writing. This is a gorgeous, really first rate vintage watch will always give an awful lot of pleasure to its owner while at the same time never failing to appreciate in value in the future. It is difficult to imagine anyone not being highly delighted when this item arrives with them and it's an ideal watch looking for a representative specimen of a pre-war vintage Omega as a serious investment.
Price £1275 GB Pounds
Price £1275 GB Pounds
Vintage Watch Brands
Vintage Watch Decades
Vintage Ladies Watches
Vintage Watch Bracelets
Swipwreek Straps
Travel Clock/ Pocket Watches
Home
About
Brand Overviews
By Decade
Reference
Contact Details
Telephone from the UK:
07453 734666
or 07428 051005
Telephone from overseas:
+44 7453 734666
or +44 7428 051005