Omega silver semi-hermetic moistureproof 1921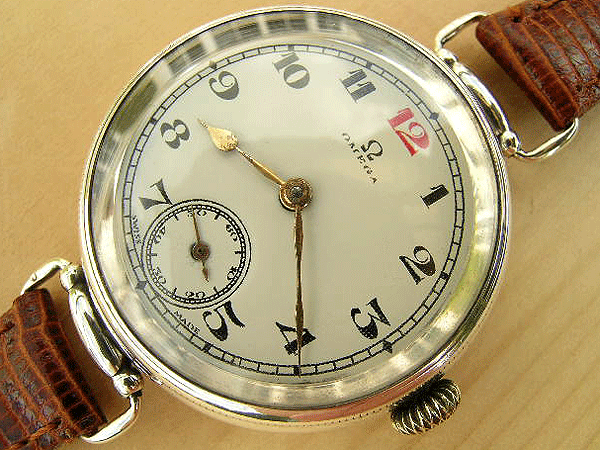 For many collectors, this website has become a source of obscure pieces that they would find very difficult to locate elsewhere. We have gone out of our way to offer some really exceptional vintage watches for sale that, in some instances, haven't appeared on the Christie's, Sotheby's and Bonhams auction circuit since the late 1980s. While the prices here are unquestionably high, they reflect the fact that all the items are legitimate, totally undoctored examples that represent the very best of their type.
This 1921 very large sized vintage Omega officer's wristwatch in a moisture proof case is the classic example of a model that one just isn't going to see again in a hurry. This is the perfect piece for the serious Omega aficionado who is looking for any early wristwatch by the company, but wants one with a subtle twist that raises it above other survivors from the same period.
To give a brief background to this item, it should be mentioned that widespread public acceptance of the wristwatch came after its adoption by officers serving in the trenches of World War I. In the years following the conflict, the Swiss industry was preoccupied, almost to an obsessive extent, with the creation of the world's first waterproof wristwatch, knowing that to create this would be an enormous selling point. Every major brand, Longines, Omega, IWC, Zenith etc all released their own sealed models with varying degrees of success until the challenge was finally met with the Rolex Oyster of 1926, a design that was so effective in resisting the ingress of water that it would enable Rolex to dominate this field for the following half century.
The type of case construction seen here defines this watch as a "semi-hermetic". Omega was not the only brand to offer this form, though the large size and beautiful hinged lugs on this particular piece make it the most appealing example of its type that we have personally encountered. On a semi-hermetic, there is no case back, the case body being a deep bowl-like one piece pressing. This immediate eliminated the joint between case back and body that had always been a vulnerable area to leakage. To access the movement for servicing, a milled bezel was unscrewed from the front of the case and, in due course, the movement, held captive on a hinge connected to the inner wall of the case body, could be pivoted forward.
Looking at its strengths and weaknesses, the semi-hermetic was a design built around sound engineering principles and should be regarded as an important stepping stone on the way to genuine waterproofing. Its Achilles heel, in common with almost all of these early patented moisture proof case types, was its winding stem, which relied on nothing more than a tight fit between stem and case wall to keep out water. When new, this arrangement was probably reasonably effective, but even the smallest amount of wear play between case and stem would have disastrous consequences and enable water to creep into the movement. Today, no serious collector would ever dream of taking a rare and valuable antique watch like this one anywhere near moisture. These patented moisture proof designs from the early 1920s are charming in the extreme, but should be regarded as museum pieces for investment rather than as watches that are fit for their originally intended purpose.
The condition of this particular example is almost perfect. Its heavy solid silver case is free from dents and has only the lightest of almost invisible imperfections. Internally, it is signed "Omega" in the company's early circular motif, together with the individual serial number 6773052. Also here are a full set of Swiss hallmarks ( standing bear), these informing us that this housing was assayed as solid sterling silver before leaving its country of origin.
This is a very large item, with a width of 37mm. Even now, its size makes it an eye catching watch, but in 1921 when new, at a time when people were far smaller than they are today, it must have seemed enormous. However, it must be stated clearly that this is not a converted pocket watch and has been a wristwatch, in its present form, since it was first sold. Particularly on online auction sites, pocket watches converted into giant wristwatches with the addition of wire lugs are common, but these should be avoided by anyone looking to make a serious purchase as an investment.
At no time has this case ever been repaired. Its articulated lugs move freely, as does the hinge to which the movement retaining collar is connected. The bezel screws on and off smoothly and without any sideways wear play at all.
As we would expect to find on a watch of this age, this is an enamel dial. What makes it so remarkable is that, despite its age, it remains completely free of hairline cracks and other damage. While the hard glazed surface of enamel dials resists staining extremely well, it does have the downside of being brittle, and will fracture easily if subjected to shock or rough handling. It is very unusual indeed to find a piece from this era that has its original enamel dial in a near perfect state, yet this dial is completely authentic and unrestored, and impossible to fault in anyway.
The style of this dial is in keeping with the age of the watch. Large Arabic numerals in black fit inside a double minute track, with a prominent red number twelve at the top. The signature "Omega" is stated in the correct italic type face, with "Swiss Made" appearing either side of the seconds register. The gilt spade hands are totally original, as is the matching second hand. Similarly, the large diameter winding crown, in a very distinctive ribbed "mushroom" pattern, has never been changed and is entirely correct for this model.
Very appealingly today, in a climate in which large wristwatches are very fashionable, the movement in this piece is Omega's hand wound 13 SB. The thirteen referring to its width in lignes ( the ligne is the unit of movement diameter used as standard in the Swiss watch industry), this was the largest movement used by Omega for wristwatch production at this time. Introduced in 1901, the "S" in its model designation stands for "savonette", this being the correct term for a movement on which the winding stem comes out alongside the three o'clock position. On the alternative, the lepine, the winding crown appears at the top of the dial, this being perfect for pocket watches. Very few original wristwatches were ever made with lepine movements, and when we see a wristwatch on which the seconds register is at the 9 o'clock position rather than at the bottom of the dial, we are immediately suspicious of this being a lepine equipped pocket watch that has been converted to wristwatch specification.
The "B" refers to the quality of this movement. The 13 ligne calibres were available in five different quality grades, these being assigned the letters A, B, Bs, C and Cs. The construction and architecture of all these movements was identical, with the differences being in standard of finish, number of jewels and the extent to which each was regulated for accuracy. A was the most basic, with a compliment of 7 jewels and fairly plain finishing, while Cs was a sixteen jewel unit that had been timed laboriously in a variety of positions before being offered for sale. The B grade here was the one sold originally in the largest quantity on account of it offering the appealing combination of a relatively high specification for a still reasonably affordable price. It came with 15 jewels, was very attractively finished in frosted gilt and guaranteed to keep time to within one minute per day, which, in a far less frenetic age than the current one, was perfectly acceptable for practical use.
The condition of this movement, in common with the rest of the watch, is almost mint. Despite it being over ninety years old, its gilt finish isn't in the least bit dulled and in every respect, this unit is in first class health, setting and running extremely smoothly. None of its components have been changed and there is no evidence that anything other than routine servicing work has been performed. The signature "Omega" is stated on the bridge plate in that delightful, almost oriental style, script that the company used at this time. Also here is "Swiss Made" and the individual serial number for this mechanism, 5763102. Falling between the two extremes of production for that year of 5625000 and 5750000, this dates the watch unequivocally to 1921.
A footnote of academic interest should be added that this movement has its calibre number, 13 SB, stamped next to the regulator. It is the generally held view that Omega only added calibre numbers on its movements manufactured after August 1949. Finding this reference on an Omega mechanism that is as early as this one is fascinating, as it confirms that, contrary to the normally accepted belief, the company actually signed some of its movements in this way in the immediate post-World War I period before abandoning this approach prior to adopting it again in 1948.
An identical watch to this one is shown in the Omega catalogue reprints of 1926 in the excellent book "Omega Designs, A Feast for the Eyes" by Anton Kreuzer on page 147, the original caption stating the piece as being with "Screw bezel and swing ring", this latter term obviously describing the hinged collar in which the movement in contained. It is also interesting to note that in this catalogue, a double picture is used exclusively for this watch, a first image showing the piece fully assembled and ready for use and a second letting us see the watch with its bezel unscrewed and movement pivoted out for inspection. Remarkably, we can read in this same catalogue that in silver, this watch was offered new at no less that 4 pounds 17 shillings, a vast sum at the time, particularly in a period of lingering post-war austerity.
Antiquorum's impressive themed sale Omegamania, held on the 14th and 15th April 2007 at the Mandarin Oriental Hotel du Rhone, Geneva, included a semi-hermetic as Lot 88. This had the same large 13 ligne movement as the watch here and an enamel dial, but its case had simple fixed wire lugs and was less desirable that this example. Its movement serial number was 5271257, making it just slightly earlier than the 5763102 unit for sale.
The price for this watch is £1875 GB pounds. For the collector, it represents an opportunity to acquire one of the rarest versions of early vintage Omega wristwatch in a lovely large size that is hardly ever found. The semi-hermetic is an extremely significant design, and any group of watches that aims to chart the evolution of the waterproof timepiece would be glaringly incomplete without one of these in it. While not the cheapest on offer, this example is still priced at considerably less than it would sell for if included in a specialist horological auction and is probably the best preserved semi-hermetic that any of us are now likely to encounter at a time when genuinely untouched, all original pieces are drying up in the marketplace very quickly.
Price £1875 GB Pounds
Vintage Watch Brands
Vintage Watch Decades
Vintage Ladies Watches
Vintage Watch Bracelets
Swipwreek Straps
Travel Clock/ Pocket Watches
Home
About
Brand Overviews
By Decade
Reference
Contact Details
Telephone from the UK:
07453 734666
or 07428 051005
Telephone from overseas:
+44 7453 734666
or +44 7428 051005