Omega Medicus doctor's watch steel 1938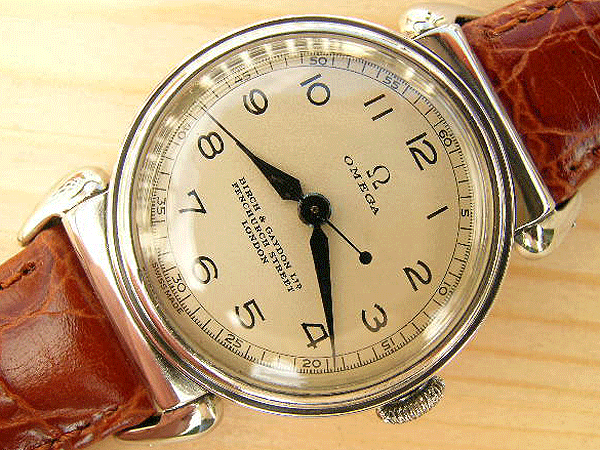 This 1938 gentleman's vintage Omega "doctor's watch" offers an opportunity for the serious Omega collector acquire a piece that would be almost unobtainable elsewhere. It is extremely significant in the context of the development of the Omega marque, containing the first movement calibre produced by the company with centrally pivoted seconds rather than a subsidiary seconds counter at the bottom of the dial.
Collectors have long been of the opinion that the Omega company was responsible for some of the finest vintage wristwatches of the early 20th century and the prices that its formative output realise at auction are often extremely high, especially in recent years after the Omegamania thematic sale held by Antiquorum in April 2007. The reason for this interest in Omega among connoisseurs of high horology stems dually from the brilliant aesthetics of some of these pre-war vintage Omega models and from the company's very public unstinting pursuit of mechanical accuracy. The ingenuity of the designers that created the early Omega calibres was remarkable and their unstinting effort to squeeze the last percentage of accuracy out their beautifully finished movements from this era is awe inspiring. In the 1920s and '30s, Omega set numerous accuracy records at Swiss Observatories and was widely established as the watch of choice for aviators, sportsmen and those who required a timepiece primarily as a precision tool, rather than as a decorative accoutrement.
It will be noted that, at the start of my description, we referred to this item as being historically significant for Omega. This status comes from the watch having a large centre seconds hand, rather than the small subsidiary seconds dial that was almost universal at this time. When this piece was produced, the wristwatch as a genre was still very much in its infancy, and most examples at this time still featured a subsidiary seconds dial at the six o'clock dial position. The majority of the important Swiss horological houses introduced a centre seconds model to their ranges between 1932 and 1935, but subsidiary seconds dials still remained the norm for most of their production until the immediately post-war period of the late 1940s. Omega were relatively late in launching a centre seconds movement, creating the 23.4 SC in 1935 before releasing it commercially in 1936, two years before this particular watch was manufactured. The 23.4 was also offered in traditional subsidiary seconds format, the "SC" of the variant here standing for "Seconde au Centre". In production until 1954, the 23.4 SC was unquestionably one of the very finest mechanisms that Omega ever produced. It is worth noting that in 1943, a 23.4 established a new record for accuracy ( 12.7 points) in the 10.5 ligne class ( the ligne is the unit of measurement used in the Swiss watch industry to define movement width) at Neuchatel Observatory, proudly tested by Gottlob Ith, the talented Omega engineer who designed the 23.4 series in the first instance. Indeed, the rate results of the 23.4 were so exceptional that this record stood for eight years, until its performance was eventually bettered in 1951.
The classic pocket watch style from which the early wristwatches took their inspiration has a small subsidiary seconds dial in the 6 o'clock position and it is extremely rare to find a wristwatch by any manufacturer produced before 1935 that has a centrally pivoted second hand. When such an arrangement was offered by one of the luxury houses, it was invariably listed in their catalogues as being eminently suitable for the medical profession. This classification stems from the practicality of the large second hand for timing a patient's heart rate over a period of sixty seconds. A small subsidiary seconds dial, particularly when working in poor lighting conditions, was difficult to consult, but the centre second hand arrangement was perfect for measuring short intervals at a glance. Affluent doctors and surgeons were wisely perceived as a particularly appealing target market by the top-tier watch making houses, not only on account of the revenue that could be obtained from them directly as a result of their purchases, but also because of the added prestige that would be reflected on their brands by association with such respected pillars of the community. It is very telling to note that in Omega's own factory museum in Bienne, there is an example of an identical 23.4 SC movement on permanent display, with the wording in French "23.4 SC Medico" stated on the accompanying descriptive caption.
It hardly needs to be said, in view of the enormous pride we have in the vintage watches for sale on our site, that this beautiful watch is entirely unmolested and as it left the Omega factory in 1938. Early Omega watches were extremely expensive when new, and this is reflected in their high value as collectible items in today's vintage watch marketplace. Every aspect of this particular watch oozes quality, from the superbly crafted art deco styled case, through to the strikingly attractive double signed dial. The large case ( the watch has a width of a hair under 30mm) is fully signed internally as "Acier Staybrite ( this being the French term for stainless steel), Omega, Fab. Suisse, Swiss Made", together with the serial number 9182565. With its huge stylised lugs, this case is instantly recognisable and undoubtedly one of the most flamboyant housings to have been offered by Omega in the inter-war period. The 23.4 SC movement was actually used in a variety of different cases, and only recently, we sold another example, in a gold cushion shaped case, also from 1938. This sold for just over £2000 GB pounds, though I would expect the far more elaborate appearance of this watch to command a price in excess of this figure.
The evocatively shaped watchcase is in almost perfect condition, with only the very faintest of imperfections that would be expected on any watch of this age and can only really be seen with clarity when viewed through a jeweller's eyeglass.
The original white, fully signed "Omega" dial is a delight and so evocative of the inter-war period, with classic applied Arabic numerals. The dial is in superb condition, with just the very slightest, almost imperceptible, mellowing of its originally bright white surface into a very attractive, marginally creamier shade. A beautiful touch is the presence of a double signature, the retailer's name "Birch & Gaydon Ltd, Fenchurch St, London" being present below that of the manufacturing house. Double signed dials are both rare and valuable, largely because the prestigious houses would only add the name of their longest established and most highly regarded buyers. Birch and Gaydon crop up time and time again on watch dials from this period, and the firm was very much a primary adopted of the wristwatch concept in the World War I era, holding agencies for almost all the top-tier Swiss brands. The presence of this retailer's name here adds a value premium to what otherwise would still have been regarded as an extremely desirable watch.
The blued steel stylised hands are entirely original and in almost mint condition. Such minor details are particularly important on watches of this age because of the near impossibility of tracking down the correct vintage parts for these models now, and a watch with incorrect hands and other changed components will be greatly devalued in the collectible marketplace. This watch is entirely original throughout, and is well worth paying a significant premium to obtain on the basis that it can withstand expert scrutiny at any level, and will be a much stronger appreciating asset in the future that a badly worn example with some changed components.
The entirely original, Omega calibre 23.4 SC movement is in gleaming, superb condition, having been fully serviced throughout its life. The 23.4 SC is notably significant, not only because of its beautiful design and almost perfect finish quality, but also on account of it being the first ever Omega movement to feature centre seconds. We have attempted to photograph this piece as closely as possible in order to show off its full glory, but even so, the successful bidder will hardly be prepared for the delights that will meet him when first examining this hand wound mechanical marvel for the first time with a jeweller's eye glass.
The bridge plate is fully signed "Omega, 15 jewels, Swiss", together with the serial number 8572581, this indicating its 1938 origin and tying in perfectly with the 1938 serial number inside the case back . The watch works perfectly, running and setting extremely smoothly. One would expect a movement of this age to have some corrosion, or at least discolouration, but the unit in this watch is free of any such imperfections and is as clean and showing as little finish wear as any that we have ever seen, making it the perfect choice for the collector wishing to acquire only highest grade examples of rare, important movement types.
This watch has been fitted with a very high quality crocodile skin type strap that is perfectly in keeping with its elegant, yet masculine style. As stated earlier, these watches were aimed specifically at wealthy medical professionals who often ordered accompanying straps in exotic hides, rather than the standard calfskin models, and the very figured texture of the strap here is perfectly in keeping with this spirit. This strap is in almost mint condition and has never been worn.
This rare, very important piece, containing the first ever Omega movement type to have been offered with "medical" centre seconds, is a fine example from one of the most collectible of all the Swiss luxury makers. It hardly needs to be said that this is a valuable vintage watch and perhaps one that, on account of its scarcity, is better suited to being part of a serious classic Omega collection than worn on an everyday basis.
It is so difficult to give even an indication of the worth of this item, because very early calibre 23.4 SC equipped centre seconds vintage Omega watches don't often crop up for sale on the open market. After some thought, the price has been set at £2350 GB pounds, which doesn't seem excessive for such an unusual watch in this near mint condition.
Even in the reference book "Omega Designs, Feast for the Eyes" by Anton Kreuzer, a work that features many spectacular early watches by this famous house, there is no centre seconds example that is anything remotely like as early as this one, though mention of the 23.4 SC movement is made on page 155, with a note that it was the first Omega calibre to feature centre seconds, and was for use as a "doctor's watch". Omega's own factory publication in the French language "Omega Saga" by Marco Richon includes a reproduction of a German 1937 advert for a 23.4 SC with stylised lugs on page 241, describing this as the "Medicus" watch. Whoever purchases this watch will be the proud new owner of a very sought after, important item which, provided they look after it and keep it in the same pristine state that it exists in today, will only ever rise in value.
Price £2350 GB Pounds
Vintage Watch Brands
Vintage Watch Decades
Vintage Ladies Watches
Vintage Watch Bracelets
Swipwreek Straps
Travel Clock/ Pocket Watches
Home
About
Brand Overviews
By Decade
Reference
Contact Details
Telephone from the UK:
07453 734666
or 07428 051005
Telephone from overseas:
+44 7453 734666
or +44 7428 051005