Omega 14k gold with chocolate dial 1943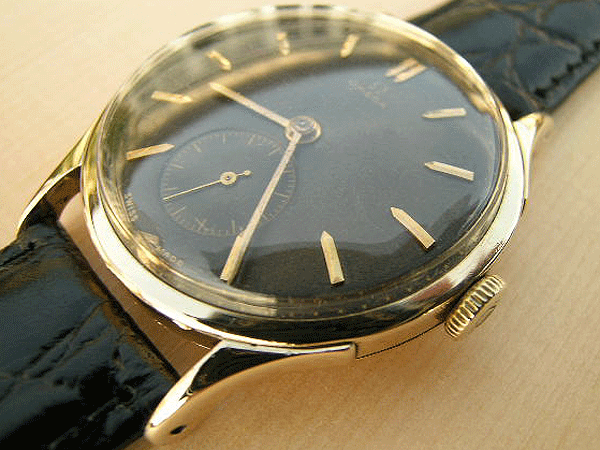 Dating from 1943, this gentleman's vintage Omega watch in 14 karat gold is a very unusual item for several reasons that would commend it as the perfect investment purchase. We have often said that when buying with a view to an increase in value in the future, it is wise to choose models that are in someway different from the majority. These might have an unusual dial, case or movement, but some kind of genuinely rare feature will always add to their desirability in the eyes of the collector. This watch is exceptional because the dial, case and movement are all interesting and worthy of comment. We have never seen this same model before and would guess that very few were manufactured with this strange specification in the first instance.
When we encounter a watch in 14 karat gold, we tend to assume, quite reasonably, that this was sold when new in the USA. While 9 and 18 karat gold are the purity standards traditionally used in the UK and Europe, 10 and 14 karat grades are the norm in America. In the 1940s and '50s, the American government was very keen to protect the domestic watch manufacturing industry and introduced punitive rates of taxation on gold watches imported from Switzerland. The Swiss houses dodged this duty by shipping only uncased movements, which were not subject to the tax due on complete watches, to their American agents who, in turn, then fitted them into locally produced cases. Today, when we find a 14 karat gold vintage watch, close examination of its case will almost always reveal that it was manufactured in the USA for intended retail sale there.
This case is fascinating because, despite being in 14 karat gold, it was manufactured in Switzerland for sale in Europe. To suggest that 14 karat cases on European market watches are unheard of would be nonsense, but equally, in the course of over twenty five years in the vintage wristwatch business, we have only owned maybe a dozen or so examples in total.
This case is nothing short of beautiful. The stylised lugs are decorative and so representative of the 1940s. Omega would use this case style as the inspiration for the housings used on its first generation Constellation models of 1952 and few would argue that it wasn't among the most attractive that the house has offered. It is also worth commenting on the weight of this case. Particularly during the war years when raw materials could be challenging to obtain, some manufacturers were inclined to reduce the wall thickness of their gold cases. This one is extremely robust and every bit as substantial as a typical gold Omega case from before the outbreak of the conflict.
Internally, the snap on case back is entirely covered by an engine turned pearled pattern. The signature "Omega, Fab Suisse, Swiss Made" is stamped, together with the individual serial number for this case 10468599. Also here is a full set of Swiss hallmarks (squirrel), these telling us that this case was assayed as solid 14 karat gold.
We confess to having something of an obsession for coded case maker's marks. If one looks closely enough, these can be found in virtually every precious metal Swiss case, but they are typically overlooked, we suspect because decoding them requires effort and access to obscure reference material. Physical auction houses Christie's, Sotheby's and Bonhams do not include the origin of cases in the descriptions found in their catalogues, yet these are so important to the purist collector. None of the major Swiss brands manufactured its own gold cases in-house, and these were always purchased from third party suppliers who specialised in this area.
This particular case was created by Antoine Gerlach of James-Fazy 20, 1200 Geneve, which is extremely interesting in this context. Antoine Gerlach is well documented as having been primarily a case maker to Patek-Philippe during the company's gold age of the 1940s and '50s. Gerlach was the manufacturer of the cases for Patek-Philippe's famous Calatrava model during this era, which suddenly explains why, when we pulled this watch out of our safe earlier today in order to describe it, the universal first reaction here was to comment on just how similar to a Calatrava it looked. Both the case style and the dial, with very distinctive double arrowhead markers at 12 o'clock, are so reminiscent of Patek-Phillipe's work. We don't think it would be going too far to suggest that this model is effectively "Omega's Calatrava", but whatever one's opinion on this similarity, there can be no doubt whatsoever than the quality of this case is, literally, second to none. For those with access to a comprehensive horological library, it is worth mentioning that close up colour photographs of vintage Patek-Philippe cases clearly showing exactly the same Antoine Gerlach maker's marks as those here can be found on pages 236 and 289 on the catalogue accompanying Antiquorum's 19th November 2000 Geneva sale "100 Years of Wristwatches". The reference numbers for the Patek-Philippe models shown are 2597 ( 18 karat gold classic Calatrava) and 3448 ( 18 karat gold automatic with perpetual calendar and moonphase).
Originally, this watch was sold with a black dial. It still has the same dial today, but its colour has uniformly changed into a now very dark chocolate shade. This is extremely attractive and, for reasons that we have never properly understood, much sought after by Omega collectors. When we first started purchasing vintage wristwatches in the late 1980s, we were always led to believe that the nearer a dial was to being perfect, new old stock, then the more desirable it was. In other words, any kind of change in the dial due to ageing, whether it was deemed attractive or not, reduced the value of a piece from its near perfect ideal. Over the last decade, we've seen a new concept introduced, that of a dial that has aged in a certain way having increased value over one that hasn't aged at all. A good example of this would be Rolex's Explorer II, reference 16550, from the mid-1980s, which, though it was sold with a stark white dial, is now much sought after because of the way in which its dial took on a creamy, ivory shade over the years. Similarly, in the April 2007 thematic sale Omegamania, by Antiquorum, Lot 210 was titled "so-called chocolate dial" with the catalogue telling us "the dial on this watch is known as a "Chocolate Dial" due to the even change of colour from black to chocolate brown". Maybe, we're a little out of touch, but to us, the closer something is to perfect, the better and we find this idea of paying a premium for aged dials rather illogical. Then again, for decades now, the colour of the waxed patina on antique furniture has been of vital importance when defining worth. However, we will concede that this rich deep brown colour is certainly more attractive than its black equivalent, and, viewed in a contemporary context, also more commercially valuable.
The condition of this dial is very good indeed. Most importantly, it has not been restored and is totally original. It isn't mint and if one looks closely enough with an eyeglass, there probably are the usual tiny few imperfections here and there. But in the real world, it would probably be impossible to find better at any price. "Omega" is stated above the dial together with the company's emblem, and "Swiss Made" runs around the bottom edge.
It is worth a quick note to comment that the photographs included with this listing really don't do this dial justice. For whatever reason, the curvature of the crystal makes it very difficult to get a clear shot of the dial itself and the result is a picture with too many reflections and the false impression that the Omega wording is hard to see. Certainly, this dial and its wording has faded with the passing of almost seventy years, but when viewed in the flesh, the dial signature is perfectly clear.
All three hands are totally original and in almost perfect condition. Their gilt surfaces match those of the batons around the dial. Similarly, the winding crown is completely correct for this model and is signed with a large Omega emblem on its outer face. All these details must be correct in order for a watch to have its maximum value. Trying to return a non-standard watch to original by sourcing components is an horrendously time consuming and often very expensive process. Our own experiences over the years have shown us that it is ironically usually cheaper overall to buy a totally original, well preserved watch from the outset.
There are exceptions, but it is generally reasonable to expect that a circular watch will contain a circular movement. When we first inspected this piece before we bought it, we immediately assumed that it would be fitted with one of Omega's famed 30mm movements, these being the flagship circular mechanisms by the company during the war years.
In fact, the movement here is calibre 17.8, a corner cut rectangular unit that we would expect to find in watches with similarly shaped cases. In order to use it in a circular model, Omega has packed out the space around this movement with a purpose built brass washer. We have to ask ourselves why the company used a rectangular movement in a circular watch, especially at a time when it was manufacturing a superb circular calibre that would have been ideal for this model. None of us will ever know for sure, but our guess is that there was simply a surplus quantity of 17.8 movements in stock at the factory that it made sense to use up. In the 1920s and '30s, rectangular models had been very fashionable, but as the 1940s wore on, there would be an increased shift to favour circular watches. The 17.8 was a superb movement in its own right and, packed out in this way, the average customer would never be aware that the circular watch in the jeweller's window actually contained a movement that was rectangular and had never been designed for use in a round case.
The hand wound 17.8 made its debut in 1940 and was offered in three forms. These were, respectively, with 15 and 17 jewels and with centre seconds as opposed to the subsidiary seconds here. The 15 jewel version was discontinued in 1943, making the movement in this watch one of the last to have been produced. The design of the 17.8 was so successful from the outset that it survived in production until the mid 1960s without anything more than minor cosmetic enhancements.
In every respect, the movement in this watch is almost mint, yet it is totally original and unmodified. The rhodium plating to the bridges is bright and gleams like that in a new watch and all the mirror polished screw heads are free from chewing. The bridge is signed "Omega, Swiss, 15 Jewels" together with the individual serial number 9789748. Falling between the extremes of production for that year of 9600000 and 9800000, this clearly dates the watch as having been manufactured in late 1943. Incidentally, notice that there is no calibre number present on this movement. Omega completely revised its movement classification system in August 1948, after which time, the reassigned calibre numbers would always be shown on every movement produced. The 17.8 was allocated the new calibre numbers 300 ( 17 jewels with subsidiary seconds) and 310 ( 17 jewels with centre seconds) . Any Omega movement carrying these calibre numbers, or indeed any calibre numbers at all for that matter, has to have been manufactured after August 1948 and any Omega movement without a calibre number stamping before it.
Having been serviced regularly, this movement works perfectly. Provided it is cleaned and lubricated every three of four years without exception, its quality and current condition are such that it will last almost forever. This is no reason at all why a high grade luxury watch like this one shouldn't be running a hundred years from now, just as many Victorian pocket watches are today. Omega actually still offers servicing to its vintage output via a dedicated department and certainly, this is meticulously carried out. Having said this, there is nothing terribly complex about a movement like this one and there is nothing here that an experienced local watchmaker shouldn't be able to deal with perfectly well.
We have fitted this watch with a high quality crocodile skin type strap and this remains in mint condition. This is not a genuine Omega strap, but it suits the vintage character of the piece perfectly and certainly does not need to be changed.
The price of this item is £775 GB pounds. We could easily spend considerably in excess of this amount for a more conventional vintage gold Omega watch from the same period with a circular movement. With its beautiful Antoine Gerlach case, chocolate dial and rectangular movement, this model is far more unusual and certainly likely to be a much stronger investment. Twenty years ago, quirky models like this one were already difficult to source, but now they don't appear with any predictable regularity whatsoever. Certainly, curiosities like this are the things that excite even the most experienced collectors and it is difficult to imagine any market situation that would prevent this delightful watch from steadily appreciating in value in the future.
Price £775 GB Pounds
Vintage Watch Brands
Vintage Watch Decades
Vintage Ladies Watches
Vintage Watch Bracelets
Swipwreek Straps
Travel Clock/ Pocket Watches
Home
About
Brand Overviews
By Decade
Reference
Contact Details
Telephone from the UK:
07453 734666
or 07428 051005
Telephone from overseas:
+44 7453 734666
or +44 7428 051005