Longines steel with stepped art deco lugs 1943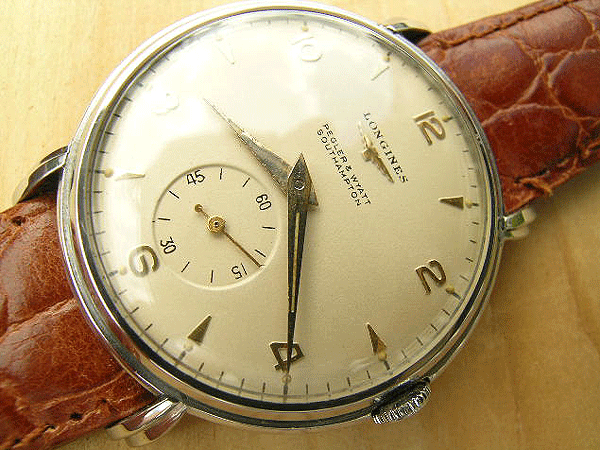 From 1943, this rare gentleman's stylised steel Longines is a lovely item that would fit into any serious collection focussing on the work of this famous St. Imier house. Sold originally in England, it has the most eye catching art deco stepped lugs and is not a model which is found on a regular basis. Vintage Longines watches are something of a passion of ours and if you read the overviews of each brand that we have written for this site, you'll see that we consider them to be the best value classic timepieces to be found anywhere in the marketplace at the present time. In every respect, this watch is equal in quality to any Rolex, Omega and Jaeger LeCoultre model from the same era. Yet unlike the watches by its venerated competitors, this piece can be purchased for a very modest amount of money.
The large circular stainless steel case is almost mint, with only the very slightest imperfections to its surface that can only really be seen with the aid of a jeweller's eyeglass. The case construction is interesting, with the case body and oversized lugs not being cast as a single unit, but as several components, the lugs having been soldered very neatly into correspondingly milled grooves. Most importantly, this case is entirely original and has never been repaired in the past.
Internally, the snap on case back is covered with a highly decorative engine turned pearled pattern. It is remarkable that all the top tier Swiss watch houses decorated the inside of their cases when we stop to think that under normal circumstances, no customer would ever have reason to remove case backs. To go to such lengths today would never be economically viable and aspects like this remind us of just how exceptional these vintage watches really were and, indeed, still are.
"Acier Inox", an abbreviation of the French term for stainless steel, is stamped into the case back interior. Also here is the winged hourglass Longines emblem and the signature "E.F Co, Longines" and the model reference 22807 5. The "E.F" in this context refers to Ernest Francillon, the second owner of the company that would become known as Longines in the mid-1860s. This reference to Francillon is a nice touch and one that we find frequently in vintage Longines watches from the 1920s and '30s, but not so often in models produced after World War II.
Dials on these early vintage watches are everything to the purist collector. There is a huge disparity between the value of a piece with a near mint, original dial and that of the exact same model with a restored dial or even an original dial in dirty, stained condition. As a percentage of the antique wristwatches that survive from the 1930s and '40s, very few have original dials in excellent order, which explains the premium paid for them when they do appear for sale.
This dial is almost perfect and guaranteed to be completely original. Short of stumbling on a new old stock watch that has never been sold, it would be impossible to find a better preserved 1940s dial than the one here. The overall dial colour is just a fraction creamier than it would have been in 1943, in rather the same way that the pages on antiquarian books slightly yellow with age, but other than this, it's faultless. It seems a fair assumption that this watch has spent large chunks of its life in darkness, away from the damaging effects of bright sunlight.
"Longines" is stated in black above the dial centre point, over the winged hourglass emblem. Notice that at this stage, quite correctly, the hourglass is applied rather than printed. A rare feature is the presence of a second dial signature, which is the name of the British retailer that supplied this watch when new. Double signed dials of this kind are not often seen, largely because the major Swiss houses only customised dials in this way for a small percentage of their total clients. The value enhancement of a double signed dial is linked to the nature of the retailer's name, with huge sums being paid for watches carrying the signatures of exotic sounding jewellers in pre-war Shanghai or Bombay. At a less flamboyant level, any second name will add significant worth to a watch as it would have been with a conventional dial.
All three hands are original, as is the winding crown. The hands are in gilt to match the applied Arabic numerals and arrow head markers around the dial outer. Longines today, much to its credit, takes a very active role in helping with the preservation of its vintage models but even so, finding spare parts like hands and crowns for these older pieces is often very challenging. It is invariably better to pay a little more in the first instance and buy a watch that is totally original and correct, like the one here, rather than cut corners and opt for something second rate and then begin the laborious challenge of trying to hunt down the components to restore it back to its former glory.
The movement in this watch is an immaculately preserved example of the hand wound Longines calibre 23.M. Introduced in 1939, this was a revised version of calibre 23 which, in turn, was derived from the calibre 10.68Z movement that had made its debut in 1932. The 23 had been a superb movement, but Longines engineers realised that they could reduce its diameter by 1mm without affecting its remarkable performance characteristics. Additionally, the winding mechanism of the 23.M was hidden from the damaging effects of perspiration, which was particularly important as Longines sought to take advantage of the lucrative market for luxury watches in hot and humid former British colonial countries.
The use of a 23.M here is unusual, as this very respected movement is typically found in gold cased watches. To suggest that its use in a steel watch is some incredible rarity would be misleading, but it's out of the norm enough to merit brief comment. To put the matter into perspective, we have probably bought and sold fifty vintage Longines watches in gold with 23.M movements over the last decade, but this is only the second or third we've seen with a steel case.
The quality of this movement is incredibly high and when compared side to side with a Rolex Hunter from the same era, it puts the Rolex unit to shame. The finish on the bevelled plates is nothing short of perfection and everything about this item stands as an example of just how refined these vintage Longines movements from the 1940s were. If you examine the photographs here in detail, you'll see that each of the jewels in the bridges is surrounded by a brass sleeve that was screwed into a correspondingly threaded hole. Screwed chatons, as they are correctly known, are a wonderful deluxe touch that is only seen on the very highest quality movements, the majority of mechanisms both then and now, including almost all those by Rolex and Omega, having jewels that are simply held in place by friction. The movements in vintage Longines watches from this period are, literally, as good as it gets and a collector could pay far more to end up with an awful lot less.
This movement is in almost mint condition. "Longines" is signed on the bridge, together with the individual serial number 6735589. Falling between the two extremes of vintage Longines production for that year of 6600000 and 6800000, this clearly identifies this unit as having been manufactured in 1943.
As a result of regular servicing, this movement works perfectly. It runs very sweetly and provided it is cleaned and lubricated every three or four years in the future, it has the potential to still be in full working order a century or more from now, just as many antique pocket watches from the 1700s and 1800s still are today. While executed to a quality standard that would never be economically viable today, the movements in a lot of these high level vintage wristwatches by makers like Longines and Rolex were actually very simple and ideally placed to go on almost forever if treated with care.
When this watch came to us, it was fitted with a strap that had become hard and brittle with age. We have replaced it with a high quality crocodile skin type strap that suits its upmarket, obviously vintage appearance perfectly. Having not been worn in the past, this strap is in mint condition.
The price of this watch is £865 GB pounds. The sheer value for money it represents is quite remarkable. The quality in the case and movement is equivalent to anything created by any of the top tier makers, yet the asking price is very modest. In steel, with the same art deco stepped lugs, a Rolex from this era would change hands for between £3000 and £3500 GB pounds, yet be in no way superior to this vintage Longines model. At the current time, classic Longines pieces from the company's golden era are without doubt the most undervalued items in the entire vintage watch marketplace and it not an exaggeration to describe models like this one as genuine bargains. To be able to buy a watch of this quality for less than a thousand pounds is nothing short of ridiculous. If the market picks up and Longines gets the attention from investors that it deserves, we'll see its best work soar in value in the future. This is a first rate, rare and very attractive, vintage watch for a sum that would only just buy the most basic models in the Longines or Omega ranges, with mass produced battery powered movements, in the high street today. It cannot be recommended too highly.
Price £865 GB Pounds
Vintage Watch Brands
Vintage Watch Decades
Vintage Ladies Watches
Vintage Watch Bracelets
Swipwreek Straps
Travel Clock/ Pocket Watches
Home
About
Brand Overviews
By Decade
Reference
Contact Details
Telephone from the UK:
07453 734666
or 07428 051005
Telephone from overseas:
+44 7453 734666
or +44 7428 051005