Longines steel with Southampton dial 1952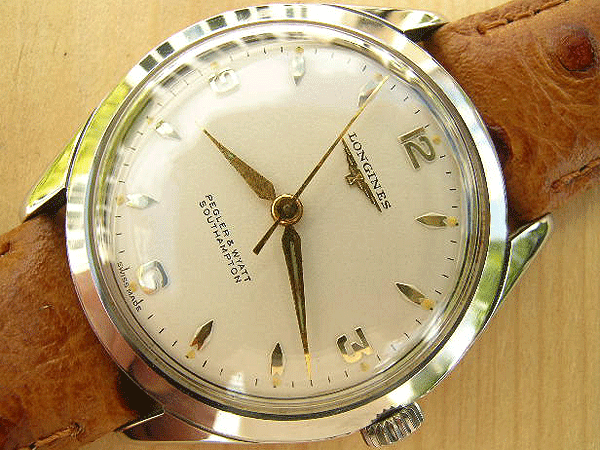 In a very interesting conversation that we had with one of our oldest customers recently, we were asked for our advice as to what was currently the most undervalued high level vintage watch brand and therefore, the manufacturer whose classic pieces represented the greatest potential for future capital enhancement. Unanimously, our immediate response was Longines. We have long maintained that Longines watches manufactured in the 1950s and '60s are among the highest quality products that were offered by any watch manufacture during this golden era of mechanical watch production. The movements created by the firm during this golden era are the equal of those by Rolex, Omega, Patek-Philippe and Jaeger LeCoultre, yet for reasons that nobody ever seems to be capable of explaining, vintage Longines watches routinely change hands for a lot less than those by the company's competitors. In the same way that the Antiquorum sale of April 2007 "Omegamania" brought vintage Omega watches to the attention of many buyers who had previously been fixated by Rolex, a well publicised thematic sale of classic Longines models would see these watches double or triple in value overnight. The general buyer has no idea of how utterly exceptional pre-1970 vintage Longines watches are and this situation cannot continue indefinitely.
While many of its rivals stunned the world with elaborate jewelled cases, the Longines company often produced very high grade, stainless steel and gold units and waxed lyrical in their advertising campaigns about the plethora of accuracy medals that the company was constantly being awarded at this time. Indeed, in the period from 1955 to 1958, the Longines company was awarded more chronometer certificates than any other Swiss watch making house.
This beautiful 1952 stainless steel gentleman's model is a text book example of just how much top quality vintage Longines watch can be bought for a very modest amount of money. It is in almost new condition throughout and with the exception of the very faintest, almost invisible imperfections to the case that have simply come from normal careful handling, it appears to have had only the very lightest of use. The threaded case back is fully signed externally as "Longines, Waterproof, Antimagnetic, Shockresist ( sic), Swiss Made" and internally as "Longines, Fab. Suisse, Swiss Made" together with the model reference 6403 3 184.
The attractive French white dial is entirely original and in almost mint condition, with just the very slightest yellowing of its surface .The dial has a scarce mixture of applied Arabic numerals and art deco gold arrowhead batons, rather than being printed in the usual way. The name of the British Longines agent that supplied the piece when new, "Pegler & Wyatt, Southampton" is printed alongside the Longines brand name, below the dial centre point. Very few dials were factory signed by Longines' British distributor Baume & Co, and those that were are printed with the names of the firm's most important clients. A double-signed dial is very much a rarity and the presence of a second signature is generally agreed to add around 30% to the value of any collectible timepiece. Certainly from our own experience as professional vintage watch dealers over two decades, we would always advise that it is worth paying a premium to acquire watches that are in someway different from others of the same type and age, and the presence of a second dial signature is a good example of a feature that adds desirability and, consequently, investment potential.
The watch, which is manually wound , has an all mechanical movement which is finished to a superb standard and is an entirely hand assembled item, built completely in-house by Longines with no out sourced components whatsoever. The 12 ligne calibre 23ZS movement, introduced in 1948 and widely regarded as one of the most reliable and impressively finished of all vintage Longines hand wound mechanisms, is fully signed "Longines, 17 jewels". The serial number here, 8683933, falls between the two extremes of vintage Longines production for that year of 8666666 and 9000000, indicating that this movement was manufactured in early 1952.
When studying this unit with a jeweller's eyeglass, one sees that the amount of hand craftsmanship that went into its creation is little short of breathtaking. The bridge plates were polished to perfection by hand and every jewel present has been fitted into its own brass chaton, this then being screwed down into place in the plates. This is a very unusual refinement that screams of high quality, the majority of movements having only simply press fit jewels, and one that marks this particular calibre out as a real work of art. Quite simply, it would be almost impossible to buy a watch of this superlative quality new today, without spending several thousand pounds. Most importantly of all, this movement is in nearly perfect condition and gleams like that in a brand new watch. It is entirely original throughout and has no changed or non-standard parts whatsoever, or evidence of any past repair work. The watch has been recently serviced and runs very smoothly, with excellent amplitude.
The watch is on a tan ostrich skin type strap that perfectly complements the gleaming stainless steel case. This is not a genuine Longines strap, but is perfectly in keeping with the look of the watch and certainly need not be changed.
In summary, this watch is a near mint example of the Longines company's superb vintage output . In terms of the sheer quality of its engineering and movement finish, this is a piece that would be almost impossible to improve upon and represents the high point of one of the most important Swiss houses. This is definitely an investment grade watch, but at the same time is one that can be enjoyed today as an eminently wearable item whilst its owner can relax, safe in the knowledge that the watch is a strongly appreciating asset and consequently a fine investment. We have priced this piece at £725 GB pounds, a sum that makes it seem like a remarkable bargain when we consider that unremarkable watches, carrying the names of numerous fashion brands, with little or no investment potential, are purchased for similar sums on every Saturday afternoon in high street jewellers up and down the UK. Bought sensibly, a well cared for vintage timepiece by a quality manufacturer is literally a watch for life. Returned for servicing every three years to Longines in Switzerland, this delightful watch will continue to run faultlessly for an almost unlimited period, a fact that we, like many collectors, find very appealing. In many ways, the vintage luxury watch is the thinking man's choice, and it is difficult to bring to mind any collectible timepiece that offers the level of appeal, for literally just a few hundred pounds, that is offered by the immaculate Longines offered here.
Price £725 GB Pounds
Vintage Watch Brands
Vintage Watch Decades
Vintage Ladies Watches
Vintage Watch Bracelets
Swipwreek Straps
Travel Clock/ Pocket Watches
Home
About
Brand Overviews
By Decade
Reference
Contact Details
Telephone from the UK:
07453 734666
or 07428 051005
Telephone from overseas:
+44 7453 734666
or +44 7428 051005