Longines gold ladies cushion boxed 1937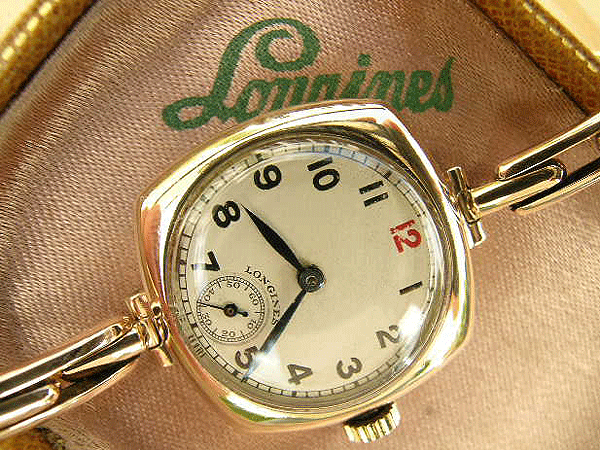 In our view, this 1937 gold Longines, complete even with its original box and matching gold bracelet, is perhaps the perfect vintage ladies' watch. It comes from the period between the two world wars when companies like Longines still produced their own movements entirely in-house with a great deal of hand work.
Given its remarkably high quality, the irony is that this watch is not at all expensive. Judged on a side by side basis, it was built to higher standards than its equivalents by both Rolex and Omega, yet today it is less costly. For some time in our business, we have been of the opinion that early Longines watches offer the very best value for money to be found anywhere in the vintage market and this piece is the perfect example with which to illustrate this point. It is nothing short of exceptional, yet can be purchased for less than many mass produced battery powered fashion watches for sale new in every high street jeweller in the UK.
In order to understand just why these classic Longines watches are so outstanding, we must be aware of the market position that Longines occupied in the inter-war period. There is a convincing argument that in the 1920s and '30s, Longines was regarded as the most prestigious wristwatch maker in the world. When this item was new in 1937, it would have been more expensive than similar models by Rolex and Omega, and to the general public at large, it was a more desirable piece. Longines currently still makes very fine watches, but it has been relegated by the decision makers at the Swatch Group, which owns both Longines and Omega, to a less prominent role than it deserves. If we quizzed random passers by today, the majority would be more drawn to the thought of owning a watch by Rolex than one by Longines, but in the 1930s, the opposite would have been true. Vintage Longines watches are such remarkable bargains at the moment simply because the brand is not at the forefront of contemporary buyers' minds and no longer has the high profile of Rolex, IWC or Jaeger LeCoultre. The truth of the matter is that Longines has almost been forgotten, which is a terrible shame given the excellence of its past output and its glorious history.
This watch is in almost mint condition. Its heavy solid gold case is virtually unmarked and it seems likely that this piece was only ever used for special occasions. This style of case, in a cushion shape, was very much in vogue from the mid-1920s right through to the late 1930s. It is not often seen post-war and this example would have been among the last of its type to have been made in any significant quantity.
Internally, the case back is stamped "Made in England, A.L.D" and carries the individual serial number 40637. The three initials here are those of Aaron Lufkin Dennison, an American by birth who founded his eponymous Dennison Watch Case Company in Birmingham. Certainly by even the World War I period, Dennison was universally regarded as the foremost case making concern in England. Its relationship with Longines, Rolex, Omega and almost all the other top tier brands began after the British government banned the import of gold into the UK in 1916 as part of a crack down on unnecessary luxury spending at a time of national emergency. These firms could not import their highest value watches to the strong British market so instead, they shipped only uncased movements to their British agents who in turn, cased these in domestically manufactured housings. By taking this approach, the great Swiss movement makers could continue to offer gold watches to the UK market. It is no small irony that the use of Dennison cases proved so successful that they continued to be supplied on UK models by the famous brands long after the import restrictions on gold had been lifted, with many watches from the 1960s still signed internally with the company's name.
Also here are a full set of British hallmarks, these telling us that this case was assayed as solid 9 karat gold in Birmingham 1937. These hallmarks are crisp and very clear, which is something we always look for when buying vintage precious metal items for our stock.
As a final comment about this case, notice how the last three digits of the serial number are repeated on the back of the case body. The attention to detail that went into creating Dennison cases from this period is quite remarkable. To the modern day collector, this repetition is very useful as it confirms that case back and body were originally together when new.
However long any of us look, we won't find a better dial than the one here. As we would expect on a watch manufactured in the late 1930s, this is a painted, rather than enamelled, component. Painted dials have the great advantage that they don't develop hairline cracks, but the considerable drawback that they tend to discolour after decades of exposure to sunlight, dust and damp.
At a lower level of the market, where vintage watches are purchased whimsically as accessories to be worn, dial condition really isn't so important. If a dial is a little shabby on a watch of low commercial worth, then nobody is going to become too disturbed. In our business, we specialise in the sourcing and sale of very high grade watches that are purchased primarily as serious investments. In this area of the market, dials have to be first rate throughout.
The French white dial surface is almost pristine, with no foxing or dust marking at all. The signature "Longines, Swiss Made" is clear and not at all faded. It must be stated emphatically that despite its superb condition, this is an original dial that has never been restored. Finding original, near perfect dials on 1930s watches is rather like opening up a barn to reveal a motor car from the same period that still has its untouched original paintwork. Of the total number of any given model of vintage wristwatch that survive, very few with have their original dials in this state, which explains why collectors will pay so much when these elusive pieces appear for sale.
All three hands are original and in blued steel. Their condition is excellent, with no corrosion spots anywhere to their finish. An attractive touch is the presence of a subsidiary seconds register. The vast majority of the ladies' watches from the inter-war period were without second hands and this adds aesthetic appeal as well as the benefit of being able to see instantly that the movement is running.
The movement inside this watch is nothing less than a horological work of art. This is Longines calibre 9.40, a hand wound mechanism launched in 1926. Interestingly, despite being a completely new creation, the 9.40 still followed the classic Longines production model that had been used since 1902, with a very distinctive long curved central bridge. The Swiss watch industry had broken production records in 1925, but it was noticeable that many firms were compromising quality in order to meet demand that in reality they did not have the infra-structure to satisfy. Much to its credit, Longines never took this route and maintained the excellence on which its reputation had been founded.
The 9.40 was an advanced unit intended for a high spending market. New collectors are surprised to hear that it shares every one of its components with another Longines movement, the 10.40, also released in 1926. The only difference between the two is an extra ligne in the diameter ( the ligne is the unit of movement width measurement traditionally used in the Swiss watch industry) of the latter and otherwise, these units are identical. The running speed of the 9.40 was 18000 half beats per hour, which at the time, long before the fast beat era of the 1960s, was considered a rapid pace.
Everything about this movement screams high quality. Vintage Longines movements from this period are exquisite pieces of micro-mechanical engineering and when compared side by side with those by Rolex, they are very clearly superior in every respect. They look quite different, with the Longines finished in frosted gilt, rather like an early Zenith or IWC movement, and the Rolex in silver coloured rhodium, but it is only on very close inspection that the Longines pulls away dramatically from its competitor.
The centre wheel is jewelled, which in itself is a good indication of high grade. However, unlike movements by Rolex and Omega, this Longines unit has this jewel held in a screwed brass sleeve, correctly known as a chaton. On almost all wristwatch movements, even those by the most celebrated makers, the jewels are pressed directly into place in holes drilled in the bridges and held there by friction. More exotic movements, like the one here, have chatons around the jewels that are threaded into the plates. This is a very elegant refinement that is not often seen, and one that, as a collector, is well worth paying for.
The bridge is signed "16 Jewels, Swiss Made, Longines". The calibre number 9.40 is stamped alongside the regulator. Also present is the individual serial number 5490990. Falling between the two extremes of vintage Longines production for that year of 5410000 and 5500000, this clearly identifies this unit as having been manufactured right at the tail end of 1936. Notice how this ties in perfectly with the 1937 hallmark letter inside the case back, which was stamped after this movement had been shipped to the UK and then fitted into a Dennison case. In our business, we always look for consistency across every aspect of a watch. Here, everything knits together exactly as it always would in an ideal world.
Having been serviced regularly, this movement sets, winds and runs very smoothly and with excellent amplitude. Watches of this age by brands like Longines and Rolex were designed to last a lifetime, but in fact, provided they are sent for routine cleaning and lubrication every three or four years, their potential for longevity is almost endless. There is no valid reason at all why a movement of this grade should not be providing sterling service two hundred years from now, just as many antique pocket watches from the Georgian era still are today.
Unusually, the watch is still fitted with its original solid gold bracelet. This is in almost mint condition, with a full amount of tension between its links. The lovely warm colour of the gold here exactly matches that of the watch case. It would be an exaggeration to describe this as red gold, but certainly it contains a far higher copper content than today's high street gold, which typically has a far colder, brassier shade.
The icing on the cake is the beautiful 1937 tan coloured Longines box that is still with the watch today. This is one of the most charming vintage watch boxes that we have seen for some time, in rectangular form with cut corners. "Longines" is signed both inside the lid and on the outer top in the wonderful script typeface that was used by the company in the inter-war years. In itself, this box is very collectible. In this excellent condition, it would sell very quickly for £200 GB pounds if we offered it as a separate item.
If we lift up the section of the box on which the watch rests, we can see the applied label of Watches of Switzerland, the dealer that supplied this piece when new. Still a very prestigious central London retailer today, back in 1937 the firm still traded with this new name alongside that of its original incarnation, G & M Lane & Co of New Bond Street. It is interesting how the list of brands that the company stocked are listed in what appears to be descending order of prestige. In order, these are Patek-Philippe, Vacheron, Longines, LeCoultre, Omega, Universal and Rolex. Then, as now, these brands produced the finest wristwatches in the world.
The price of this watch is £875 GB pounds. We cannot stress too firmly what good value this item represents at this price level. It knocks Rolex and Omega models from the same period into the proverbial cocked hat in terms of the quality of its movement, yet one could spend a similar sum on a brand new piece of nonsense by one of the trivial fashion brands in any city centre jeweller's shop and have something that would be completely valueless only three or four years later. There can be very few more appealing purchases than this on our website and we should not forget that a gold ladies' Rolex of similar age would cost more than double this amount. This is a gorgeous, exquisitely finished item that is almost ludicrously undervalued in the market at the present time. All that is needed is a well publicised thematic sale devoted exclusively to vintage Longines watches and we will experience a meteoric rise in the worth of items like this one, just as we saw the values of classic Omega models shoot up overnight in the wake of the landmark 2007 "Omegamania" sale held by Antiquorum in Geneva. Good, untouched Longines items are nothing short of bargains at the moment, but it is seems inconceivable that this obvious imbalance can continue for a great deal longer.
Price £875 GB Pounds
Vintage Watch Brands
Vintage Watch Decades
Vintage Ladies Watches
Vintage Watch Bracelets
Swipwreek Straps
Travel Clock/ Pocket Watches
Home
About
Brand Overviews
By Decade
Reference
Contact Details
Telephone from the UK:
07453 734666
or 07428 051005
Telephone from overseas:
+44 7453 734666
or +44 7428 051005