Longines 14 karat gold black honeycomb 1952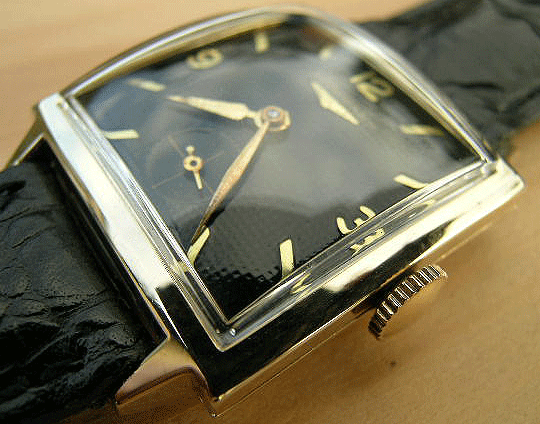 Sold new in the affluent United States, this 1952 gentleman's Longines in 14 karat gold is a beautiful item in remarkable condition. We spend our working week searching for pieces like this one but unfortunately, they crop up far less often than they did even five years ago.
Browsers with an interest in this watch will enjoy the reading the brand overview that we have included on this website at the top of the pages listing the vintage Longines watches that we currently have for sale. For a long time now, we, and many other experienced dealers and collectors, have held the view that classic Longines models offer the very best value for money to be found anywhere in the vintage market. The sheer quality of both the cases and movements of these watches is exceptional and in many instances, the standard of movement finishing present is higher than that found on the closest equivalents by Rolex and Omega. In the first instance, during the golden years of the Swiss luxury watch industry, Longines was regarded as having more prestige than either of these brands and it is only in more recent times that its profile has become more low key. For those who understand these things and have the knowledge to assess potential purchases on the basis of quality rather than simply the signature printed on their dials, early Longines models, from the period when the company still manufactured its own exquisite movements entirely in-house in St Imier, offer the highest cost to benefit ratio of anything on the market.
When customers ask us to advise them regarding suitable vintage watches for investment, we always explain how it is paramount to buy at the top of the condition scale. There are a lot of old timepieces out there, particularly on the mass market online auction websites, and the majority of them are a world apart from those which are of a standard that is capable of satisfying the serious, experienced collector. The same thing can be seen in the world of classic cars, where rusted bodies filled with glass fibre and smoking engines vastly outnumber those vehicles with original paintwork in superb condition and engines that are mechanically as-new. In vintage watches, just as with every form of antiques, the buyer only gets what he pays for. Examples like this one are expensive, but command a price premium as the very best survivors of their type.
The solid 14 karat gold case here is among the heaviest that we have encountered and is considerably thicker walled than those sold in Europe by Omega and Rolex from the same era. Its condition is almost perfect, with only the tiniest marks to its highly polished surface that hint that this is not a brand new watch.
We admit to being slightly obsessive when we scrutinise potential purchases for our stock and always examine cases internally for evidence of past repairs and restoration. Most skilled repairers are pretty good at covering their tracks on the outside of cases, but are incapable of eliminating evidence of their work on the inside, largely due to the difficulty of fitting a polishing wheel into the tightly confined space there. It is surprising just how many times we come across cases that look beautiful externally, but are unsightly on the inside, with considerable amounts of new solder and signs of heat discolouration. This case is absolutely virgin and has not been near a soldering iron since it was first manufactured.
The case is of the snap back variety and closes very tightly. This is another point worth checking when buying an older watch. When a snap back case is loose and the case front and rear only just hold together, this is indicative of a piece that has been opened and closed a large number of times, causing the case body to either slightly wear or stretch. We like to see a very secure fit between back and front, as here, which suggests that a watch has not been tampered with and only opened up occasionally for routine servicing.
Internally, the case back is signed "Longines-Wittnauer Watch Co Inc, New York, Geneva, Montreal, Star W.C Co, 14 Karat Gold". There is a great deal that can be learned from this stamping. Longines-Wittnauer Watch Co Inc was the official American agent for Longines watches, with a subsidiary, Longines-Wittnauer Co of Canada Ltd, owning the distribution rights there. After World War II, the American government took the step of imposing high rates of duty on watches imported from Switzerland in order to protect the domestic watch manufacturers at home. The idea was that taxing Swiss watches so heavily would make them uncompetitive and buyers would opt instead for American made timepieces. In fact, what happened in reality is that the problem was circumvented by elite movement makers like Longines shipping uncased movements from Switzerland to their American agents, these not being subject to the same high rate of duty as complete watches. After arrival in the USA, these movements were fitted into cases manufactured domestically and the completed watches sold at levels that were still affordable to the same well heeled buyers that had purchased this level of timepiece before the duty was imposed.
This housing was manufactured by Star Watch Case Company in Ludington, Michigan. Star was one of the most respected case manufacturers in the USA and had been in business since 1897, initially producing cases for the Elgin Watch Company. As a long established concern with a proven track record for excellence, Star was an obvious choice when the Swiss movement makers needed cases that were in keeping with their high quality standards. It should come as no surprise then that Omega, Jaeger LeCoultre, and, of course, Longines all used Star housings on their American market watches in the immediate post-War period.
The mere fact that this case is in 14 karat gold would strongly indicate that it was an American made item, even if we couldn't confirm this from its signature. In the UK and Europe, 9 and 18 karat gold are the two purity standards regarded as the norm in the jewellery industry. In the USA, 10 and 14 karat were routinely used. When we find a 14 karat gold case, we shouldn't categorically assume that it originated in the USA, but as a practical working guideline, this is nearly always so.
Also present in the case back is the model reference 2336-P and the individual case serial number 2378644.
Externally, there is a very attractive engraved dedication "Presented to Rocco De Candici by Members of 6 & 8 Club, June 14, 1960". Some of these inscriptions are works of art in themselves and very evocative of their eras. It should be appreciated that unlike most modern engraving, which is performed by a computer controlled machine, these lovely vintage dedications were cut entirely freehand with a great deal of skill. We always leave them in place on the basis that they do not detract from the commercial value of a classic timepiece but add a sense of past life and provenance. However, for any buyer who would prefer a completely smooth back, this wording could be completely polished out with only a few minutes work at any competent jewellers.
The dial is the key to any collectible vintage wristwatch and this is among the most attractive you will encounter. In jet black, it has the added desirability of being a honeycomb item, with a texture of small squares cut into its surface. Honeycomb dials are classically 1950s and were used by almost all the top tier of Swiss makers to great aesthetic effect.
In order for any antique wristwatch to have its maximum theoretical value, it must have its original dial in excellent condition. There are no exceptions to this rule and any significant degree of deterioration or any past restoration will automatically lower the worth of a watch as it would have been with a pristine dial very dramatically. It is generally agreed that the state of a vintage watch's dial accounts for approximately 50% of its value and we wouldn't seek to argue with this view. With the passage of many years, dials become deteriorated, typically through exposure to even small amounts of moisture and dust. Very few survive in genuinely superb condition, just as, to once again return to the classic car analogy, only a small percentage of old timer vehicles have their original paintwork in immaculate order. Hence it is that serious collectors will pay high additional price premiums for dials that are untouched and indistinguishable from new.
Even when studied with a jeweller's eyeglass from a distance of a few millimetres, this dial is almost faultless. Its black lacquered surface is not faded and has only the very slightest ageing, which is almost impossible to make out, around its outer edges. The honeycomb effect is crisp and not at all worn and if can be said without exaggeration that this is one of the most attractive original dials on any watch on this website. We do sometimes see 1950s Longines models with honeycomb dials, but these are invariably heavily patinated or freshly refinished. It is unusual to locate one that is virgin and very clean, making this a difficult watch for the advanced Longines enthusiast to resist.
"Longines" is printed in gold above the dial centre point, with "Swiss" along the very bottom edge. The Longines winged hourglass is, quite correctly for a late 1950s model, applied and matches the gilt numerals and batons perfectly. This format, with Arabic numerals at the compass point interspersed with batons for the other hour positions, is often referred to by collectors as an Explorer dial, taking its nickname from the Rolex Oyster Explorer of the early 1950s that brought this layout to widespread popularity. It is one of the most visually satisfying of all vintage dial types and is worth paying a little extra to obtain over a less eye catching version with simply batons all round.
All three hands are guaranteed to be original and are in excellent condition. Finding correct replacement hands for these classic models is extremely difficult and it is imperative to confirm originality of both hands and winding crown before agreeing to purchase. It is so easy for novice to buy online and acquire something that looks fine to him, but actually has aspects that to the connoisseur are clearly wrong. Our watches are not cheap and in fact may be some of the priciest of their type to be found on the internet, but we stand by them as among the very best to be found anywhere.
Longines movements from the 1950s are the equals of those by any other maker. No other brand, including Rolex, Patek-Philippe and Jaeger LeCoultre, created movements to a higher standard. It can be said with complete sincerity that movements like the one in this watch represent the high water mark of Swiss luxury watch making so far. Better mechanical movements than these have never been built and there is a strong argument that due to financial constraints and a woeful lack of skilled craftsmen in the industry today, they are unlikely to be matched in the foreseeable future.
The movement in this watch is calibre 23Z, a remarkably beautiful hand wound mechanism that was designed, built and regulated entirely in-house in Longines' famous factory in St Imier. The 23Z is significant in Longines' history as one of the only important movements to be created in the years immediately after World War II when Europe was still feeling the enormous economic strain of the crisis.
It is very appropriate that this unit was sold new in the USA, because the 23Z was very much a response to American taste. While even the wealthy tightened their purse strings in Europe and the import of gold watches into Britain was still prohibited in an attempt to cut down on unnecessary public spending, America was booming and could afford high level luxury watches like this one. It is telling that half the movements manufactured by Longines were sold in the USA and inevitably, the company's agent there had great influence in what was planned back in St Imier.
Longines' technical director in the early 1950s was Alfred Pfister and his annual reports constantly refer to the desire to meet American expectations. The 23Z was launched officially in 1947 but did not become available to the public until Autumn the following year. The 23M that it replaced was a superb piece of engineering in its own right, but was regarded as slightly too delicate for the American market. The 23Z was every bit as elegant, but was revised to keep abreast of the latest developments, including anti-magnetic shielding and, in some of the later units, produced after this one, Incabloc shock protection.
It is interesting that Longines was so confident of its market position that it was prepared to spend a vast sum at the time to bring the 23Z to market. A remarkable 20000 Swiss Francs was spent on research and development, with a further 25000 being needed to pay for the new tooling needed to manufacture the calibre. The result was spectacular and very few collectors today would argue that it was not one of the most accomplished hand wound movements of the golden age, but always, however sure one's analysts might be, there must be an element of risk when assigning such large amounts of funds to a new project.
Even for those with no particular interest in the technical aspects of watch making, it is worth a brief look at the close up photographs of the movement that accompany this description. If you look very closely, you will be able to see that the edges of the bridges have all been bevelled rather than left at right angles. It is beyond the scope of this article to go into the various types of plate finishing used in the high level Swiss watch industry, but suffice it to say that most vintage Rolex and Omega movements do not have bridges prepared to the same superb standard. Similarly, notice that each of the jewels is surrounded by a brass ring that enabled it to be screwed into the plates. These brass sleeves, correctly known as chatons, are individually threaded and regarded as the most refined way to fitting rubies into bridges. Most movements, even by the famous makers we know today as household names, have jewels that are simply press fitted directly into the plates and on those few occasions when we see a mechanism with chatons, we know immediately that it will be of exceptional quality. Machining the brass sleeves themselves, threading corresponding holes in the plates and hand screwing each sleeve in place added greatly to the production cost of each movement. It simply wasn't commercially viable to lavish this amount of attention on watches that were not top flight and it is quite amazing that Longines examples like the one here can still be bought in original condition for less than £1000 GB pounds when to obtain the same quality, but with the Patek-Philippe signature, would certainly cost in excess of five or six times this sum or often substantially more.
This movement is signed "Longines Watch Co, Swiss, Seventeen 17 Jewels" together with the calibre number 23Z. The calibre number is repeated in the balance well and the individual serial number 8762407 is stamped on the main bridge. Falling between the two extremes of vintage Longines production for that year of 8666666 and 9000000, this clearly dates this unit to early 1952. Notice how this ties in perfectly with the early specification of the 23Z, without the addition of Incabloc shock protection that would be added in the mid-1950s. It is also worth mentioning how it illustrates that Longines, in common with its competitors, would gain advantages from bulk production, creating a significant batch of a movement calibre and then adding these to its stock room, using them up as needed over several years. This movement and case are guaranteed to be original to each other, but there is a discrepancy of eight years between movement serial number date and the year indicated on the dedication inscribed on the case back. This is not at all unusual and in our business, we often encounter completely authentic watches with cases and movements that were made anything up to a decade apart.
As called for on an American market vintage Longines watch from this period, the movement is marked with the three letters LXW next to the regulator. We have included a close up photograph of this detail with this listing. These letters are important and must be present. In the period immediately following World War II, American government legislation demanded that every movement shipped from overseas into the USA be identified by a unique serial number and a three letter code that identified its importing agent. LXW was the code assigned to Longines Wittnauer Inc in New York. This strategy was intended to be an aid in cracking down on the illegal import of movements that was done to avoid import duty. Retail jewellers were spot checked routinely and it was required that movements could be identified back to their importers in order to confirm that the correct amount of tax had been paid upon their arrival in America. We would not be happy purchasing a 1950s Longines, Omega or Jaeger LeCoultre in an American made case where the movement was not marked with the appropriate import code.
Condition of this movement is almost mint. There is no brassing to its rhodium plated surface and the whole mechanism is totally authentic and original throughout. So many old movements from the 1940s and '50s have been modified with non-standard components to keep them running, typically in the 1970s when mechanical watches had little commercial value and owners were understandably reluctant to spend money on official servicing. This unit has been cared for all its life regardless of cost and is in first rate mechanical order. It works perfectly and will last almost forever if cleaned and lubricated every three or four years. The general public often don't quite grasp just how outstanding the movements in these classic luxury watches from the 1940s and '50s actually were, but even so, they remain pieces of precision machinery and require routine maintenance in order to function properly over many decades.
An almost identical piece to this one, in the same US market 14 karat gold rectangular case and with a Explorer format dial, was sold as Lot 155 in the thematic sale "Longines: Legendary Watches" on the 28th November 1994, held at the Grand Hotel de Milan by the prestigious horological auctioneer Antiquorum. This was described in the accompanying catalogue as "Fine, rare and elegant".
The excellent book "Longines" by Daria Marozzi and Gianluigi Toselli shows another virtual twin of this watch on page 296, giving it the honour of a full page colour photograph. This has a black dial, but is with a flat surface rather than the more exotic honeycomb version here.
We have fitted this watch with a high quality crocodile skin type strap that matches its antique, classical appearance perfectly. This is not a genuine Longines strap, but it is almost the double of those items pictured with this model in Longines' advertising material from the early 1950s. This strap has never been worn and is in mint condition.
The price of this watch is £985 GB pounds, which reflects its superb condition and total originality. We could probably find the same, or a very similar model, online for slightly less, but with a restored dial or a movement with some past repair work having been performed on it. Our watches are the very best of their type and geared towards the serious collector or investor rather than the casual buyer who simply wants a vintage timepiece that he can wear to the office on a regular basis. This is a very appealing, extremely high grade watch that is almost ridiculously undervalued at the present time. For a comparable rectangular Rolex or Omega from the same period, which, rather ironically, would have a less sophisticated movement, we would certainly have to pay over £3000 GB pounds. Classic Longines models are the unsung heroes of the vintage watch market, providing Rolls-Royce quality at Jaguar prices. We cannot recommend this watch, and our other Longines items, too strongly and it seems obvious that more than those by any other maker, the best watches by Longines have to rise sharply in worth to a realistic level that reflects the exquisite quality of their movements in the near future.
Price £985 GB Pounds
Vintage Watch Brands
Vintage Watch Decades
Vintage Ladies Watches
Vintage Watch Bracelets
Swipwreek Straps
Travel Clock/ Pocket Watches
Home
About
Brand Overviews
By Decade
Reference
Contact Details
Telephone from the UK:
07453 734666
or 07428 051005
Telephone from overseas:
+44 7453 734666
or +44 7428 051005