Longines art deco steel, Leeds dial, 1936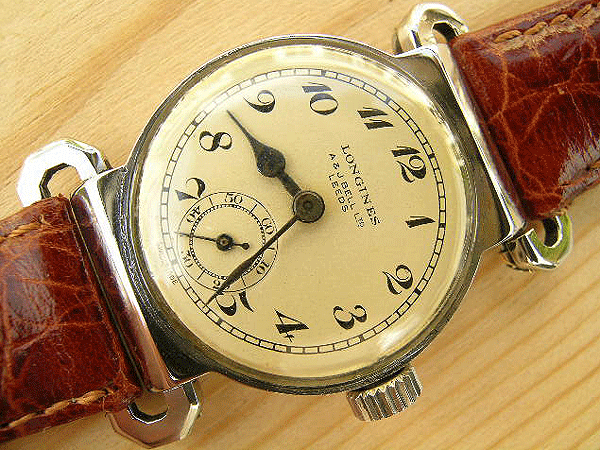 Manufactured in 1936, this spectacular vintage Longines in steel is the epitome of the art deco classic wristwatch. With the most highly stylised case imaginable, with enormous angular pivoted lugs and an elongated body, elderly timepieces do not get more evocative of the late inter-war period than the one here. This is a gorgeous example of a very rare model in immaculate, completely original condition and while it clearly isn't a cheap item, it is worth every penny of the asking price and is ideal as a serious investment.
It could be argued quite plausibly that when this watch was new, four years before World War II broke out, Longines was the most prestigious of all the Swiss top tier houses, ahead of Rolex, Omega and IWC in terms of perceived desirability with the general public. An American newspaper had asked its readers which watch they would prefer to own if purchase price was not an obstacle. An astonishing 92% responded that in this enviable situation, they would choose a Longines. Without a doubt, the quality of the case and movement here is second to none and in every way the equivalent of anything from the same era by the company's competitors. Today, when vintage Longines watches are still often overlooked by collectors, it is easy to forget that back in the 1920s and '30s, Longines represented the absolute pinnacle of movement design and finishing excellence. A strong case can be presented that vintage Longines watches like the one here are the very best fruits of the golden age of Swiss horology, and we wouldn't oppose this view.
The stainless steel housing is in an almost perfect state, with just the tiniest imperfections to its surface. For any watch from the 1930s to have survived in this condition is quite remarkable. Again, we should keep in mind that this would have been a very expensive purchase when it was new and it is very unlikely that it was never used as an everyday watch, being more likely to have made appearances on special occasions when there was a need to impress.
Internally, the snap on case back is covered with an engine turned pearled pattern that is so typical of that found on vintage Longines watches from this period. Lesser makers would cut costs by reducing the extent of decoration that was unlikely to ever be seen by a buyer, but the great houses would take a great pride in, as here, lavishing considerable attention on internal aspects that were hidden under normal circumstances.
"Acier Inox Staybrite" is stamped inside the case back, this telling us that this case is made from the patented Staybrite form of stainless steel. We have a very informative article on the various forms of early stainless steel that can be found in the reference section of this site and we highly recommend that those interested have a read through this. For browsers in a hurry, it will suffice to know that in essence, Staybrite was an alloy with a very high chromium content, giving the metal a very attractive sharp glow that is quite different in appearance to that of modern stainless steel.
The serial number 1526 is stated, together with the case reference 33. Notice how this latter number is repeated on the rear of the case body, confirming that case body and back are a matching pair and original to each other. Very few makers numbered case components in this way and it says an awful lot about the quality of vintage Longines watches from this period that the trouble was taken to match individual case backs and bodies to each other.
A better preserved, more attractive dial than the one here could not be found. Completely original and unrestored, the overall shade of this dial is very slightly yellowed, rather like the pages in an antiquarian book, but otherwise, it is indistinguishable from perfect. Again, to repeat the comments made above in the context of the case, it is very unusual to find an untouched pre-war dial in anything remotely approaching this condition. A lot of the early vintage wristwatches for sale online, particularly in the unregulated world of the online auction, look very presentable but in fact have dials that have been recently refinished, rendering them undesirable to the informed collector. This dial is a gem, being dually almost mint and totally virgin. It looks today almost exactly as it did when it was displayed in a jeweller's window in 1936. The down side is that vintage watches with original dials in this condition are costly, mainly due to their rarity. Certainly, 40% of the commercial worth of this watch, and others like it, is directly related to its superb dial. For newcomers to the field, it may be tempting to purchase watches at a lower price level with restored dials, but we would advise against this course. Our experience as dealers for almost thirty years has shown us that the very best surviving examples of any vintage watch model tend to be those that appreciate in value at the fastest rate and it is worth paying an initial premium to acquire something genuinely exceptional if a watch is to be owned for the long term.
"Longines, Swiss Made" is stated above and below the dial centre point. "A & J Bell Ltd, Leeds" appears just below the maker's name, this being the Yorkshire jeweller that supplied this watch when new. Based at 106-108 Albion Street in the city centre, Bell was an official agent for Rolex, Omega and Longines and in its heyday in the 1930s, was among the most celebrated retailers in the county. Vintage watches with double signed dials of this kind are unusual and highly desirable, not least because they are so attractive. Knowing that a watch was bought at a particular jeweller in a particular city is romantic and adds a sense of provenance. Along with the photos that accompany this description we have included a shot of A & J Bell taken in 1930, six years before a customer walked out of this same shop with the watch now for sale.
All three hands are completely original and in blued steel. The hour and the minute hands are in the spade shape, which was very fashionable during the 1930s. The condition of these hands is perfect, with no corrosion or pitting whatsoever. So many older watches that are offered to us have incorrect hands and winding crowns, and these components can be so difficult to obtain as old stock spare parts. Once again, our own experiences have shown us that it is invariably cheaper, not to mention less frustrating, to spend a little more in the first instance on a watch, like this one, where hands, winding crowns etc are correct rather than cutting corners and purchasing something sub-standard with a view to returning it to original factory specification in due course.
The movement in this watch is of exceptional quality and merits some background notes. This is calibre 10.68Z, a hand wound unit that was launched in 1932 at a time when Longines, in common with its competitors, was struggling to fill its order books. The Wall Street Crash of 1929 had enormous ramifications for the luxury watch industry, with the sort of well heeled buyers that made up the core of Longines' business becoming far more careful in the Great Depression years of the early 1930s than they had been during the previous decade.
The 10.68Z was designed in order to take advantage of new developments in movement manufacturing technology that had emerged during the second half of the 1920s. The overall effect was a lower production cost per movement and an increase in finish standard. It would be natural to think that the 10.68Z was radically new but in fact, the opposite was true. When compared closely, it can be seen than this movement was essentially a miniaturised version of the 18 ligne ( a ligne is the standard unit of movement width measurement used in the Swiss watch industry) calible 18.68Z Longines pocket watch movement that had been in production since 1928. This conservative stance was hardly unexpected and many of the top tier Swiss brands turned away from what they regarded as passing fads in watch making and returned to very high quality, traditional movements as a way of weathering the storm of the economic crisis. This point was made in a report to Longines' board of directors in 1932, with the comment added that the company had, as they saw it, wisely taken no part in the creation of the jump hour ( mechanical digital) and self-winding movements that had captured public imagination in 1929 and 1930. Longines was arguably the maker of the highest quality wristwatch movements on earth in 1932 and by concentrating on simple designs, executed to perfection, it would ride out any temporary crisis.
Everything about this movement shouts of its quality. The bridges have all been angled and the jewels are mounted inside individually threaded chatons; brass sleeves that are screwed into corresponding holes in the bridges. Lesser movements, including almost all of those by Rolex and Omega from this period, have jewels that are simply pushed into the plates and held by friction. These vintage Longines movements were very much the Rolls-Royces of their type and had every luxury refinement possible at the time.
This particular movement is in superb condition throughout. It has not been modified in any way and is entirely original, right down to the smallest screw. This is an important consideration as a lot of the 1920s and '30s movements in circulation today have at some point been adulterated with non-standard components, typically in order to keep them working during the 1970s and '80s when mechanical wristwatches were not yet regarded as collectors' items and had little monetary value.
"Longines" is signed on the frosted gilt bridge. The calibre number 10.68Z is stamped below the balance wheel and the serial number 5495441 is on the plate. Falling between the two extremes of vintage Longines movement production for that year of 5420000 and 5500000, this clearly dates this unit as having been manufactured in 1936.
This watch works perfectly, not least because past owners have shown the good sense to have it serviced. The build quality of Longines movements of this age is so high that provided they are routinely cleaned and oiled every three or four years, they will last, literally, almost forever. It is entirely realistic to think of buying a watch like this one with a view to keeping it a lifetime and then passing it on as an heirloom to future generations. The key to extracting the maximum longevity from vintage luxury watches is to have them serviced, without fail, as their manufacturers intended.
We have fitted this watch with a brown crocodile skin type strap. This is not a genuine Longines strap, but it is very similar to the straps that are depicted in period Longines advertising from the 1930s. In mint condition, this strap has never been worn.
The price of this watch is £1375 GB pounds. At this level, the value for money it represents would be almost impossible to beat. A vintage Rolex in steel of the same age would certainly sell for over £3500 and an Omega Medicus, another classic model with very distinctive oversize lugs from the 1930s, would be difficult to source in a worthwhile state for less than £3000. Neither the Rolex or the Omega would be superior in quality to the piece here in any way and it can be said without exaggeration that this watch is nothing less than a bargain. At the time of writing, classic Longines pieces are by far the most under-appreciated items in the vintage wristwatch market. Everybody with experience in this field, be they dealers or collectors, is well aware of this under-valuation and it seems almost guaranteed that prices realised for these absolutely beautiful watches must rise dramatically in the next few years. This particular watch is one of the finest items for sale on our entire website, yet can be acquired for less than the sum needed to buy a far less exotic Omega or Rolex from the 1960s or '70s. We cannot imagine how anyone could be anything other than delighted when this watch arrives with them and cannot recommend it, and indeed other vintage Longines models, too strongly.
Price £1375 GB Pounds
Vintage Watch Brands
Vintage Watch Decades
Vintage Ladies Watches
Vintage Watch Bracelets
Swipwreek Straps
Travel Clock/ Pocket Watches
Home
About
Brand Overviews
By Decade
Reference
Contact Details
Telephone from the UK:
07453 734666
or 07428 051005
Telephone from overseas:
+44 7453 734666
or +44 7428 051005