Longines silver semi-hunter with Mappin & Webb dial 1925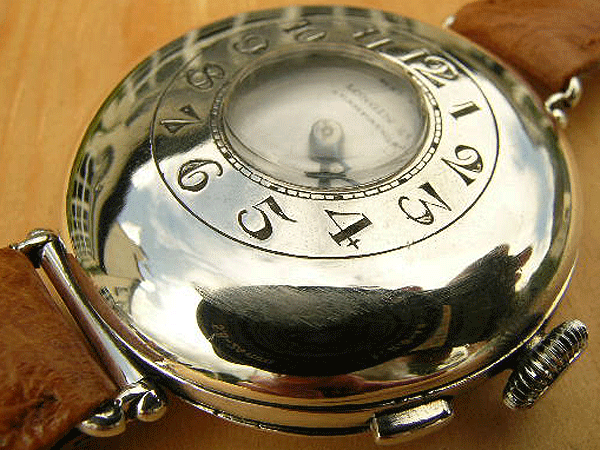 The semi-hunter, sometimes called the half-hunter, wristwatches of World War I are undoubtedly some of the most charming timepieces ever created, and ooze old world charisma. While this style of watch originated as a consequence of the need to protect fragile glass from damage by impact in the trenches, this beautiful silver gentleman's Longines example actually dates from 1925, and is one of the most modern semi-hunters that we have encountered in our business. We don't find semi-hunter wristwatches on a regular basis and most that we do see have led hard lives, with the result that their lugs have often been re-soldered and their dials cracked. This watch was manufactured seven years after the Great War ended and was spared inevitable rough and tumble of the front, which may well explain why it remains so immaculate today.
Its large case is very substantial and in almost perfect condition. Quite amazingly for a watch of this style and age, there are no dents to the case anywhere, and only the very lightest imperfections that must be expected on even the most cosseted example from this period. Most importantly of all, there are no signs of any repair work having ever been performed. While it is possible to read the time through the central glass aperture, particularly at times of poor visibility it is easier to flip up the lid and consult the uncovered dial. Repeated opening and closing of the lid, accompanied by rough handling in pressurised combat conditions, often meant that the hinge joining this to the case body was strained or even broken cleanly off. The vast majority of early hunter and semi-hunter wristwatches that survive today have lid hinges that have at least some degree of remedial work. By contrast, this one is almost perfect, and doesn't even have the usual wear play that is almost taken for granted on these items.
The articulated lugs are extremely attractive and hint at the watch being a later incarnation of the semi-hunter. Earlier watches of this type, those typically manufactured around 1914 to 1916, tend to have simpler soldered wire lugs. As time wore on and variations appeared, these quite complex lugs started to become more common. If we didn't have access to its dating hallmark letter and were asked to judge the year of this watch simply from its features, we would have guessed it to be of 1919 to 1921 origin. By even 1923 or 1924, the age of lugs as an addition to the watch case was rapidly coming to a close, and by the mid 1920s, most models had cases in which the lugs formed an integral part of the overall design concept.
Inside the flip-up lid is the sponsor's mark "AB", together with "Swiss", a full set of British sterling silver import hallmarks for London 1925 and the individual serial number for this case, 4333027. The AB initials are those of Arthur Baume, managing director of Baume & Company of 50 Hatton Garden, London EC1, which was the official British importers of Longines throughout the World War I and inter-war period. These exact same stampings, together with the identical serial number, are repeated inside the case back. This is exactly what the informed collector wishes to find, because duplication of these details confirms that both case back and lid started life together when new and that neither has been replaced. We are always exceedingly wary of any hunter or semi-hunter wristwatch on which there is an inconsistency of numbers between case front and lid, yet have seen so many examples on which the numbers do not match sold on in online auctions for very high figures.
In common with almost every other early wristwatch from this period, this item has a glazed enamel dial. In virtually every instance, these brittle dials are now with some degree of hairline cracking, but this one is absolutely perfect. There isn't even the slightest degree of damage to any part of the dial, yet it is untouched and has never been restored in the past. From an investor's point of view, this is exactly the kind of dial that should be purchased, even though it will be expensive to acquire initially. Genuine semi-hunter wristwatches, rather than the awful pocket watch conversions that seems to be everywhere at present, are rare in any state, but to find another with a perfect dial like the one here would be quite a challenge. Novice collectors presume that, rather like walking into a high street shop and purchasing a new item at will, that any type of vintage wristwatch is available upon demand to the buyer who is happy to pay a high asking price. This is not the case, and there is often a huge disparity between what a buyer would like to purchase, and what is actually on offer for sale in the marketplace. We do know of any vintage watch shop, in London or anywhere else in the world, that is offering a Longines semi-hunter that is anything remotely as well preserved as the one here. When this piece has sold, we wouldn't have the remotest idea of when the next equivalent example will surface.
The dial signature here is an interesting one and is worth a brief note of explanation. "Longines" is stated prominently, but surrounded by the words "Mappin, Campaign". The Mappin here is Mappin & Webb of Regent Street, one of the most prestigious London jewellers, both then and now. The firm offered a range of early wristwatches that were deliberately tailored to the requirements of wealthy officers heading for the front lines, hence the Campaign name. These were never manufactured by Mappin & Webb itself, the firm being a retailer rather than a producer, but were supplied by a number of very high grade Swiss houses, among which Longines was one. This made sense and was easy to facilitate, not least because Mappin & Webb was already a main agent for Omega, Rolex, Longines, Zenith and almost all of the other top tier brands. While the specification of this watch is exactly the same as it would have been with the standard Longines signature, the presence of this evocative Mappin wording adds glamour and commercial desirability.
A point that we mention time and time again, detail is everything in defining the value of any collectible elderly timepiece. Even minor component changes have huge ramifications in terms of market worth, largely because experienced collectors are well aware that it will be virtually impossible to locate the correct spare parts needed to return an incorrect watch back to its original specification. Here, the hands and the winding crown, so often changed in the past, are authentic and entirely correct for this model. It is so easy, simply because an understandable lack of knowledge, for the novice enthusiast to unknowingly buy vintage watches with component changes and then, at some later date, be alerted to the fact that he purchased a second rate, undesirable piece that is worth much less than he paid for it. The watches on this site are among the most expensive of their type to be found anywhere online, but they are capable of withstanding expert scrutiny at any level, and as such, are worth the premium asked for them if buying with a view to long term appreciation.
The movement is Longines calibre 13.34, a mechanism that was introduced by the company in 1910 and is significant not only for its exceptionally high build and finish quality, but also on account of it being the largest movement that Longines manufactured for use in wristwatches at this time. The 13 in the calibre number is a reference to the 13 ligne size of this unit, the ligne being the unit of width measurement traditionally used in the Swiss watch industry. 12 ligne is generally accepted as being the norm for a full size man's watch, but the majority of the important makers, among them both Rolex and Omega, offered a 13 ligne mechanism in their ranges though, ironically given their high desirability among collectors today, these were never popular when new with a public that preferred smaller wristwatches.
The condition of this particular movement is almost perfect, and its distinctive frosted gilt finish is unbroken and exceedingly attractive. The signature "Longines, Swiss Made, 15 Jewels" is clearly stated on the plates, with "13.34" alongside the regulator. Also mentioned in very small stamped letters is "B & Co", this referring to "Baume & Company", already mentioned above in the context of the case stamping. Having been serviced on a regular basis since new, this watch works perfectly and runs very smoothly. The quality of these World War I period vintage Longines movements is so high, and their design so simple, that if cleaned and lubricated every three or four years by a competent watchmaker, they will be in existence for far longer than anyone reading this description. Studying these units in detail, there is actually very little to go wrong, and what is there is so perfectly crafted and over-engineered on the basis that, when new, it was sold as a watch that its first purchaser would keep for life.
For the buyer looking for a representative sample of a semi-hunter wristwatch for his collection, this is, quite literally, as good as it gets. However long and hard one looks, it will be impossible to find a better preserved, more unmolested and unaltered, genuine semi-hunter than this one.
The thematic sale by Antiquorum "Longines-Legendary Watches" held on the 28th November 1994 at the Grand Hotel et de Milan included an almost identical silver Longines semi-hunter to the one here as Lot 26. This was described as a "fine, rare and early silver half-hunter cased gentleman's wristwatch".
Common sense tells us that a totally genuine, museum standard item like this is not likely to be an inexpensive purchase, and certainly its price of £1675 GB pounds is not a small sum. However, if we stop for a minute and consider the watch in context, it represents remarkably good value. How many of these Longines semi-hunters exist today ? Clearly, not having access to every drawer and safe in the world, we cannot give a definitive answer this question, but we can say that in the last thirty years, during which we have had daily involvement with vintage wristwatches, we have seen no more than four or five other examples. If there were a hundred of this model in circulation worldwide we would be very surprised, and would guess that the reality is far closer to half this figure.
The other point to bear in mind is the relative value of this watch when we compare it to others of the same type. If this was a silver semi-hunter by Rolex, with the same hinged lugs and large 13 ligne sized movement, it would sell very quickly for perhaps £4000 GB pounds. By Omega, it would command certainly £2750 and possibly slightly more. Yet the undisputable fact is that, when new, this was no lesser example than either the Rolex or the Omega and may well have cost more in the first instance. Its movement is every bit of the same standard as those by either of these brands, and its case and dial are equally superb.
A point made on page of Daria Marozzi's excellent book "Longines", there is no logical reason whatsoever why watches by this venerable house are less expensive than those of Rolex, Omega, Jaeger LeCoultre or IWC, but the reality is that they are, and that as long as this market state remains, they are undoubtedly something of a bargain. This is an utterly beautiful, extremely rare, watch that will delight even the most critical aficionado, and the fact that it can be bought for less than £2000 GB pounds is nothing short of remarkable. This imbalance in the market cannot continue, and we would almost guarantee that a decade from now, the price gap between Longines and the other top tier Swiss houses will have closed dramatically. Early Rolex watches are overpriced, Longines models are underpriced, and as more enthusiasts appreciate just how well made these latter items are, there will undoubtedly be a sensible move towards greater equilibrium.
The final note should be added that we have fitted this watch with an ostrich skin type strap that fits in perfectly with its upmarket, antique appearance. For the perfectionists though, it should be pointed out that this type of strap is not technically correct for wristwatches from this period. When they were new, these models were supplied on very distinctive two piece straps. A single band of leather passed through both lugs, running behind the watch case and was threaded through a wide backing piece. After complaining for years about the total absence of high quality straps of this type, we finally gave in and had a small batch made in the finest quality reindeer hide to historically accurate standards. These can be seen by clicking on the "Shipwreck Straps" link at the top of every page on our website.
Price £1675 GB Pounds
Vintage Watch Brands
Vintage Watch Decades
Vintage Ladies Watches
Vintage Watch Bracelets
Swipwreek Straps
Travel Clock/ Pocket Watches
Home
About
Brand Overviews
By Decade
Reference
Contact Details
Telephone from the UK:
07453 734666
or 07428 051005
Telephone from overseas:
+44 7453 734666
or +44 7428 051005